PLAYER OF THE DAY: TE C.J. Uzomah.
Bengals backup quarterback Andy Dalton had just hit Uzomah on one of those plays that head coach Marvin Lewis raved about last year when the pair wreaked weekly havoc for the scout team in practice.
And the old Alabama quarterback just couldn't resist taking a shot at age-old rival Auburn after Thursday's practice.
"I don't know why they didn't throw it to him more at Auburn. It blows my mind. Call Gus (Malzahn) and ask him what he was thinking," said McCarron of the Tigers head coach.
The 6-6, 271-pound Uzomah caught just 29 balls at Auburn, where tight end wasn't even really a position from what Bengals tight ends coach Jon Hayes could see on tape. But when Uzomah ran 4.65 seconds in the 40-yard dash coming out in the draft the Bengals grabbed him in the fifth round in 2015. After playing just 50 snaps as a rookie, he's romped through the spring and summer showing he's the latest in a matchup nightmare.
In front of 1,075 fans on the practice fields adjacent to Paul Brown Stadium, Thursday became the first day of the rest of Uzomah's preseason.
Pro Bowl tight end Tyler Eifert (ankle) isn't expected back until early in the regular season. After suffering a knee injury Tuesday, his backup, Tyler Kroft, may be out until the Sept. 11 regular-season opener. So now Uzomah and Ryan Hewitt are running with the first teamers, but it didn't change anything for Uzomah.
In team drills in the red zone, Uzomah muscled past linebacker Karlos Dansby and made a handsy catch of an Andy Dalton bullet over the middle for a touchdown. In 7-on-7 in the red zone, Uzomah got inside safety Derron Smith on what McCarron called a skinny post for a touchdown. Then in short yardage Uzomah beat linebacker P.J. Dawson over the middle for a first down, ripping the ball away from coverage.
This is basically what Uzomah has been doing since May.
"I've been saying it," McCarron said. "I think he's going to be a great tight end. He's going to be a starter in this league and sooner rather than later … He's a freak. He's a big dude who can run. He makes plays, he's got great hands. Great ball skills."
Uzomah had been categorized as a project because as Hayes said, "When he got here he was just a wing player who didn't do what tight ends are supposed to do."
Translation; he had no idea how to block because he'd rarely been in a three-point stance. But it sounds like has moved on from "project," and now with the injuries he'll get the reps of an emerging player.
"He's stronger and he has a better understanding of how to play the position," said Hayes of the differences between year one and year two.
As fate would have it, Uzomah entertained the media at his locker before Thursday's workout, the first full practice without Kroft. He talked about the many versions of tight end he's had to learn, which includes playing as the lone tight end, playing as a tandem, and playing as a fullback.
"Going into the season I knew the more you know, the better. Knowledge is power," Uzomah said.
So although Uzomah said to himself, "Crap," when Kroft went down and sighed some relief when he learned Kroft was OK, Uzomah knows the added reps are going to give him an opportunity.
"It's good because we have limited numbers right now, so I'll play a certain position this time and next time I'll play a different position. You kind of see the different looks," Uzomah said. "You see an over front on this look, you get an under front on the next look. You get to see different defenses. You get to go through your steps with different mechanics for different (looks). Seven technique vs. nine technique, vs. a certain blocking scheme. So it's good. It helps us a lot as players grow and get better.  I think that's what we're kind of embracing with this."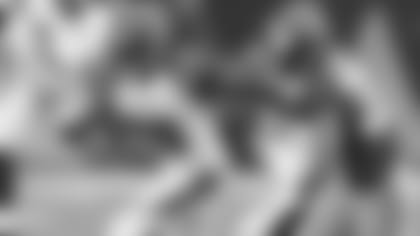 Josh Shaw (26) in last year's pre-season opener in his NFL debut.
PLAY OF THE DAY: DB Josh Shaw vs. WR James Wright
Shaw lined up at safety in 11-on-11 (and with him you have to check because No. 26 can be found anywhere) and broke on a pass thinking he had an interception because he didn't see anyone near him. But all of a sudden as Shaw was about to catch it as he jumped in the air, Wright accelerated out of nowhere and leaped into Shaw grabbing at the ball. When they came down, they rolled on the ground for five yards locked together fighting for the ball.
Nobody gave it up until one of the NFL refs working the practice called them off.
"I think they'd give it to the offense," Shaw said.
But give it to these two guys, rapidly becoming key players for the Bengals.
Shaw is a major reason they feel confident about their suddenly fragile cornerback position. They have lost first-round pick William Jackson (torn pectoral) for at least half the season. They have their lost No. 1 slot corner, injury-plagued Darqueze Dennard (sprained ankle) for at least this week and maybe longer. They lost their nine-year veteran Leon Hall to the Giants Thursday, ending the Bengals career of one of the best cornerbacks in franchise history.
The Bengals would have loved to have had Hall back. But they made it clear the 31-year-old coming back from off-season back surgery would be a backup while the latest draft hauls would play. The conventional wisdom is Hall opted for the Giants because they told him they felt he could be their starting nickel while the Bengals are developing their youth in front of him.
"They draft to replace you. I'm starting to figure that out quickly," Shaw said after practice. "That's part of the business. The Bengals draft well. They develop the kind of guys that learned from the guys before them. There hasn't been a plug in and play guy (in the secondary) since I've been here, but the Bengals draft as well as anyone in the league."
Even though Dennard is working on his third significant injury of his three-year career, they think he'll be back in time to show they drafted him No. 1 in 2014 out of Michigan State because they felt he was a carbon copy of Hall when they took him No. 1 in 2007 out of Michigan.
"Leon missed one full football game last year, and Darqueze played in a number until he went down with the shoulder. And he played well," Lewis said. "He played outstanding, actually. He filled in for Leon in Buffalo where he did the whole thing, and he didn't miss a beat. That's the thing, I think we had some upside there. That's what we were counting on, and we're still counting on it. It's a little bit of a setback."
 And then there is the 6-1, 201-pound Shaw. The Bengals coveted him so much in the draft in 2015 that they tried to trade up in a round for just the fourth time in their history to get a player. In fact, they thought they had a deal to move up about 10 spots from No. 120 in the fourth round, but it fell through at the last instant. When other phone calls went for naught, the frustrated Bengals called it off and were shocked to see Shaw still sitting there at 120.  
The reason they wanted him is because of what took place Thursday. You needed the Bengals radio team of Dan Hoard and Dave Lapham to keep up with Shaw.  He played second-team safety. He backed up Chris Lewis-Harris at slot corner. If one of the cornerbacks needed a rest, he took their snaps.
"Josh did a lot of really good things his rookie year," Lewis said of his 115 snaps. "He's been spending more time at safety this camp, and now he'll move back into the corner position more. That's just part of it. We felt when we picked him that he would give us this kind of versatility. To his credit, he's lived up to that."
Last season, Shaw watched Hall morph into a slot corner-safety type. Now this camp he's able to learn from the man who brought secondary versatility to this scheme under Mike Zimmer. Chris Crocker, who played safety and the nickel for six seasons here, is helping coach this camp
"He's got to step up," Crocker said of Shaw. "We're down in depth and he's got an opportunity to get in there. He's as big as me, he can run, he has the ability, he has to go show it. I'm excited to see him in the pre-season games. He's having a good camp, doing everything the coaches ask him."
Crocker is close to Hall and could only say, "I love that guy. I'm sorry to see him go. He had his reasons, but we wish him the best."
The reasons were probably because the Bengals went with youth and they'd like to go with another young guy in Wright. With an unknown vacuum starting at them at wide receiver behind A.J. Green, they're hoping that Wright (A) can find the explosion he had as a rookie in 2014 after missing nearly two years with microfracture knee surgery and (B) that it can hold up.
In his third day back, Wright seemed to have the explosion.
"I didn't go high point the ball,' Shaw said of their play. "Before I knew it, both Jimmy and I were going up for the ball together. I didn't know he was there that fast.
"The one thing about Jimmy is that he's a hard-working guy. He caught up to us as soon as the ball was thrown. I thought it was just me and the ball."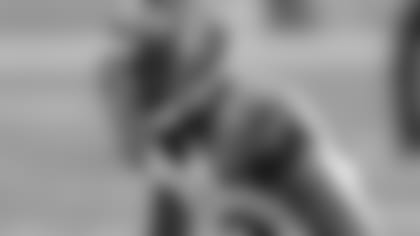 Darqueze Dennard battles the injury bug.
QUOTE OF THE DAY:  Lewis on Dennard's injury woes since they took him with the 24th pick in 2014: "At some point, you just feel that he's got to kind of get on the other side of the horseshoe and have things work out for him. He's so conscientious. He wants this. He's really morphed his body from when we first got him. I liken to him how we watched the maturity of Johnathan Joseph and Leon, when they were young guys. He's kind of taken those same steps. But unfortunately he just gets tangled up and gets an ankle sprain, and here we are again."
Dennard's first training camp was cut short by a hip injury and he missed the regular-season opener. Last year he blew out his shoulder in his first NFL start and missed the last six games. Now the sprained ankle in Monday's practice in his just his fourth practice back since the shoulder surgery.
SLANTS AND SCREENS: A.J. Green is just ridiculous. Go to the seven-yard-line in a red-zone drill Thursday and a battle worthy of first-rounders.
Dalton noticed that cornerback Dre Kirkpatrick had yet to turn his head, so instead of throwing a fade to the back corner, Dalton fired a quick fast ball trying to sneak it past Kirkpatrick.
But Kirkpatrick recovered and the two chicken fought for control of the ball. Green not only latched on to the ball as he somehow kept his feet in-bounds, Kirkpatrick claimed to the ref that Green also pulled him down by tugging the jersey on his chest. Of course the DBs stuck together and a smiling Crocker let Green know about it a few minutes later during a break for a special teams drill.
Great catch by Green. Great recovery by Kirkpatrick. Great play …
This one might have been the Play of the Day on any other day. McCarron threw a beautiful wheel route to running back Rex Burkhead and Burkhead, showing one of the best pairs of hands in camp, made a wonderful over-the-head catch …
The eagle-eyed Lapham saw left end Carlos Dunlap toss right tackle Cedric Ogbuehi a few yards back in a pass rush drill. But Ogbuehi has also been dishing it out in what is shaping up to be an intriguing camp matchup …
A quiet day in the wide receiver group. Green dominated, but the others are fighting consistency problems. But then, they're going against an excellent secondary that had a very good day covering Thursday.
 On six snaps from about the 10 in team, Dalton and McCarron could only get one touchdown, the one to Uzomah working against Dansby. Rookies Tyler Boyd and Rashaun Simonise had back-to-back drops in the end zone on nice throws and middle linebacker Rey Maualuga tipped one away ...
Linebacker Vontaze Burfict figures he played 23 snaps in his first practice Thursday. But don't get used to it.
"I'm not looking for anything special out of Vontaze. Just go out and practice and do his job," said Lewis, who has vowed to protect the health of his defensive captain. "This is not an eye-opening day for Vontaze Burfict, so nothing special out of him. Just stay healthy." ...
Cincinnati Bengals host Training Camp at Paul Brown Stadium Practice Fields 8/4/2016