And just like that, quarterback Andy Dalton is the oldest Bengal on offense and declaring after Thursday's practice he's "in the next phase of my career."
It became official Thursday morning when Bengals head coach Marvin Lewis surprised everyone with the release of veteran wide receiver Brandon LaFell. Including management, which had already paid him $1.2 million this year in a March bonus and off-season work-out bonuses.
The move strips Dalton of a back-of-his-baseball-card-solid-vet. You could write in LaFell for the 57 catches, 730 yards and four touchdowns he gave them in his two seasons starting opposite A.J Green. But LaFell turns 32 during the bye and stood to make $4 million this season. Meanwhile, the Bengals have a glut of talented young receivers plucked from the last three drafts that have the potential to give them more than that and they've decided they're either good enough or they're good enough to find out if they're good enough.
No one summed up the day better than wide receivers coach Bob Bicknell, a decade-long veteran of coaching NFL receivers in his first year in Cincinnati.
"Brandon is an unbelievable pro. He's had a great career and he's every single thing you want in a player," Bicknell said. "Decisions are made and you kind of move on and a lot of these guys have given us that feeling we could. Now the hard stuff happens. Now we have to be more consistent. They've flashed, but it's not about flashing now. It's really about consistency."
Dalton, who beat A.J. Green to 30 by 245 days after Green got there on Tuesday, has seen it all before. Green has always been his leading wide receiver, but he's had five different wide receivers that came in second. LaFell and Marvin Jones did it twice each, along with Jerome Simpson, Andrew Hawkins and Mohamed Sanu. So he's gone through overhauls and plug-and-plays. But never at 30 in his eighth season. Now that LaFell is gone, no one has played more NFL games on offense than Dalton's 109. He is now The Dean.
"The difference is now age-wise I'm the oldest guy on offense and I don't see that changing anytime soon," Dalton said.
If Dalton sounds confident and assured, he should. Despite working in a new offense for the first time since he came into the league, he's been sharp, accurate and very good in these six practices of training camp executing offensive coordinator Bill Lazor's new playbook.
"It's the next phase of my career. I like where I'm at," Dalton said. "I really like the way we're doing things, the way that Bill is calling stuff and the way the offense is set up. I feel comfortable. Things feel new, which is good. I think that's being in an offense so long, it kind of gets mundane because you heard it so many times. Now everything is new and I'm still learning new things, new calls, trying to get me where I know this offense like the last one."
The comfort comes, in part, from the receivers they've given him and what they've done so far. Third-year man Tyler Boyd has been his reliable slot man for most of the last two seasons and already has 76 NFL catches. The 2017 draft picks selected in the first 128 picks, John Ross and Josh Malone, didn't do much as rookies but they have played games and taken the obligatory big steps expected between year one and year two. Cody Core, a sixth-round pick in 2016, had 17 catches as a rookie and last year 2016 undrafted free agent Alex Erickson had a dozen catches and his first NFL TD.
Not a big body of work now that LaFell is gone. But when Dalton compares it to the 2012 overhaul that left him with three rookies, two second-year players and 51 NFL catches outside of Green heading into a season they won 10 games and made the postseason, it's a veritable wealth of riches. It will be recalled the next year they gelled well enough to win the 2013 division with Dalton throwing a franchise-record 33 TD passes, 12 to sophomores Sanu and Marvin Jones.
"I think there are guys in their second and third years, which is better than first and second years," Dalton said. "We're in a good position with what they've shown and the potential they have and I think we're in a great spot.
"I think we've got guys that can do a lot," Dalton said. "John on the outside, Josh on the outside. A.J. moving all around. Tyler inside. Alex can play everywhere. Cody shows up. It's the young talent we have. Guys that can run. That's what this offense is built for."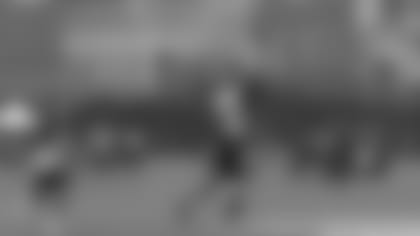 PLAYER OF THE DAY: Wide receiver Cody Core
As if on cue, Core, who didn't have a catch last season, surfaced at Thursday's practice and put his three touchdowns in the mix. The 6-3, 215-pound Core is a big man that can run and while he emerged last season as a solid regular for special teams coordinator Darrin Simmons, Simmons reminds you he had 17 catches as a rookie when he got an opportunity. Which is what Core did Thursday when he scored in 7-on-7 working against linebacker Jordan Evans, ran a nice angle route in team that got inside cornerback Dre Kirkpatrick on third-and-eight in the red zone that would have ended up in a TD and on the last play of the two-minute drill he ran past cornerback KeiVarae Russell for a long touchdown catch that stunned the defense.
On the first two two-minute plays, quarterback Matt Barkley got nothing, then found Erickson on third and 15 leaking behind rookie cornerback Darius Phillips for a big gain running into the sidelines.
"We called a dive deep," Core said. "The coaches said, 'Just make it one play,' and we said let's go and toss it up."
This is what Core does. He quietly goes about his business. Working against Evans he said he ran a choice route that was a stick and move when he and Barkley read the defense. "If you run it right, you score 100 percent of the time," Core said. "The only way you can't score is if you cover yourself."
Which is basically Core's philosophy when it comes to playing time: "I don't pay attention to numbers. I just go out and grind. I control what I can control and don't take yourself out of it."
PLAY OF THE DAY: Even when Boyd drops a ball this camp, it turns into something good. He dropped a quick hitter over the middle and it bounced ahead to where Ross caught it as he ran his route. But Ross was totally disgusted with himself after dropping an early wide-open touchdown pass on the first couple of plays in team after Dalton unfurled a bomb in front of everyone.
"I really don't want to say too much about it. I just dropped it," Ross said.
But with everyone buzzing about the loss of LaFell's leadership, here's how Green quietly leads with great effectiveness. He approached Ross and told him to let it go and let him know that he dropped the same kind of route as a rookie.
"I told him if you're making up that story to make me feel better, you're a good man," Ross said. "It's going to happen to everyone. They said just shake it off. We'll get more opportunities."
"I remember it like it was yesterday. It was my first training camp," he said. "It was a similar route. I dropped it. The next week I scored on the exact same route. It happens. We all do it."
A quick scroll through the archives: Green's first TD came on a 40-yarder from Dalton against Carolina in the third pre-season game.
QUOTE OF THE DAY: "C'mon on John. We need that one." Unknown veteran Bengals defender on the sidelines after Ross' drop.
SLANTS AND SCREENS: After a couple of faulty forays early in camp, rookie center Billy Price says he's getting more confident snapping under center and says he's been 100 percent the last three days. Dalton says he's getting better.
"He's just getting used to the rhythm of everything. For the most part, the snaps have been right on," Dalton said. "I think sometimes he's anticipating snap counts, so he gets a little jumpy. He's been good. That's part of him not playing since his last games at Ohio State. Now he's getting back into playing actual football. For a guy that's never snapped under center, it's been good." …
The Bengals are taking it easy with Tyler Eifert's back. He returned to practice Monday, the day, before the off day, and after working Wednesday he didn't practice Thursday and stayed on the rehab field …
Rookie wide receiver Auden Tate is in concussion protocol after hitting his head on the turf in 1-on-1 drills Wednesday and missed practice Thursday … Rookie defensive tackle Andrew Brown left practice early Wednesday with what appeared to be a hamstring problem and didn't work Thursday … Defensive tackle Josh Tupou is on crutches and is hoping he's got a knee sprain, but was waiting on the results of an MRI before Thursday's practice …
Safety Clayton Fejedelem has missed the last two practices with an unknown ailment … Malone (hamstring) expects to be back soon …