Andy Dalton came out firing for the Family Day crowd.
The ancient Intrasquad Scrimmage has gone the way of the horse-and-buggy and the old Mock Game has morphed into just another strip mall practice of shoulder pads and simulated scenarios.
But as a nod to tradition Saturday head coach Marvin Lewis did split squad the Bengals into two teams before a Family Day crowd at Paul Brown Stadium and put the No. 1s in white and pitted them against the backups in black in a controlled scrimmage of situations. What emerged was a 19-9 White victory, which was expected, much like quarterback Andy Dalton's 13 of 19 passing for 154 yards that briskly accounted for two touchdowns in two different situations.
"We want to get into the right tempo for Friday night," said Lewis of the pre-season opener at PBS against Tampa Bay. "Today was good. People are around (11,108 of them) and it's a little different environment than in the laboratory."
But the Bengals are still experimenting on the offensive line, where their biggest question of the offseason has become the biggest concern of training camp. The group had played pretty well until Friday night, when the all three units were stunned in allowing double-digit sacks on about 50 plays.
The line rebounded Saturday to play better than that, but offensive line Coach Paul Alexander said he's not done figuring out who are his top five players. Trey Hopkins, a fourth-year veteran who has played in one game, has become one of the more consistent linemen and in three straight series Saturday he played right guard, center, and left guard for the white team.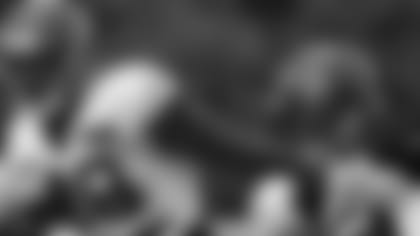 Joe Mixon had a good day to end his first week in an NFL camp.
PLAYER OF THE DAY: You could have gone with veteran kicker Randy Bullock, who rocketed through his first three kicks while rookie Jake Elliott missed his first two. Or rookie running back Joe Mixon, whose five touches electrified the crowd.  Or rookie linebacker/pass rusher Carl Lawson, who led the Friday Night Frights with four sacks, adding 1.5 more, Saturday working with the first defense and torturing the backups. Or even the newest offensive player, slippery quick rookie wide receiver Levonte Whitfield with four catches for 39 yards. 
Even six-time Pro Bowl wide receiver A.J. Green with four catches for 51 yards.
So the safest call is Dalton, who is quietly and stoically the guts of this thing, much like Ken Anderson 40 years ago.
Starting from his own 4, Dalton sifted four of four passes for 51 yards with the last a 20-yard touchdown pass to wide open tight end Ryan Hewitt in the middle of the field off a play-action pass. A 31-yard pass interference penalty on cornerback KeiVarae Russell working on wide receiver Brandon LaFell deep also aided the drive.
Dalton then worked the one-minute to perfection when he hit 18-yarders down the seam each to LaFell and Green before finding Mixon leaking out of the backfield on a flat route for two-yard touchdown flip. When they watch it on film, it may not count because left tackle Cedric Ogbuehi didn't touch end Chris Smith coming off the edge and may have sacked Dalton. But Dalton did unload it quickly and Mixon was there after missing Friday's practice with a bruised heel. And the refs didn't wave it off or stop the play.
Maybe nothing spectacular, but if it shows one thing it's just how much in command Dalton remains of the offense. There was no script of plays.  
"Anything they wanted to call, they could call. There was no game planning for this," Dalton said. "I thought we executed. We moved the ball well. It's exactly what you want for one of these scrimmages."
PLAY OF THE DAY: Mixon, the second-rounder from Oklahoma, has been the hit of camp and here's why. He had already caught the TD pass when on third-and-forever he locomotived his 228 pounds for 18 yards on a dump pass while making his college teammate, rookie linebacker Jordan Evans, and safety Clayton Fejedelem miss.
There's no question. Mixon, who also rushed three times for 20 yards, loves to catch the ball.
"That was a good situation for me to showcase how I can get up the field and make people miss," Mixon said. "I love doing it all."
QUOTE OF THE DAY: Mixon on the crowd's enthusiastic reaction to his game: "Great. Nothing like it. How they've brought me in and loving all on me, I appreciate it. I'm just here being the best I can as a player and a person around the community. Just help my teammates put this team in the best position."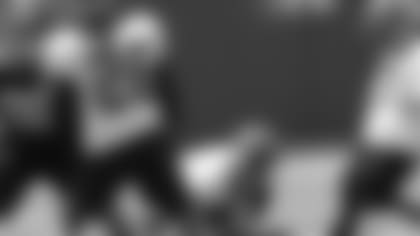 Jake Elliott bounced back with two makes after two misses.
KICKOFF: Hang on for the ride. Jake Elliott was supposed to be the favorite in the kicking competition because he's a fifth-round draft pick. He probably still is but he made it interesting Saturday when he missed his first two, a 52-yarder yanked to the left, and a missed extra point that faded to right and to the painful reminders of last season.
Meanwhile veteran Randy Bullock hit all three of his field-goal tries, a 52, 39, and 35. But when Elliott came back to hit a 32-yarder and close the day with a 51-yarder, that was impressive, too.
"That's the positive you gain from it, I guess," said special teams coordinator Darrin Simmons. "I liked to see that his demeanor was the same. He wasn't panicked. We talked about what went on, what happened and how to fix it. He was dragging his foot on the ground a little bit, and when you drag your foot it causes you to not lock your leg out and if you don't lock your leg out you push it right. On the last one he came and hit it hard and hit it clean, the way he should have been doing the whole time. But he showed he was able to correct it. That's the positive."
Elliott had no excuses, but he indicated he wasn't ready to kick that first one, the 51-yarder, and wasn't quite sure if he was supposed to go out there until the refs suddenly made a move.
"I wasn't focused. It just wasn't smooth" he said. "It was an alignment problem I think because I hit it well."
But not so the PAT: "That was a bad hit. I didn't hit it well enough and the wind took it."
 Still, he redeemed himself.
"I wasn't thinking about the previous ones. I washed them from my brain as quickly as possible," Elliott said. "My job is to figure out what I'm doing wrong and fix it."
 O-LINE CAUTION: The offensive line also had a bit of redemption Saturday. If you take away the Smith play, the young tackles kept the backups off Dalton. But the backups did give up five sacks.
"I think it would be fair to say their coach wasn't real happy with them this morning," Alexander said. "We have a lot of work to do, but it was a heck of a lot better than the last couple days."
But there is still some angst. No, Alexander said, he's not done rotating. Yes, he said, he's worried about the chemistry when doing that.
"I've got to find, first, the right guys. Still looking for the best five. You got a job. Who wants a job?" Alexander said.
He's not only been working Trey Hopkins at right guard, he's given right tackle Jake Fisher a few snaps at left tackle. But he didn't do that Saturday. While he played Hopkins at the three interior spots he kept Ogbuehi at left tackle and Fisher at right tackle because he didn't have many more tackles on the white team. But he indicated he's playing Fisher there in spots because he's trying to find a backup to Ogbuehi.
"We worked him over there at left tackle some. We will have to have someone back up over on the left side. Either him or (Eric) Winston or Andre (Smith). Trey," Alexander said. "We are just working guys around. He went some against the first group because I want to see him go against some good rushers. Doesn't do any good to go against a rookie rusher. You will find nothing out."
Alexander says he may not know who his five are, but Hopkins is definitely at least No. 6.
"I have always liked him. He's always done a good job," Alexander said, "Heck, as an undrafted rookie he started in the first pre-season game. That kind of talks about the way we operate here. If you are the best guy here you play. We are a long way from saying, 'OK, here is our team we are ready to play the opener.' We got a lot of work to do."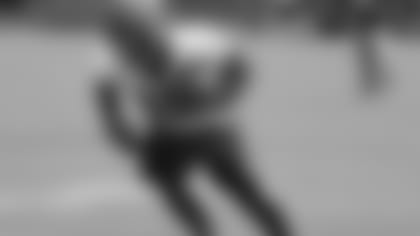 John Ross has been learning the punt return rade.
ROSS GRINDS: Rookie wide receiver John Ross (shoulder) has yet to be cleared for contact, but he's been suiting up all camp running routes and trying to catch punts. "Trying,' because the guy hasn't caught punts since he was a freshman at the University of Washington and it has showed in his first week doing it as he tries a harder-than-it-looks-craft. But he showed the determination of a first-round draft pick on Saturday when he resolved to catch his one try.
Even if it was in the no-no land inside the 5.
"I kind of messed up the drill," Ross said. "But the emphasis for me today was catch everything. When the ball is kicked, just catch it."
And he did, but Simmons let him know that ball has to be waved off. Something got lost in translation.
"It's completely new. He's been practicing with us for a week. We couldn't do anything in the offseason, the whole OTAs. We couldn't do any of this stuff. So again, it's a work in progress," Simmons said. "I wanted him to play it out like a game. For whatever reason, that wasn't clear to him. In practice, we catch those a lot of time because I want to get him to catch. But no, I didn't not want him catching it in that situation. I wanted him to let it go."
No one can question Ross' work ethic. The kid stays after every practice catching balls from any quarterback that will have him and before practice assistant equipment manager Sam Staley is firing more punts at him from the jugs than Pat McInally himself.
"A punt is a lot harder to catch," said Ross, who is more used to the kick return. "You're not going to get that hard of a ball on a kick and it's not affected by the wind. It's going to come straight to you … A punt coming off the foot of a veteran (lefty) punter, and then there's the wind, that's a lot different."
Cincinnati Bengals host Family Day at Paul Brown Stadium 8/5/2017