The Bengals opened training camp Thursday on the Paul Brown Stadium practice fields before an estimated crowd of 1,200.
Clint Boling didn't mind that Leon Hall got all the ink for making the first snap of camp.
"As he should," Boling said after he quietly took the first snaps at left guard even though he had ACL surgery less than seven months ago following his Dec. 1 injury in San Diego.
"We're all trying to reach the same goal. None of it matters who is back before whom. We're all trying to win a Super Bowl," Boling said.
With left tackle Andrew Whitworth sidelined by a calf strain, Boling worked for the first time with backup left tackle Marshall Newhouse and rookie center Russell Bodine on the first offensive line.
"My goal was to be out there today. It's a long process, I'm just happy to be out here playing again," Boling said.  "I'm happy to get the first one out of the way. We'll see how it responds tomorrow.
"There (are) going to be a lot of first steps we have to cross. There's the first practice in pads, the first scrimmage, the first preseason game, the first real game. This was the first one." WHIT TWEAK:  Left tackle Andrew Whitworth was a surprise addition to the active/physically unable to perform list (PUP)  when the Bengals started training camp Thursday with what appears to be a minor calf strain. Whitworth apparently picked up the nick in Wednesday's conditioning test.
He counts against the 90-man roster, a number they suddenly had to scramble to keep as they walked off the practice field. Because they signed a pair of young receivers Thursday, they had to let go of punter T.J. Conley at the end of practice. In the end, that was a good sign because it meant that regular punter Kevin Huber (neck) was off PUP and practicing for the first time since he broke his jaw against the Steelers back in December.
Earlier in the day the Bengals signed rookie wide receiver Jeremy Johnson and he jogged on to the field about 10 minutes into the practice. Then after practice the Bengals were awarded Browns wide receiver Conner Vernon on waivers. The 6-0, 192-pound Vernon, a first-year player out of Duke, was a 2013 college free agent with Oakland and caught four passes for 42 yards in preseason. He was waived by the Raiders in final preseason cuts and was signed to Cleveland's practice squad Dec. 26.
The 6-0, 179-pound Johnson signed with New England following the draft  after four seasons at Southern Methodist he had 195 receptions for 1,930 yards and 10 touchdowns.
Joining Hall, Huber and Boling off PUP were wide receiver Colin Lockett (hamstring), defensive tackle Christo Bilukidi (tooth) and cornerback Onterio McCalebb (knee).
Still on PUP were defensive tackles Geno Atkins (ACL), Devon Still (back), Zach Minter (back), wide receivers Marvin Jones (ankle), Ryan Whalen (hamstring), tight end Jermaine Gresham (back), center Mike Pollak (knee), quarterback A.J. McCarron (shoulder) and linebacker Marquis Flowers (hamstring).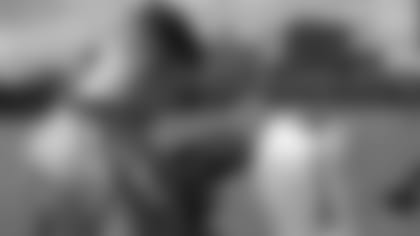 PLAYER OF THE DAY: Give it to quarterback Andy Dalton. He missed just four passes in 11-on-11 sessions. According to the Voice of the Bengals, Dan Hoard his numbers to read 19 of 23 with two of the 20-yardish variety, one to wide receiver Mohamed Sanu down the sideline and a tight-window throw to Tyler Eifert down the seam.  During 7-on-7 he also threw a pretty Go ball to wide receiver A.J. Green into the wind, hanging it up long enough and far enough for Green to run under it.
Dalton looked at ease running Jackson's up-tempo offense and racked up the intermediate and short passes. Without huddling the Bengals looked fairly crisp for their first practice in 26 days and rarely put the ball on the ground. There looked to be no false starts or bad snaps with rookie Russell Bodine handling the bulk of the work at center for the No. 1s.
There was a sweet moment for Dalton after it was over. His wife Jordan and 24-day-old Noah were waiting under the tent for him and he held him up the baby for pictures in his tiny No. 14 jersey.
PLAY OF THE DAY:  Of course, Dalton to Green. This one in 7-on-7. Cornerback Terence Newman was all over Green on a sideline route and Dalton floated it to the only place Newman couldn't reach it. But Green had to do his part, jackknifing into the air over Newman and taking it off his fingertips before falling out of bounds.
T. STILL NEW: By the way, Neman, who turns 36 in 42 days, looks terrific. One player said he looked like he came back a year younger. Running back Giovani Bernard, who doesn't turn 23 until November, looks like a different guy than last year's rookie. A little bigger, a little faster. After Bernard broke away from the pack on one handoff, Newman challenged him by sprinting to catch up with him and Bernard held him off in the end zone in a nifty footrace.
Not to be outdone by Newman and Leon Hall at cornerback, third-year man Dre Kirkpatrick had a very effective practice. One insider said it was his best as a Bengal.
SCARY MOMENT: How big and strong is new defensive tackle LaKendrick Ross? The 6-4, 360-pound Ross, who signed earlier this week after not getting taken in the supplemental draft, has played just a season of high school and a season of small-college ball and he's trying to show the Bengals he's worthy of a practice squad spot.
Ross didn't mean to, but he ran into backup quarterback Jason Campbell as he was back to throw in the pocket and when they collided, the 6-5, 235-pound Campbell, not exactly puny, went flying one way and the ball went the other.
SLANTS AND SCREENS:Head coach Marvin Lewis has some Super thoughts. The unofficial logo of camp on one of the players' T-shirts shows a trophy topped off by some Bengals colors that bears a resemblance to the Vince Lombardi Trophy. 
NFL commissioner Roger Goodell has suspended Ravens running back Ray Rice for the first two games of the season stemming from an incident Rice had with his girlfriend. That takes the Ravens leading rusher out of the Sept. 7 opener against the Bengals and the Sept. 11 game against the Steelers...
Bengals cornerback Dre Kirkpatrick knew it without having to be told. it's the first time in his three NFL seasons he's been able to participate in all the spring activities heading into a camp. Throw in defensive coordinator Paul Guenther's praise of his spring work and Kirkpatrick admitted before the first practice it has impacted his confidence.
"It's high. Especially because of all the things I've been through, trying to get back to where I am now, so just hearing it from the man that's making all the calls is a good thing," Kirkpatrick said.