PLAYER OF THE DAY: WR A.J. Green.
Why not? On his 28th birthday Green showed the crowd of 2,325 on the Paul Brown Stadium practice fields Sunday why he's mentioned in the same breath as the NFL's top receivers. On the day they broke out the shoulder pads, Green easily broke away during the first day DBs were allowed to press cover.
In the first one-on-ones of the day Green was able to release against cornerback Dre Kirkpatrick and bolted away to catch a touchdown.
Then on the first snap of team drills against the No. 1 defense Green again beat the press and was able to track down a 20-yard arrow from quarterback Andy Dalton on the sidelines.
Hard to get mad at the DBs for that one. Dalton pumped a beautiful back-shoulder throw and Green expertly found the hole.
 Secondary coach Kevin Coyle, who left Cincinnati after Green's rookie year in 2011, shook his head after practice.
"I see a different A.J. Green than the one from five years ago," Coyle said. "When he first came in we had trouble covering him immediately. Leon (Hall), our best cover guy at that time, struggled early on.
"He's extremely explosive. He's very, very smart with his hands in terms of his releases," Coyle said.  "His ability to accelerate and track the ball down the field makes him one of the best."
That first throw in 11-on-11 is just an example of how tough it is to make a play against Green when the quarterback is razor strong in one-on-one. No matter what the defense can do.
"Back shoulder fade. That's a tough throw to begin with covering a guy like A.J. and you're worried about him taking the top off the defense," Coyle said. "It's a timing throw. They're hard to stop even if you're anticipating it. He threw it right there on the sideline."
PLAY OF THE DAY: Backup CB Chris Lewis-Harris.
It was fitting that Lewis-Harris had one of his typically solid practices when he got promoted to first team for a day Sunday as franchise great Willie Anderson arrived in camp.
Lewis-Harries spied Anderson holding court with the media after practice, held out his hand and said, "He's the reason I'm here."
Well, that's partly true. Just before training camp started in 2012, Anderson, the Bengals' four-time Pro Bowl right tackle from the previous decade, phoned head coach Marvin Lewis and urged him to sign Lewis-Harris. The trainer for Lewis-Harris, a native of Greater Atlanta, knew the Atlanta-based Anderson.
Lewis-Harris had been a personnel afterthought after he went undrafted out of Tennessee-Chattanooga and unsigned until he arrived the day camp started. He's been here ever since and last year had career-highs in 42 snaps from scrimmage in seven games.
But the other part is the man they call "Clue," makes plays like this one in 11-on-11:
With Darqueze Dennard out for the day for personal reasons, Lewis-Harris took over the slot corner on the No. 1 defense and lined up across from wide receiver Brandon Tate. Tate took off on a wheel route, but Lewis-Harris wasn't fooled when Tate made his vertical move up the sideline. He ran step for step with Tate and when Dalton threw it Lewis-Harris acted like the receiver, caught it over his shoulder, and then bolted back the other way for an intriguing interception.
"He's the kind of guy you love to coach,' said defensive coordinator Paul Guenther. "He doesn't say two words and he's always in the right place."
He's Coyle's kind of guy even though Lewis-Harris joined the Bengals the year Coyle left.
"Smart, tough, very coachable. Team guy. Love his attitude," Coyle said. "Since I've been here, all he's done is good things. He takes care of his business in workman like fashion. A really great example to young players on what being a pro is."
Lewis-Harris, 27, has survived in a cauldron of first-round corners. When he got here in '12, they had five after drafting Dre Kirkpatrick. In '16, they still have four. They no longer have Hall, but they just drafted William Jackson after taking Dennard in '14.
Lewis-Harris doesn't mind being the diamond-in-the rough. He loves being with the big boys.
"Me being a free agent, I was grateful. I learned from everyone," Lewis-Harris said. "I picked their brains and I upped my game."
The interception was pure "Clue,":  "I got on top of the route and stayed there … I played my alignment and it just took me to the play."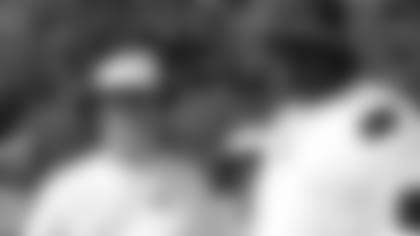 When Willie Anderson (right) returned to Bengals training camp for the first time in eight years Sunday, he fondly recalled the letter club president Mike Brown (left) wrote him when he made his first Pro Bowl.
QUOTE OF THE DAY:  Former Bengals right tackle Willie Anderson, the four-time Pro Bowler, upon his arrival at his first Bengals training camp since 2008 to work for the next week with the offensive line:
 "I always say the Bengals winning can help guys like Ken Anderson and other guys get in the Hall of Fame. In the '90s, the voters were Bengals biased. I definitely root for a guy like Ken Anderson and these guys we thought as young Bengals that they were heroes, that we would never catch up to them. 'Damn, these guys are legends.'  I root for these guys first and hope a guy like Ken Anderson goes to the Hall of Fame. I think these guys have done a good job changing the narrative of who the Bengals are. The more they win, the more it helps the older guys like that and it's a rich tradition."
Of course, Anderson is a legend in his own right as the greatest right tackle in Bengals history and a powerful locker-room leader in Lewis' rebuilding project that helped pave the way for a steel-belted culture that has led to five straight post-season berths.
But Sunday was his first visit to camp since he and the Bengals parted ways before the 2008 season in what wasn't an amicable split. Yet everyone was smiling when Anderson surfaced on the sidelines late in Sunday's practice.
Bengals president Mike Brown leaped out of his golf cart to introduce Anderson around and his two remaining teammates from the '07 team, left tackle Andrew Whitworth and defensive tackle Domata Peko came over for a hug. Anderson hugged the public relations staff of Jack Brennan and P.J. Combs and then proceeded to back up the fodder truck for a new generation of Bengals beat scribes.
Also coming over to say hello was new right tackle Cedric Ogbuehi, the man Anderson plans to work with much of the week.
"I'm ready to learn," Ogbuehi told him.
Anderson waxed poetically about the letter Mike Brown wrote him when he finally made his first Pro Bowl in 2003 after he should have started going in 1998.
"He knew how much it meant to me. How I was scrambling to get there," said Anderson, who gave the letter to his mother and she still has it in a box in Mobile, Ala.
As always with Anderson, still as quotable as Bartlett's, you can't have one Quote of the Day:
When he saw the cafeteria installed in the old weight room at PBS last year: "You've got to be kidding me."
On a training camp at PBS instead of at Georgetown or Wilmington: "I prayed for this every year."
On the difference in the Bengals' contending teams late in his career compared to this one: "It's become the team we all thought it could be. At one time all of our stars and big money guys were on offense.  Myself. Levi. Carson. Chad. I don't think we had any big money guys on defense. Now you've got three or four Pro Bowlers on defense.  I think the biggest thing Mr. Brown and Marvin and the personnel guys have done is change the culture to where they want to get it to." SLANTS AND SCREENS: Full pads are expected in Monday's 3 p.m. practice after Sunday's light practice got them acclimated to shoulder pads ... Wide receiver Mario Alford, who dropped a TD bomb Saturday, came back Sunday to make a sliding catch over the middle on third down ... Rookie defensive tackle Andrew Billings squelched one play when he walked his guy back into the quarterback ...
Cincinnati Bengals host Training Camp Practice at Paul Brown Stadium Practice Fields