Rookie Jake Kumerow tries to get a handle on a roster spot as the pre-season opener nears.
The periphery of the Bengals roster has a Gigantic week starting in Monday's 3 p.m. workout, when head coach Marvin Lewis tunes his club for the 3 p.m. Tuesday and Wednesday practices against the Giants on the Paul Brown Stadium practice fields.
It's the first time the Bengals have ever hosted a club in a public practice and pits their highly-regarded starting lines against New York's beleaguered trenches. Last year quarterback Eli Manning got drilled while the Giants finished 23rd running the ball and 30th stopping the run.
Certainly the Bengals' four first-round cornerbacks getting a chance to cover New York sensation Odell Beckham Jr., in one-on-ones is worth a look.
But, as always, when they meet in Friday's 7:30 p.m. preseason opener at PBS, the focus is on the backup battles. That first series, no doubt, is going to be interesting for the Bengals defensive and offensive lines as they try to set the tone for the season. But the game is going to be remembered for how the depth plays out.
 Here's a thumbnail look at each position after the first week of training camp, along with the number of players they usually keep at that position.   
(Parenthesis denote years in the league:)
Josh Johnson (7), Andy Dalton (5), AJ McCarron (2), Keith Wenning (1)
In the last few practices McCarron shed the indecisiveness that dogged him early and he's starting to look like the guy they drafted to develop as Dalton's backup. There are going to be hiccups for a guy heading into his first preseason games and they look ready to hang with him.
Meanwhile, Dalton is doing exactly what offensive coordinator Hue Jackson wants. He's become more involved as a leader and he's taking care of the ball. After Saturday's Mock Game conditions, Jackson wasn't kidding when he said any day's a good day you don't turn it over. That's been his emphasis.
Wenning is going to use the fourth quarter of the next four games to prove he's practice squad worthy.
Brandon Tate (7), A.J. Green (5), Greg Little (5), Denarius Moore (5), Marvin Jones (4), Mohamed Sanu (4), Onterio McCalebb (1), Tevin Reese (1), Mario Alford (R), Jake Kumerow (R), Desmond Lawrence (R).
After Green, Jones, Sanu, and Alford, that's why they're playing the preseason games. Tate's fate may rest on how Alford handles punt return duties in the games. Little and Kumerow have flashed and have a chance to stake a claim with good game performances. The Bengals are down in numbers here, but it is softened by the options they have at running back and tight end.  Would they go with just five receivers and four tight ends? Depends on how guys play.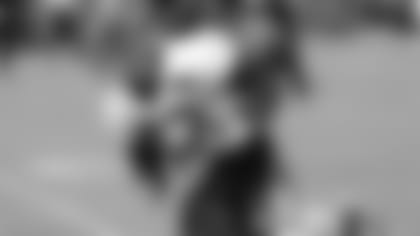 Rex Burkhead (above) and Giovani Bernard are backs that can also line up at receiver.
Cedric Peerman (6), Giovani Bernard (3), Rex Burkhead (3), Ryan Hewitt (2), Jeremy Hill (2), James Wilder Jr. (1), Terrell Watson (R), Mark Weisman (R).
Everyone knows the five, counting Hewitt as the fullback. The same as last year. What is easy to forget amid all the preseason window dressing is that this is Hill's offense. You're looking at a guy that could threaten 300 touches. And you can look at Bernard and Burkhead as receivers as much as backs.
Tyler Eifert (3), Jake Murphy (1), Tyler Kroft (R), Matt Lengel (R), John Peters (R), C.J. Uzomah (R).
They feel encouraged by this crew. Eifert has been one of the best players in camp and Kroft's qualities that made him the top tight end on their draft board (hands, speed, size, ability to adjust to the ball, willingness to block) have surfaced. Uzomah is a talented blank slate that intrigues them and who they think will be more of a factor later in the season. Lengel and Peters have not disappointed and look to be squad material. But question: what if Lengel has a better preseason than a sixth receiver?  
T Andrew Whitworth (10), T Eric Winston (9), T Andre Smith (7), G Clint Boling (5), G Kevin Zeitler (4), T Tanner Hawkinson (3), C Russell Bodine (2), C-G Trey Hopkins (2), C-G T.J. Johnson, T Dan France (1), T Matthew O'Donnell (1), T Jake Fisher (R), C Jake Smith (R), C-G Chris Jasperse (R), T Cedric Ogbuehi.
Fisher looks to be overcoming a slow start. Like McCarron, it takes time to get feet on the ground in a first training camp. He's hung with it after having a lot on his plate early. They're glad they've got a solid veteran like Winston who can play both guard and tackle if needed early as Fisher develops.
Hopkins hasn't looked as explosive as he did last season as he comes back from a broken leg from the preseason.  But they still like the strength he brings backing up guard and center and he'll have a chance to win a spot. T.J. Johnson mixing it up with right end Wallace Gilberry Saturday showed the saltiness they like from him as a backup guard-center. Same, too, with Gilberry, whose veteran leadership is held in high regard.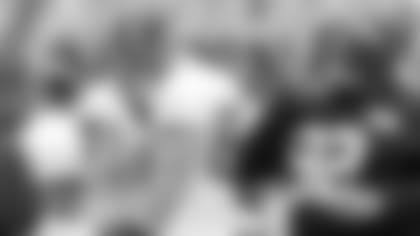 Veteran Pat Sims is in the middle of the roster's toughest battle.
NT Domata Peko (10), E-T Wallace Gilberry (8), T Pat Sims (8), E Michael Johnson (7), T Geno Atkins (6), E Carlos Dunlap (6), T Devon Still (4), T Brandon Thompson (4), T Kwame Geathers (3),  E Margus Hunt (3), E Will Clarke (2), E Sam Montgomery (2), E-T Marcus Hardison (R), T Kalafitioni Pole (R), T DeShawn Williams (R).
Toughest cut on the team. You've got eight that have to make it, right? The four starters (Atkins, Peko, Dunlap, Johnson) as well as Gilberry, Clarke, and Thompson. It's hard to see them cutting a fourth-round pick in Hardison who is showing them he might be able to play both tackle and end. So does that leave one spot for Hunt, Sims, and Still? And we haven't even touched on Williams, a Little Geno-type who has really opened up eyes at both tackle and end. Hard to see them keeping 10 if it means not having six cornerbacks.
A.J. Hawk (10), Rey Maualuga (7), Chris Carter (5), Vincent Rey (5), Vontaze Burfict (4),  Emmanuel Lamur (4), Jayson DiManche (3), Nico Johnson (3), Sean Porter (3), Marquis Flowers (2). P.J. Dawson (R), Trevor Roach (R).
Burfict's unknown status casts a long shadow over this spot. The hope is he can start practicing before the third pre-season game and be ready for the Sept. 13 opener in Oakland. If not, who is the sixth guy if it is Hawk, Maualuga, Lamur, Rey, and Dawson? Flowers and DiManche have done it before and Carter has them wondering with an excellent camp rushing off the edge. But he's a 3-4 linebacker who is going to have to prove to them during the games he can also drop into coverage.
The coaches are on Dawson about working on the intangibles and he's starting to show the instincts that made him a third-rounder. He had a sack Saturday and knocked down a pass on Thursday.
The bet here is the ultra-competitive Burfict, the heartbeat of this defense, finds his way to Oakland.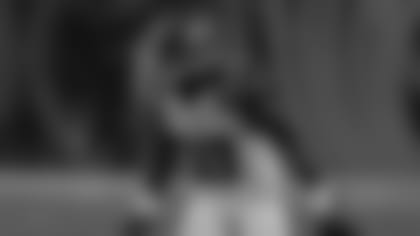 Cornerback Chris Lewis-Harris brings seasoned special teams play into the mix.
CB Leon Hall (9), CB Adam Jones (9), S Reggie Nelson (9), CB Brandon Ghee (6),  S George Iloka (4), CB Dre Kirkpatrick (4), S Shiloh Keo (4), CB Chris Lewis-Harris (3), S Shawn Williams (3), CB Darqueze Dennard (2), S Erick Dargan (R), CB Troy Hill (R), S Floyd Raven Sr. (R), CB Josh Shaw (R), S Derron Smith (R).
There are some nice battles here. The sixth and last cornerback comes down to special teams and Lewis-Harris has some experience as a gunner, a need with James Wright on IR and Kirkpatrick starting. Ghee has also showed up (he defended Green well on a goal-line snap Saturday) and will have something to say about it.
Williams took a lot of snaps Saturday in place of Nelson and he'll get a load over the next four games. After three seasons they seem to want to find out if Williams can play from scrimmage. He's already a special teams bell cow. It would appear Keo and Smith are hooked up for that last safety spot with Keo's experience giving him an edge. Smith does make plays, though. His interception Saturday got waved off because of Dawson's sack.  
K Mike Nugent (11), LS Clark Harris (7), P Kevin Huber (7), K Tom Obarski (R)
Obarski made all his kicks Thursday and Saturday in situations and he'll get plenty of chances in the next four games as Nugent tunes up.