It took Zac Taylor just one draft to make a little history as the Bengals head coach.
It's believed to be the first draft the Bengals ever made three separate trades and the first one they traded up twice.  They came into the day trading up just four times in the previous 51 drafts, but many of director of player Duke Tobin's principles were still on display to help Taylor draft a position paper for his first season with his fingerprint on his first roster.
Tobin, in tandem with Bengals president Mike Brown, likes productive, experienced players in leadership roles at big schools and starting with three-year Alabama left tackle Jonah Williams in the first round, they got them. All the way down to the sixth round. That's where they got linebacker Deshaun Davis, who at 5-11 is the only guy they drafted that could have a check in the box marked undersized. But that was countered by his 266 career tackles on the big stage at Auburn and tape of 31 collegiate games that really impressed the coaches. They believe he could be as instinctive as any backer in the draft.
But Taylor's vision on offense and defense were also unveiled. Big up front. Big all the way. Yes, he wants them to be able to run. He also wants them big and physical in what he views as a sport of attrition as much as talent. He has been talking about running the ball since he got the job and in this draft he put his money where his playbook is.
Three of the first six picks that first-round versatile tackle in Williams, a second-round physical tight end in Washington's Drew Sample, a massive fourth-round mauler in Ohio State guard Michael Jordan were bows to the running game. So were the sixth-round running backs, Texas A&M's Trayveon Williams and Oklahoma's Rodney Anderson. Taylor didn't exactly replace Mark Walton with waiver wire pickups behind starters Joe Mixon and Giovani Bernard. Williams led the SEC with 19 touchdowns and three season-ending injuries prevented Anderson from being a potential first-rounder with 6.4 yards per on 200 carries in the same big league.
"That's the starting point for us. We're going to place a strong focus on the run game, and it all plays off of that," Taylor said. "If you can't get the run game going, then the rest your offense struggles. I think that provides some competition at offensive line, running back and tight end, which was important. Not only for competition, but to build that depth. Not only that, but we wanted to get players we really felt highly of and targeted. If those players weren't (like that), then maybe you take a different position. We felt very strongly that the guys at those positions would come in and help us."
If you want a pick to sum up how Taylor meshed his evolving philosophy with Tobin's established decade running the Bengals draft room under the direction of Mike Brown, look no farther than the selection of the 255-pound Sample at tight end. Taylor is coming from a Rams offense that thrived on three-receiver sets with one tight end, so more receivers the merrier you would think with a second round teeming with interesting wide outs like Stanford's JJ Arcega-Whiteside and Mississippi's DK Metcalf and the Bengals already getting their tackle.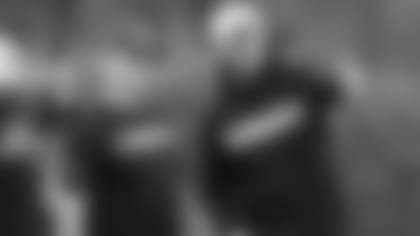 But it was Sample that had the grades, not to mention Taylor's eye. After the pick Taylor heard from enough people calling him names that he knew Sample wasn't going to be around very long.
"I don't think we would have gotten him in the third round. The more you watch the tape on him, he is a physical, does-it-the-way-you-want-it player," Taylor said. "You look at his passing stats and say, 'What's up with that?' But he does what you need him to do on first and second down in the passing game. It's hard to find tight ends that are that physical and hard-nosed in the run game right now. He's 255 and he doesn't look it, so that's usually a good sign when a guy walks in and is 255 and you might think he's 235. He's got a lot of power and grit … Drew fits what we do. When he's there and you really like him, you've got to go get him. We're really excited about that pick."
But the receivers aren't going anywhere, although you would think with Taylor observing the top three tight ends (Tyler Eifert, C.J. Uzomah, Sample) all have a little something different, he and offensive coordinator Brian Callahan will find a way to use plenty of double tight end formations.
"It doesn't change what our approach will be on game day," Taylor said of the way the draft broke. "It just changed what was available for our needs and what can help us. I'm really encouraged by the receiver group that we have. Two of our guys (A.J. Green and John Ross) were injured and didn't get to participate this week, but I'm really encouraged by the depth of that room. We can go into that season with some good weapons at the receiver position, so we felt like we had to add bodies elsewhere … The value everywhere we were picking mattered more. There were good players at the positions we were selecting that fit us."
The idea to get as many potential starters as possible in a meaty third and fourth rounds drove the wild fourth with two historic trade-ups. The seed to trade up to draft North Carolina State quarterback Ryan Finley had been sown a month ago after his visit to PBS. He was smart enough, accurate enough and big enough that the Bengals thought if he dropped to the last day, he was the one quarterback for whom they'd take a run. (That was the other pick where Taylor got some nasty texts after whisking Finley out of the round.) With a fresh look at the board and plenty of ammunition on Saturday morning, they went up top. Then they did it again at the bottom of the round after deeming Jordan was the last of the potential starting offensive linemen available.
And if this draft proved anything else, it's how valuable they covet character on the offensive line. You only have to look at how the line for Taylor's Rams of last season carried everyone to the Super Bowl. It also shows you how much they value offensive line coach Jim Turner's counsel. They also took his recommendation on Williams, the running back he worked with last season at A&M. You could also check the undersized box on Williams (5-9, 200), but the kid runs like an offensive lineman and doesn't mind taking on tacklers.
It also shows how much Turner respects his center, Billy Price. Price was Jordan's linemate at Ohio State and Price recommended him when Turner did his due diligence scouting Jordan. With Price, last year's No. 1, teaming up with two more "1" character rookies in Jonah Williams and Jordan, Price's replacement in Columbus, you see a pattern.
"Any time you build an offensive line, the guys that play well together are usually the better lines," Callahan said. "You have to have talent, no question. But when you look at the best ones around the league, they have chemistry, they communicate together, they see the same things. When you build with a bunch of guys that are intelligent, they start making calls together. It almost becomes unspoken. That's the goal; to get that type of chemistry among the group. We've added guys that we feel will end up in that sort of mode. We want guys that love playing football, that can play a bunch of positions, and who want to compete. They want to get after people. Those things are important. The character of that group is important. We're trying to build a group that wants to attack people."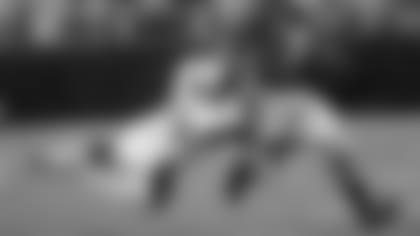 Tobin's insistence on not giving away his draft capital paid off. The almost annual effort to get to the top of the second round, where on Friday some first-round offensive linemen remained, was deemed too expensive. Tobin was holding on to that fourth pick and when the linemen disappeared, he turned it into three fourth-rounders when he traded down in the second, instead, for a fourth and a sixth, their sixth sixth-rounder of the draft. Tobin packaged two of them to go up six spots to draft Finley with the second pick in the fourth round and then used another sixth and his fifth to trade back up into the bottom of the fourth to get Jordan.
"It's really good the way the draft is set up because you get a chance to take a step back and reevaluate and see who's on the board and then make some decisions like that," Taylor said. "We were all in agreement that that was worthy of trying to get up there and get him before someone would jump up and grab him. Fortunately, we were able to get up pretty high and grab him, and he'll provide some good competition there in the quarterback room."
Taylor felt there was no need to make a special call to Andy Dalton. Finley has been drafted to back him up this season and nothing else in 2019.
"It's not a requirement," Taylor said. "I would say I'm in constant communication with Andy almost every day, about football and everything else. We talk just about every day. When you take a quarterback, it comes up. But I was planning on talking to Andy whether we took one or not."
After making the first ten draft calls of his head coaching career, Taylor figured they were enough.
"You call, and they don't know who's calling," Taylor said. "You have to identify yourself and who you're with. Responses are so varied — some guys are pretty even-keeled, others are screaming and yelling, and for others it's very emotional. It's a very cool, life-changing moment for those guys, so a chance to be a part of that is an opportunity you don't take for granted."
It's life changing for the Bengals, too. Ten draft picks have officially made this Taylor's team.