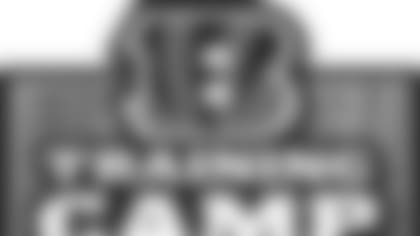 Bengals head coach Marvin Lewis offered signs of just how good he feels about this team and the experience of a decade as an NFL head coach Saturday when he turned the annual intrasquad scrimmage into pretty much another practice in the first event of its kind ever held at Paul Brown Stadium.
There were eight live plays in a scrimmage between the third-teamers and eight more in short yardage and goal line for the first- and second-teamers before a crowd of slightly more than 6,000. And that was it for a club that used to hold a 40-play extravaganza for a scrimmage.
But that was long before a kinder, gentler collective bargaining agreement, one-practice camp days, and a lockout that proved less can be more.
Plus, "we kind of know who our guys are; it's important to make sure we don't overexpose those guys," Lewis said. "Smarter is better. I tried to get some of the young guys some good work."
Sunday's 6 p.m. mock game at PBS promises to be the usual pass-happy crowd-pleaser. Lewis splits the players into two teams with shoulder pads but no hitting. And Pro Bowl quarterback Andy Dalton warmed up with a brisk 5-for-5 passing in Saturday's last period.
Once upon a time, Lewis got grilled for too much hitting and too much time on the field. Of course, the players are always going to gripe, but clearly Lewis has adjusted, as well as coping with the CBA.
His best teams have started fast and flamed late, and it should be noted that during the first two days of contact earlier this week, the pads came off halfway through practice.
And, he's been headed that way for a while. The scrimmage got wiped out by the Hall of Fame Game assignment in 2010 and by the lockout in 2011.
"We kind of know who most of our guys are. It's important we just get everybody as sharp and executing and knowing what to do and how to do it and able to do it," Lewis said. "We've been through it a few times. I think it's just where we are right now. If you look at every time where you are with the team and the plan that we have and you adjust as we go.
"We know a lot of what we are dealing with. I think the good positives are we are a much better group, our offensive skills guys are much better than we were a year ago. That's important. We went into the offseason trying to improve that and I really feel great we did that. That's the biggest positive, today was a good positive step for them. We need to continue to move forward with that."
It certainly didn't stop his defensive line from playing in midseason form when the starters and the backups led a surge that stoned each of the first- and second-team offenses on third-and-short before allowing them one touchdown on six tries from the 3.
(Pro Bowl tackle Geno Atkins, who is not just a pass rusher, blew up the second offensive line for two tackles that lost about 12 yards.)
"Our pads looked down and we were getting to the ball, which is good; it was a good period for them," Lewis said. "We are not game-planning it on either side so the offensive coaches told me I had their hands tied behind their backs a little bit. It was good work for us. It was good to see guys just in that environment."
The competitive juices were flowing enough that the offense wasn't happy it wasn't allowed to put its jumbo packages in the game on goal line and couldn't use one of its tackles as a tight end. That doesn't work down there as second-team left end Derrick Harvey proved when he blew through the right side and stopped first-team running back BenJarvus Green-Elllis behind the line.
But on the next play, the offense ran the same play and Green-Ellis leaped over the middle of the push for the kind of TD the Bengals never seem to get but the other team does. But then, that's why the Bengals retained The Law Firm.
"It's only the second time we've done it this camp and the more reps we get, hopefully we'll get better," Green-Ellis said of goal line. "Sometimes the offense is going to win; sometimes the defense is going to win. The mindset has to be we're going to dominate and score touchdowns and not field goals. Nothing against the kicker, Mike (Nugent), but whenever the coaches put us out there as an offensive unit, we have to score six points, not three."
(No offense taken. Nugent, just off a slightly pulled muscle in his kicking leg, hit all four field goal tries Saturday from 35, 40, 46 and 52 yards, while Thomas Weber missed from 46 and 52.)
So The Law Firm wasn't happy with making just one of his three runs and why not? Only Houston's Arian Foster has scored more rushing TDs than BJGE the past two years.
But left tackle Andrew Whitworth also reminded people that the first team did score on its second run.
"It's not like it's a reset," Whitworth said. "We scored on second down. You get three downs and we scored a touchdown. We got stopped the first time and then ran the same play down, which happens a lot, and scored."
Lewis admitted the defense had an edge since it didn't have to face the jumbo packages.
"The defense has a chance to outman them a little bit with the big guys as we go," he said. "It was better. The defense wasn't as sharp last time we did that. They were sharper today, which was good."
Middle linebacker Rey Maualuga, who teamed with tackle Domata Peko to stop running back Brian Leonard on short yardage and then knocked away a Bruce Gradkowski pass in the end zone on goal line, thinks it is a big boost for his guys.
"Something like this gives us confidence," Maualuga said. "Confidence is a big thing for us to go into Friday night against the Jets and make everyone's confidence level up there. It makes us at ease knowing what we're (capable of) on defense."
If Lewis feels like cutting back on contact is going to help, Maualuga says he feels cutting back on his mental gymnastics has helped his game. He also feels like the defense is on the same page because of the same kind of streamlined approach. He believes it helped him recognize the '7' route Gradkowski called and allowed him to undercut rookie tight end Bruce Davis to prevent the TD pass.
"Sometimes I just have to shut up and play football," he said. "Line up, get the call for the other 10 guys. That's all there is to do. Our coach (Paul Guenther) is coaching up things we need to know. Just draw up every formation that can come up in that situation and you narrow it down to certain plays that can come out of those formations. That makes you think faster."
Maualuga didn't play because of pulled muscles in his rookie intrasquad game back in 2009, which proved to be the last of the old-timers. Back then, the offense ran a total of 33 plays with the first, second and third teams splitting it about evenly.
"I know it's not a lot of work," Maualuga said of the four live snaps. "But I think from all the practice we've done so far in full pads, we have had other periods that we've had full contact, take the to the ground ... it's all up here (in the mind)."
When Whitworth was a rookie out of LSU in 2006, the offense took so many snaps in the scrimmage that LSU teammate Bennie Brazell and fellow Louisiana native Chris Henry combined to catch 10 balls for nearly 200 yards.
"I don't think it's that much different," Whitworth said. "It used to be we just had two series of live. We didn't do any live (Saturday), and I think on that turf it's a tough place to go live. You start playing live on that turf ... it's a little different on grass. There's some give. You get on turf there's popping, colliding going on. You hear it. Everybody has grip. No one slips. Everybody is full power."
Lewis and his guys seem content to save their power for when it counts.
"I thought we did a good job today throwing and catching the football, which is what you want," Lewis said. "We were able to get up the field and work at putting pressure on the quarterback some. The first line did a good pretty job protecting and so forth. So, we've just got to keep going. As I told them after practice we got a lot of good snaps on tape today to look at and evaluate guys with. We got in and out of the huddles. We got an opportunity to really act like we are playing football. So that next Friday rolls around we are one step closer to that."