With the first practice of spring set for Monday, new Bengals head coach Zac Taylor's installation on both sides of the ball has been on fast forward. Offensive coordinator Brian Callahan figures 85 percent of his scheme has been installed while seven-year safety Shawn Williams, the Generalissimo of the secondary now that George "General," Iloka is gone, puts defensive coordinator Lou Anarumo's playbook at 90 percent complete.
But don't go nuts if you see anything radically different on the offensive line in Monday's drills, the first session of what is otherwise known as "Organized Team Activities," (OTAs). Callahan warns what you see then doesn't mean it is what you'll see Opening Day in Seattle. All eyes are on first-round pick Jonah Williams and if he'll play left tackle, left guard or elsewhere and if that would mean moving a guy like incumbent left tackle Cordy Glenn inside. Who knows? We won't know Monday.
"We'll play with a bunch of different lineups," Callahan said Tuesday. "Anytime you're talking about offensive linemen, they all have to swing inside and outside. Guards have to play center and centers have to play guard.
"We have the flexibility to give us the five best players where ever they fit. It's going to be really hard to know that until we put pads on. The pads are always the great equalizer," Callahan said of a day that won't come until nearly August. "Monday is not a foreshadowing of week one in September. We're going to mess with a bunch of different combinations. Where we start on Monday could very well be where we start come September. It could very well not. A lot of football between now and then."
During the OTAs, team and special teams drills are allowed as long as there is no live contact. Helmets can be worn, but no other pads.
It sounds like Callahan gets to work with wide receiver John Ross for the first time after he missed last month's veterans voluntary minicamp with tightness. And maybe we'll see a bit of tight end Tyler Eifert. He said Tuesday that he's doing nearly everything in his comeback from a dislocated ankle.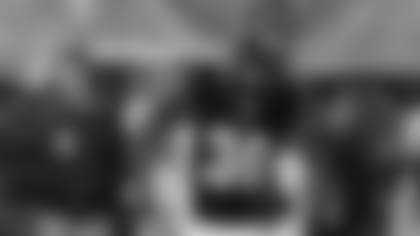 But maybe not. You may not also see guys like wide receiver A.J. Green (toe), slot cornerback Darqueze Dennard (knee) and pass rusher Carl Lawson (knee) as the Bengals opt for caution on the rehab trail.
"It's the calm before the storm. Before everything hits on Monday," Williams said of this week. "It will be good to get back into football. Right now we're just walking through with the coaches. It won't be live bullets, but it will be good to go against an offense and compete.
"They're trying to throw a lot on our plate," Williams said. "Everything at once to see how we handle it. I think it's going really well. I think (Anarumo) is going to put his best players in position to make plays."
Ross also says that Callahan and Taylor, who is also the play-caller, is heaping on the learning as quickly as possible to get things squared up for training camp at the end of July.
"That's the challenging part. There is so much in and it's so early," Ross said. "It puts a good strain on our brains when we come to camp and everybody is getting used to the different concepts."
Callahan says there's not much else to put in the playbook.
"Everything else is kind of situational," Callahan said. "Maybe in the red zone on third down. But the core of everything we do is pretty much in."
Monday, though, is only the start.
"We told them the first OTAs are a little bit like the first week of the season," Callahan said. "It's the first time you get to compete. It's your first game."
But not the first lineup.