Lou Anarumo, the Bengals' first-year defensive coordinator, wears his hometown on his sleeve. But he's also put it in his evolving playbook. Call it "The Staten Island Flurry," a defense that relies on a no-nonsense directness, candor and borough bluntness that plays well in a slice of New York City that can take the tides into New Jersey while sightseeing around the Statue of Liberty.
Zac Taylor, the Bengals rookie head coach who had such rapport and respect with and for Anarumo in Miami that he gave him his first coordinator job at age 52, has a good time with him about that.
He's always telling you, 'I'm from Staten Island.' What does that mean?" to paraphrase Taylor's good-natured gag. Then he answers his own question with something like, I think it means he's honest and tells you exactly what he thinks.
Which is what his scheme just so happens to sound like when you talk to defensive senior statesmen like safety Shawn Williams, 90 games, 46 starts and seven seasons into his Bengals career, as he sketches out the differences between last year to this year.
"There's not a big difference in the playbook. There's a lot of carryover," Williams said before Wednesday's minicamp practice. "It just makes sure there's no gray. I want to say it's simplifying, but it's really not because some aspects are the same … the biggest difference is terminology. There's no gray and then go play fast. Everything is simple. No hesitation. It's not 'What I thought,' it's what it is. Go play."
There is no gray area when it comes to last season's defense, a unit that barely missed being historically bad before finishing in last place in the NFL rankings. The mystifying thing is that Williams is one of five defensive regulars from four brief years ago that helped set the franchise scoring record for a 16-game season. Along with Williams, starting cornerback Dre Kirkpatrick and slot cornerback Darqueze Dennard, there are two Pro Bowl rushers in tackle Geno Atkins and left end Carlos Dunlap left over from that run that are teaming with emerging young stars like cornerback William Jackson, right end Sam Hubbard and safety Jessie Bates III. That encourages the Bengals they're closer to 2015 than 2018 if simple order is restored.
Williams is encouraged by his initial impressions, a guy whose style he compares to his coordinator at Georgia, Todd Grantham, and his first NFL coordinator, Mike Zimmer, who finished a skein of three seasons in the top ten rankings with a No. 3 in Williams' rookie year of 2013. Grantham interviewed for the job before Anarumo back in February, but Williams they got a similar tell-it-like-it-is guy.
"I like him. He's a mix in between my coach in college and Zim. He's straight forward," Williams said. "He wants to coach you and get the best out of you as well as make the team better. For him, he's a straight shooter. He's got a saying where the best players that he's coached take that coaching well. No B.S. Say what it is. I'd rather it be that than sugar coating it. If you're right, you're right. If you're wrong, you're wrong. That's where the gray comes in. You don't know if you're right until you're right.  But he'll tell you when you're wrong."
You can't tell anything from this minicamp, which basically is amounting to a walk-through installation period in helmets when it ends Thursday. The defense is letting the receivers catch balls in order to avoid collisions. But Anarumo made it a point on Wednesday to mix it up, roaming in front of the defense, in back of the defense, on the sideline and having a post-snap word or two with players on all three levels.
"I'm trying to (talk to everybody)," Anarumo said. "That's my job. I want to make sure they all feel me in every way that they can."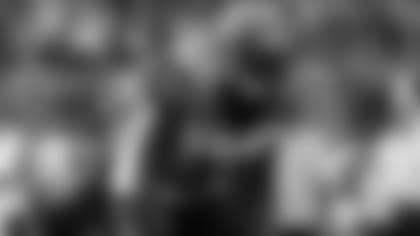 He agrees with Williams. What he's trying to build this week is a set-it-in-stone-black-and-white  playbook. He says washing the gray out is a fundamental tenet.
"That would be one of them," Anarumo said. "It's to make sure that we allow the players to play as fast as possible. Whatever their job description is on a particular play, if it's clear cut they can do it faster. Any job on the planet. If I'm supposed to put concrete over there, I can do it quick. If I'm not sure where to put it, I'm going to do it slower."
This may be his first DC job but it's far from his first rodeo. He was the Dolphins' interim DC in 2015 for the final 12 games and has coached NFL defensive backs for seven season with two different clubs. In the last two seasons with two different teams he coached a pair of Pro Bowl safeties in Miami's Reshad Jones and the Giants' Landon Collins and helped develop Miami cornerback Xavien Howard into a Pro Bowler. When Vance Joseph moved from the Bengals secondary to take the Dolphins DC job in 2016, he kept Anarumo and his DBs had a big hand during a stretch they forced a turnover in seven straight games with a total of 19 takeaways that helped fueled Miami's play-off run.
"I think that's the only way to coach in this league. Any league, but especially this league," Anarumo said. "So it's black and it's white. There's no gray. It's very, very difficult to coach and play when they're not sure what to do. So I've always tried to make it as clear as possible. And we're doing that for the whole group now."
There's a bunch of different kinds of experience on his side of the ball. Secondary coaches Daronte Jones and Robert Livingston are the lone holdovers. Defensive line coach Nick Eason played 117 games in the league in the previous decade before getting into NFL coaching six years ago. Senior assistant Mark Duffner was a grad assistant for Woody Hayes, coordinated the Bengals' lone top ten defense in the 20 seasons between 1990 and Zimmer and has spent 23 seasons scouting and coaching the best linebackers in the game.
"He's doing everything. He's Inspector Gadget," Anarumo said.
But Anarumo is also relying on the experience of veterans like Williams in the wake of the departure of defensive captain Vontaze Burfict. Given his position and years of service, Williams has to be a leading candidate for the role. But he's got company. Atkins and Dunlap have played the most Bengals games on either side of the ball, middle linebacker Preston Brown is a year removed from sharing the NFL tackling title and SAM backer Nick Vigil has called the signals and ended last season with 17 tackles in Pittsburgh.
"Older guys like me, Dre, Geno, Carlos, Preston are guys that have played a lot of football and I think the young guys look to us for that," Williams said. "There are no shoes that need to be filled. When we get the last of our pieces in next week and everybody gets on the same page we'll be fine."
Anarumo draped his arm around Dunlap as they walked off the field Wednesday and as Dunlap went his own way, he looked at Anarumo.
"Straight shooter," he said.