First of all, the third and final edition of this year's Bengals.com Media Mock Draft is merely one potential scenario for the Bengals on Thursday and Friday nights in the first and second rounds of the NFL Draft based on sheer speculation and nothing else.
Second of all, we may be enrolled in our second month on Team Sewell captained by Oregon left tackle Penei Sewell, but we also believe in the concept of free will. If Bengals head coach Zac Taylor calls LSU wide receiver Ja'Marr Chase to tell him the Bengals are using the fifth pick to reunite him with Joe Burrow, where do we sign up?
Heck, if Burrow and Chase come close to what they did at LSU, just imagine how far they can take the Bengals.
And that gets us to the third thing.
The Bengals simply can't miss at No. 5.
With the first three teams picking quarterbacks, the Bengals are guaranteed getting one of the (in alphabetical order), Chase, Florida tight end Kyle Pitts or Sewell. By consensus, conventional wisdom and draft gurus from Framingham to Farmington, they are the draft's top wide receiver in Chase, top tackle in Sewell and top overall non-quarterback in Pitts.
That's the only spot to be in for this draft. It's as good as being No. 1 last year so the Bengals could take Burrow. Because, let's face it, this isn't a strong board. Many players opted to go back and play next year, leaving the thinnest pool in memory. There is some thought that after No. 15, look out below. Not the year, you would think, to trade down in the round. The second round makes more sense for that.
That's the fortuitous thing for the Bengals. Chase, Pitts and Sewell look to be top five picks in any draft. Now, if they could get a blockbuster deal to trade out of there, it would have to include a No. 1 pick in next year's more predictable draft.
If they were offered a haul, they'd have to think about it. But to be able to walk out of this hit-or-miss draft with one of these three guys, that just may be the biggest steal of all.
And lastly, another thank you to the long suffering panel of Bengals.com Media Mock Draft selectors that again endured the 36 incessant phone calls in an effort to get close to the universe the Bengals survey at No. 5 and No. 38.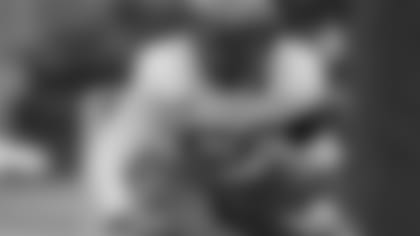 FIRST ROUND (Thursday, 8 p.m. ABC, ESPN, NFL Network)
1. JAGUARS - QB Trevor Lawrence, Clemson; Michael DiRocco, ESPN.com
Urban's Grill gets a fire-starter.
2. JETS - QB Zach Wilson, BYU; Rich Cimini, ESPN.com
Name the five quarterbacks they've plucked in the first round since the departure of Joe Willie Namath.
3. 49ERS - QB Mac Jones, Alabama; Matt Maiocco, NBC Sports Bay Area
This has been Maiocco's pick long before they put the bets down.
4. FALCONS - QB Justin Fields, Ohio State; D. Orlando Ledbetter, The Atlanta Journal-Constitution
D. Led has hung with Fields in all three Mocks. He's not buying the Pitts talk out of there and thinks Sewell makes more sense. But in the end he sees the power of the quarterback giving Atlanta's new GM a signature pick.
5. BENGALS - T Penei Sewell, Oregon; Geoff Hobson, Bengals.com
Like we say, can't go wrong here with all three on the board. We go with Sewell because of the rarity of the position. It's just plain harder to draft a top tackle if you're picking in the middle or late first round. The big athlete is just flat-out more unique and harder to find.
But, the Chase argument has plenty of ammo. How often do you get the chance to re-unite one of college football's greatest quarterback-receiver combos in history in the pros?
These guys already have an understanding of each other's game. It may not happen overnight, but it's going to happen. How often can you say that on Draft Night? Plus, the Bengals have adopted a lot of LSU stuff that makes the fit even more immediate and comforting. And, you love what Burrow and LSU staffers say about the kid's worth ethic.
Chase is a no-brainer, too.
You know what? Flip a coin and you're good.
6. DOLPHINS - WR Ja'Marr Chase, LSU; Armando Salguero, The Miami Herald
7. LIONS – T Rashawn Slater, Northwestern; Mike O'Hara, Detroitlions.com
Wow, not Pitts. But O'Hara says this gives them four really good offensive linemen and a value pick for a guy that's going to play 100 percent of the snaps.
8. PANTHERS – TE Kyle Pitts, Florida; Joe Person, The Athletic
They don't believe they can get what many think is the draft's highest graded player.
9. BRONCOS – CB Patrick Surtain II, Alabama; Mike Klis, 9News
10. COWBOYS - CB Jaycee Horn, South Carolina; Todd Archer, ESPN.com
Jerry Jones doesn't get Pitts, but he gets a guy that can cover Kenny Golladay, Terry McLaurin and other NFC East ace receivers.
11. GIANTS – WR DeVonta Smith, Alabama; Mike Eisen, Giants.com
Oh, and Horn has to cover this guy, too.
12. EAGLES – WR Jaylen Waddle, Alabama; Paul Domowitch, The Philadelphia Inquirer
Trying to make Jalen Hurts comfy in his prove it year.
13. CHARGERS - T Christian Darrisaw, Virginia Tech; Jeff Miller, The Los Angeles Times
With Slater gone, they go to the next best O-lineman.
14. VIKINGS – DE Kwity Paye, Michigan; Chris Tomasson, The Pioneer-Press
With old friend Mike Zimmer reunited with his old buddy on third down, Paul Guenther, they get the first pass rusher off the board.
15. PATRIOTS – QB Trey Lance, North Dakota State; Karen Guregian, The Boston Herald
History in April for Boston. It's not Paul Revere on a horse, but Bill Belichick saddling up his very first first-round quarterback in his Hall of Fame run.
16. CARDINALS – LB Micah Parsons, Penn State; Darren Urban, azcardinals.com
In the real world this could be an offensive lineman, but they can't pass one of the draft's top-rated players here.
17. RAIDERS - OT Teven Jenkins, Oklahoma State; Vinny Bonsignore, The Las Vegas Review-Journal
Jenkins is moving rapidly up boards.
18. DOLPHINS – RB Travis Etienne, Clemson; Armando Salguero, The Miami Herald
With FitzMagic gone, Tua needs more than smoke and mirrors in his second year at QB.
19. WASHINGTON – ILB Jeremiah Owusu-Koramoah, Notre Dame; Les Carpenter, The Washington Post
They could be in the hunt for a left tackle, but head coach Ron Rivera and defensive coordinator Jack Del Rio are former NFL linebackers.
20. BEARS – WR Elijah Moore, Mississippi; Brad Biggs, The Chicago Tribune
Biggs thinks they'll try to make a move up for a QB. If they can't, an anemic offense still needs help.
21. COLTS - DE Jaelan Phillips, Miami; Stephen Holder, The Athletic
They could go a few different ways here, but Holder has been adamant in all three Mocks that they get one of the top edge guys.
22. Titians - WR Rashod Bateman, Minnesota; Turron Davenport, ESPN.com
He gives them a formidable 1-2 punch with A.J. Brown.
23. JETS – CB Greg Newsome II, Northwestern, Rich Cimini, ESPN.com
They didn't get a cornerback in free agency and now get the third one off the board.
24. STEELERS - RB Najee Harris, Alabama; Gerry Dulac, The Pittsburgh Post-Gazette
Look for them to go O-line in maybe both the second and third rounds, but they'll make sure they get a power back after a year they had the fewest rush yards in the league.
25. JAGUARS – DT Christian Barmore, Alabama; Michael DiRocco, ESPN.com
Best D-Tackle on the board a good get here.
26. BROWNS – Caleb Farley, Virginia Tech; Tony Grossi, ESPNCleveland.com and Thelandondemand
As long as he's cleared medically, he's a candidate to start Opening Day. Suddenly 2019 second-rounder Greedy Williams would be the fourth cornerback and making for some nice depth.
27. RAVENS – S Trevon Moehrig; Jeff Zrebiec, The Athletic
Head coach John Harbaugh continues to shore up defense this offseason.
28. SAINTS - CB Tyson Campbell, Georgia; Katherine Terrell, The Athletic
They were top five in defense last year and they keep piling on.
29. PACKERS – LB Jamin Davis, Kentucky; Pete Dougherty, Green Bay Press-Gazette
It's been awhile since they've had a force in the middle
30. BILLS – CB Asante Samuel Jr., Florida State; Mark Gaughan, The Buffalo News
They could go edge here, but they don't have any glaring needs, so they take the best player.
31. RAVENS – C Landon Dickerson, Alabama; Jeff Zrebiec, The Athletic
The Orlando Brown Jr. pick goes back on the line. They already beefed up the interior with free-agent guard Kevin Zeitler and teaming this guy with another Alabama guard-center type, Bradley Bozeman, fits the NFL's best run game.
32. BUCCANEERS – DE Azeez Ojulari, Georgia; Greg Auman, The Athletic
They're looking to young up the front and they do it on the edge.
SECOND ROUND (Friday, 7 p.m. ABC, ESPN, NFL Network)
33. JAGUARS - TE Pat Freiermuth, Penn State; Michael DiRocco, ESPN.com
A rookie tight end for a rookie QB.
34 JETS – T Alijah Vera-Tucker, USC; Rich Cimini, ESPN.com
AVT is one of the top-rated O-lineman and Cimini doubts he'll be here. But he has to take him if he is and we thank him for taking him off the board.
35. FALCONS – C Creed Humphrey, Oklahoma; D. Orlando Ledbetter, Atlanta Journal-Constitution
They drafted a center in the third round last year (Temple's Matt Hennessy) and with the departure of veteran Alex Mack they take one again early.
36. DOLPHINS – DE Joseph Ossai, Texas; Armando Salguero, The Miami Herald
He's one of these guys that can drop and rush and would seem to be a fit for head coach Brian Flores' Patriotic vision of defense.
37. EAGLES – DE Gregory Rousseau, Miami; Paul Domowitch, The Philadelphia Inquirer
The future on the Philly edge is a little hazy. Brandon Graham is 33 and Derek Barnett is on an option year.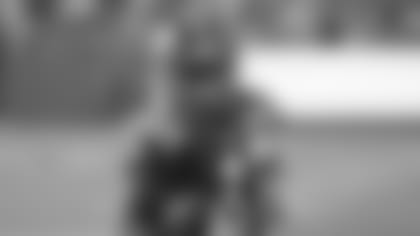 38. BENGALS - WR Kadarius Toney, Florida; Geoff Hobson, Bengals.com
The big boards we're working off here belong to Pro Football Focus, ESPN's Leggy Top 100 and Ourlads Scouting Services.
If you think you need that wide receiver so badly that you're thinking of taking him No. 5, get him here. One of the great draft myths is, 'Oh, you can get a receiver anywhere in the draft.' Yeah, you can. But if you want one that starts, plays 80 percent of the snaps and contributes right away as a speed threat for Burrow, you better get him now.
Certainly they're tough to find after the second round. (They're there, though, on occasion. Is that you, Marvin Jones?) But if you look at Ourlads, the top 11 receiver prospects are gone in the first two rounds.
We take Toney here for two reasons. We took the tackle first and there's probably no way on God's green earth Toney is going to last this long. At this point he could be one of the top players on the board like Higgins was last year at No. 33.
No one heard about his pro day because his teammate is Pitts. While Pitts walked on water, Toney quietly popped a broad jump in the 98th percentile and he had what would have been the fifth-fastest 40 in last year's draft.
He's nicknamed "The Joystick," and while he's just 5-11, 189 pounds, he has a rep for ripping off yards after catch. He's also a punt returner, a need the Bengals figure to address during the draft.
So, you can see there is access for top receivers this late and beyond. (If you want an LSU receiver, what about 6-3 Terrace Marshall Jr.?)
Still, you can also see why if you get a shot for that top receiver in the first round, it does save some angst later.
And this Mock's universe also shows the Bengals have some nice options at edge and on the offensive line if they've already gone with Chase.
On the edge, Penn State's Jayson Oweh is seen by many as a first-rounder and Wake Forest's Carlos Basham Jr., Pittsburgh's Rashad Weaver, and Washington's Joe Tryon are in that Ourlads neighborhood.
On the offensive line, PFF has available in ranges ranked 26-40 Stanford tackle Walker Little, versatile North Dakota State's Dillon Radunz, Texas tackle Samuel Cosmi and Alabama tackle Alex Leatherwood. Ourlads also has two first-round tackles available here in Michigan's Jalen Mayfield and Clemson's Carman Jackson, a suburban Cincy product.
In the three drafts before they plucked Higgins at the top of the second last year, they traded down in the second, still got their target and picked up another fourth-rounder.
We'll see if this draft is deep enough to do that. But you can certainly conclude that in the first 38 picks they'll get a stud as well as another potential starter/regular that fills a need.