Welcome to the second Bengals.com Media Mock Draft of the year, which is merely the figment of one poor, tortured soul and nothing else.
Any resemblance to this draft and the one the NFL and the Bengals eventually produce April 29-May 1 would have to be considered beyond coincidental and damn near cosmic.
But that won't stop this poor wretch from making history.
Welcome to the first Bengals.com Media Mock Draft with a trade.
With the need for offensive linemen and edge rushers at the forefront (free agency took care of the cornerbacks), we've been wondering how to get two fairly high second-round picks. Three choices in the top 40 would be nice in a draft where tackles and pass rushers supposedly lurk in the late first and early second.  
When four quarterbacks went off the board in front of us at No. 5, we needed a team close by that thought they got left behind. Carolina, at No. 8, thought they had.
The Panthers, knowing this might be their last, best chance at getting a successor to Teddy Bridgewater, wanted to talk. They figured to be pursuing Deshaun Watson, but that appears not to be an option now.
Our man in Carolina, the estimable Joe Person of The Athletic, wanted a shot at the fifth quarterback. He had the 39th pick, high in the second round. That dovetails nicely with the Bengals' 38th pick.
Now, do those two picks have more of an impact than Oregon tackle Penei Sewell or LSU wide receiver Ja'Marr Chase or Florida tight end Kyle Pitts?
Not our problem here and now. We just want to see what universe of positions would be available if a trade did go down.
Now, in the real world, there's a chance the impact of Sewell or Chase or Pitts has to be weighed against a much larger trade offer. We only took Carolina's second-round pick because we wanted to see what we could get at No. 39. We left the deals to the dealers.
But it looks like Denver, at No. 9, may have interest in No. 5, too. So if there's a bidding war for the pick, the Bengals would conceivably get a lot more than that. Even if there's not a bidding war, if the price is a quarterback, who knows if there is a first-rounder in the future? Or a third-rounder now? Or both? And how does that compare to one player, albeit a great one.
So we made the deal with Joe. No. 5 for No. 8 and 39.
Here we go with a huge thank you to all the participants:
1. JAGUARS - QB Trevor Lawrence, Clemson; Michael DiRocco, ESPN.com
2. JETS - QB Zach Wilson, BYU; Rich Cimini, ESPN.com
All indications are this is the way it is headed. The 49ers trade seemed to confirm the Jets aren't budging.
3. 49ERS - QB Mac Jones, Alabama; Matt Maiocco, NBC Sports Bay Area
After the big trade, head coach Kyle Shanahan gets the kind of pocket passer he covets.
4. FALCONS - QB Justin Fields, Ohio State; D. Orlando Ledbetter, The Atlanta Journal-Constitution
They hold the key in this draft. They could take any of the top five prospects or trade it.
5. PANTHERS (via Cincinnati) - QB Trey Lance, North Dakota State; Joe Person, The Athletic
The Bengals take advantage of the Panthers faced with the inability to wait for Teddy Bridgewater's successor in a furious wave of QBs.
6. DOLPHINS - WR Ja'Marr Chase, LSU; Armando Salguero, The Miami Herald
You can't say anymore that the Dolphins don't have any weapons.
7. LIONS – OT Penei Sewell, Oregon; Mike O'Hara, Detroitlions.com
This is one time when a team can honestly say they never thought he'd be there.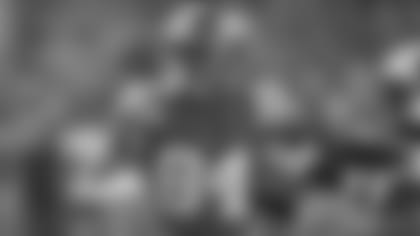 8. BENGALS (via Carolina) – TE Kyle Pitts, Florida; Geoff Hobson, Bengals.com
Hey, there's the off chance Sewell or Chase could have slipped through.
OK. OK. We remember. Last week we said Pitts scared us because rarely do tight ends drafted this high justify the value of the pick. Plus, this doesn't really address the neediest of the needs.
But now because of the trade we've got another high second-round pick and Lord knows what else if this is a real deal. And taking Pitts behind Chase or Sewell instead of in front of them doesn't seem as risky. If they're using him as basically a third receiver, then he does meet a need.
And, if Pitts is half as good as they say he is, he and Joe Burrow should be able to make beautiful music together if he can't jam with Chase. 
Not only that, Pitts is the best player on the board at this point as well as the last remaining elite prospect.
9. BRONCOS - LB Micah Parsons, Penn State; Mike Klis, 9News
Let's see what Denver rustles up to prevent Cincy from trading with Carolina so they can get in the QB hunt, too. If they stick here, head coach Vic Fangio gets an old defensive coordinator's delight in an inside linebacker that can run.
10. COWBOYS - CB Patrick Surtain II, Alabama; Todd Archer, ESPN.com
Archer covered the first Patrick Surtain as a Dolphins beat man.
11. GIANTS – WR DeVonta Smith, Alabama; Mike Eisen, Giants.com
A running mate for Kenny Golladay.
12. EAGLES – WR Jaylen Waddle, Alabama; Paul Domowitch, The Philadelphia Inquirer
For the second straight year, Philly goes receiver first.
13. CHARGERS - OT Rashawn Slater, Northwestern; Jeff Miller, The Los Angeles Times
Any O-lineman remains the popular pick in L.A.
14. VIKINGS - OT Alijah Vera-Tucker, USC; Chris Tomasson, The Pioneer-Press
With Riley Reiff setting up shop at The Paul at right tackle, old friend Mike Zimmer goes line hunting.
15. PATRIOTS – LB Zaven Collins, Tulsa; Karen Guregian, The Boston Herald
The next Dont'a Hightower?
16. CARDINALS - CB Jaycee Horn, South Carolina; Darren Urban, azcardinals.com
The beginning of the post-Patrick Peterson Era. 
17. RAIDERS - OT Christian Darrisaw, Virginia Tech; Vinny Bonsignore, The Las Vegas Review-Journal
Trent Brown is back in New England and John Gruden is back at the draft board looking for tackles.
18. DOLPHINS - RB Najee Harris, Alabama; Armando Salguero, The Miami Herald
The QB looks to be Tua so give him some more help.
19. WASHINGTON - ILB Jeremiah Owusu-Koramoah, Notre Dame; Les Carpenter, The Washington Post
Head coach Ron Rivera, a former NFL linebacker, knows one when he sees one.
20. BEARS - CB Caleb Farley, Virginia Tech; Brad Biggs, The Chicago Tribune
If his back checks out, he's a logical choice to replace another Virginia Tech cornerback in Kyle Fuller.
21. COLTS - DE Jaelan Phillips, Miami; Stephen Holder, The Athletic
Starting a run on the edge.
22. Titians - WR Rashod Bateman, Minnesota; Turron Davenport, ESPN.com
Corey Davis' move to the Jets leaves a 65-catch vacuum.
23. JETS - DE Kwity Paye, Michigan; Rich Cimini, ESPN.com
A little help for old friend Carl Lawson on the other side.
24. STEELERS - RB Javonte Williams, North Carolina; Gerry Dulac, The Pittsburgh Post-Gazette
Hard to see the Steelers ever being that bad on the ground again.
25. JAGUARS - S Trevon Moehrig, TCU; Michael DiRocco, ESPN.com
Urban Renewal continues with a defensive QB
26. BROWNS - DE Gregory Rousseau, Miami; Tony Grossi, ESPNCleveland.com and Thelandondemand
A tag-team partner for Myles Garrett.
27. RAVENS – DE Azeez Ojulari, Georgia; Jeff Zrebiec, The Athletic
Not since the 2003 Terrell Suggs draft has Baltimore been so up against it for an edge rusher.
28. SAINTS - CB Tyson Campbell, Georgia; Katherine Terrell, The Athletic
Points won't be as plentiful in New Orleans.
29. PACKERS - CB Greg Newsome II, Northwestern; Pete Dougherty, Green Bay Press-Gazette
A top ten defense still stinging from last-second Tommy Ball in the playoffs.
30. BILLS – CB Eric Stokes, Georgia; Mark Gaughan, The Buffalo News
Not much these guys need to get back to the AFC title game, but you can never have enough on the corner.
31. CHIEFS – OT Samuel Cosmi, Texas; Alex Marvez, Sirius NFL Radio
With left tackle Eric Fisher coming off serious injury, right tackle Mitchell Schwartz pondering retirement and Joe Thuney not changing spots after being ensconced as the richest guard ever, Cosmi's versatility is rich here.
32. BUCCANEERS - DT Christian Baremore, Alabama; Greg Auman, The Athletic
The champs, aging up front, get a bolt of youth.
33. JAGUARS - TE Pat Freiermuth, Penn State; Michael DiRocco, ESPN.com
A safety valve in the middle of the field for the rookie QB.
34 JETS – OT Teven Jenkins, Oklahoma State; Rich Cimini, ESPN.com
No matter who the QB is, the league's last-ranked offense in points and yards needs one of these.
35. FALCONS – RB Travis Etienne, Clemson; D. Orlando Ledbetter, Atlanta Journal-Constitution
They were next to last in yards per rush.
36. DOLPHINS - WR Kadarius Toney, Florida; Armando Salguero, The Miami Herald
Pitts' Pro Day in Gainesville eclipsed Toney's monstrous workout where, according to reports, his broad jump ranked in the 98th percentile and he had what would have been the fifth-fastest 40 in last year's draft.
37. EAGLES – CB Asante Samuel, Jr., Florida State; Paul Domowitch, The Philadelphia Inquirer
His dad started 55 games for the Eagles in the late oughts.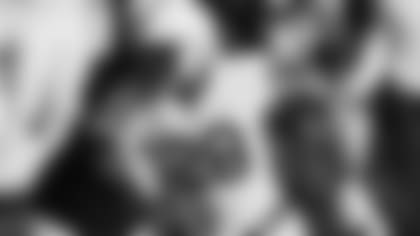 38. BENGALS _ DE Jayson Oweh, Penn State; Geoff Hobson, Bengals.com
A 6-5, 257-pound diamond in the rough? Or a gem waiting to shine? Workout wonder or ascending star? Depends who you ask.
But Pro Football Focus has him 23rd on their big board, NFL.com's Daniel Jeremiah ranks him 31st and The Sporting News has him at No. 34, a spot ahead of Phillips, the first Edge taken in this draft. So if you're looking for an Edge guy, and you have to feel the Bengals are with the fewest sacks in the league since 2017, here's a guy with the ratings.
Some cyberspace scouts are turned off by his thin football background (he didn't start playing until he was a high school junior), he played only 20 college games and he didn't have a sack last season in Penn State's truncated seven-game schedule.
Yet PFF gave him high grades against the run this year and there's no questioning his off-the-charts gifts. He blew everyone away at his pro day with a sub 4.4 40, unheard of on the Edge, along with a 39.5-inch vertical.
They say his speed makes him a bear against the option and he's got a knack for chasing down backs. With a 4.3 40, you can chase down anything. You can picture that coming in handy against Lamar and friends.
PFF says Oweh's NFL comp is Washington Edge Montez Sweat, the 26th pick in the 2019 draft. Sweat had seven sacks as a rookie and nine last season. Those numbers would be a nice comp, too.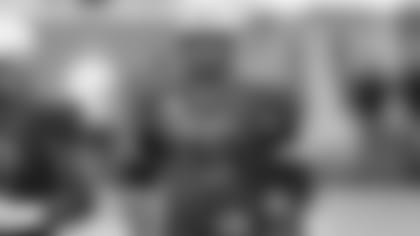 39. BENGALS (via Carolina) - OT Dillon Radunz, North Dakota State; Geoff Hobson, Bengals.com
Radunz's club played just one game in 2020 and Jeremiah rated him 47th on his board. But CBS Sports has him at No. 32 and PFF puts him at No. 28 as the draft's fifth best tackle.
He quickly shrugged off the small school label when he was the consensus top-graded offensive lineman at the Senior Bowl, where he overcame the rust and was named the practice player of the week. At 6-5, 304 pounds, Radunz is on the smallish side for tackle, but the cyber scouts say he was strong enough to stop the explosiveness on the Senior Bowl edge.
He's got the position versatility the Bengals crave and while he sees himself as left tackle (he played 32 straight games there and North Dakota won them all while allowing Lance to shoot into the draft's top ten), he's being projected as a guy that can play up and down the line as a guard or a tackle. Word is he plays with a mean streak and has an excellent aptitude for the game.
Radunz is prepping for the draft much like Bengals left tackle Jonah Williams prepared for last season when he spent time in California working with former 49ers tackle Joe Staley.
So there it is. On paper in the top 39, we've added a generational tight end for a generational quarterback, a rising, gifted pass rusher that can chase down the AFC North's dangerous runners and a versatile, smart, athletic offensive lineman.
Fantasy football for a tortured soul.