After this mosh pit of a draft, after this seven rounds through the mud, after bench pressing the weekend, it appeared the Bengals had muscled through an NFL Draft like they never had before by selecting seven linemen on each side of the ball.
When they ended the draft Saturday with their 10th pick by taking Kansas State edge rusher Wyatt Hubert in the seventh round, that gave them four defensive linemen to go with three offensive linemen in a powerful push-back on the AFC North landscape.
It's believed the Bengals have never taken seven linemen, even back in the days of 17 and 12 rounds. It's at least the most since the 1994 draft, led by defensive tackle Dan Wilkinson and closed by defensive end Ramondo Stallings on a weekend they took five. If they have ever gone that big, it's certainly not often.
Bengals head coach Zac Taylor, exhausted by injuries on his offensive and defensive lines and his team needing to reverse the trends of allowing sacks and failing to get them, was a happy man. Last year, those guys tried. But playing with defensive tackles that got here on Labor Day and Columbus Day just didn't cut it. On Derby Day, they did something about it.
"I think there just kept being value there that we liked. So we kept adding to it. Kept adding competition. Our depth took a hit last year," Taylor said. "You go into training camp and feel great about everything and your depth takes a hit, that's the nature of the NFL season, 17 games, physical division, we don't want to go down that road again. I don't want to be there Week 12, Week 13 and signing guys to walk off the streets to play. We are going to go get depth and get the guys that we like and really feel good about how we came out of the weekend, both sides of the line there. "
Even though they took LSU wide receiver Ja'Marr Chase with the fifth pick instead of Oregon left tackle Penei Sewell, truth be told, the Bengals have been on an all-out search for offensive linemen. Taylor and offensive coordinator Brian Callahan even found a running back, sixth-rounder Chris Evans of Michigan, while they were looking at the linemen at the Senior Bowl.
"Brian and I were in the end zone right behind those offensive linemen and you could kind of see over the one-on-ones of the linemen into the one-on-ones of the running backs and the linebackers and safeties," Taylor said. "This guy from Michigan just kept putting on a show in one-on-ones."
And even though it looks like the Bengals made up their minds to fill those pressing needs in the trenches, they still held true to their grades on their big board no matter the position.
After signing three cornerbacks in free agency, they still went into the second round leering at Georgia's Tyson Campbell, their-highest graded guy. That would have been quite a discussion. But Jacksonville took care of that with Friday's first pick.
Next on the grades was the monstrous Clemson left tackle Jackson Carman, the suburban Cincinnati kid they coveted for his nimble massiveness and intelligence that would allow him to kick inside to guard and protect quarterback Joe Burrow from those powerful three techniques.
But they also wanted to make a move to get more picks in the fourth round, a spot where they saw not only talented pass rushers, but also wide receivers and cornerbacks. They apparently felt it was a long way down from No. 111 to No. 149 and the fifth round.
"It did feel really good to wake up today because we only had that one pick that we were going to sit there with in the fourth round," Taylor said. "There was a lot of players we wanted to add, and we were able to get three of them. And that is significant, you know, because that's an area of the draft, I'm talking about that round specifically, where you were able to add a lot of competition and depth to your roster and get players who belong in this league."
Director of player personnel Duke Tobin was convinced he could get Carman later and collect at least a fourth-rounder in a trade. He wouldn't do it for a fifth. But when he got two fourth-rounders from the Patriots, hot after Alabama defensive tackle Christian Barmore, he couldn't say yes fast enough.
When he traded back eight spots and still got Carman, their highest graded guy looking like an Opening Day starter, Taylor probably couldn't have shook his hand fast enough.
Then the fourth round turned into the face of this Bengals draft. Huge versatility in more ways than one. With their own pick they got a versatile pass rusher in Tulane's relentless 280-pound Cam Sample who moves inside and on the perimeter.
"He's a disruptive guy," said defensive coordinator Lou Anarumo. "I think he had 40-something pressures last year, which was third, I think, in all of college football. I like the way he goes about it. He can roll in there on the edge and has some flex to move on third downs."
With the extras they got LSU's immovable defensive tackle Tyler Shelvin, a 350-pound AFC North run stuffer, and long-armed East Carolina strongman D'Ante Smith, as versatile on the offensive line as is Sample on the defensive front, like Carman, another tackle that can go to guard.
It was Smith's Senior Bowl tape the scouts were watching early Saturday morning, maybe five hours before the noon start. Watching his 35-inch arms and movement skills, they were hoping they could get out of the fourth round with him. No way, they felt, he should be there. People were overreacting to his pro day.
About seven hours later, they got him with New England's compensatory pick at No. 139. It was textbook best-player-on-the-board.
"A really high upside. I do think that their best football is ahead of them, all three of those guys," Taylor said. "They all have traits that really stand out and we think give them a chance to be really good football players in the NFL … They were all part of the decision. I think we picked like every 10 picks or so it felt like. Those were all guys that we considered with the pick that we took Cam with."
Suddenly Anarumo is looking at a raft of guys that are going to be here day one, a group built to stop a run game they haven't stopped while allowing the NFL's most rushing yards the last three seasons.
"It starts with that. We have to improve in that area," Anarumo said. "When you get a guy who's as big as Tyler is, and you can pair him with D.J. Reader, Larry Ogunjobi, Mike Daniels, Renell Wren, Josh Tupou and the rest, you have a formidable front there."
If the fourth round is the face of the draft, then the 6-5, 350-pound Shelvin is the face of the round. You may remember him carrying Burrow off the field after one of those 2019 wins. LSU defensive analyst Kevin Coyle, a long-time former Bengals secondary coach, says Shelvin has the type of talent that can contribute right away in a rotation. Dominant, he says. Dominant on first and second down.
"He's one of those rare human beings that carry that type of weight. You have a heck of a time trying to move him," said Coyle, who knows exactly what a guy like Shelvin means in the AFC North. "You can't block him with one guy, you can't do it. You look at the biggest games we had in the 2019 season, he dominated the Alabama game. It's a highlight film. He just dominated an offensive line filled with NFL players.
"The bigger the game Tyler is going to show up. Very few guys do what he can do physically. A dominant first and second down type player. The guy is rare. I've got a 50-play cut-up that's a highlight film for an interior defensive lineman."
Shelvin opted out of this season because of COVID ("I wanted to play it safe and stay healthy. My grandmother and a few other family members got it. I'm highly blessed they're here with me today, still rolling.") and he had to battle weight when he came to LSU at 380 pounds. He credits head coach Ed Orgeron's program for embracing him.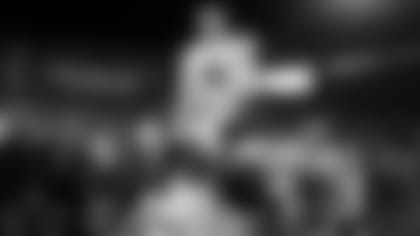 "It was a time I had to mature. That's when Coach O, Verge Ausberry, and all the staff members locked in with me," Shelvin said. "I appreciate them for that. It was me being young and they had standards they wanted me to reach. I ended up reaching them halfway through my time there. That's what really helped me out, maturing through the 2019 season."
Coyle Is convinced Shelvin is going to be in the rotation Opening Day.
"Get the right guys around him," Coyle said, "and his upside is off the charts."
They stuck with the board. But they knew they needed to come up big and the board did.
"The depth up front on both sides of the ball. That was something that we really felt like we needed to address," Taylor said. I really feel getting those two fourth-round picks really helped us. Coming into today and having those three options in the fourth round, because where there were a lot of players on the board that we really had regard for, to be able to walk away with three of them was really good for us."