We should have talked to him over the weekend as we wrapped up the first edition of the 2021 Bengals.com Media Mock Draft. We always talk to Terez Paylor when it is anything Kansas City Chiefs.
But we figured with Paylor and the Tampa Bay Times' Rick Stroud wrapped up in the Super Bowl, we would wait and harass them next month while giving their picks to the estimable Rob Rang, draft guru for Lindy's, Field Level Media and NFLDraftScout.com.
And then came word Tuesday that Paylor had died suddenly in his sleep at 37.
He had to go when he was sleeping because Terez would have talked them out of it if they had come calling in the press box or anywhere else. The passion to live and work football would have spilled all over and when Paylor told them they didn't have the juice to take him, they would have moved on.
Come to find out from all the wonderful tributes that his heartbroken former colleagues at The Kansas City Star have penned, having juice or bringing the juice or not having the juice was one of his favorite sayings. We didn't know him that well, but we knew him well enough to sit next to him at meetings to vote on the Pro Football Hall of Fame classes and talk the game and that was enough. His devotion to the sport and the craft was bubbly and contagious.
We didn't know him well, but we admired him as he moved from covering the Chiefs for The Star to becoming Yahoo's NFL writer. Paylor is one of the many in a long line of distinguished Howard University alums covering the NFL and the impressive thing about men like Darryl Ledbetter, Steve Wyche and Jim Trotter is how much they give back to where they came. And it is no surprise that Paylor did the same as he spoke to students coming up behind him.
We wish we would have called him and hashed out the pick and ruminated on Patrick and Brady. Now we can only wish this one has enough juice for him.
1. JAGUARS - QB Trevor Lawrence, Clemson; Michael DiRocco, ESPN.com
Last year's No 1 was a former Ohio State quarterback. This year's No. 1 pick is made by a former Ohio State head coach.
2. JETS - WR Ja'Marr Chase, LSU; Rich Cimini, ESPN.com
The Jets have so many options here. They can trade out to somebody who needs a quarterback while they try to re-build Sam Darnold. Or they can take a quarterback. Or they can take the best wide receiver in the draft and help who ever ends up at quarterback.
3. DOLPHINS - WR DeVonta Smith, Alabama; Armando Salguero, The Miami Herald
At 175 pounds, Smith is small but a big enough playmaker to help fellow Tider Tua.
4. FALCONS - QB Justin Fields, Ohio State; D. Orlando Ledbetter, The Atlanta Journal-Constitution
The Falcons can do plenty here, too. They need defense, but the natives are thawing on Matty Ice as their quarterback.
5. BENGALS - LT Penei Sewell, Oregon; Geoff Hobson, Bengals.com
An upset if the prized prodigy falls to them. Any of the three teams ahead of them could take him. Yes, he's only 20. Yes, the last Oregon tackle the Bengals drafted (Jake Fisher) didn't work out. Yes, he didn't play this past season. But the two seasons he has played were so good.
6. EAGLES - WR Jaylen Waddle, Alabama; Paul Domowitch, The Philadelphia Inquirer
The Eagles are probably looking to trade down and get as many picks as they can to revamp an aging roster. But they may also want to redeem themselves for last year's first-round pick, when they took TCU wide receiver Jalen Reagor a pick ahead of rookie receiving yardage leader and Rookie of the Year runner-up Justin Jefferson. They're still looking for an outside threat.
7. LIONS - LB Micah Parsons, Penn State; Mike O'Hara, Detroitlions.com
He's fast and a three-down playmaker, the kind of guy Detroit has coveted in past drafts.
8. PANTHERS - QB Zach Wilson, Brigham Young; Joe Person, The Athletic
They can't really get rid of Teddy Bridgewater off last year's three-year, $63 million deal, but their romances with available quarterbacks seem to suggest they don't think he's the guy, either. But the highly-regarded Bridgewater would be a great role-model bridge to a guy like Wilson, a prospect who could be the second quarterback taken when it's all said and done.
9. BRONCOS - CB Patrick Surtain II, Alabama; Mike Klis 9News
Cornerback is the biggest need on a team riddled with injury at a spot three players finished the season on injured reserve and where A.J. Bouye was hurt and suspended.
10. COWBOYS - CB Caleb Farley, Virginia Tech; Todd Archer, ESPN.com
After allowing a franchise-record 473 points, Dallas takes the best defensive player on the board
11. GIANTS - DE Gregory Rousseau, Miami; Mike Eisen, Giants.com
New York has basically lost its three top edge rushers since Opening Day and they need fast perimeter guys to complement the 15.5 sacks of tackles Leonard Thomas and Dalvin Tomlinson.
12. 49ERS - CB Jaycee Horn, South Carolina; Matt Maiocco, NBC Sports Bay Area
No cornerbacks are signed for the upcoming season and the Cards' DeAndre Hopkins and Seattle's D.K. Metcalf are looming twice a year.
13. CHARGERS - OT Rashawn Slater, Northwestern; Jeff Miller, The Los Angeles Times
The Chargers are a lot like the Bengals. They found their franchise quarterback. Now they have to protect him and they start this draft at tackle.
14. VIKINGS - DT Christian Baremore, Alabama; Chris Tomasson, The Pioneer-Press
No question old friend Mike Zimmer is still seething over a defense that finished 27th. Most galling to such a great competitor has to be that same ranking against the run.
15. PATRIOTS - QB Mac Jones, Alabama; Karen Guregian, The Boston Herald
It's so perfect, a Saban-bred quarterback going to Belichick's New England, that it probably won't happen.
16. CARDINALS - TE Kyle Pitts, Florida; Darren Urban, azcardinals.com
With the great Larry Fitzgerald aging, Kyler Murray needs some weapons and the hybrid type slot receiver can go downfield.
17. RAIDERS - DE Jaelan Phillips, Miami; Vinny Bonsignore, The Las Vegas Review-Journal
They're looking for some heat after a season they finished with the fourth fewest sacks per pass.
18. DOLPHINS - WR Rashod Bateman, Minnesota; Armando Salguero, The Miami Herald
Another pick, another receiver for a team that had just one wide receiver with more than 54 catches (DeVante Parker).
19. WASHINGTON - QB Trey Lance, North Dakota State; Les Carpenter, The Washington Post
With questions continuing to abound at quarterback, it's easier to develop the current North Dakota State guy instead of trading for the old North Dakota State guy (Carson Wentz).
20. BEARS - OT Christian Darrisaw, Virginia Tech; Brad Biggs, The Chicago Tribune
The Bears' biggest offseason challenge is solving the quarterback puzzle, but they also need to make significant upgrades up front and here they get a starting right tackle.
21. COLTS - DE Jayson Oweh, Penn State; Stephen Holder, The Athletic
He's got reported 4.3 speed and at 6-5, 252 pounds fits the mold of what Indy likes to craft up there indoors on defense.
22. Titians - DE Azeez Ojulari, Georgia; Turron Davenport, ESPN.com
The Bengals may have been last in sacks, but the Titans were last in generating sacks per pass. Tennessee lands another speed rusher in this run on them.
23. JETS - DE Joe Tryon, Washington; Rich Cimini, ESPN.com
New York is also looking for some juice here on the edge after they finished so well against the run (12), but so low against the pass (28th)
24. STEELERS - RB Najee Harris, Alabama; Gerry Dulac, The Pittsburgh Post-Gazette
The Steelers run game must be in trouble. The last time they went offense in the first round was when they went for guard David DeCastro in 2012. And they've only taken one running back in the first round (Rashard Mendenhall) in this century. Or, they could go center, which is more of a fit.
25. JAGUARS - WR Kadarius Toney, Florida; Michael DiRocco, ESPN.com
A ray for Sunshine with 32 broken tackles on 80 catches according to PFF.
26. BROWNS - CB Aaron Robinson, Central Florida; Tony Grossi, ESPNCleveland.com and Thelandondemand
Denzel Ward needs some help back there as Greedy Williams comes back from injury.
27. RAVENS - C Creed Humphrey, Oklahoma; Jeff Zrebiec, The Athletic
Baltimore's No. 1 priority in '21 looks to be shoring up the offensive line. They've never really been settled at center since Matt Birk's last snap in 2012 and it's been a revolving door since Ryan Jensen left after the 2017 season.
28. SAINTS - S Trevon Moehrig, TCU; Katherine Terrell, The Athletic
New Orleans has the flexibility to go best available, but with Marcus Williams a possible free agent and Malcolm Jenkins turning 33 late last season, safety looms, too.
29. PACKERS - CB Asante Samuel, Jr., Florida State; Pete Dougherty, Green Bay Press-Gazette
It always seems like Green Bay needs one of these guys and they didn't draft a cornerback last year.
30. BILLS - T Alex Leatherwood, Alabama; Mark Gaughan, The Buffalo News
Best guy on the board. When you're coming off a trip to the AFC championship game with a third-year quarterback, you can do that kind of thing.
31. CHIEFS - LB Zaven Collins, Tulsa; Rob Rang, Lindy's, Field Level Media and NFLDraftScout.com
Kansas City can do it, too, and at this point in the draft it's hard to see them passing on the reigning Nagurski and Bednarik winner.
32. BUCCANEERS- DE Kwity Payne, Michigan; Rob Rang, Lindy's, Field Level Media and NFLDraftScout.com
That's all the Bucs need is another gun up front, right, after harassing Patrick Mahomes back to earth? But Pierre-Paul is 32, Suh is 34 and Shaq Barrett is a free agent.
33. JAGUARS - CB Tyson Campbell, Georgia; Michael DiRocco, ESPN.com
After two picks on offense, the Jags get back to a defense that finished next-to-last.
34 JETS - RB Travis Etienne, Clemson; Rich Cimini, ESPN.com
The Le'Veon Bell incident cost them $28 million for 20 games and all they've got is a couple of No. 2 backs to show for it. They need a playmaker and lead back in Saquon Barkley's town.
35. FALCONS - ILB Jeremiah Owusu-Koramoah, Notre Dame; D. Orlando Ledbetter, Atlanta Journal-Constitution
The Falcons are headed to a 3-4 and while he's just 216 pounds, that seems to be where we're headed in the middle of the field. He's a former safety who was named the Butkus Award winner last season as the nation's top linebacker with 62 tackles, 11 for a loss, 1.5 sacks, an interception, three passes defensed, a touchdown, and three forced fumbles in 12 games. That's big, too, this season, to have that many games on the resume.
36. DOLPHINS - TE Pat Freiermuth, Penn State; Armando Salguero, The Miami Herald
Miami could use a complement to pass-catching tight end Mike Gesicki.
37. EAGLES - DT Daviyon Nixon, Iowa; Paul Domowitch, The Philadelphia Inquirer
The Eagles are aging, particularly up front. Their two tackles, Fletcher Cox and Malik Jackson, are 30 and 31, respectively.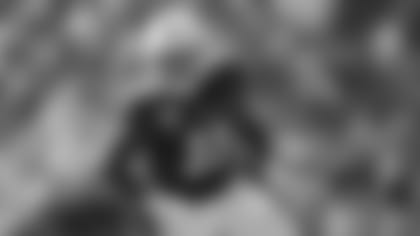 38. BENGALS - CB Paulson Adebo, Stanford; Geoff Hobson, Bengals.com
Let's take a look at the universe of players sitting there with Adebo that fits their needs, according to a bevy of big boards.
With Sewell in the fold, take tackles off this list. There is edge rusher Carlos Basham of Wake Forest, Missouri inside linebacker Nick Bolton, Washington defensive tackle Levi Onwuzurike and a pair of guards in Ohio State's Wyatt Davis and Tennessee's Trey Smith.
The highest-rated wide receiver looks to be too small (5-9 Elijah Moore of Ole Miss) to take here. They did see Basham rush from three different spots at the Senior Bowl, where Onwuzurike won his two pass rush snaps at the three technique, according to Pro Football Focus. Bolton is a playmaker which is enticing, but they drafted three backers last year.
(This is why we go through the exercise of contacting every team in the league before making the second-round pick. Maybe we should do a Bengals' mock draft one day consisting of every pick in each round. But that's hard to do in a vacuum. How do you know the guy is going to be there?)
Get back to Adebo. This guy is a perfect example of the conundrum facing the Bengals and every other NFL team. Projected as a first-round prospect as early as 2018 and as late as the 2020 preseason, he's nowhere to be found in the first-round mocks after opting out of 2020.
And many say this is too high for him. The PFF big board has Adebo at No. 158. Scouts, Inc., has him at No. 82. Walter Football.com has him at No. 39. Before the start of the season, ESPN's Todd McShay mocked him to the Chiefs with the last pick in the first round.
How can you fall a round or two or three without taking a snap?
But this is where we are with many prospects and not only no games, but no scouting combine. Adebo isn't the only guy to be found all across the big boards. Just as an example Onwuzurike is 26 on the Scouts, Inc. board, 76 on PFF. And it's not like the Senior Bowl is going to replace the combine. Five players taken in the first 38 in this mock played in Mobile.
After a big first year in '18 when Adebo set a school record with 24 passes defended that included four picks, his play allegedly dipped in 2019 during a season he got hurt.
Welcome to the challenges of the 2021 draft. They don't have the 2020 season to put those two seasons in context. But the two seasons he did have are still pretty good. Good enough that even if the Bengals re-sign cornerback William Jackson III, this is a tough guy to pass up at one of the game's premium positions.
At 6-1, 190 pounds he's long and lean with brains and brawn. His arms are long enough to jam NFL receivers at the line of scrimmage, his hands are good enough to have eight interceptions in 22 games and his awareness is sharp enough to lead the nation with 38 passes defensed from 2018-19.
And you've got to love Stanford guys. They could be staring at the Richard Sherman of the 2020s. Long-time Stanford head coach David Shaw is known for producing solid, bright guys who become excellent pros, so it's interesting when he observes of Adebo, "Paulson has everything NFL scouts are looking for in a corner … He has great speed, long arms, great instincts, and the ball skills of a wide receiver. Most importantly he is mentally and physically tough, extremely competitive and has a high football IQ. He will make a significant impact early in his NFL career."
And even if they re-sign Jackson, there's nothing wrong with stacking on the corner. Their best days on defense came after they drafted three first-rounders in the seven drafts between 2006 and 2012. They haven't taken a cornerback higher than the fifth since taking Jackson No. 1 five years ago.
The Bengals have been known to trade down with their second-round pick lately, although that wasn't an option last season with wide receiver Tee Higgins sitting there with his first-round grades at the top of the second round.
"We're not going to take on too much risk if there's a guy that's right in our sights," said director of player personnel Duke Tobin before the 2020 draft. "We'll see how this draft breaks. Sometimes you feel good about moving back and still getting the same guy and sometimes it's a little riskier to do that and each draft is a little different."
And no draft, it seems, has been riskier than this one.