After decompressing for a few days, Bengals director of college scouting Mike Potts sat down with Bengals.com senior writer Geoff Hobson to reflect on last weekend's NFL Draft.
GH: Could you have drawn up this one any better? An edge. Two cornerbacks. A wide receiver who led the nation in catches and is one of the best returners in the draft. Another wide receiver who was the best player in his league. And a punter? It seems like you hit every need but tight end.
MP: If I knew before how this draft played out, I would have been very happy with it. Are there other positions we would have liked to have addressed? Yeah. Absolutely. Sometimes that's just not how it shakes out. There are guys as you work through the process that get eliminated for medical reasons, character reasons. As you get the coaches in the process, they don't see a great vision for the player from a scheme perspective.
GH: It certainly seems like you guys had those first three picks, Clemson edge Myles Murphy, Michigan cornerback DJ Turner, and Alabama safety Jordan Battle, graded very highly.
MP: They were guys we targeted. There's always the conversation about what order do you take them in just playing the different depths of different positions on the draft board. Myles we had very high. Very high up there. We probably had seven or eight teams interested in coming up to No. 28. Myles Murphy was a guy we didn't want to pass up.
There's not a lot of things you can really knock him on. His upside is immense. He's a really good player already. It's almost scary what he could be as he continues to develop. He's still a young guy. Only 21 years old. Good kid. Good character. He wants to come in here and work and I think getting with a really good D-line coach like we have in Marion Hobby, it's going to be an outstanding pairing between those two. An easy selection for us.
I actually texted that to one of my good sources down there at Clemson. It was an easy selection for us. Just thanking those guys that give you good information on behind-the-scenes scouting and all that stuff. If a couple of other guys may have been off the board, maybe we would have felt like we were dropping down a level of player but we got one of the most talented players in the draft at the bottom of the first round.
There are not too many human beings in the world with those measurables and he's a good player on top of that. He's not just a big guy who runs fast. He can bend the edge. He's long. He's got power. I don't think he's anywhere near his ceiling yet.
GH: Since Turner was the fastest guy at the NFL scouting combine, you must have had him up there, too.
MP: A lot these really fast guys are stiff, linear, straight-line athletes. This guy has really good change of direction. Really good quickness in coverage. Really good just overall coverage skills. He's a narrow-framed guy, but he's really tough. He flies around. He throws his body around. Really physical. We think he can play inside and outside. There's really not a lot of holes in his game as he continues to develop. His body can add a little bit of bulk.
That's the thing when we go down and meet with (head strength and conditioning coach) Joey Boese and the strength staff and EB (director of player relations Eric Ball) in our player development. As people and physically, what is the best way to set these guys up for success? With DJ as he continues to mature, adds bulk and strength, he's just going to continue to ascend as a player.
If those guys weren't the top guy on our board when that pick was up, we wouldn't have taken them. Absolutely they were the top guy on our board.
GH: Does the premium of the position figure into the grade?
It doesn't figure into the position. You grade that guy for his position. For example, our grading scale for first, second, and third round grades means you can see that guy has starting caliber talent. You may give a quarterback a second-round grade because you see him as a mid-level starter. But quarterback is the most premium position in all of sports, not just football. So a mid-level starting quarterback is well worth a first-round grade in most drafts.
You still have to grade them what they are and move them up the board at times at the end of the process when you put together the final board. If you stacked all your grades, the quarterback might be down at 30, but if you need a quarterback that year and because of how important that position is, he slides into your top ten.
In the third round, Jordan Battle was clearly the top player on our board. Now do you have conversations, hey we've taken mostly defensive players in our last several draft picks. Should we take an offensive guy? Yeah, you come up with a different perspective. But at the end of the day we stick to our grades and took the highest player.
GH: You could have taken the receiver (Purdue returner Charley Jones) you took in the fourth round in the third round. Some would say you needed a receiver more than a safety.
MP: We talked about Charley there in the third. We like Charley for what he does, but we just let our board speak to us there and it usually turns out well when you do that. You don't feel like you're reaching. You also have to play the depth. We thought Jordan Battle is a starting caliber safety in the NFL. We thought maybe if we waited around later for a safety, depending how the board gets picked over, we could potentially be moving down a bigger level of player than at receiver.
GH: You probably were also fielding trade calls.
MP: We got a bunch of trade calls to move back. We absolutely had our eyes set on Battle and we didn't want to move too far back to lose him. So we had a number of offers to move back further into the fourth round. But when we got the call from Kansas City to move back three spots, that ended up being the most attractive because we thought just looking at what the other teams' needs were three behind us, we felt pretty strongly; you never know because other teams could trade up, but we felt pretty strongly we still could get Battle and get an extra pick. We went into the draft hoping we could pick up at least two or three extra picks but that's just the way it played out.
GH: Did you talk about Michigan punter Brad Robbins before you ended up picking him with that extra pick at No. 217? Michigan State punter Bryce Baninger went to New England at 192 and you had a pick at 206.
MP: We talked about the punter throughout the draft. Obviously we weren't taking one in the first couple of rounds. It felt like there were a lot of teams that had punter needs and specialist needs. You can study it ad nauseam and earmark all the teams and highlight ones that could take one, but you never know. One of those teams may not be in the upcoming picks and they could always trade up and move up in front of us or someone could take a guy unexpectedly. There were a lot of conversations on the punter for sure.
If we didn't take the punter here, could we get him later? If we take the punter here, what is going to be available for us in the next round? It ended up working out for us because Brad had been a guy we targeted who we think can come in and add really nice competition and has a chance to win our punting job. Nothing is going to be final right now. It has to be competed for. But he absolutely was a guy we liked and there were a few guys we had targeted at different levels. You just have to play the board and see how it ends up working out.
GH: You took Princeton wide receiver Andrei Iosivas first in the sixth round at 206, then Robbins.
MP: We had grades higher on Iosivas than where he went. When you look at his measurable, the guy is pretty much a world-class athlete. There's a ton of upside. I think we've got one of the best receiver coaches in the league in Troy (Walters). It's really exciting what he can do with him and where he can develop. The guy's been doing track two seasons out of the year. He hasn't had to play special teams because he's been the best player on his team and who he's playing against pretty much every week of his college career.
At the end of the day, we just followed our board. We didn't feel like we were reaching and we felt like he was too good to pass up. Did we know Robbins would be there 11 picks later? No. But you're taking a gamble on everybody. You're taking a gamble on every pick that you make.
GH: But you didn't panic when the Michigan State punter went.
MP: We didn't panic because we knew it would be a possibility. That's why you work all year to have that board. That's why there are hundreds of discussions about different scenarios and about ranking the players. We liked the Michigan State punter. Did we think we were 100 percent going to get him more than Brad Robbins or another punter? No. We know there were a lot of scenarios that would play out and this was one of them and we were comfortable with it.
GH: Did it ever seem right for taking a tight end?
MP: We liked a lot of tight ends in this draft. It just didn't break the right way. We felt the guys that we took where we took them were the best players for us and we would have felt like we would have been going down a level of player if we had taken someone else.
After day one or two of the draft, you're looking at, 'Does this upgrade what we already have with Irv (Smith, Jr.), Drew (Sample) and Devin (Asiasi) and the rest of that tight ends room?' Who knows how it rounds into form once we get into training camp?
Would these guys really upgrade them? Yes, maybe. A lot of guys wouldn't upgrade. The reason to take a guy is we have these guys on the last year of their deals and you'd potentially have a guy under contract for four years. It just didn't break that way. It was definitely something at the top of our mind we'd like to have all things being equal. We had an extra pick, maybe if we had two extra picks it would have been easier to make that happen.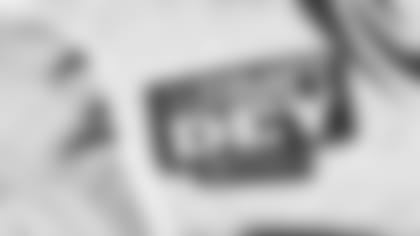 2023 Draft Dey Center
The official sources of news, photos, interviews and more of Draft Dey 2023, presented by Integrity Express Logistics.