Darrin Simmons, the Bengals special teams coordinator from Brad St. Louis to Brad Robbins, may have had his most bountiful weekend in 21 drafts at Paycor Stadium and that meant they accomplished what they set out to do.
And that was shoring up backup spots and rounding out a Super Bowl-contending roster that didn't need an Opening Day starter. The Bengals got deeper and faster and that meant so did special teams.
After they didn't draft a tackle or a tight end and got Illinois running back Chase Brown, a 1,600-yard rusher, in the fifth round, head coach Zac Taylor said Joe Mixon remains his No. 1 running back, he likes his tight end room and Jonah Williams remains a valued Bengal but that Jackson Carman is going to get the first crack at the right tackle as Williams recovers from knee surgery.
Translation: The needs weren't enough to scramble the draft board.
(And their board was so kind to the Bengals this weekend. They graded edge rusher Myles Murphy, who they got at No. 28 like he was a top ten guy.)
Sure, Simmons got his second career drafted punter in Michigan's Robbins in the sixth round. And he thinks Purdue wide receiver Charlie Jones in the fourth round is the highest they've ever drafted a returner.
"He's close. Very close," Simmons said.
A three-receiver team needed wide receivers behind Ja'Marr Chase, Tee Higgins, and Tyler Boyd and they picked up a two-sport All-American in Princeton's Andrei Iosivas in the sixth round to go with Jones, the 2021 Big Ten Special Teams Player of the Year.
Plus, with No. 1 cornerback Chidobe Awuzie rehabbing from ACL surgery and Eli Apple and Tre Flowers unsigned, they also needed cornerbacks and they got two of those in Michigan's DJ Turner in the second round and the University of Miami's D.J. Ivey in the seventh round. All four of those players clocked 4.46 or lower in the 40-yard dash and Turner had the fastest 40- time at the NFL scouting combine in a rocketing 4.26 while Iosivas set the NCAA 60-meter heptathlon NCAA Indoor Championships meet record.
"I think that's been a luxury for us to have that we are able to add guys that give us value in a lot of different areas. Special teams I feel like was hit in a very positive way in this draft, that's good for the makeup of our team," Taylor said as he wrapped up his fifth draft. "That's a great way to develop guys, is getting them in the mix there in special teams and as they start to grow more comfortable on offense or defense before their role expands there. A lot of great players that have come through here have started more in those roles then expanded to starting roles to offense or defense."
But if there was any pick that demonstrated their drafting philosophy as well as their depth going into spring ball, it was the selection of Alabama safety Jordan Battle at No. 95 near the end of the third round and becoming an automatic core special teamer for Simmons.
They've already got two starters in last year's first-rounder Dax Hill and last month's free-agent pickup Nick Scott and the Bengals felt good enough about the players they had lined up that they traded back three spots, from 92, for the pick that ended up getting them Robbins.
They hadn't drafted a skill player since running back Chris Evans in the 2021 sixth round and that was one of the positions they needed one. With Mixon's backup Samaje Perine departing in free agency, the Bengals had just three with Mixon, Evans, and Trayveon Williams. They needed receivers and return people and they don't have a tight end on anything longer than a one-year deal.
There's always the right tackle question, too, with La'el Collins' ACL rehabbing and Jonah Williams looking for a trade instead of switching from left to right.
And there sat on the board Ohio State tackle Dawand Jones, as well as the other Texas running back Roschon Johnson, not to mention Charlie Jones, the intriguing returner who led the nation in catches and attracted Simmons and wide receivers coach Troy Walters to his pro day in West Lafayette.
Plus, there were the usual trade phone calls buzzing in.
This might have been a time when, as Simmons says, the ship could have gone off course.
But in the last few years Bengals director of player personnel Duke Tobin has insisted on staying true to grades rather than needs and he has been rewarded with some of the best drafts in club history. He did here.
Battle's grades were just so much higher than anyone else on their board. The needs, which weren't all that glaring, could wait. It turned out Charlie Jones had to wait and was there the next round.
"The one thing I don't think we've done over the course of the last three, four, five drafts is that we haven't really had to reach a lot. They've (Bengals president Mike Brown and the scouts) drafted based on the grades they've had, and based on what's on the board," said Simmons, who saw Carson Palmer go first overall in his first Bengals draft room.
"I think they've stayed very consistent. I think there are times when the boat starts to go off the river a little bit, and they pull it right back on and get it lined back up again. Sometimes cooler heads prevail. I think they've stuck to the draft board, and I think they've done a hell of a job of getting it lined up and putting the players in the proper order as they fit for us. Not for everybody else and not what the league values, but how they fit for us. I think that's been the difference."
Simmons must have been leering at Battle on the board. After their 18-minute meeting with Battle at the combine, Simmons was so impressed that he put a big red star around his name, which is what he does when blown away by the presentation.
"I think the consensus was that we have a high, high, high grade on a safety here. A safety we felt was the top safety available, and the top safety, really, maybe in the (entire) draft for us," Simmons said. "That's a perfect example of a potential position of a little need. We lost a couple of guys there — it's been no secret. We added one there in Nick and we had a chance to add another one here in Jordan, so it fell right to us and it worked out perfectly. But that was a chance for us to move and maneuver around a little bit, and we didn't. They did a good job of being resilient and sticking to what the grades were."
Plus, it got Simmons a highly-regarded special teams player from one of the country's top programs.
"He's very well-rounded, he's very instinctive, and he understands the game," Simmons said. "You can tell he's been, obviously, very well-coached. He's been a part of a great program at Alabama, and he's had to play a lot of special teams. He's been productive, he's got a lot of tackles in his career, and he'll have a huge role for us here."
The big adds for Simmons, of course, were Robbins and Charlie Jones. Simmons has a good track record with punters. The only one he had taken before Saturday was Kevin Huber in the 2009 fifth round. By the time they moved on from him for Chrisman in midseason last year, Huber was their all-time leading punter.
Simmons had to laugh. As the fifth round unfolded, Huber texted, asking if Simmons was going to pull the trigger. Robbins, from the Columbus, Ohio suburb of Westerville, grew up watching punters and not teams.
"I really looked up to guys who had really strong bodies of work, and guys who have proven themselves as veterans, including Huber," Robbins said. "Huber was on that list. Never had the opportunity to talk to him, but I really looked up to that guy.
"Other players I've watched are Andy Lee, Thomas Morstead, Sam Koch. Those are the guys I really tried to model my game after and the guys I looked up to. Including Kevin Huber in there, too. They were just guys who you know had long careers, and guys I looked up to and I wanted to model my game after and be just like them."
Simmons saw him plenty, running the combine workout and then driving up to Ann Arbor Good Friday to work him out privately.
"He brings something different that we haven't had here in a bit," Simmons said. "Hang time. I think this guy gets the ball up in the air really well. Obviously, there is something to playing in this climate ... that does matter to me some. He's obviously played a lot of big games at Michigan. The other attractive thing for him is that he held for (kicker) Jake Moody, who was a third-round pick this year too. I feel really good about the other half of his job, which is holding. He's very well-rounded, he's mature, and I like the fact that he can get the ball up in the air for you."
Charlie Jones doesn't have gaudy return numbers, but he took a punt and a kick back all the way in '21 when he was still at Iowa. Simmons also likes his decision-making and his sure hands in Big Ten weather. He sees him as a guy that can return both punts and kicks.
"He's a good cutter, he has great quickness, and he had a really good workout that day with me up there," Simmons said.
The move puts a lot of heat on incumbent punt returner Trent Taylor, a wide receiver who plays little from scrimmage. They're talking about Jones as if he could possibly be the first receiver off the bench in the slot. And don't forget about Princeton's Iosivas, who hails from Honolulu.
Here's a guy who is 6-2, 212 pounds and has broken 4.4 in the 40, not to mention being an All-American in the heptathlon. After the Bengals drafted their first Ivy League player of the century, the second happiest guy in America was Princeton head coach Bob Surace, a Bengals assistant offensive line coach from 2002-09 and still a devout fan.
"About time you got a guy in black and orange for the black and orange," Surace said. "Yes, I think he can play in the league. He has rare measurables. He's a tremendous competitor … In his first Ivy League (heptathlon) championship Andrei wasn't going to practice with us. Just attend meetings and be a part of it, but we weren't going to run him into to the ground. He had to learn the pole vault and shot put and all those things.
"I said, how are you going to do? He said, 'Coach, I'm going to win it. I'm doing really well.' He ended up winning it three times. He's so dedicated. It's three sports. Football and spring and winter track and a lot of times he couldn't get back home to Honolulu."
Surace had sat in enough draft rooms to know despite the Bengals' interest, it could blow up quickly if a couple of guys were there early. But he was hopeful. The Bengals were the only NFL team owned by a former Ivy League quarterback in Mike Brown. They were the only team to bring him in for a Top 30 visit. And
when Surace heard Charlie Jones had gone to the Bengals, from what he had been reading, Jones would go in the slot and that still left room for his guy.
"Darrin is going to like him. He's a fit there," Surace said. "He's never done (teams). But who better to learn from than Darrin? He's the best. Andrei is detailed like Darrin. If you can learn to pole vault, you can certainly learn how to run down the field."
The Bengals hope they have the draft class to pole vault them back to the big game.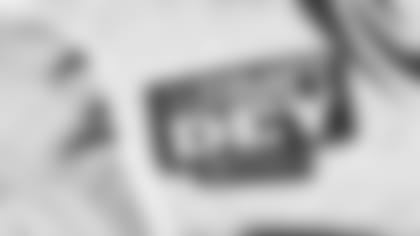 2023 Draft Dey Center
The official sources of news, photos, interviews and more of Draft Dey 2023, presented by Integrity Express Logistics.