Bengals defensive coordinator Lou Anarumo walked out of the Paycor Stadium news conference room at the end of Friday night and declared, "I'm done."
The final four rounds of the NFL Draft are still on tap for Saturday, but for the second straight year the Bengals attacked defense in the first three rounds and suddenly they are sleeker, faster, and deeper and Anarumo doesn't really have to come back down to introduce anybody else.
All three guys look like they're going to contribute.
First-round pick Myles Murphy, with his 4.5 40-yard dash and 18.5 career sacks, projects to be the third pass rusher off the bench behind Trey Hendrickson and Sam Hubbard.
Second-round pick DJ Turner II, with his NFL scouting combine-best 4.26-second 40-yard dash, figures to play plenty of special teams as well as get on the field at cornerback in some of Anarumo's matchy sub-packages against the ever-growing arsenal of offensive players in the AFC. Now it's not a must to re-sign their veteran cornerbacks, although it's still an option.
Third-round pick Jordan Battle, with his Alabama national title belt, 2022 captaincy, and in-the-box success in the rugged SEC, looks to be the missing first safety off the bench behind Dax Hill and Nick Scott and a core player for kicking game coordinator Darrin Simmons. With free-ish safety Jessie Bates III and strong-ish safety Vonn Bell gone to free agency, are Hill, last year's first-rounder, and now Battle eventually the next Bates-Bell?
"He's another guy that can give us some flexibility, so I'm not so much worried about that," said Anarumo of Battle. "I think we can move around some and he'll be comfortable in all of the jobs that we'll ask him to do because he was exposed to so much down there. I don't worry so much about that."
The 6-1, 215-pound Battle is the composite of the template the Bengals have developed to produce heavyweight draft classes since the 2020s began with the drafting of franchise quarterback Joe Burrow:
Big-time production at a big-time school that has played for national championships. A captain with impeccable football IQ credentials. Character to the hilt. Versatility dripping.
"It's hard to miss on guys like that," said head coach Zac Taylor. "When you can set the table (with their) character and their playing experience at a high level in the SEC, and all the big games he's played (in), he's just a guy we're excited for, and we're excited he was still here in the third round, and we're excited to add him to the mix."
At No. 92, the Bengals talked about taking a couple of offensive players and one was even something they needed. But here's another principle that has translated to success in their 2020 draft rooms. Talent beats need when the grades are so disparate. Battle's grade was so much higher and that's why he's here.
To put a cherry on top of it all, they got their best player on the board even though they traded back to the Chiefs at No. 95 and picked up a late sixth-rounder
"He's in position a lot to make plays. He's very rarely out of position," Anarumo said. "You can see him communicating, which is really important back there obviously, so you can trust him. You can tell his teammates to trust him. He's rarely out of position, (he) gets guys on the ground, and his character is off the charts. That's why he's so intriguing."
The safety depth chart is on the fast track. Hill and Scott are the starters. Battle and special teams captain Michael Thomas are behind them with Battle serving an apprenticeship to Thomas in the kicking game. Tycen Anderson and Brandon Wilson, who lost last season to injury, looking to get back in the picture.
"My first two years I played every single quarter of special teams," Battle said. "It will be a great thing for me coming into the league. Coming from Alabama and already having special teams ability, just going out there and playing hard, playing aggressive, knowing how to take that part of the game serious because you can lose the game when you're playing special teams. Having that mindset coming into the league is going to be a part of my game."
Battle, showing a veteran feel for the media, joked about already learning a very special Bengals celebration and an awareness of what they have done the past two years.
"I was actually learning my Griddy for Joe Burrow and Ja'Marr Chase," Battle said. "But they're a great organization of course, with a high-powered offense, a great defense. They're a winning program, which was something I was hoping I got drafted into. Coming from Alabama, you're probably going to hear that a lot — a guy from Alabama that's joining a team that knows how to win."
In 2019, Battle broke into the starting lineup as a lowly freshman in Alabama's biggest game of the first quarter of this century against Burrow and Chase's unbeaten Tigers.
"It was probably the loudest game I played in at Bryant-Denny," Battle said. "Having that feeling and knowing I competed against guys like that from when I was a freshman, then coming into the big leagues and playing with guys like that and being able to build that chemistry, now coming into an organization where we know each other and do what it takes to win."
"We can say he's arguably one of the top three best quarterbacks to ever play college football. That says a lot right there. He's obviously brought that from his college game to the big leagues. He's a winner still. The way he plays the game, thinks the game, how he throws the ball, how he plays like he's a vet already in the league — high praises only."
The Bengals have teamed up Turner with Hill, his old backfield mate in Ann Arbor. Area scout Andrew Johnson did the groundwork on both and came away just as impressed with Turner's complete resume as he was with Hill's last year. It's a familiar script whether it's this year, last year. Productive at a big school. A total of 17 passes defensed in 27 games in the last two seasons. Leadership traits as an alternate captain.
"Rare movement," Johnson said. "Easy, real easy change of direction. Easy hips. Nothing looks strained at any point and extremely fluid. DJ's a good kid and he's got huge upside."
There is some concern about Turner's weight, just 180 pounds. But Johnson says, "If he was 190, we never would have got him at No. 60. His speed counters that. He's got everything you want nowadays in an NFL cornerback. You have to keep up with the Diggs of the world and all the fast receivers in the AFC."
It's a fast world getting smaller all the time. Battle, from Fort Lauderdale, Fla., played at the national high school powerhouse St. Thomas Aquinas. So did long-time Bengal Giovani Bernard, who retired the day they drafted Battle.
And Anarumo, who coached in Miami, got a text from his son right after they picked Battle to tell him he had was in a sophomore math class with him at Aquinas.
"That is crazy. I don't remember that," Battle said. "It's crazy how the world works and how that can come back to you in moments. That's cool."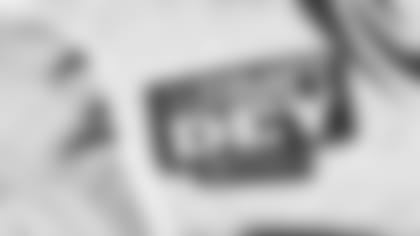 2023 Draft Dey Center
The official sources of news, photos, interviews and more of Draft Dey 2023, presented by Integrity Express Logistics.