Myles Murphy admitted that when head coach Zac Taylor called late Thursday night to tell him that he was the newest Bengal, his body couldn't stop shaking with emotion.
Yet the Bengals were unshakeable in their belief that Murphy was their guy as the first round slipped away and the phone rang with offers of a trade back. Not far back, but far enough. They weren't going to risk losing Murphy and his productive career on the Clemson edge, they decided, so they stayed at No. 28 during a week the AFC stepped up its arms race stockpiling elite quarterbacks.
"Smart. Mature. Intelligent. Everything you want in a player," said defensive coordinator Lou Anarumo, emerging from a relieved and revved Paycor Stadium draft room. "A relentless guy. Somebody who will fit right in with the group."
And he's playing right away backing up one of the league's most respected rush tandems in Trey Hendrickson and Sam Hubbard. Anarumo, whose defense finished with the fourth fewest sacks, is going to see to that.
"He'll be in a rotation right away. We play a ton of D-linemen, so he'll jump right in there and back up Sam and Trey," said Anarumo, who also has 2021 third-round pick Joseph Ossai on that edge, as well as recently signed free agent Tarrall Basham and 2022 seventh-rounder Jeffery Gunter. "In the mix with those guys. (He'll) be in the third-down rush package and whatever (else) we come up with there. I'm looking forward to get him going right away."
 As advertised, Murphy said all the right things. The first defensive lineman the Bengals have taken in the first round since Justin Smith in 2001, Murphy was born the following January and sounds a lot older than 21.
"Coming from a winning organization and joining a winning organization that knows how to win, that knows the mentality that what it takes to win, that's important. It's great to join an organization like that," Murphy said. "They have all the pieces to be a consistent Super Bowl contender, AFC Championship contender. I just want to be that finishing piece, that piece that pushes them over and past that ledge of being a consistent Super Bowl contender to being a Super Bowl winner every year."
This is why the Bengals didn't think Murphy would be there. He's talking about what he does best.
"Making the plays that people don't think I'm going to make," Murphy said. "Even when I'm all the way off the screen, just making those plays, running them down the field, sideline to sideline, going to get to the quarterback, going to stop the run, and be an all-around dominant player,"
The AFC North now has another pass-rusher named Myles. The Browns' Myles Garrett leads the NFL with 44 sacks this decade and it just so happens he is who Murphy emulates.
"Similar body types, similar playing style, rushing style. I just mimic all of my game after him," Murphy said above the din of the 175 or so people he had invited to an Atlanta club near his hometown of Marietta, Ga.
There were smiles breaking out as Taylor made the call. Murphy was one of the Bengals' top 30 visits two weeks ago at Paycor and it was bittersweet. They loved him and had long identified him as one of their few first-rounders, but that's why they also thought they didn't have a shot at getting him. Maybe an Emmanuel Forbes or Deonte Banks on the corner. But not Murphy. It just goes to show. You never know. It was Banks and Forbes who were gone and there they were leering at Murphy.
The coaches and scouts were also smiling because they felt like they had somehow gotten away with it again. Last year, one of the last of their legit first-round graded players was there with the next-to-last pick of the first round. Michigan safety Dax Hill.
Now, here they were again Thursday and Murphy was one of the last of a pool of an even smaller pool of first-round graded players.
How much did they want Murphy? Georgia edge Nolan Smith and Notre Dame tight end Michael Mayer had also visited and maybe could have been had if they moved down just a bit. But they stayed put.
Director of player personnel Duke Tobin likes to say he'd rather consistently hit doubles than the occasional spectacular homer. With Murphy's rock-ribbed consistency during three seasons (the only player in the nation to record at least 10 tackles for loss and at least one forced fumble in each of the last three seasons) combined with his massive traits (a frightening 4.51-second 40-yard dash at 6-5, 268 pounds) is a ball rolling in the gap for extra bases.
There's also the confidence they're getting solid character from a college program they know well. Defensive line coach Marion Hobby was a co-defensive coordinator at Clemson under head coach Dabo Swinney. Murphy's D-line coach there last season, Nick Eason, coached under Taylor during his first two seasons in Cincinnati. In Taylor's time here he's drafted wide receiver Tee Higgins and right tackle Jackson Carman out of Clemson and tone-setting free-agent nose tackle DJ Reader played for Hobby at Clemson.
"The guys that we've had come out of Clemson all fit that description," said Taylor of the character question. "They do a good job with the program down there first of all — finding the right guys to fit them and what they embody, with all the championships they've played for. Those guys have really fit in well with us as well, and so I think Myles is going to fit in with us perfectly."
Murphy seems to love the whole setup. From the town to the scheme.
"I had a good feeling that they liked me. When I was there, I really loved the city, loved the coaches. I already knew the defensive line coach there, so I felt comfortable the whole time I was there," Murphy said. "Man, they go and get after it. That's what I love. Having Hendrickson there, really just watching him rush the edge, he's just a menace on the edge. They let him do what he wants to do and have the freedom to get to the quarterback — I love that about them."
This entire week has been a reminder of how loaded the AFC is at quarterback. The draft's top receivers want to come play with the Bengals' Joe Burrow. To start the draft, Chiefs MVP quarterback Patrick Mahomes hefted the Lombardi Trophy. Just before the draft, Lamar Jackson signed up for five more years with the Bengals' AFC North rival Ravens. A few days ago, Hall-of-Famer Aaron Rodgers joined the Jets.
You need them. Edge rushers and cornerbacks. You need to say no more to Taylor, who calls Burrow's plays.
"Just being an offensive play caller," Taylor said, "the first thing you're looking at (on the opposing team's) depth chart typically is what their rush looks like. Anytime you see a lot of depth there and they can keep putting (pass rushers) on the field to affect the passer, that's the first thing you have to have a protection plan for, then you build on from there. So you can never have enough of those guys that can play downs for you."
Murphy said he was shaking so badly he could only get out a couple of words. But by the time he composed himself, he made music.
"I'm just blessed, man. I just want to play football," Murphy said. "That's really my initial reaction. I just want to play football and am blessed to be taken wherever. Wherever I'm taken, at whatever number, I just want to play football — that's all I want to do right now."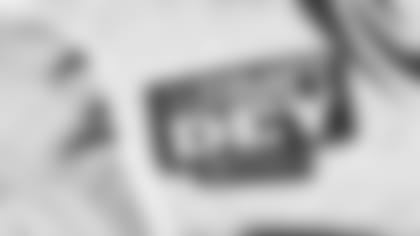 2023 Draft Dey Center
The official sources of news, photos, interviews and more of Draft Dey 2023, presented by Integrity Express Logistics.