As the Bengals reclined with their first day off day of camp Tuesday, the buzz is the new-look running game. As in the backs look sleeker and faster behind a scheme emphasizing go-now-cut-later as opposed to last season's tentative read-and-react and while Joe Mixon is praising the new mindset installed by new offensive line coach Frank Pollack ("He's changed the culture the way they block around here"), his own coach is saluting the mind of Mixon.
It turns out the big guy running the ball behind that overhauled first offensive line is different than last year, too.
"He's a very disciplined runner right now and a very disciplined student. He's grown up," says running backs coach Kyle Caskey. "As a rookie you really don't know what you're getting yourself into some times. He's been through it. He's got a different mindset than he had. He's really taken ownership of where he's at on the team at this point."
Where he's at is where some people thought Mixon should have been last year at this time even if he had just turned 21 and that's the clear No. 1 bell cow getting reps with the first group. At 218 pounds he's 12 pounds lighter than he was then in his effort to find a step he thought he lost in last season's maze. He now weighs the same as his long-time personal trainer who urged him to step up his workouts during the six weeks before training camp if he wanted to get that step back.
"I thought he'd get down to about 223 or 222, but he was doing well and just kept on going," says John Mixon from Sacramento, the trainer who also happens to be his father. "He was telling me he thinks he's found two steps."
The 6-1 Joe Mixon has always looked up to the 6-0 John Mixon, another highly recruited back out of the Bay Area who went one better than his kid back in the '80s when he was named Northern California's Player of the Year in basketball. Ask who is the better athlete and John Mixon just laughs and says there's no talk about that.
But there's no debate that Joe would spend time grinding in his father's presence to find that step.
"No need for me to go to anybody else. He knows me best," Joe Mixon says. "You know this. Everybody knows that nobody is going to work you like your dad. He always knew what was best for me."
At 50, John Mixon sounds like he's still in the same kind of shape when he got more letters for football than basketball while playing every position possible at Jefferson High School just south of San Francisco in Daly City. He opted for football because of size. At Jefferson he played it all. Tight end. Linebacker. Safety. Of course, running back. Of course, quarterback. Befitting a player from the high school of Pro Football Hall of Fame coach John Madden. But the only real option was junior college and he went north slightly to Frisco to play at City College and then opted for Division II Troy in Alabama.
"Promises were made that weren't kept. I had a family. It didn't work out," John Mixon says of the decision to go back home. "I wasn't taking care of business in high school. I was kind of fooling around. I wasn't focused. Not handling it the way I should have handled things at the time."
John Mixon wouldn't change a thing about the way it ended up. "I don't look back," he says. He ended up getting the focus, got into contracting and is now a real estate broker. But he knows he did it the tough way and he passed on the hard lesson from his experience to his son.
"Hey, you really get one shot at this thing, man," John Mixon has told him. "You've got to make the best of it while the time is there. You don't want to waste time. Go ahead and do what you need to do. Go ahead and make it happen. Because after that those years pass by pretty fast and before you know it you'll be as old as me."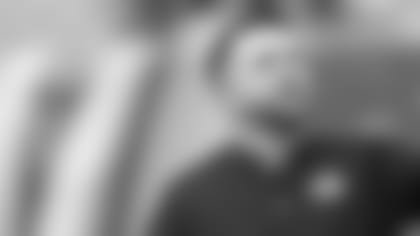 Joe Mixon runs with a certain youth passion as one who is 22 years and a week old. The fans at training camp see it when he runs a play in team drills all the way into the end zone a la another No. 28 (Corey Dillon) and some of that desire is stirred from the backstory. In a way, the drive to make it has brought them a bit closer.
"What gets me going and the drive is to live out his dream," Joe Mixon says. "When I was younger I told him I want to be like you and live out your dream. It was my dream, too."
John Mixon says what any father would say. "He's got to do it for himself." But he'll do what he can to help and for the old City College standout that means passing on the techniques he learned from the late Ben Parks. Or as he's known in Frisco, the great Coach Parks, the first African-American high school head football coach in the Bay Area and a trainer for several 49ers down through the years.
In 2000 safety Ronnie Lott mentioned Parks in his Pro Football Hall of Fame induction speech and John Mixon got a chance to work with both for a few years in a stretch he tried out for the 49ers. 1992 was a tough year for a local kid to make the NFL squad as a safety. They traded for Thane Gash from Cleveland and drafted Washington safety Dana Hall. But he got a chance to learn from Lott and Parks.
"I guess I'm old school with the exercises, but there are also new school techniques," John Mixon said. "I think no matter what, there are old school fundamentals for football that you have to do. I always do up-downs. Some people don't like that, but the one thing you have to do in football is learn how to fall.
"There's a guy in the NBA named James Harden and he's got an old-school game, but he can also do new school stuff. I think Joe is like that a little bit. He runs with different styles and he can do things like a receiver. He's well-rounded."
If up-downs are good for one thing, it's conditioning and that's what the Mixons were focused on during the summer.
"To be able to go four quarters and go for overtime, too," Joe Mixon says.
John Mixon is reminding him the clock is ticking.