The Bengals' first offensive line remained the same for much of Saturday in the first practice since Thursday's 30-27 victory over the Bears and so did position coach Frank Pollack's year-long pitch. The line is still in flux and Pollack says it won't be set until the Sept. 9 regular-season opener in Indy and not the Aug. 30 pre-season finale against those same Colts at Paul Brown Stadium.
The first line looked better than the backups on Thursday, particularly at tackle, and the only change Pollack made Saturday for couple of snaps was putting Alex Redmond briefly with the first group at right guard. For a team still searching for a right tackle and right guard next Saturday night's game in Dallas (7 p.m.-Cincinnati's Channel 12) remains another test.
"We won't have a set lineup until the night before we play the Colts," Pollack said after Saturday's practice. "It's only been one pre-season game. Still have three more to go. It's way too early to anoint anybody. A lot of competition. Then get in the season and you have to hold your job."
Redmond is a terrific prospect but he's been dogged by false start penalties. He had another one Saturday, but so did everybody else it seemed with all but the tackles committing them with what appeared to be the most false starts during a day of training camp. For the second straight practice, head coach Marvin Lewis had to cut short work on the grass fields because of lightning and after a 15-minute delay they finished inside Paul Brown Stadium on the turf.
"Guys just have to focus no matter what the elements are, no matter what the external stimulus or distractions," Pollack said. "Whether we're in the parking lot, on the grass or in the stadium or in the little gym area, it doesn't matter. We can't have false starts. They're all unacceptable."
Pollack is giving no clues who is ahead of who. ProFootballFocus.com has been raving of backup left guard Christian Westerman and rated him behind only seven-time Pro Bowl wide receiver A.J. Green for offensive grades in the pre-season opener. He did say that maybe he'd give Westerman snaps at right guard, but that's about it.
"No offense to Pro Football Focus, but I really don't give a damn what they say," Pollack said. "He had the same as about everybody else. He did a lot of good stuff. He was physical. He's got to clean up his technique. He got high at times. But he's grinding on that. He's got to work on better hand placement. He did a lot of good things, as did everybody. But as did everybody else, he made some mistakes he's got to improve. Typical Game 1 stuff.
"Everyone has to be ready for both sides. The only guy who is really locked on what sides are the centers. When we get short, I tell them to spin around. Just rotate, spin around and go back in. Nothing's in stone. I know you would love it. I would love it, too. It is what it is. We've got to keep going. We've got time to develop. We have to take advantage."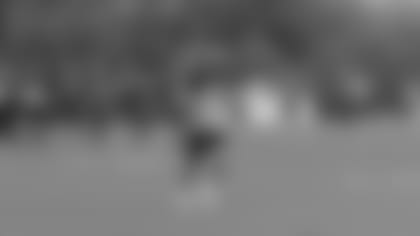 PLAYER OF THE DAY: Tight end Tyler Eifert
Who knows when we'll see Eifert in the preseason, if it all, as they manage his back issues. But whenever he makes his debut this is how they want him to look. After sitting out Thursday he made a handful of catches in Saturday's team period right out of his 2015 Pro Bowl season. On back-to-back snaps he found a spot over the middle in a zone and then beat one of their fastest linebackers when quarterback Andy Dalton saw him breaking on Jordan Evans and led him to the sideline. A few snaps after that on third-and-10 he floated down the seam to catch one on the money from Dalton working against rookie safety Jessie Bates and linebacker Hardy Nickerson.
 The encouraging thing about it all may be that when the practice began on the grass, he had the first reps of 1-on-1 and appeared to make a nice juggling catch crashing to the ground on his back after jousting with safety George Iloka. Then he was able to make those catches in the team stuff on the turf after the delay after loosening up again.
"It's just like half time of a game. You have to go back out and get warmed up," Eifert said. "Honestly, it doesn't cross my mind when I'm out there playing. I don't go to the ground thinking, 'Oh, I hope my back's OK whenever I hit the ground,' or something. I'm feeling good, so it's not even a thought of mine. We're just going to try and keep it that way."
PLAY OF THE DAY: Maybe Eifert helped set this one up, too, in the last period of the day set aside for situations. After Dalton found him all alone on the sideline off a play-action fake, he went up top and got a 60-yard TD bomb to Green making the catch down the middle of the field on what looked to be a post as Iloka and cornerback KeiVarae Russell pursued. They haven't had one in a while, but the two balls to Green of 22 and 26 yards on Thursday may be more important. Green is coming off a season he had his fewest catches of at least 20 yards with nine. But rookie center Billy Price appreciated the long one. He jogged down field to shake Green's hand.
QUOTE OF THE DAY: "I thought that was big by Andy to go back to him. That's a bad mistake. Can't make that mistake. You can't fall down on a stop route. That's just something we've got to keep working on. But they went back to him and he was able to make the play. That's good for his development. You just get him in space, get the ball in his hands, obviously he's got some special athleticism. We just have to keep working on the other things." _ Bengals receivers coach Bob Bicknell on John Ross bouncing back Thursday for a 20-yard catch after his spill led to a pick-six.
SLANTS AND SCREENS: The Bengals receivers are on the move. A play in each of their first two TD drives featured receivers making big catches from spots they're not known for being in. Green's 22-yard catch on the first drive came out of the slot on a drag route and Tyler Boyd scored the second touchdown on a three-yard slant he ran from the outside and not his usual spot in the slot.
"There are certain things he's really good at out there," said Bicknell of Boyd, a guy he doesn't mind putting outside in certain situations. "There are things John's good at, too. You can move them around by formation and move it by personnel, too. It's important in this league not to be able to find a guy and know where he's going to be all the time … You have to be able to move around, put guys in different spots doing different things and that's going be a big part of what we're trying to do." …
Back-up linebacker Vincent Rey (ankle) and rookie safety Trayvon Henderson (ribs) didn't work Saturday after getting hurt Thursday. Look for Rey to lay low until the opener ...
It was another up-and-down day by Ross, even in the same one-on-one drill. He got a step on cornerback William Jackson and even through the ball was underthrown he couldn't grab the catchable ball. But a few reps later he made a wondrous leaping catch down the sideline on rookie cornerback Darius Phillips. Then in team he dropped a wide-open one over the middle …
Special teams coordinator Darrin Simmons has a fun drill adjusting to the kickoff alignment that has no wedges in front of the returner and no running start by the cover team. He sends two cover players down alleys roped off and the returner tries to make a move. With guys like running back Giovani Bernard and wide receiver John Ross getting the ball, there's a lot of oohing and aahing, but it's also a good test for tacklers to stay disciplined while getting up a head of steam …
Pass rush guru Chuck Smith surfaced again at camp Saturday. The former Falcon has been at all three camps Jacob Burney has been the Bengals D-line coach ...