Tyler Boyd called Thursday morning's release of Brandon LaFell "mind-blowing." In fact, Boyd, said, it was so surprising that "I don't think even A.J. saw it coming." But A.J. Green, the seven-time Pro Bowler and the end-all and be-all in the Bengals wide receivers room, has seen it before.
Think 2012, the year after Green's brilliant rookie season when the Bengals moved on in their wide receiver room from the combined 87 catches of the previous year from Jerome Simpson and Andre Caldwell. When they opened in Baltimore to start a season they won 10 games and made the playoffs, they had a combined 51 NFL catches from wide receivers not named Green with 23 coming from sophomore slot receiver Andrew Hawkins and 24 from third-year receiver Brandon Tate used primarily as a returner. The Opening Day starter opposite Green, Armon Binns, had no NFL catches as did two other active receivers in their NFL debuts, rookies Mohamad Sanu and Marvin Jones. Ryan Whalen, with four NFL catches, was inactive.
Fast-forward six years later and the release of their oldest and most experienced wide receiver comes against the backdrop of training camp punctuated by exciting plays from a raft of young receivers. It starts with the blinding speed of 2017 No. 1 pick John Ross and runs through this year's seventh-rounder Auden Tate, a monstrous 6-5, 228-pounder that has plucked everything. In the middle of it all is third-year slot receiver Tyler Body having the best camp on the Paul Brown Stadium grounds.
"I understand. I came here starting fresh," Green said. "I had (Simpson). and then my second year, everybody got let go. I was the oldest guy in there at that point and I was only going into my second year. I understand the business side of football. And I can control what I can control, and that's to work hard, go to practice every day, work my butt off and bring the young guys with me."
Brandon Tate was actually older by a year, but you get the idea. They may not be as Green this time around when you figure Boyd comes in with 76 catches by himself and Cody Core and Alex Erickson have a combined 35. But since Boyd is this team's answer to Hawkins in the slot, they're in a similar positon to six years ago in that they're trying to match LaFell's production on the outside, which averaged 57 catches and 730 yards for two seasons. The guys they're counting on for that, 2017 draft classmates Ross and Josh Malone have combined for six NFL catches and a TD, all belonging to Malone.
They must be satisfied that Malone's hamstring issue is going to come around. The injury pretty much wiped out his spring and he looked terrific early in camp before it nagged him again. He's missed the last three practices but said before Thursday's workout that he'll be back in a few days and it's not long-term. A 6-3, 208-pounder with 4.4-second speed in the 40-yard dash, Malone is a fourth-round pick they need to look like he looked last week.
Also sitting out Thursday is the rookie Tate, in concussion protocol after hitting his head on the ground in 1-on-1 drills Wednesday.
"It's definitely more opportunity ... what Brandon just brought to the room. It's a decision that was made and me and John just have to step up and produce," Malone said. "Experience. His craftiness. How to handle yourself as a pro. When I first got here I was told to be by that guy and learn from him ... how to see the game in a different way and just how to approach it as a pro."
But these are the exact guys that have lit up training camp and apparently made LaFell expendable. Reports have said LaFell was looking for his release, something the Bengals weren't looking to do because of his experience and the untried youth and they were looking at him as a potential versatile backup. If they wanted to release him, they would have jettisoned him before paying his off-season workout bonus of $200,000 and a March bonus of $1 million.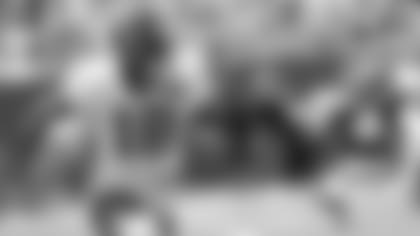 According to various reports, it sounds like LaFell wasn't content with being merely depth behind players that haven't done what he's done. Whatever it is, he leaves with a lot of respect in the receiver room.
"Brandon was a guy who was great for our room - a veteran who knows how to be a pro, knows every position, could have plugged him in anywhere so losing him hurts, but it's a business," Green said. "There are a lot of young guys here that are ready to play, but it sucks, me and Brandon became real close this last year. He was one of my friends off the field. It's tough, but it's a business and he knows the business side of it."
LaFell's professionalism and savvy has been a constant for guys like Malone, Boyd and Ross and the obvious question is where does that leadership come from now? Green's not the reticent kid of 2012 and while he won't undergo a massive personality change, he's also got a lot more skins on the wall than he did six years ago.
"I am a quiet guy and he would talk to those young guys more and take them under his wing. He's a friendly guy and he wants these young guys to learn. We're going to miss that about him," Green said. "I know I have to talk a little bit more and teach the young guys a little bit more and be more vocal a little bit. Now that he's gone I'm going to have to do all the talking."
Green's got a couple of things he didn't have six years ago. Such as a second-round pick like Boyd with a bunch of NFL third-down conversions that is dominating a training camp.
"Before I got here I already looked at myself as a leader, as giving anybody else knowledge that I have," Boyd said. "Like this year, the young guys, Devonte (Boyd) in the slot to help him a lot with plays. Try to critique his craft and how to run it a certain way so he can attack leverage better. It's football. I know the game. It's not like two years ago was my first time playing football. I already knew a lot playing that position. I always give tips when I feel like they should be given. At the same time I can also soak in information. I always help no matter what situation I'm in."
Another thing Green didn't have is a first-round pick like Ross. Sanu and Marvin Jones eventually became big-time players, but that rookie season they combined for the 34 catches that Core-Erickson lug in, although Core didn't have any last season.
"You all are at practice. You see the camp TB is having and Josh before he got hurt and Tate and CC. Those guys can do a lot of stuff: special teams, offense, Alex punt returns. Those guys, they're going to help us win," Green said. "We've got guys that can really play. It's going to be tough, the business side sucks, because you form this relationship and the next day he could be gone."
Business is business. The Bengals figure to save about $2 million after they replace LaFell, some help in the bid to extend Pro Bowl sackers Geno Atkins and Carlos Dunlap before this season. They could use it. According to spotrac.com, the Bengals are committed to the seventh highest payroll in the league this season.