The Bengals head to the breeding ground of fast when they play their last game in Oakland-Alameda County Coliseum Sunday (4:25 p.m.-Cincinnati's Local 12). It's the home to all those jet-quick wide receivers stockpiled by Raiders owner Al Davis and where A's czar Charlie O. Finley hired baseball's first designated runner in Herb Washington on the same field Rickey Henderson pilfered most of his record-breaking stolen bases.
The Bengals haul to town their own speed merchant in third-year safety Brandon Wilson, who's so fast that he's been returning kickoffs for a mere five games and he's more than halfway to history and already on the Pro Bowl ballot.
How fast? He's got his hands on a dozen kickoffs and has the NFL lead with a 36-yard average, which would be the second-best of all-time and best in more than 50 years if it holds up for the rest of the season. You have to chip all the way back to the 1967 Ice Bowl Packers and discover Travis Williams' all-time best of 41.1.
How fast? Wilson already has four returns of at least 40 yards and is sniffing the best of this century, which is the 10 of the great Cordarrelle Patterson in 2013, according to Elias Sports Bureau.
How fast? Darrin Simmons, in his 17th season coordinating the Bengals special teams, from PDub (Peter Warrick) to PacMan (Adam Jones) says he's the fastest guy he's had.
How fast? He's been clocked in the 4.3 range in the 40-yard dash, he scored eight touchdowns at the University of Houston six different ways and if the Bengals get in a pinch at running back, they can turn to a guy that wedged in 41 college carries for 4.7 yards per during a career he played 40 games at slot corner.
Here's a guy that got here faster than most. When the Bengals packaged some picks to go up and get Wilson in the sixth round of the 2017 draft, it is the only time in their history they traded up to get a defensive player.
"Brandon can do anything," says fellow gunner Tony McRae. "He can play anywhere. Safety. Corner. Running back. He could probably play wide receiver."
How fast? He's so fast he met his high school sweetheart in middle school while they were growing up in Shreveport, La. He and wife Jade were friends before they started going out, he thinks, junior year at Calvary Academy.
"It just seems like I've known her my whole life," Wilson says.
He may be fast, but he's not even the fastest in his family. He thinks that title belongs to his older brother Zerkendrick. He can't remember racing him, but his father, Kenneth Wilson, thinks Zerkendrick beat him out in the street once when they were small.
"Man, he's fast," Brandon Wilson says. "I already know he's going to win."
"I'd say Zerkendrick would be a 4.25," Kenneth Wilson says.
Zerkendrick played briefly at Butler Community College, the football home of Bengals' Rudi Johnson and Zac Taylor, before he came back home to work as a construction supervisor. But before Kenneth came back home himself to get married and raise a family of seven children (Brandon, 25, is in the middle), he may have been the fastest.
"Could be," Brandon confirms. "I started to race him once when I was a teenager. I didn't know he could get out that fast."
He says he was a 4.3 guy when he played at Shreveport's Woodlawn High School in the early '80s and teases his son that they wouldn't kick it to him. But he continues to be thrilled (and practical) about his son's returns. When Brandon engineered an upset of Oklahoma taking a missed field goal 109 yards, Kenneth was the only one not yelling or screaming. He was looking to see if there was a flag.
"I always look for the flags," Kenneth Wilson says.
Kenneth is the guy that had to take Brandon aside in middle school and tell him not to get so upset when he got beat or lost.
"I had to talk to him," Kenneth says. "He's competitive. Competitive. When he was in the seventh grade, he'd get mad. Pout. I talked to him. You can't do that."
Kenneth gave it a shot as a player at Southern Arkansas, where they made him run track but he came back home.
"I missed home and my parents were old-fashioned," Kenneth Wilson says. "You got a job. You took care of family."
That's exactly what happened. Kenneth has worked the last 28 years at a factory producing fast-food equipment and his wife has worked for the last decade at an apartment complex. They have children ranging from 32 to 16 and well, hold on, she may be the fastest.
"I don't know about that. That's what my dad says," Brandon Wilson says. "I've never seen my mom do anything athletic, but he knows more than I do."
He has to agree, though. Speed runs very fast through his family.
"Oh yeah,' Brandon Wilson says. "All my siblings are fast."
He also got that old fashioned work ethic from his folks. Brayden Coombs, Simmons' assistant who pounded the table for Wilson after he scouted his pro day in Houston, can't get enough of him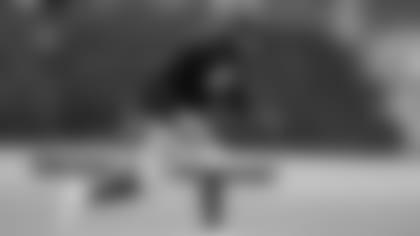 "Quiet. Humble. Reliable. Just what you want," Coombs says. "Yeah, he's fast. But he's more physical than you think."
Wilson goes 5-10, 200 pounds, but he can break away from you. He's also giving his teammates a jolt. Safety Clayton Fejedelem, his fellow special teams Pro Bowl candidate, is leading his charge.
"When you have a guy that's explosive back there who can make something happen with any opportunity, it's fun to lay out a block for a guy that can change the game with one play," Fejedelem says. "It's exciting. When things aren't going well as a whole, it's nice to have an electric play that can change the game for us.
As Wilson will tell you, it's also nice to have guys like McRae and Fejedelem blocking for you. The Bengals have one of the best special teams in the league because of guys like that. Fejedelem, a Pro Bowl alternate, has absolutely no stats this season but he's as big a reason as Wilson for them being ranked No. 1 by Football Outsiders.
"Yeah, it's frustrating," says Fejedelem of the lack of stats. "But I'm getting double-teamed on every play, so that allows other guys to make plays.
"My biggest goal is to do everything we can on teams to help solidify a win."
Fejedelem has spent his four seasons tackling returners and he's not comparing Wilson to anybody, but he says the massive 6-2, 238-pound Patterson offers a similarity. They're both hard to bring down.
But, like Simmons says, they're two different kinds of returners. Patterson's mix of size and speed is unheard of, yet Wilson is more elusive than people think.
"Here's the thing," Simmons says. "He just started doing it in the fifth game."
Wilson needed a confluence of factors to get here. Wide receiver A.J. Green hasn't played a snap this season and wide receiver John Ross has played only four games, meaning No. 1 kick returner Alex Erickson needed a break. Cornerback Darius Phillips gave it him, but he got hurt after his kick return TD was called back in Buffalo in the third game of the year.
"He's new to returning kicks with us," Fejedelem says. "But he's used to having the ball in his hands. This is nothing new for Brandon Wilson."
No Bengal has returned two kicks for a TD in a season. He got his first to open the game in Baltimore last month from 92 yards out and Simmons says if he scores again he'll probably make the Pro Bowl.
Wilson needs eight more returns to qualify as the NFL leader for the season, matching Adam Jones' kick return title in 2014. Jones did it with a 31.3 average, one of the six biggest seasons in the 21st century. Patterson has three of them. That 32.4 in 2013 is the best of this century, but only ninth all-time. Simmons says with the cold weather here, Wilson is going to get his chances. Patterson, with a 102-yard TD in the bank, looms behind Wilson in second place at 29.1
How fast is Wilson making history?
Fast enough that he hasn't had time to think about it.
"The guys up front have been doing great," Wilson says.
Never mind history. He's just trying to keep pace with his family.
"What about this?" Tony McRae asks after he hears the numbers. "What if he gets over 40 and gets the record?"