BENGALS C TREY HOPKINS VS. RAIDERS DC PAUL GUENTHER
Hopkins went against Guenther's defenses for four seasons in practice when Paulie G. succeeded Mike Zimmer as the Bengals defensive coordinator. Both have impressively moved on as they prepare to meet Sunday (4:25 p.m.-Cincinnati's Local 12) in Oakland.
Hopkins has emerged from an anonymous undrafted practice squad guard-tackle, to a backup guard, to their most valuable offensive linemen this season as a long-armed deep-thinker at center that right guard John Miller calls "a general," offensive coordinator Brian Callahan labels "a master of the crew," and Bengals radio analyst and 10-year offensive lineman Dave Lapham categorizes as "impressive."
Hopkins leads a revived battalion into the Oakland-Alameda Coliseum that is playing with its first whiff of success. They're wary of Guenther's subtle pressures toying with a rookie quarterback, but they're encouraged in this first year of the offense how line coach Jim Turner and the staff rehabbed the run game in midseason by deploying a more diversified look.
Guenther has moved out of Zimmer's shadow as Raiders boss Jon Gruden's head man on defense and Zimmer-like is coaxing an anonymous band of young players through a 5-4 turnaround. His group, in a sense, is still reeling from last season's Khalil Mack trade and is also working through things like Hopkins' line. The Raiders defense is ranked 26th with three rookie starters, one second-year and one third-year.
"We're trying to build something here. We're taking it day-by-day," Guenther says. "We've gone from the oldest team in the league to one of the youngest. You know what we do? We play hard and fast."
This is what they do. During pockets of the Raiders win over the Chargers last Thursday night, Chargers quarterback Philip Rivers carved them up. But with the game on the line in the last minutes, Rivers missed his last eight passes with Guenther changing up his pressures. This is what Paulie G. does. As Zimmer's third-down guru, he developed a knack for breaking down pass protections by not always blitzing.
"One of the best at it. He won't blitz you as much as Baltimore does, but he blitzes you at opportune times," says Callahan, who before going over to Oakland last year to see it every day prepared for a game against a Zimmer-Guenther Bengals defense five times from 2012-17.
 "You don't get blitzed a lot, but they're hard. What makes it really hard is all the pressures look the same and you don't know what side it's coming from. All of a sudden, they drop out. Sometimes you don't need a lot of pressure if you cause that kind of mental anguish for a quarterback."
Or like this: Zimmer and Guenther made the Double A Gap Blitz a league trend in Cincinnati by crowding the center with two backers. But Guenther almost just relies on the celebrity of it and is more than likely going to pull it back at the last minute.
"They show you that, you change your protection and they back out and try to hit you with something else at the last minute," Miller says.   
Which is why the Bengals are spending as much time on Guenther's pressures as they did on Baltimore blitzes last week to get rookie quarterback Ryan Finley ready for his NFL debut. But with Hopkins and Finley a cerebral pair (Hopkins almost went to med school and Finley has a Master's), they think they'll be OK for Finley's first road start.
"There were a couple of times Finley changed it up at the line and he got us into the right protection no problem," Miller says of what he calls Baltimore's "blitz happy," defense. "That was encouraging to see from a young quarterback."
And Miller says if Finley doesn't get it, Hopkins will. In Buffalo, Miller played next to the highly-regarded Eric Wood, now the Bills radio analyst, and says they're the same kind of smart center: "His football IQ is at the top."
Hopkins immediately became a favorite of Turner, not just because he knows the game plan better than anyone else, he says, but because his "calmness gets everybody on the right track." He's also helped the line adjust to ripping up the running game, an orange cone project that began for the Rams game last month and culminated in last week's season-high 157 yards and 40 carries on the ground.
Ironically, Turner turned away from some elements of the outside and inside zone runs out of the Rams playbook that the Bengals have been using.
"A little more varied. A little more power. A little more pulling. Just trying to create angles on the defense," Turner says. "We've been trying that old Rams offense all year …We simplified everything a little bit. More individual blocks. Double teams. The point of attack as much as we can. Trying to attack some weaknesses.
"It's a first year of a staff together, so we're trying to run the stuff that we come in thinking we're going to run. We're at the point now we're going to do stuff that we think can help us win games from here on out … It's like any team where a new staff takes over. You're trying to see what fits, what's good and how everything fits together."
The zones aren't going anywhere. But you can't argue with the numbers of the last two games. They came into their eighth game averaging 2.9 yards per carry on 18 carries per game. In the last two games it's 4.2 on 31.
"Have to commit to the run. Have to commit to the run. That's every team in the NFL," Turner says.
Lapham likes zones. But he also likes the diversity the Bengals showed against the Ravens.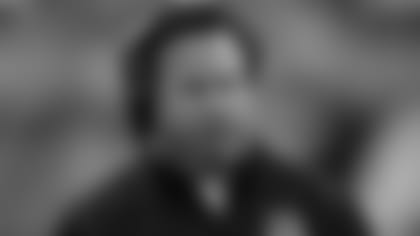 "Everybody uses different terminology," Lapham says. "They did some gap blocking where you block down. Pin a guy. Pull people. Man on man. Double. Pull the center around the double team (on the defensive tackle)."
Lapham who played all five spots in his 140 games with the Bengals, has become an admirer of Hopkins. During the bye week he told him to google Pro Football Journal because it had him rated as its midseason All Pro center. And he can see why.
"He's smart. He's got those long arms that you really like and he can move," says Lapham, who picks out running back Joe Mixon's 15-yard run against Baltimore, his longest during his first 100-yard day of the season.
"He's not stiff at center," Lapham says. "He reached a full man over and put him on the ground with a chop. I know how hard that is at center. That's pretty good athleticism and the guard (Miller) and tackle (Bobby Hart) got blocks in space on the linebacker and safety. And he's really good at identifying and recognizing things in pass protection."
Hopkins arrived in Cincinnati five years ago, the same season Guenther got promoted to DC. Now it's not practice. They have to go through each other Sunday to take that next step in the day-by-day building of programs.
"He's got good feet. He can move around and handle stuff inside," Guenther says. "He's pretty stout in the pass game and he does a good job getting to the second level of the run game. Sometimes all these guys need is an opportunity to show what they can do and build on it. Every team has guys like that. Guys that aren't drafted or highly touted. Maybe they figure it out and they become good players. He's a good player."