Pete Brown (left) and Mike Brown watching a practice last year.
They always sat across from each other in the front of the draft room for the last 25 years and for the 25 years before that they surrounded their father in the same spot.
Every round. Every pick. Every April. Or every January back in the day. From A.J. Green in 2011 to Brent Ziegler in 1984 to Buffalo tight end Mason Schreck, who turned out to be their final pick together in the seventh round of last year's draft.
Before saying yeah or nay on every selection after hearing out the scouts and coaches, Bengals president Mike Brown always took one last glance at his younger brother. When Pete Brown, the Bengals senior vice president of player personnel with the encyclopedic recall of every Bengals draft board, didn't object then his older brother felt pretty good about it.
"I always looked at Pete at the end in case he wanted to register severe disapproval," Mike Brown said this week with a wistful smile. "It happened once in a while. Not too often. I always looked."
There is a different, sobering look for this Bengals' draft when it begins Thursday at 8 p.m. It's the first since Pete Brown's death late last season at age 74. His desk is no longer at the front of the draft room, but his legacy is.
After being the backbone of a draft that in the '70s gave rise to his father Paul Brown's most successful expansion team in pro sports history and in the '80s that produced two Super Bowl teams, Pete Brown shepherded a seamless transition to Duke Tobin in the last several years that marked the Bengals' winningest decade ever.
 "He was such a staple. It's weird to not see him and have his input already," said Bengals head coach Marvin Lewis after this week's draft news conference. "He had such a stoic way of presenting the information and asking the questions. He's been missed in the process. He has seen and evaluated so many players. So his viewpoints on that are kind of like E.F. Hutton. You have to listen."
Even during Tobin's rise Mike Brown listened. He took his brother's counsel and better yet, Pete Brown kept it. "I was able to talk with Pete in a way I'm not able to talk with anybody else." Mike Brown said. "I could express whatever thoughts I had without reviewing them. I could grunt and he would understand and vice versa."
Mike Brown always looked forward to their walks on the Sunday before the draft. They weren't able to do it last year. Pete was struggling before he ended up in the hospital in December and Mike had been battling hip problems until he got one replaced last month.
"I would go over to his house," Mike Brown said, "and we'd walk around the block and that was a couple of  miles. And I'd review where we stood with him."
If you only encountered Pete Brown around draft time, that was your loss. His mind googled before Google. You could talk to him about everything from boxing to the Boxer Rebellion while in the middle of a treatise on the traits of 1975 11th-rounder Marvin Cobb. Here's a guy that fished with Tris Speaker as a kid, played with one of the first face masks his father invented and teamed with his good friend Kim Wood to bench press Nautilus from an idea into an industry.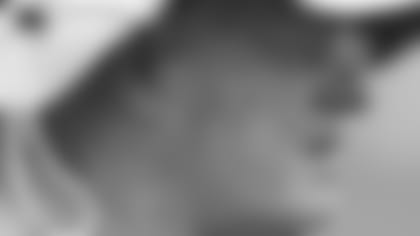 Pete Brown had an eye seasoned with 50 drafts.
And he was unfailingly polite and deferential while doing it.
"He never was arrogant about it. He never tried to show off," Mike Brown said. "But everybody in the building knew if you asked Pete about a player, he could sit and tell you exactly about that player."
But while he may have been pleasant and gentlemanly, he was also direct and unsparing if he didn't like the way the draft was going. Not often, but the point was made.
"Let's draft someone who can actually play football," he might say after a couple of frustrating picks. In a tradition Tobin has cultivated, Pete Brown was always mindful of how the board came to be. If the room fell in love with a player that didn't have the proper grades, he might point to the board with, "There's the best player in the draft right now. But I guess he's not coming here."
 Often he did because Mike Brown listened.
Like that one draft Mike pulled a name off the board but through their invisible karma sensed that Pete didn't agree. Mike asked, "What's wrong, Pete?" There came a rare rebuke usually reserved for the walk down the hall. The pick went to the other side of the ball.
Like Lewis' E.F. Hutton, when you talked running backs, or any other position, you had to listen. Pete liked big backs and why not?
You're talking about a guy that emerged from drafts with big men like Boobie Clark, Pete Johnson, Ickey Woods, Corey Dillon, Jeremy Hill, Joe Mixon, so Mike knew exactly what he was thinking when it came to every—down backs. When Tobin talks about scouts having enough experience to compare players down through the years, that's the idea. As quietly as Pete and as quietly as it can be done in this era, Tobin heads into his third decade in the Bengals' draft room.
"He would tell me if I deviated," Mike Brown said. "We'd be in the big draft room and on occasion he would blurt something out if he thought I was really off base. But usually he would get to me walking down the hall after the meeting in the draft room and letting me know if I was OK or not."
Mike Brown may catch himself this weekend looking to that missing desk one final instant, but he has confidence with Tobin looking back at him.
"Duke doesn't mind saying if he disagrees and I want it that way," Brown said. "I think I understand his thinking. As we get deeper in the draft, however, he's going to be more knowledgeable than I and we will just be, 'Duke, which way do you think?' and that will be how it goes. It's gradually evolved into that."
Tobin, who likes to roam the room, keeps his spot in the back. Mike Brown keeps his spot in the front. Pete Brown keeps his spot as the conscience of the board.
"I miss him," Mike Brown said.