Maybe the Bengals will line up this way in Kansas City Saturday (8 p.m.-Cincinnati's Channel 12) in the pre-season opener and maybe they won't. But Zac Taylor released his first depth chart as head coach before Monday's practice featuring John Jerry at left guard, Josh Malone running behind the injured A.J. Green at wide receiver and Sam Hubbard entrenched at right end in place of Michael Johnson.
But that may not be how it looks even in Monday's practice since offensive line coach Jim Turner has been rotating left guards with the ones for two straight practices and Trey Hopkins had his first turn Saturday before Sunday's day off.
The first-team linebackers are the incumbents, Nick Vigil at SAM, Preston Brown in the middle and Jordan Evans at WILL with third-rounder Germaine Pratt backing up Evans ahead of 2018 third-rounder Malik Jefferson and two rookies backing up Vigil in sixth-rounder Deshaun Davis and free agent Curtis Akins.
The top three tight ends are as expected: Tyler Eifert, C.J. Uzomah and second-rounder Drew Sample, and with Darqueze Dennard (knee) still injured, B.W. Webb is the first slot corner. Veteran Andre Smith is backing up left and right tackles and rookie running back Trayveon Williams is third behind Joe Mixon and Giovani Bernard.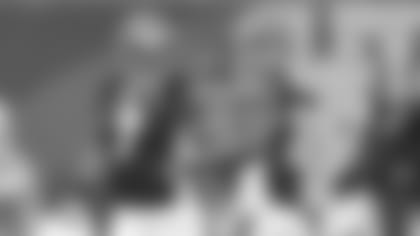 HISTORY CLASS: Bengals wide receiver Tyler Boyd got a Bengals history lesson before Monday's practice from Bruce Gradkowski.
Gradkowski, Andy Dalton's first back-up quarterback in Cincinnati now working for Sirius NFL Radio, had a trivia question for Boyd. Boyd, like most, fell for it.
"Who threw A.J. Green his first (NFL) touchdown pass?"
"Andy, right?" Boyd said and Gradkowski had to break the news to his fellow Western Pennsylvania native.
It was Gradkowski, of course, in that 2011 opener in Cleveland after Dalton left at halftime with a bruised wrist. With the Bengals down, 17-13, as the clocked ticked under five minutes left in the game, Gradkowski recalls the call coming into the huddle.
"Bonzai, Bonzai. That meant go, go, go," Gradkowski said. "Quick snap. We caught them."
Gradkowski launched a 41-yarder to the wide-open Green as the Browns milled about between the huddle and line of scrimmage. And he can add this one for the next time. It was also Green's first NFL catch.
No one knows when Green is going to make that next catch (No. 603) with those torn ankle ligaments. But Gradkowski has faith in his old crew.
"Andy is a top tier quarterback," Gradkowski said. "He's got plenty left in the tank. A.J. as well. It's unfortunate with the injury to A.J., but he'll bounce back like he always does. You hear about the good energy around here. Zac Taylor is a younger guy, he's going to understand how to get the most out of the team. Marvin Lewis did a great job. Sometimes change is good. It's uncomfortable. It's like my shirts. Now they fit uncomfortably, but you have to change a little bit and maybe get a bigger size."
Gradkowski looks at the four key guys still here from his days with the club in 2011-12, Dalton and Green on offense and Geno Atkins and Carlos Dunlap on defense, and he thinks they can still do damage if the young guys grow up and fit into their shirts. He likes the fact no one is talking about them and this looks familiar.
"I always liked being on a team flying under the radar," Gradkowski said. "And that's how it was in my two years here. No one was talking about Andy and we went to the playoffs both years. It's a tough division. Cleveland has their quarterback. Baltimore has that great defense and Lamar Jackson. Pittsburgh has Big Ben, so every team in the division has a franchise quarterback. It's a tough road."
Gradkowski was backing up Big Ben in Pittsburgh when the Steelers knocked off the 2015 Bengals, but both he and Dalton were out injured for that Wild Card Game Pittsburgh won at the gun.
"I was on other side and if Andy didn't get hurt, you wonder where that team would have gone in the playoffs," Gradkowski said. "That was a complete Bengals team on offense, defense and special teams."
Gradkowski's got a few years on Boyd (11) but he knows all about the legendary "Clairton Comet," as a grad of Seton-LaSalle in suburban Pittsburgh.
"What, 117 total touchdowns in high school? That's ridiculous," Gradkowski said. "To see where he's come from and where he is at now is awesome. Awesome to see that. And he's just getting started."