The fruits of Friday night in rounds two and three.

It has kind of a whiff of 2012.

The Bengals would love that, if this weekend's draft turned out like that one since it yielded six starters or regulars and doubled the standard of three for each draft. It was a big lift for the 2011 team's surprising play-off appearance and helped set the table for those five straight post-season runs.


Like the '12 draft, this one was defined by trades. Six years ago the deals for Carson Palmer and Chad Johnson gave them picks that translated into three starters in cornerback Dre Kirkpatrick and wide receiver Marvin Jones and safety George Iloka. A swap of draft picks with New England in the first round gave them starting right guard Kevin Zeitler and rotational defensive tackle Brandon Thompson.

Last month director of player personnel Duke Tobin set the tone for this weekend by acquiring Bills left tackle Cordy Glenn and swapping first-round picks and then used No. 21 to acquire a starting center in Ohio State's Billy Price during Thursday's first round.

But it was his trade Friday night that energized the room and brought second-round safety Jessie Bates III of Wake Forest and third-round linebacker Malik Jefferson of Texas. When the Bengals moved back eight spots to the Chiefs' pick at No. 54, they settled on Bates, a ball-hawking safety they were eyeballing at No. 46. For their troubles they vaulted from the last pick in the third round to No. 78 in a move they've never made before. Trading down in one round to move up in another. Jefferson is the answer to that trivia question.

Yes, they've moved up just five times in their history. But it looks like there is some revisionism going on. Tobin has done it three times in the last five years.

"The move Duke made yesterday, with moving back eight spots and then moving up 20, was advantageous to us," Lewis said. "When you looked at where we would have been at pick 100, we liked the picks that we had after picking the player (Price) that we picked earlier. So that worked out great for us. We would not have been as happy with the players left on the board or the players that went there after we picked. Sitting at 100 and getting the player we wanted, that wouldn't have occurred yesterday. So we really feel that was an advantageous move."

Tobin, Lewis and Bengals president Mike Brown patiently worked the board. Some drafts are like that. Your guys fall to you and you don't reach to even stretch between rounds.

They were looking at Bates, Jefferson, and Ohio State defensive end Sam Hubbard among a few others in a clump at No. 46. They felt they could get at least one of them later. But they got all three by the end of the night.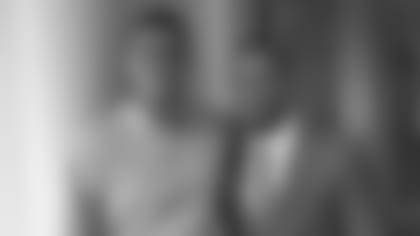 Fort Wayne's Jessie Bates (right) and Cincinnati's Sam Hubbard get acquainted. They both drove to Paul Brown Stadium.
On Saturday they looked hard at Toledo quarterback Logan Woodside in the fifth round and without a sixth-round pick (a casualty of the Chris Smith trade), they thought it would be dicey. So they thought about doing what they did last year by packaging some seventh-rounders and getting back up into the sixth.
But they took a shot Woodside would be there at 249, the first of their three seventh-rounders, and he was.

And for the second straight draft they got their highest rated-player on the board to begin the final day in the Carl Lawson Honorary Spot with the selection of Miami running back Mark Walton in the fourth round.

"There was talk of moving up to make sure we got the quarterback. Mike Brown has that crystal ball, so we stayed right there and still picked him," Lewis said of Woodside. "And then we were able to pick off the offensive lineman (Rod Taylor) and the receiver (Auden Tate), so that was good. That worked out well."
The Bengals had an off-season plan and once they put in the card belonging to Western Michigan return ace Darius Phillips for their final pick in the fifth round Saturday, it was almost complete with the veterans scheduled to go on the field for the first time Monday.

The idea had been to fix most of the offensive problems with moves in coach and player free agency. They then would beef up the defense in this weekend's draft. If the trades match the '12 production, that should be a heck of a defense for the next few years.

They matched their 2004 run and took six defenders out of the seven picks from rounds two to five, the sweet spot of this year's get-together in Dallas
Lewis had a wry smile when told the offensive sweep in the seventh round spearheaded by the selection of Woodside cost him a chance to break his record of most defensive players in a draft.
But he ended up one shy of '04's seven. Probably because on their next to last pick of the draft Lewis went in on Ole Miss offensive lineman Rod Taylor and endorsed drafting his 23 starts at three different spots.
"Rod Taylor's a young player from Ole Miss, who's a big, powerful man," Lewis said later. "He played offensive guard, and the offensive line coaches think he's got a chance to come in here and compete, continue to develop and upgrade us there in the offensive line as well."
But no one on defense minded. By that time the team of Paul Brown, an owner who once proudly proclaimed he was a fire-and-fall back guy of offense, had taken six defenders out of the first eight picks.

6-for-8?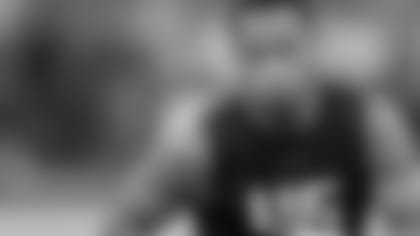 "No. If I was shooting free throws maybe. Not getting defensive players," said new defensive coordinator Teryl Austin. "One thing we did think was that were a lot of good football players to be had in the second and third day. I think that's shown out right now. There are still a lot of good football players on the board. We were fortunate to get the guys who, when our picks came, we thought would really be helpful to our team."

Hey, P.B. had his moments, too. In 1970 he took seven defensive players in the first eight picks and Mike Reid, Ron Carpenter, and Lemar Parrish were the nucleus of a defense that gave them three post-season berths in the next six seasons.

The Bengals can only hope.

But with the three picks on Friday night they addressed their biggest defensive concerns all in a row. Bates arrives with coverage skills they want to upgrade at safety while Hubbard gives depth to an aging edge. The man picked right behind him, Texas linebacker Malik Jefferson, offers speed and the ability to back up all three spots for a corps missing WILL backer Vontaze Burfict for the first month of the season.

Yet the Bengals kept going for defense Saturday with a sweep of the three in the fifth round that included maybe the two most intriguing picks of the 11. Phillips and Illinois State's Davontae Harris are both 4.4 speed guys that can press and while the 5-11, 205-pound Harris has the dimensions and toughness to play in the slot, the 5-10, 193-pound Phillips quietly set the FBS career record in Kalamazoo with 12 return touchdowns.

Those two picks make it hard for an Adam Jones return and if it is, that's a tough good-bye after eight seasons he gave everything to the cause.

"Phillips is a natural cover guy," said cornerbacks coach Daronte Jones. "He has a knack for going after the ball, using his hands, and ball disruption. We like his ability after he has the interception and what he can do after, in terms of return ability. He provides that impact that you like."

Harris believes he can play every position back there and maybe he can play the slot. But …

"That would be something where you see where they can fit. I think he would probably have the ability to do that. We see him more as an outside guy," Austin said.

Lewis gladly ticked off the needs that were met in that defensive rush.

"When you evaluate Jessie on tape, you see things that we ask him to do within our own defense and on an NFL field in the scheme that he played there at Wake Forest," Lewis said. "Sam Hubbard comes in here right away and has an opportunity to work into our rotation. With his skill set — his length and ability to play so doggone hard all the time, and he's got great technique, a great ability to
lock out on blocks — (he can) come in here and compete right away. And with Malik Jefferson, you've got another linebacker that can really run, is really physical, and he's 230 pounds already.

"Our corner we drafted (Davontae Harris), he's a cover guy with great hands and great feet. So they translate well to the National Football League. Those were the things we were looking to do at defensive tackle too, with explosiveness."

If it turns out like '12, they won't have to be defensive about it.