We are gazing upon the Dead Sea Scrolls of Bengaldom. The Gospel according to Paul (Brown). The Magna Carta of Riverfront Stadium. The Bill (Walsh) of Rights of the 21st century pass game.
It is the Bengals' scouting report on one of the most important players in their history. Or as he wrote it himself on the club's 1969 "professional football questionnaire" Anderson, Ken Allan. Jersey Number  _ 14.
The 20-year-old kid who wrote "Yes," next to "Do You Kick Field Goals?" became one of the greatest passers in NFL history and remains the only man with four NFL passing titles not in the Pro Football Hall of Fame. When he retired after 192 games and 16 seasons in 1986, he had the most accurate passing numbers in a game, in a regular season, and for a post-season career in history.
Anderson's scouting report from his days at Augustana College in Rock Island, Ill., compiled from 1969-70 with several pages of hand-written sheets, connect the draft eras to today's cyberspace blitz with a notebook binder.
Bengals president Mike Brown, then the club's assistant general manager who urged father, head coach and GM Paul Brown to take Anderson in the second round of the 1971 draft, has the final say in the Bengals draft room when the modern day spectacle begins Thursday and lasts seven rounds through Saturday.
Brown wrote in his Anderson scouting report, "Discounting experience, this is the best QB prospect I have seen college."
Pete Brown, now the club's senior vice president of player personnel and then the Bengals director of player personnel, was the 27-year-old point man who shook the bushes every day looking for players from the historic black colleges to the big schools to the back alleys like Augustana. Back when he was one of only a few of the scouting species roaming the college football landscape. It was Pete Brown who got the tip on Anderson in one of those long-forgotten sojourns. And he agreed with Mike about Anderson in the second round.
After nearly 50 years in the draft room together, Mike has an unspoken trust with his younger brother's almost magical recall of the entire board that could be seen as recently as last year when the draft room debated another second-round pick, LSU running back Jeremy Hill. One glance and phrase from Pete Brown reminded Mike of the franchise's successful big back lineage, which can be traced to the 12th round of the 1973 draft and 245-pound Boobie Clark.
Under the heading, "What Do We Need To Know Further for Final Rating On This Prospect," Pete Brown wrote for Anderson, "Just take him."
The late Bill Walsh, the future Hall-of-Fame head coach, had just turned 39 before the 1971 draft and had been with the Bengals from Day One as the receivers coach. For the '71 season, Walsh had quarterbacks added to his responsibilities and in Anderson he would find the man that gave life to his developing offense that would turn into a game changer.
Working from Paul Brown's scheme, Walsh sculpted what became known as the West Coast offense and if Anderson was the man who made it jump off the paper into the hearts and minds of the next generation, Anderson would also be the quarterback Walsh's 49ers would have to beat to win the Super Bowl ten years later.
While the Brown brothers wrote their reports in crisp cursive, Walsh jotted his in bold printing with dashes. Next to strong points he wrote, "Ability-instincts." Next to weak points it was simply "competition." Elsewhere he printed, "Definitely a 2d round possibility."
It might as well have been a millennium ago. It was an afterthought, really, shoehorned into the calendar.  It took place Jan. 28-29, just 33 days after the three-year-old Bengals played their first play-off game in history, the youngest expansion team in any sport to reach the postseason.
There were no computers that immediately clicked the scout and coach into cut-up videos of the prospect. Instead of five to ten pages of handwritten notes in a loose-leaf notebook, a prospect's vitals are now spit out in a split second on one computer screen aided by drop-down menus and rotating position traits.
No wall-to-wall TV coverage. No Mel Kiper. No invites to the green room. No cell phones.
If you were lucky in 1971, you were home when the team called to tell you they had drafted you. If not, there's a chance you'd hear it from Aunt Tillie who saw it in the evening paper or your Cousin Bill who saw it on the 11 o'clock news.
How long ago was 1971? They only wanted to know the occupation of the prospect's father and not his mother's. And for his parents' home phone number in Batavia, Ill., Anderson's first two figures were the letters TR, a frayed element of phone numbers from yesteryear in many areas until direct distance dialing dictated an all number system as the '60s merged into the '70s.
Mike Brown scouted one game a week in the fall and worked some of the campuses. It was the only way to watch film.
"Except in rare instances. Nobody sent the film to you. You had to go there," Brown says now. "They'd set up the projector for you. They were glad to see you. You weren't seen as a nuisance or getting in the way. They were flattered there was an NFL team that was interested."
Brown, 35, arrived a veteran of the road. He began scouting when Paul Brown was in his last days coaching the namesake Browns. He remembers during the 1961 season approaching a half-naked future Hall-of-Fame defensive tackle Merlin Olsen in the Utah State locker room and asking him if he'd be interested in playing for the Cleveland Browns, a not uncommon question in the days the NFL fought a bitter war with the American Football League for college players. Since the AFL paid more and Cleveland always drafted late in the NFL, Brown had to smile.
"He gave the right testimony," he says. "But I don't know how heartfelt it was."
Olsen ended up getting picked third by the NFL (the Rams) and second by the AFL (the Broncos), so he could follow his heart.
Mike and Pete Brown will tell you now that drafting Anderson was a no-brainer and history has proven them right. But don't tell that to the other teams that didn't get him. The late Carroll Rosenbloom, owner of the Baltimore Colts and just 11 days from winning the Super Bowl, supposedly went ballistic when the Bengals took Anderson in the third round because he had never heard of him.
The Bengals were faced with the delicate proposition of projecting Anderson into the NFL despite scouting him against inferior competition. Augustana was tiny, far from the big time. Mike Brown observed in his scouting report, "His league is no better than high school football. This is the poorest college competition imaginable."
Plus, they were faced with the grim realization that their brilliant 1969 AFL Rookie of the Year, University of Cincinnati quarterback Greg Cook, would never play again after suffering a shoulder injury late in his breathtaking first year. He didn't play at all in 1970 and it was a major blow.
"He broke the mold. He could just do everything," Mike Brown will say today. "He just found people. He could find receivers better than anybody I've ever known. He could find them in all ranges. In my mind he was the best talent we've ever had here before he got hurt."
Cook was so fresh in the mind in that fall of 1970 that when Pete Brown wrote up Anderson's report he said, "He will start for us except for Greg."
When Mike Brown arrived to scout Anderson against Wheaton on Oct. 17, 1970, he noticed two or three other scouts and one of them was Bob Waterfield, the old Rams quarterback just five years from his induction into the Pro Football Hall of Fame. Hall of Famer or no Hall of Famer, the scouts were sitting in the stands and not the press box. That's how long ago.
Since Mike Brown played quarterback at Dartmouth College and the Chicago Cardinals approached his father about drafting him in 1957, Paul Brown wanted Mike to see and write up the quarterback prospects.
"Quick feet. Excellent coordination. Can throw on move. Would be effective on broken plays. His accuracy is very good," Brown wrote off the Wheaton game. "He is more accurate than (Greg) Landry or (Roman) Gabriel at this stage and moves better than both. He throws different speeds, not just one as Gabriel did in college. He is not as strong as Gabriel. More like (Daryle) Lamonica for size and speed on ball.
"Anderson has never been hit hard or seen coverages. Only the actual test would prove how he could handle these things. If he handles them up to his potential physically, he would be the equal of Lamonica or better. Physically, Anderson has the potential to be a star NFL QB. He will need a long time developing because of a lack of background. I would take him in the second round if he is available."
The short-handed comparisons still exist today for a frame of reference. Brown scouted Gabriel in 1961 at North Carolina State, before the AFL took him No. 1 and the Rams took him second in the 1962 drafts. He saw Landry at the University of Massachusetts before the Lions took him 11th overall in 1968. Both played 15 seasons in the NFL.
Lamonica, "The Mad Bomber," was then one of the AFL's big-time passers, leading the league in TDs in 1967 and 1969. He played 14 seasons and ended up throwing 164 TD passes to 138 interceptions. In his 16 seasons Anderson went for 197 TD passes against 160.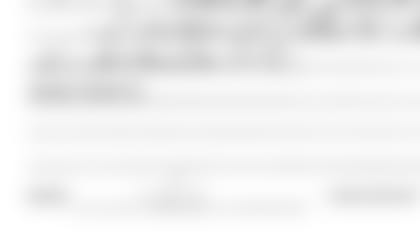 Mike Brown's call after watching Ken Anderson against Wheaton: second round.
Walsh also relied on comparisons of guys he had seen, including current Bengals, and he created a list of player traits.
"The thing about Bill is that he came up with these traits and now everybody is doing it," Mike Brown says.
In Anderson's scouting report, Walsh put equal signs between the trait and comparable player: Arm=Munson. Movement=Lamonica. Size=Lamonica. Instincts=Cook. Poise=Carter. Strength=Lamonica. Delivery=Cook.
The Munson was Bill, a 1964 first-round pick working on his second team in Detroit and Carter was the Bengals' own Virgil who had filled in well enough for Cook to lead the Bengals to the 1970 playoffs. But when Walsh wrote his report off Augustana's Oct. 10, 1970 game against Carroll, the Bengals were 1-2, their first loss coming against Munson's Lions.
"Appears to be excellent prospect equal to – or better than (Dennis) Shaw, (Mike) Phipps, (Don) Horn," Walsh said.
Shaw, a second-rounder, and Phipps, the third overall pick by Cleveland, had been selected the year before. Horn, from Walsh's West Coast stomping grounds at San Diego State, had been one of Vince Lombardi's last first-round picks in Green Bay. And, yes, Walsh was right, too. Anderson was better than all three.
Walsh's list of eight observations are brief, but telling.
"1. good size - strong built good legs – will be 6'2 -210; 2. Good movement, quick on feet, good balance; 3. Fine throwing arm, accurate – good at any distance; 4. Quick delivery- can throw instantly- off balance; 5. Instincts – finds receiver – can get ball to him late; 6. Poised – doesn't become rattled- good leader; 7. plays when hurt – hip injured in 1st qtr continued; 8. appears tough enough - went after fumble."
Walsh concluded, "Must see him at least three times. Possibly by three different people _ And at least two coaches."
So 1970 isn't all that far back. There is still that strain in every sport and every organization between coaches and scouts about who knows best. Walsh got his three looks, but only one coach and that's probably because of the schedule. After scouting Anderson, Walsh had to get to Cleveland for the next day's game against the Browns.
But maybe 1970 is that long ago. It is virtually unheard of today for one of the offensive coaches taking a scouting trip the day before a game and not spending the day preparing for it.
It may have been a different time. But it still comes down to scouting. The scouts have to be as instinctive as the players they're scouting. Maybe the days are long gone when a scout like Pete Brown can get tipped off about an unknown, but there are still tips and leads to follow.
tip allowed the Bengals to get the jump. Anderson's first questionnaire rolled into the Bengals' offices at Carew Tower on April 1, 1969 as Riverfront Stadium began its final year of construction. And that was even before Brown got promoted to director of player personnel because it came addressed to Al LoCasale, the club's first director.
Anderson would fill out two more forms for the club, stamped Oct. 27, 1969 and Dec. 14, 1970, respectively. And the Bengals were able to get a form filled out by Anderson's coach at Augustana after his junior year dated Dec. 2, 1969.
(Can you imagine Nick Saban signing and dating a form where he circled JR under football status?)
"Excellent student – great football knowledge," wrote Ben Newcomb. "Capt. Elect of our Fellowship Christian Athletes. Kicks all our extra points and field goals (2 over 35 yards). Great strong arm quick delivery."
Pete Brown filed that first full report on Anderson at the end of September, 1970 after seeing him against Valparaiso and he loved him right away. Brown, well read and extremely bright, immediately was drawn to Anderson's high grades in his math major, two elements he recalls today, as well as his arm.
"Made a sensational twisting, jumping, turning 22 yard T.D. run," Pete Brown wrote. "Real athlete. Second leading scorer on basketball team. 3.75 student on 4 points in math.
"He has such an arm, intelligence, movement, and feel for the game that I think he can overcome competition handicaps and play pro ball. I think he is super. He has touch."
The man who got the tip followed it right to the end.
Under "Your conclusions on this prospect," Pete Brown wrote, "A first round choice if he had gone to a big school. Very impressive to me. A gamble because of poor competition, but worthwhile. First day pick for us."
On Christmas Day, Pete Brown filed his final say:
"Second round pick…I like Anderson's future."
Their first pick at No. 15, Tennessee State tackle Vern Holland, worked out. He played nine seasons with the Bengals and made 118 starts. When the brothers began to mention Anderson in the second round, Paul Brown opted for Kansas guard Steve Lawson at No. 41.
Lawson only hung with the Bengals for two seasons and three starts before ending up with 33 starts in the league with Minnesota and San Francisco. Mike Brown can only shake his head at how informal it was back then, particularly the day of the draft.
Duke Tobin, the club's current director of player personnel, has so seamlessly organized the 21st century technology with the 20st century sleuthing that when Draft Day comes, many of the calls have been already made with the club's uniformed grading system and endless draft meetings.
It's just not the way it was.
"So informal. Not like now," Mike Brown says. "We would be in the room actually arguing who to take. Today, someone may say something occasionally, but it's nowhere near as contentious as it was."
Before the third round began, Mike Brown advised his father that if Anderson was there, "He would be a good buy here," and so it was that Anderson became a Bengal with the 67th pick in the 1971 draft.
Mike Brown won't say how heated it got when Paul Brown didn't take Anderson in the second and went for the guard.
"I don't get mad at that stuff," Mike Brown says. "You say what you have to say and you move on."
The Bengals Bible says it all.