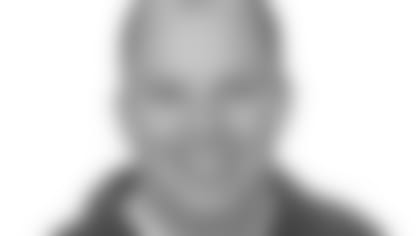 It is 9 a.m. on Draft Day and already Sports Talk Master Lance McAlister is sounding like he is on his third cardiac event of the morning.
"I'm going to be part Mel Kiper, part game show host, part traffic cop," McAlister is spewing a full 10 hours before he reports to work at Paul Brown Stadium to anchor the most intense Bengals draft coverage ever on 700 WLW.
"I've got Mel Kiper's draft book. I've got Pro Football Weekly's draft book. I've got USA Today's. I've got Jerry Jones's Drugstore List," McAlister says. "I'm going to be surrounded by 32 mock drafts."
He's also going to be surrounded by former Bengals Dave Lapham (third round out of Syracuse, 1974) and Artrell Hawkins (second round out of Cincinnati, 1998) as well as the voice of the Bengals Dan Hoard (undrafted out of Syracuse in 1985) as the quartet takes the audience to ...
"Until we don't know what time; we're going to see how it goes," McAlister says. "It's going to be seat of the pants. I love talking about stuff as it unfolds in front of me."
McAlister also could have thrown in the late Dick Clark as one of the functions he'll perform while helping host the Bengals draft party. After Mo Egger chairs the first hour of SportsTalk in the studio from 6-7 p.m., McAlister, Hoard, Lapham and Hawkins go live from the West Club Lounge from 7-8 in front of a group of suite holders.
Hoard is just glad to be in front of a television. The former voice of the Triple A Pawtucket Red Sox has been calling balls and strikes while Roger Goodell has been calling names the last few drafts.
"When it was my turn to do the color, I'd get a chance to look it up but it was on the run," Hoard says.
From 8-9 they split with Hoard and Hawkins going over to the East Club Lounge to take questions and talk with season ticket holders. From 9-10 Lapham and Hawkins exchange spots with McAlister always staying on the air in the West. Then with the Bengals expected to make the 17th and 21st picks at around 11 p.m., everyone reunites on air in the West at 10 p.m.
All the while, current and former players are going to be wandering between the lounges and McAlister hopes to get them on the air. And there is also the possibility he'll snag head coach Marvin Lewis early in the evening. Plus, Bill "Seg" Dennison is going to be manning the media room when Lewis, the coordinators, and position coaches come down from the draft room to talk about the picks. It's believed they won't come in until both picks are made.
"Then we hope to get both guys on the phone, so who knows when we'll be done," McAlister says. "It's a big thrill to be at the epicenter of it all and get a chance to talk to a lot of people involved. We're going to be up close and personal."
Usually McAlister has been on the radio holed up in a sports bar some place and, indeed, the last time the Bengals had two first-round picks in 1998 he remembers being at "a ribs place up north" of town. He also remembers that the first draft he remembers was nothing like this.
That's because he was seven years old in 1973 and he was at Summit Elementary School in Anderson Township when it was held during the day on Jan. 30, when the Bengals took one of their greatest players in San Diego State wide receiver Isaac Curtis.
"I probably found out that night who they drafted," McAlister says. "But it had a big impact because I remember going out in the backyard and when I was catching the ball I was Isaac Curtis and when I was throwing it I was Ken Anderson. But I wasn't sitting there writing in my mock draft."
Now Thursday night, from 8 to whenever, he can't even do that because the names are going to be flying every which way and there are always a few surprises.
"Prepared chaos is what I like to call it," says McAlister, not yet on the decaf.