Not only have the Bengals' veterans reached out to the new guys, but some former players living in Cincinnati were also in contact before the rookies gathered for the first time Friday at a brief workout in the IEL Indoor Facility.
Second-rounder D.J. Turner II, the Michigan cornerback, has heard from Leon Hall, a Big Blue ancestor who held down his Bengals corner for the better part of a decade.
And undrafted Duke linebacker Shaka Heyward, who has won two Vincent Rey awards given to his team's best backer, has been texting with the man himself.
"I texted him a few times before the draft and it's crazy I ended up coming here," Heyward said.
The 6-3, 238-pound Heyward a veritable speedster, agreed. He would take Rey's Bengals career of 50 starts and 128 games right now. Undrafted but unbowed. The 6-0 Rey, the classic Mike backer out of Duke who impressed at his pro day, knows Heyward isn't the same style of player: "Yeah, he's different. He's 6-3."
"I told him what was told to me," said Rey, who is the Bengals chaplain. "It's not when you go, it's where you'll go, about getting in the right situation. Where they'll give you a shot. I was on the practice squad for 13 weeks (as a rookie). We've got some good backers. Our room is full of a lot of people to learn from. I'm glad he's here … You can come in undrafted and make it. That's the league we're in."
The Bengals linebackers room is full these days, but Heyward felt it click with position coach James Bettcher and feels like he'll be well coached here.
"He was talking to me through the pre-draft process and already had some things he wanted me to work on," Heyward said.
Hall last took a snap here in his ninth season in 2015 and went to three more teams in the last three years of his career before settling down with his wife and three children in Cincinnati, where he's the fittest youth coach in three counties. It was no surprise to safeties coach Robert Livingston, who was here at the end of Hall's Bengals' run, that he heard from Hall right after they chose Turner.
That was a year after they took Michigan safety Dax Hill in the first round, 15 years after they took Hall out of Ann Arbor.
"Between Dax and D.J. I think it's pretty cool for Leon to see the success Michigan has had and to see those players come in here," Livingston said. "For somebody to come to Cincinnati to play most of their career and still live here, it kind of speaks to what he feels about the city and this organization. I think the world of Leon and there's no better sounding board for advice for a young player than a guy who has lived it and been in their shoes."
Now remember, Turner was six when Hall was drafted, so he had never met him or talked to him. He was just a name on a wall. Until the call came.
"He told me congrats and just let me know when you get in town. Stuff like that," said Turner who has heard about Hall.
"I heard about his game," said Turner, who also prides himself on playing both the slot and outside. "That's how I heard about him. How he could do both."
When the Bengals were going to the playoffs under Marvin Lewis (Hall and fellow cornerback Johnathan Joseph were the co-MVPs of the 2009 AFC North champs who swept the division), he was defensive coordinator Mike Zimmer's ace in the hole because he could play games with him pulling him in and out of the slot. His 26 interceptions are fourth on the Bengals all-time list.
"I tell these guys," said Livingston of the rookies, "go find a veteran and leech off him. Get any information you can."
Even if the veteran isn't in the locker room.
SHED-DING THE LOAD: Undrafted rookie wide receiver Shedrick "Shed," Jackson out of Auburn said he saw it on social media. Something about Bo Jackson, his uncle, playing his last NFL game against the Bengals in the 1990 playoffs when he suffered a career-ending hip injury.
"We talked briefly. He just gave me a call and said congratulations and stuff like that. We didn't talk anything about the Bengals," Jackson said. "I don't know much about it."
Why would he? He was born eight years after that game and five years before Bo Jackson's last MLB game for the Angels. He smiled when told his uncle just might be the greatest athlete of all time, a guy with 141 big-league homers to go with three NFL touchdown runs of at least 88 yards.
"That's what they say," Shed Jackson said. "I might be better."
He smiled when he said it, but Bo Knows his nephew can run in a similar fashion. The Bengals have him for a 4.27-second 40-yard dash.
"We have some of the same characteristics with the speed. A great player," said Shed Jackson, who didn't see his last name as a burden. "It's something I learned to live with. Obviously, it's going to be a big deal, especially with someone who is that big of an athlete. I don't think it's added any pressure. I just worry about me, about what I've got to do to get better."
It's a crowded receiver room. You can name three of them right away and they drafted Purdue's Charlie Jones in the fourth round. That's four already. And there is special teams stalwart Stanley Morgan, Jr. The two Trents, Irwin and Taylor, are as solid as it gets.
"I've seen them win. They have a great culture," Jackson said. "I talked with Coach Walters (wide receivers coach Troy Walters) and he seems like a great coach to come under and develop."
JONES KEEPING UP: How about Jones showing up in a locker with Pro Bowl wide receiver Ja'Marr Chase on the right and two-time 1,000-yard rusher Joe Mixon on the left. They weren't there Friday, but for Jones they might as well have been.
"When I came in and saw my locker between those guys, I was really excited," Jones said. "I'm going to try and add things from their toolbox and put them in mine and see what happens. I've been a big fan of this receiver room and to be able to go in there and actually learn from them is going to be pretty cool.
"(Chase) is the best at what he does. I can't wait to see how he operates on a daily basis and see what advice he has and just try to learn as much as possible."
Jones is competing for at least the punt return job, but did both in 2021 when he was named the Big Ten's Special Teams Player of the Year while at Iowa. But he rarely got the ball from scrimmage, so ended up leading the nation with 110 catches in West Lafayette while rotating kicks and punts. Those numbers were down. But the 110 got him into the fourth round.
Of the two, he prefers punt return: "There's something about being back there by yourself. It's a unique atmosphere."
SKED TALK: Head coach Zac Taylor is surprised the Bengals open the season with back-to-back division games, the opener in Cleveland on Sept. 10, followed by the home opener at Paycor Stadium on Sept. 17 against the Ravens. He says he thinks it's the first time he's seen it in his 12 NFL seasons.
He's probably right. He now joins Marvin Lewis as the only Bengals coach to face it. The Bengals split in both 2007 and 2012, winning at home (Cleveland and Baltimore) and losing on the road (Cleveland and Baltimore).
"You'll find out pretty quickly if you've put yourself in a great position to start the season," Taylor said. "Or if you've put yourself in a hole to start the season or put yourself at a medium level to start the season. We'll focus it on Cleveland week and try to put one foot forward."
As for the seven times in a national window (and it could be more depending on how TBD Paycor Stadium games Dec. 16-17 against Minnesota and Jan. 6-7 against the Browns pan out), Taylor said, "That comes with the territory. We take great pride in being a team people want to watch. We have expectations to live up to that. We expect to be in good situations. We enjoy playing those types of games."
ROOKIE CAMP DEMISE: Friday was not even your older cousin's rookie minicamp. When Taylor came into the NFL in 2012, teams routinely put the rookies through a practice on Friday, two on Saturday and, if they were lucky, just one on Sunday. It was rather inexplicable since most just weren't ready to go hard right away in four team practices after a winter bogged down by the draft process. Cooler heads have prevailed and now it's barely a summer camp orientation.
On this Friday they were on the field for nearly an hour. Stretch and position drills. That's it because Taylor wanted them to get ready for Monday and the next phase of the offseason workouts. Phase II puts them on the field as well as in the meetings.
"Get great sleep. Make sure you're ready when you show up Monday morning. You not only want to make an impression on the coaches, but on your veteran teammates, as well as being attentive in meetings," Taylor said. "Take the weekend, get to know the city and then have your mind right with all the veterans in here."
They even had walk-throughs back then. Taylor shakes his head when he remembers his first one with the Dolphins in 2012.
"We didn't have enough linemen, so my brother-in-law played left tackle for us against Olivier Vernon," Taylor said of Miami's future double-digit sacker. "It was a bad matchup offensively."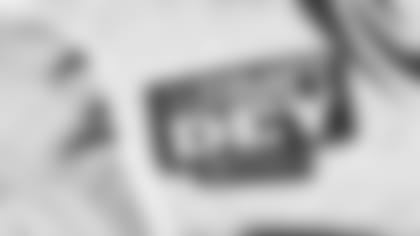 2023 Draft Dey Center
The official sources of news, photos, interviews and more of Draft Dey 2023, presented by Integrity Express Logistics.