Missouri defensive end Kony Ealy is the nod in the most recent of our Media Mock Drafts leading up to May 8-10.
The Bengals.com Media Mock Draft unveils its second edition of the draft season and we're urging the Bengals to stay true to their recent war room mantra and not reach when the clock ticks to No. 24 on May 8. Free agency has changed some of the landscape since the first one at the end of February, but the Bengals are still looking at the same universe of players.
1.  TEXANS - QB Johnny Manziel,  Texas A&M; John McClain, The Houston Chronicle
McClain is one of those classic old school scribes who are so good he knows it when someone inside the Texans belch and right now no one has even offered a hiccup.
If this were Cincinnati chili, this is a classic three-way with Manziel providing the mustard. The other two on the Texans' radar are Central Florida quarterback Blake Bortles and South Carolina defensive end Jadeveon Clowney.
 "I picked Bortles in my last one, I'm picking Manziel this week and I'm picking Clowney next week," McClain says. "If they don't know, I don't know."
The Texans don't seem to be set on making a decision until they are done with their private workouts and prospect visits to Houston. But if the thinking is they don't view Ryan Fitzpatrick as an every-game starter, when do they get the quarterback that is?   
2.  RAMS - DE Jadeveon Clowney, South Carolina; Jim Thomas, The St. Louis Post-Dispatch.
 With Pro Bowlers Jake Long and Robert Quinn, defensive end is one of the Rams' strong spots. A few weeks ago Thomas was thinking offensive tackle here, but with Clowney clearly emerging as one of the standouts in a draft that doesn't have a lot of them he may be difficult to pass.
And it may be time to fight fire with fire in a division where the three other teams were all in the NFL's top six defenses last season in Seattle (1), San Francisco (5), and Arizona (6). The Rams can get him on the field on third down because they can play with more than two ends, and defensive line coach Mike Waufle is a former marine that doesn't allow players to lack intensity.
3.  JAGUARS - OLB Khalil Mack, Buffalo; Vito Stellino, Florida Times-Union.
They're not wild about the quarterbacks, so the guy they really want here is Clowney. After that, Stellino says it's a flip of the coin between Mack and Clemson wide receiver Sammy Watkins.
The previous Jags regime drafted a receiver with baggage in the top five (Justin Blackmon) and how'd that work out? But they say they've got no problem with Watkins after checking him out. Still, Mack might be the better fit even if you can question his level of college competition. He's a pass rusher and Jacksonville hasn't rushed the passer, it seems, since the Tony Brackens days. The Jags finished third worst in sacks per pass last season.
No quarterback? Stellino notes the Seattle system where the Jags' regime cut its teeth made the quarterback its last piece in building a Super Bowl champion.
 4.  BROWNS - QB Blake Bortles, Central Florida; Tony Grossi,  ESPNCeveland.com
 There are all kinds of factions in Cleveland on this one and Grossi has been touting the merits of Bortles. The argument for Watkins has waned a bit with the wide receiver signings of old friend Andrew Hawkins and Nate Burleson. But not if you think he's the best receiver in the draft since Hawkins' good friend A.J. Green.
Yet, as Grossi notes, this is a draft filled with receivers and they'll get a good one in the first three rounds. And, he says, even if Brian Hoyer is the bridge quarterback that doesn't prevent the Browns from sitting the fourth pick for a little bit to break him in. Grossi could see one of the top tackles going here, but then it all gets back to the quarterback they'd be protecting.
What would Kevin Costner do?
5. RAIDERS - WR Sammy Watkins, Clemson; Jerry McDonald, Oakland Tribune.
They haven't had a 1,000-yard wide receiver since Randy Moss barely got it (1,005) barely a decade ago (2005). McDonald doesn't think they'll go for the QB on that first go around, but the top of the second round could be interesting.
(How good was Bengals offensive coordinator Hue Jackson as head coach of the Raiders in 2011? He got 64 catches and 975 yards out of Darrius Heyward-Bey.)
6.  FALCONS - LT Greg Robinson, Auburn; D. Orlando Ledbetter, The Atlanta Journal-Constitution.
 The man they call "D.O.," doesn't think the Falcons are trading out of here and while Mack could be a fit, they need Robinson. Left tackle Sam Baker has battled injuries, they didn't re-sign right tackle Jeremy Trueblood, and when Lamar Holmes moved to left tackle last season profootballfocus.com rated him 75th out of 76 NFL tackles. After Matty Ice Ryan either got sacked, hit, or hurried on 40 percent of his throws last season, the Falcons are emphasizing protecting The Franchise.
7.  BUCCANEERS - WR Mike Evans, Texas A&M; Roy Cummings, The Tampa Tribune
 How free agency has changed the landscape in Tampa. The plucking of the Bengals' Anthony Collins takes them out of the tackle market and firmly in the receivers group. With Mike Williams freshly dealt to Buffalo and No. 1 Vincent Jackson not running away from people at age 31, they need a big, elite receiver ready to take over soon.
8.  VIKINGS - CB Justin Gilbert, Oklahoma State; Ben Goessling, ESPN.com
With the Vikings not falling in love with the quarterbacks, it makes a lot of sense when you consider new head coach Mike Zimmer made his mark as a secondary  coach  and his top ten defenses in Cincinnati were defined by tight coverage in the back end and four-man pass rush up front. The Vikes need depth there as it will be recalled they had to activate former Bengals fifth-rounder Shaun Prater off the practice squad late last season.
Goessling admits it would be interesting if Manziel were there, but maybe not. Zimmer has been pretty candid about the extra scrutiny he brings.
9.  BILLS - T Jake Matthews, Texas A&M; John Murphy, Buffalobills.com
Murphy, the radio voice of the Bills, projects the mindset that has been bubbling this offseason up north.  Head coach/ex-offensive lineman Doug Marrone is looking to surround his two anchors, center Eric Wood and left tackle Cordy Glenn, with another one to shore up this line and this guy is a steal here. Right tackle Erik Pears, an undrafted nine-year journeyman, was ranked 56th out of the 76 tackles last season, according to PFF.
10.   LIONS - OLB Anthony Barr, UCLA; Mike O'Hara, detroitlions.com
O'Hara, who has covered the Lions from Monte (Clark) to Ziggy (Ansah) could see them trading out of here to get some ammo and then try and trade back up. But if they sit here, he figures it is a match with a 6-4, 245-pound pass rusher who can get around the edge in a hurry.  New head coach Jim Caldwell has seen plenty of those 250-poundish guys wreak havoc on the outside, starting at his days with the Colts in Dwight Freeney and Robert Mathis and then in Baltimore with Terrell Suggs. Plus, a few weeks ago he was heard to say he wants "a flamethrower," rushing the passer. Barr, a converted running back, gives them that backer who is going to go straight ahead and not drop and cover.  
11. TITANS - T Taylor Lewan, Michigan; Jim Wyatt, The Tennessean
The Titans new linebackers coach, Lou Spanos, would hate to see Barr go a pick ahead of him since he was his college defensive coordinator. So faced with this scenario, they take the best player on the board with their own left tackle, Michael Roos, headed to free agency  next year.
12. GIANTS - TE Eric Ebron, North Carolina; Sam Farmer, The Los Angeles Times
Elli Manning needs a safety valve in the middle of the field, so Farmer matches him with a guy that he says has Vernon Davis qualities making him the top tight end available and an immediate impact player.
13. RAMS - CB Darqueze Dennard, Michigan State; Jim Thomas, St. Louis Post-Dispatch
The Rams are looking for a free safety-type, but they think Louisville's Calvin Pryor is more of a strong. So at this point Thomas figures they still address the secondary by firming up their depth at cornerback with last year's fifth-round pick Brandon McGee and his 10 scrimmage snaps pretty much the only things standing behind starters Janoris Jenkins and Trumaine Johnson in the wake of Cortland Finnegan's departure. The 5-11, 200-pound Dennard would be a nice get here. Thomas notes he's a good tackler, is physical, and has seen Dennard rated higher than Gilbert by some scouts.
14. BEARS - DT Aaron Donald, Pittsburgh; Brad Biggs, The Chicago Tribune
The only knock Biggs can find on this guy is that he's not quite 6-1, but two-time Bengals Pro Bowler Geno Atkins has shown that may actually help him in the battle of NFL leverage.  The scouts, the game tape, the Senior Bowl, the combine, it all comes up big for Biggs. He thinks a front that just lost tackle Henry Melton in free agency and signed up 31-year-old end Jared Allen and 27-year-old tackle Lamarr Houston in free agency could use a shot of youth.
15. STEELERS - WR Kelvin Benjamin, Florida State; Gerry Dulac, Pittsburgh Post-Gazette
For the second straight Media Mock, Dulac goes with the 6-5, 233-pound Benjamin. But only after Evans, Gilbert and Dennard have gone off the board. He thinks Pittsburgh is looking at finally addressing its corner depth in the first round, but the two best are gone.
The free -agent signing of Lance Moore did nothing to change the landscape at receiver for the Steelers. Moore is more than serviceable, but at 5-9 he's not the big, tall receiver they want to match with quarterback Ben Roethlisberger. Benjamin would give them the big target to complement the shifty Antonio Brown. The Steelers don't usually pick this high, but when they do they want it to be an impact position. It's been eight years (Santonio Holmes) since they took a receiver in the first round with the 25th pick.
16. COWBOYS - G-T Zack Martin, Notre Dame; Todd Archer, ESPNDallas.com
At this point for Jerry Jones, it's the best player on the board. They can play Martin at guard as a rookie and then move him to right tackle as a sophomore when Doug Free moves on.
17. RAVENS - S Ha Ha Clinton-Dix, Alabama; Aaron Wilson, The Baltimore Sun
This would make two straight safeties drafted by Alabama's own Wizard of Oz (zie) in the first round and with Ed Reed headed to Canton and not to Cincinnati anymore, maybe that's a good idea. Wilson says Baltimore is looking for the natural center-fielder type that Reed played so famously, which would allow them to move last year's No. 1, Matt Elam, to his more natural strong spot.
*18. JETS - WR Odell Beckham, LSU; Rich Cimini, NewYorkESPN.com *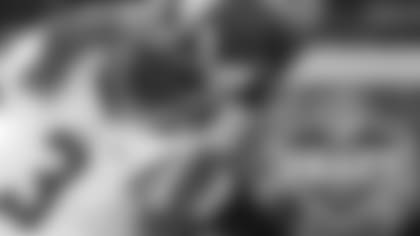 Head coach Rex Ryan is going crazy for a cornerback after cutting Antonio Cromartie and signing nickel back Dimitri Patterson to a one-year stop gap. He needs someone else opposite Dee Milliner, last year's first-rounder, but it looks like the next tier of corners is a reach here. So they'll go for a speed receiver with return ability and give their receiving corps a much needed jolt of quickness.
They gave Denver's Eric Decker $7 million per year to be a capable No. 2, but he's not a speed merchant, Jeremy Kerley is more of a slot guy, and Stephen Hill is about two drops away from the waiver wire. Cimini says Oregon State's Brandin Cooks could be in play, but he notes that Beckham's specials teams coach at LSU, Tom McGaughey, is now the Jets special teams coach. e's H Beckham is only 195 pounds, but they can use the speed.
19. DOLPHINS - S Calvin Pryor, Louisville; Alex Marvez, Fox Sports One; Sirius NFL Radio
A tough scenario for the Dolphins with the top offensive linemen and wide receivers picked over, but this move makes sense. They've signed Louis Delmas for one year, but they need a playmaker back there. Reshad Jones and Chris Clemons combined for more than 2,200 snaps last season, according to PFF, and ESPN.com stats had them not making one forced fumble or fumble recovery while teaming to make just two interceptions and 12 passes defensed.
20. CARDINALS - OLB Dee Ford, Auburn; Darren Urban, azcardinals.com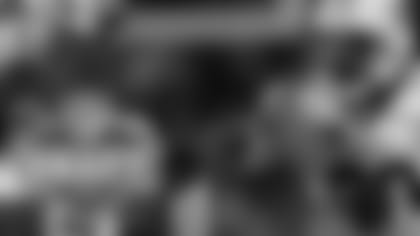 Safety is a big need, but the top two are gone and they need some young bodies on the pass rush. John Abraham, who turns 36 next month, is their most dynamic pass rusher from the outside in a 3-4 and is coming off an 11.5-sack season. But Matt Shaughnessy had just three on the other side and linebacker Karlos Dansby's 6.5 sacks are in Cleveland via free agency.
Ford would have to make the transition from 4-3 college end, but Abraham could break him in and he won't have to play right away.
21. PACKERS - ILB C.J. Mosley, Alabama; Vic Ketchman, Packers.com
With the Jermichael Finley Era setting in the distance, Ebron is the fit.  With Casey Hayward coming off injury at corner, Gilbert is intriguing. But this is what Ketchman knows the Packers are most likely facing and he's sticking with his original pick.
The Pack is low on backers and in Mosley they'd get the nation's best linebacker who is a tough, smart three-down player that can move inside or out in Green Bay's 3-4 scheme.
*22. EAGLES – WR Marqise Lee, USC; Paul Domowitch, The Philadelphia Daily News *
The top corners and safeties are gone, so Chip Kelly is going to get that receiver he wants by the third round a little early.  Kelly loves guys he coached and coached against while at Oregon (his QBs are Arizona, 'SC, 'SC), so the 6-0, 195-pound Lee is a fit that way and his 4.49 40 speed doesn't hurt. With DeSean Jackson dispatched to Washington, Riley Cooper and Jeremy Maclin are the only wide receivers of note and Maclin is working on a one-year deal.
23. CHIEFS - WR BRANDIN COOKS, Oregon State; Terez Paylor, The Kansas City Star
If you're scoring at home, that's six wide receivers already but the Chiefs won't feel like they're getting sloppy seconds. Cooks isn't very big (5-10, 186), but he earned the nickname "Sonic Boom," in high school for his pop before and after the catch and he caught nearly 1,700 yards last season as the full-time punt returner. That would translate to the Chiefs' needs of finding a complement to the power of Dwayne Bowe and a more consistent vertical game than Donnie Avery. With the departure of Dexter McCluster via free agency, Cooks would also give some juice to the special teams.
24. BENGALS - DE Kony Ealy, Missouri
Yes, Louisville quarterback Teddy Bridgewater is still sitting there. It's doubtful the Bengals would take him in this scenario. Unless, of course, the Andy Dalton extension negotiations are right there with the Obama-Putin phone calls.
All kidding aside since they've just barely started talking about talking and not much may be done by the draft, anyway. But what this mock seriously shows is there will be a guy or two there they don't expect, commonly known as a "slide." And since they are sitting rather pretty by not being in desperate need of an Opening Day starter, they may be able to re-stock some positions already teeming with talent.
Many mocks have the Bengals taking a cornerback here, but what if a Bridgewater, or a Mike Evans, or a Zack Martin type of guy made it to them? They'd have to at least think about them even though they're full on the depth chart at those spots. What has earned the Bengals high marks in the past five drafts is sticking to the grades and making the pick despite the position.
Here's the case for the 6-5, 275-pound Ealy:
First of all, wouldn't having a first-rounder named Kony in Cincinnati be perfect? Think of the possibilities. Forget Revis Isand. How about Kony Island? When he makes the move to three-down player, how about Three-Way Kony? What about when he comes up with his first NFL fumble? The Kony Krate?
Better yet, check the menu at NFLDraftScout.com. Its prospect rankings as of Tuesday when the Bengals went to pick in the Bengals.com Media Mock Draft scenario had the three highest-rated guys on the board as  Bridgewater (9), Florida State defensive tackle Timmy Jernigan (18), and Ealy (22).
Obviously, Bridgewater would be quite a bargain at No. 24. But the Bengals can get their backup quarterback later, they just gave nose tackle Domata Peko an extension that keeps him here through 2016, and they've got two young emerging tackles in Brandon Thompson and Devon Still.
Who knows how the Bengals have these guys graded? But on Tuesday's NFLDraftScout.com big board there's not enough difference in the Jernigan-Ealy rankings to prevent taking Ealy, a pass rusher they're seeking to add with the free-agent departure of right end Michael Johnson.
Ealy has been compared to 19-sack man Robert Quinn of the Rams with dynamic athleticism that has carried all over the front seven at linebacker and tackle.
"He's very athletic. If you're looking to start a basketball team, he's the guy," says Gil Brandt, NFL.com's draft guru. "He's the kind of guy that can also play inside for you at times."
The scouts talk about Ealy's length and burst and the more you hear about him the more he sounds a little bit like Johnson: "Very good recognition to disrupt passing lanes. Times his leap well; long arms, good hand-eye coordination. Undeniable upside."
Rob Rang, the senior analyst for NFLDraftScout.com who has Ealy ranked 18th on his latest big board, is "just scratching the surface of his potential." Perfect fit. They don't have to rush him and can even do what they did with SMU rookie Margus Hunt last year and de-activate him for early-season games.
So that's the next question. Didn't they take Hunt in the second round last year in case they lost Johnson? Sure, but don't stop now. One of the reasons the Bengals have made the playoffs in four of the last five seasons with a top seven defense is they've realized how important the trenches are. In all but one of the drafts since 2008 (2011), they've drafted a defensive lineman in the first three rounds.
That's what makes the world go around in the AFC North. Tough, fast, physical fronts. As they say, you can never have enough linemen in this division. Especially when you're looking at a board that has you reaching.
The pundits are talking about the Bengals looking to shore up their roster at cornerback and maybe tackle and safety. But Rang's highest rated corner when the Bengals pick is TCU's Jason Verrett at No. 29, his highest-rated tackle is Alabama's Cyrus Kouandijo at No. 34, and the highest-rated safety is Northern Illinois' Jimmie Ward at No. 35.
Don't reach. Stay up front.