Nick Eason, Myles Murphy's position coach who has also coached Sam Hubbard and DJ Reader on the Bengals front, is trying to tell you about Murphy's scalding 4.51-second 40-yard dash he ran three weeks ago.
"Coach, little do people know he swerved," Eason is saying the morning after Murphy became a Bengal. "He could have run a high 4.3 or low 4.4 easily. Now you put him around guys like Trey (Hendrickson), DJ and Sam? He's going to be awesome."
Eason, who coached the Bengals defensive line in the first two years of head coach Zac Taylor's regime after playing 117 NFL games, thought he'd go higher in Thursday night's first round of the NFL Draft. But now, "I look forward to watching him chasing quarterbacks. They better be fast because he's coming."
Given the DNA of the coaching staffs in Cincinnati and Clemson, no wonder Murphy, this 6-5, 268-pound marvel, became the first defensive lineman the Bengals have taken in the first round since Justin Smith in 2001. Eason now coaches the Tigers defensive line and oversaw the last of Murphy's 18.5 collegiate sacks accrued in three seasons. Eason's successor in Cincinnati, Marion Hobby, was Clemson head coach Dabo Swinney's trusted national championship co-defensive coordinator and defensive ends coach.
"I've known about him ever since he got there because I follow the program," Hobby is saying the day after he got his first pass rusher off the bench. "The people and the resources that touch him every day rave about him as a person as much as a player. To me, they've got credibility in what they were saying. 'Hey, give me the skinny.' I kept hearing the same thing. Everybody can't be wrong."
Here's the skinny from Eason. He says Murphy can be mayor of his hometown of Atlanta or Cincinnati. He'd have a less crowded field back home because in Cincinnati it'd be a rough-and-tumble primary with Hubbard, Joe Burrow and Teddy Karras.
"He'll be an NFLPA player rep," Eason says of the players association.
Murphy isn't talking politics just yet. At the moment he wants to be an architect. A junior, he's six classes shy of his degree in construction science and management. The family is wired. His brother, who played football at Worcester Poly, is an electrical engineering consultant. Eason thinks he's already got chunks of pro traits because he's offered tips from his own decade in the trenches.
"Now as a player," Eason is saying, "he's tough, he's resilient, he's competitive, disciplined and smart. He's a guy when you think about NFL D-ends, he checks all the boxes. Long, 6-5, 270. And can run."
Since Murphy has been in college, he's been watching another 6-5, 270-pound Myles wreak havoc on NFL quarterbacks. No one has more sacks in the decade than Cleveland's Myles Garrett and Murphy watches his every move.
"That's a good guy to idolize," Hobby is saying. "Both 6-5 guys who have got that great edge speed. We know Garrett's a little older, been in the league a little longer. I like that comparison. I hope that's the case."
Here is the skinny from Hobby. He sees terrific three-down value.
"Speed. Natural strength. Power. He can find the quarterback. He can play the run," Hobby said. "when you've got a young guy with three-down value and mix them with guys who are a little older, he can learn and get better as he goes. Because he's a smart player and a very talented player, his ceiling is really high."
Hobby's position group is a leader in Taylor's cultural locker room revolution. His starters, Reader, Hendrickson, Hubbard, and B.J. Hill are a character of Mount Rushmore. Hobby can watch the tape. But when he worked his Clemson sources, the questions were more, "Will he work? Will he put in the time? Does he love football? Is he good for the locker room? Is he a good teammate? Can you hold him accountable?"
"All those things important to the Bengals," Hobby said. "It kept coming back yes."
Eason, who has been in Murphy's new locker room, agrees with a coach he's known for a long time.
"He fits right in with what Zac has been doing there as a head coach," Eason is saying. "The team, the coaches are going to love him … I couldn't be happier for the Bengals. He'll do really well. He has all the tools. He's a Bengals guy."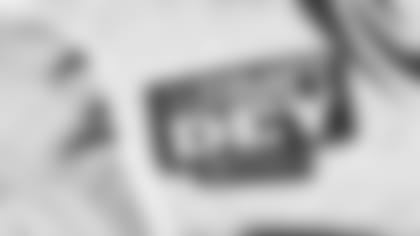 2023 Draft Dey Center
The official sources of news, photos, interviews and more of Draft Dey 2023, presented by Integrity Express Logistics.