With less than three weeks away the names are starting to change in the third Bengals.com Media Mock Draft of the year. That's about right as the top ten grapples with a list of fine players that, for the most part, are steady but not spectacular.
No quarterbacks on the horizon provide a double whammy for the top ten, where the Bengals reside for the first time in six years at No. 9. It muddies the pool even more while also discouraging teams at the back to trade up. And that's frustrating in a draft that appears by all accounts to be very solid starting at about no. 15.
But it's early. Plenty of time to pick up the phone or leave a message.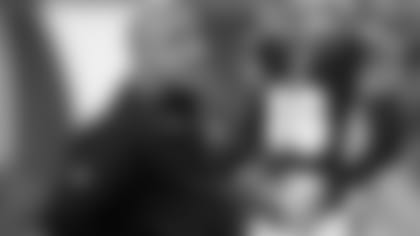 *It looks like old and still good friend Hue Jackson is going to line up the draft's No. 1 pick as Cleveland head coach against new Bengals left tackle and Myles Garrett's old A&M teammate Cedric Ogbuehi. *
1. BROWNS: DE Myles Garrett, Texas A&M; Tony Grossi, ESPNCleveland.com - No change here. Grossi has been covering this club since the mid-80s and says they haven't had a physically gifted and elite pass rusher like Garrett since the days of Chip Banks. That would be the Chip Banks of 11 sacks in 1985, kids.
He says they've been looking for that guy longer than they've been seeking a franchise quarterback. Speaking of which, Grossi is convinced Cleveland won't trade for Bengals backup Andy Dalton and while they still may be pining for New England's Jimmy Garoppolo they sound ready to maybe wait until the second round to anoint the next Otto Graham.
2. 49ERS: DE Solomon Thomas, Stanford; Matt Maiocco, CSNBayArea.com -Maiocco had gone with North Carolina quarterback Mitchell Trubisky in the previous two drafts but now the conventional wisdom is wafting to the hometown guy for the new regime. They think Thomas' versatility can help the conversion to a 4-3 and there is a thought that Washington's Kirk Cousins is going to be their quarterback next year.  
3. BEARS: CB Marshon Lattimore, Ohio State; Brad Biggs, The Chicago Tribune - Biggs had been big on Alabama defensive tackle Jonathan Allen in the previous Mocks but free agency seems to have turned their attention to the secondary. In the past couple of years they've missed out on signing free agent corners such as Janoris Jenkins, Josh Norman, and Stephon Gilmore and they've been left with a gaggle of No. 2s and No. 3s. If Lattimore's hamstrings check out, they'll have that clear No. 1.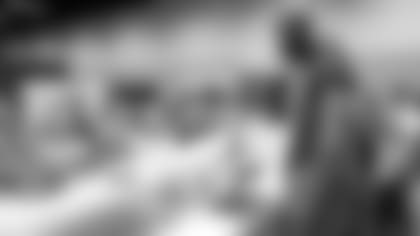 Leonard Fournette has apparently turned the Jags' heads.
4. JAGUARS: RB Leonard Fournette, LSU; Pete Prisco, CBS Sports.com - Prisco had gone with Thomas the previous two Mocks but even if he was still there he'd probably opt for Fournette. Prisco, who covered Tom Coughlin in his first incarnation as the Jags strong man, senses the new team of Coughlin the exec and Doug Marrone the coach is going to take the pressure off quarterback Blake Bortles with that gifted defense of high picks and now a top five back. Also possibly in play here is Alabama tight end O.J. Howard.
5. TITANS: WR Mike Williams, Clemson; John Glennon, Athlon - But not for long. It's the second straight Mock Glennon has tabbed Williams but he can already sense a swing away from needs to best player. That's how Bill Belichick disciple Jon Robinson has done a terrific job infusing life back into Tennessee as the Titans general manager. In fact, if Lattimore had been there, Glennon may have taken him. And with the formidable pair from Alabama Allen and Howard still on the board, they'd have to be in the mix in Nashville.
6. JETS: S Jamal Adams, LSU; Rich Cimini, ESPN New York.com - Lattimore had been Cimini's guy all the way, but now that he's gone this pick is as good and maybe better. One starting safety, Marcus Gilchrist, is still an unknown with a bad knee and the other starting safety, former first-rounder Calvin Pryor, has been less than spectacular. Adams has a rep as a good locker-room guy and leader and the Jets know they need plenty of those guys, Cimini says. He also thinks the quarterback talk is a smokescreen and you can already hear the boos if they take a defensive lineman No. 1 for the fifth time this decade. But they wouldn't boo Howard or the other top safety, Ohio State's Malik Hooker, if Adams or Lattimore isn't there.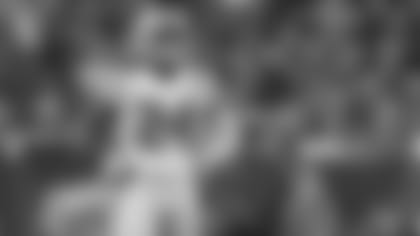 Malik The Freak eyes the Coast.
7. CHARGERS: S Malik Hooker, Ohio State; Dan Woike, The Los Angeles Times - Now you're starting to hear the talk about trading down, which is where they could get some help for a decimated offensive line in the form of Western Kentucky guard Forrest Lamp. But if they can't get out of No. 7, look defense for new coordinator Gus Bradley. Kam Chancellor and Earl Thomas blossomed into Pro Bowl safety-types under Bradly in Seattle and the gifted Malik The Freak seems to be a good fit for a secondary that has 31-year-old Dwight Lowery, although they just gave strong safety Jahleel Addae $20 million over the next four years. Also possible here is Howard if they're finally looking to replace long-time Pro Bowl tight end Antonio Gates. But they've also got a young one in Hunter Henry.
8. PANTHERS: RB Christian McCaffrey, Stanford; Joe Person, The Charlotte Observer -  Before you have Person  committed, know that he's taken a back in all three Mocks. He started with Florida State's Dalvin Cook, then went to Fournette, and now with Fournette gone he goes for the shocker. But maybe it's not much of a shock in Charlotte. Person says McCaffrey is getting top ten buzz in a wave of post-combine and pro day momentum. He says McCaffrey checks a lot of boxes for Panthers: slot receiver, change of pace back, punt returner. But this is another club that could also go for Alabama's Howard.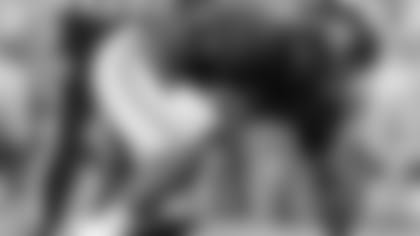 What about Allen lining up next to Geno Atkins on third down?
9. BENGALS: DT Jonathan Allen, Alabama - Purely the best player on the board. He needed a suitcase after the season when he won the Bronko Nagurski Award for best defensive player, the Chuck Bednarik Award for best defensive player, and the Ted Hendricks Award for best defensive end.
Maybe someone would call Paul Brown Stadium to try to go up and get him if he slid this far, which would make the Bengals think about trading back. But, in the end, they'd be getting a top five player in this draft. It just depends on whose top five because if it is one thing this top ten lacks it is consensus. Still, ESPN has him as its No. 2 player as ranked by Scouts, Inc., and CBS has him at No. 4.
The 6-3, 286-pound Allen is a microcosm of it all for a draft that doesn't have any drop-dead answers, except maybe Garrett. Allen is a hell of a player, but a lot of people aren't sure where he lines up and in Cincinnati's 4-3 it's not the greatest of fits coming from a 3-4 end at Bama. He wouldn't appear to be a 4-3 end, he's a bit undersized for tackle, he's coming off some shoulder problems, and his workouts at the combine and pro day weren't eye-popping.
At No. 9 the Bengals are hoping to get a guy that plays a ton of snaps, but Allen would be coming in behind their front four and if they deemed him a three technique he'd be playing second fiddle to five-time Pro Bowler Geno Atkins. He'd certainly be in the rotation but Atkins is The Man and he'll get the corresponding snaps.
But in the same breath Allen is a tough guy to pass up for a team seeking pass-rush help in the front seven even if it's not from the edge. He's an explosive player that works with power and punch.
"His diversity to play outside, rush inside, play the point, makes him a pretty special guy," said Alabama coach Nick Saban via nfldraftscout.com.
The reason we do this exercise is to sample the universe of players the Bengals most likely are going to be choosing from. It won't be the exact board the Bengals are going to be viewing at about 8:15 p.m. on April 27, but it gives us a pretty good idea.
According to the ESPN and CBS big boards, the Bengals would also have to be considering Alabama tight end O.J. Howard and his teammate, linebacker Reuben Foster, Tennessee right end Derek Barnett, and Florida State running back Dalvin Cook. The big boards  say it is a bit of a reach for Western Michigan wide receiver Corey Davis, Michigan nickel linebacker/safety Jabril Peppers, and pass rushing linebackers Haason Reddick of Temple and Zach Cunningham of Vanderbilt.
Of course, maybe the Bengals' board is different and we're staring at the guy and don't even know it.
The one thing we know about the Bengals' board is that director of player personnel Duke Tobin loves to hit doubles.
He likes it when the Bengals draft guys with minimum risks medically and socially, are smart, and have produced consistently for more than a year at a big-time school. Even if they've already got the position filled. As long as he's at least a double. Can't have enough doubles. He's not into flashy home runs that could just as easily be whiffs, trying to swing for the fences with a guy who is gifted in some areas and gambles on that covering up what he lacks in other key categories.
Allen is certainly at least a double here and maybe even over the wall. But guys like Howard, Barnett, Cook, and maybe even Foster look like they'd could get you an extra base, too.