Myles Garrett is No. 1 in all four Bengals.com Media Mock Drafts.
With apologies to the band of football scribes badgered at baby showers, harassed while folding laundry, and stalked during actual working hours when they had nothing to do but merely deal with the busiest week of the year, we give you the grand daddy of all Bengals.com Media Mock Drafts.
The selectors range from the grizzled veteran who has covered the NFL for six decades, the Florida Times-Union's Vito Stellino, to the Los Angeles Times' Dan Woike covering the Chargers' first season back in Los Angeles. And there is long-time Rams reporter Jim Thomas still doing due diligence in St. Louis and Roy Cummings surviving in Tampa despite the implosion of the newspaper industry.
Never before have we delved into the murky waters of the second round. Well, murkier because the first round isn't exactly a crystal ball. But thanks to them, we have gone where we've never gone before. To borrow a phrase from the anonymous writer of the Lizzie Borden ditty, Bengals.com made 39 phone calls to make 40 picks and when they saw what it had done, it made 41.
The mock to 41, the Bengals' second-round pick, has the same concept as the mock to nine, their first-round pick Get names off the board to see what universe of prospects is still available. It's not perfect, but it gives you an idea of the names being bandied about.
But everybody's board is different. We won't know how the one that counts is set up until the Bengals start bypassing players to make that first call at about 9:30 p.m. on Thursday.
1. BROWNS: DE Myles Garrett, Texas A&M; Tony Grossi, ESPNCleveland.com _As usual, a lot more buzz as the pick draws closer. Ignore the hype. Grossi has sensed this pick solidified the instant they named Gregg Williams the defensive coordinator four long months ago.
2. 49ers: DL Solomon Thomas, Stanford Matt Maiocco, CSNBayArea.com _Trade. Trade. Trade. But if no team wants to move up, the 49ers go with the versatile Thomas and hope he can provide the pass rush this team so desperately needs.
3. BEARS: QB Mitchell Trubisky, North Carolina; Brad Biggs, The Chicago Tribune _At some point, they need one. They haven't taken a first-round quarterback since Rex Grossman in 2003 amid the wreckage of Cade McNown. Yes, they're giving Mike Glennon $16M this year, but only $2.5M next year. So it's not exactly a move for the future.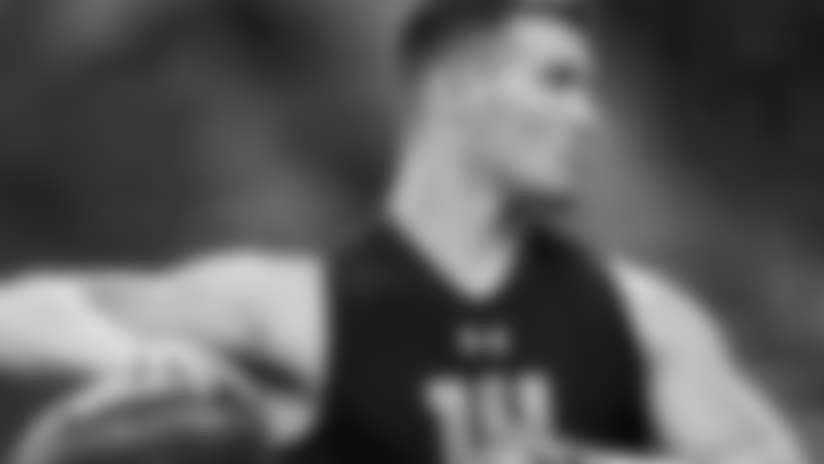 Consensus seems to make Mitchell Trubisky the No. 1 QB. But where?
4. JAGUARS: RB Leonard Fournette, LSU; Vito Stellino, The Florid Times-Union _
During GM Tom Coughlin's first run in Jacksonville Fred Taylor quietly became one of the best running backs in football and won the Jags a lot of games. In Doug Marrone's first year as head coach in Buffalo in 2013, the Bills ranked second in rushing averaging 34 carries. So it looks like they'll strap it up.
5. TITANS: DL Jonathan Allen, Alabama; Paul Kuharsky, ESPN.com _ Even though they've also got the 18th pick they wouldn't mind trading out. But if they stay Allen would clearly be the best player and GM Jon Robinson is a BPA kind of guy. Robinson, a Bill Belichick disciple, also doesn't mind building from the inside out (Hello Richard Seymour, sixth pick in 2001).
6. JETS: S Jamal Adams, LSU; Rich Cimini, ESPN New York.com _Cimini isn't buying into the QB buzz. Certainly if it falls like this it is a Gang Green fantasy. So much so they could trade out if Adams isn't there. He's the perfect fit for a secondary that is barren at safety with former No. 1 Calvin Pryor coming off a disappointing year and the other starter, rehabbing Marcus Gilchrist, sidelined deep into the preseason.  And in the post-Darrelle Revis Era, they're looking for the kind of leadership the scouts say Adams has in droves. But if Trubisky is there ….
7. CHARGERS: S Malik Hooker, Ohio State; Dan Woike, The Los Angeles Times  _ New defensive coordinator Gus Bradley needs a playmaker to jump-start his Cover 3. A big corner like Marshon Lattimore might be nice, but each of the Chargers' starting tandem has been to the last two Pro Bowls.
8. PANTHERS:  RB Christian McCaffrey, Stanford; Joe Person, The Charlotte Observer _McCaffrey's versatility as a receiver to go with his ability to run the ball gives quarterback Cam Newton another weapon to take the gathering heat off of him.
Will the Bengals stiff-arm No. 9 with O.J. Howard?
9. BENGALS: TE O.J. Howard, Alabama; Geoff Hobson, Bengals.com _Here's the argument for Howard: he's the player on the board that has the fewest questions, he's the most complete player available, and he plays a position where starter Tyler Eifert has missed 42 percent of his games, is coming off back surgery, and is heading into his contract year.
Alabama linebacker Reuben Forest continues to wave red flags, they just extended  their starting safeties last season, they've already got four first-round cornerbacks, and Tennessee defensive end Derek Barnett ran a glacial 40-yard dash and is ranked anywhere from ninth to 13th.
Here's the argument against Howard and for trading back: they've already got a Pro Bowl tight end in Eifert, they want to re-sign him, they really like how Tyler Kroft and C.J. Uzomah have developed behind him, and you've made a strength stronger and not improved the question marks.
Another argument for Howard to break the tie?  When in doubt, put another weapon around A.J. Green and Andy Dalton.
The key guy here seems to be Barnett and where the Bengals have him ranked given that their No. 1 need is pass rusher.
10. BILLS: CB Marshon Lattimore, Ohio State; Vic Carruci, The Buffalo News _ If it falls like this, they're ecstatic. They lost Stephon Gilmore in the division to the dreaded Patriots in free agency so why not replace him with the 11th pick? They took Gilmore with the 10th pick five years ago.
11. SAINTS: DE Derek Barnett, Tennessee; Larry Holder, The Times-Picayune _ New Orleans seeks a three-down 4-3 pass rusher to team opposite Cam Jordan after piecemieling it with Paul Kruger and Darryl Tapp last season.
12. BROWNS: WR Mike Williams, Clemson; Grossi _ With Trubisky gone the Browns wait on the quarterback and for the second straight year take a wide receiver in the top 15 after Corey Coleman's  early brilliance was cut short by injury. But Grossi believes if Howard is there they'll grab him.
13. CARDINALS: LB Hasson Reddick, Temple; Kent Somers, The Arizona Republic _ They can already see old friend Karlos Dansby taking him under his wing as a versatile three-down backer that gives the added dimension of a pass rusher. They love the fact they can stand him up on the first two downs and put his hand on the ground on the third.
14. EAGLES: CB Gareon Conley, Ohio State; Zach Berman, The Philadelphia Inquirer _ It's a big need in Philly. They let Nolan Carroll go in free agency, but only signed Patrick Robinson to a one-year deal. Conley is as seasoned as they get after two seasons starting in Columbus.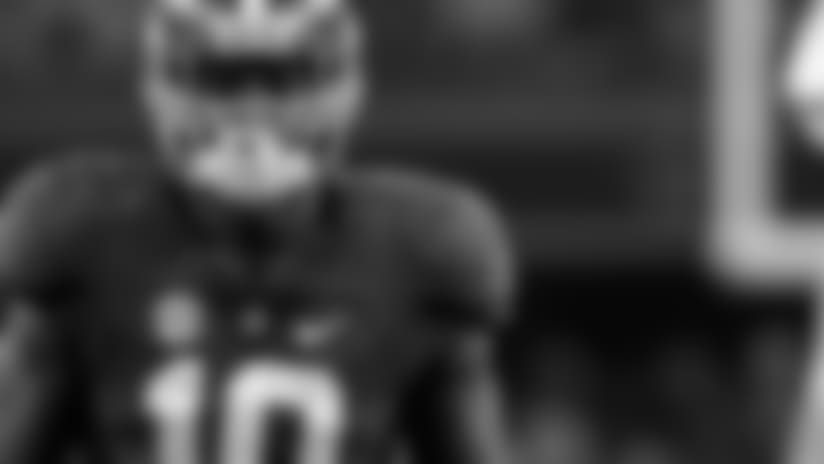 Ironically, Reuben Foster finds a home in Indy.
15. COLTS: LB Reuben Foster, Alabama; Stephen Holder, The Indianapolis Star; Foster returns to the city where he admitted to testing for a diluted sample last month at the scouting combine. The same combine he was tossed out of after he had an altercation with a hospital worker. The play-making Foster is hard to pass here for a defense that ranked 30th in yards allowed.  New Colts GM Chris Ballard may be more open to character flaws early in the draft than Indy's last regime. He comes from the Chiefs, the club that took troubled corner Marcus Peters in the 2015 first round and cashed. They also struck gold with the tainted Tyreek Hill in last year's fifth round.
16. RAVENS: WR Corey Davis, Western Michigan; Jeff Zrebiec, The Baltimore Sun _ You have to think the Colts just broke Ravens GM Ozzie Newsome's heart. It's hard to see Newsome, the Alabama Hall-of-Famer, passing on Foster, a guy that reminds some people of the guy Newsome drafted with the 26th pick 21 years ago. Ray Lewis isn't around, but another Bamer, the brilliant C.J. Mosley, is holding down the middle. But with leading tackler Zach Orr retired Foster has to be tempting as the next 1-2 punch with Mosley.
But he's not here and neither is Reddick or Barnett. So the Ravens do what they haven't done in the offseason yet and address offense. Davis is a nice answer with Steve Smith Sr. retired.
17. WASHINGTON: S Jabril Peppers, Michigan; Mike Jones, The Washington Post _ They really like McCaffrey and that's not a great surprise with head coach Jay Gruden in the mix. But Peppers is a great fit on the other side. They haven't had a top athlete at safety since taking LaRon Landry at No. 6 ten years ago. They need playmakers and here's a guy that can play three different spots at safety, backer, and returner. We'll see if a diluted sample at the combine hurts a guy that his agency says has never tested positive for any substance and has never failed a drug test.
18. TITANS; WR John Ross, Washington; Kuharsky _ Yes, he's only 5-10, 190 pounds and he's banged up and Pac-12 rules won't let him participate until June. But he famously set the combine's 40-yard dash record last month, Titans head coach Mike Mularkey doesn't mind small wide receivers (the 5-10, 190-pound Brandin Cooks was in the mix here early in the preseason), and they've got no down-field threats.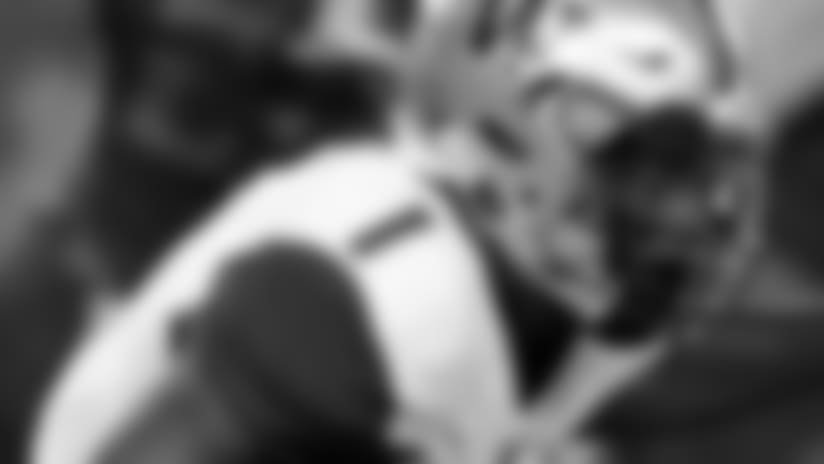 John Ross speeds to the Music City.
19. BUCCANEERS: RB Dalvin Cook, RB Florida State; Roy Cummings, The Sporting News _ They're looking to get quarterback Jameis Winston as much help as possible, so the first drive in the pre-season opener at Paul Brown Stadium would be quite interesting with wide receiver DeSean Jackson split wide from him and Cook behind him. And vet running back Doug Martin has missed 23 of a possible 80 games.
20. BRONCOS: LT Ryan Ramczyk, Wisconsin; Mike Klis Channel 9 News, Denver _ The Broncos haven't seen solid days on the blindside since Ryan Clady. They entertained the idea of old friend Andrew Whitworth, but opted to shore it up now.
21. LIONS: DE Charles Harris, Missouri; Mike O'Hara, detroitlions.com _ Great value for one of the Big Boards' big risers. Especially for a team that finished next to last in sacks last season.
22. DOLPHINS: CB Cordrea Tankersley, Clemson; Armando Salguero, The Miami Herald_ Definitely defense here and they can get a running back in the second round. They apparently don't think there's a pass rusher here.
23. GIANTS: TE David Njoku, Miami; Tom Rock, Newsday _ Consider it's been six years since they last had a down-the-seam threat at tight end in Ohio State's Jake Ballard. Ballard, undrafted, helped the Giants into the Super Bowl that season, where he suffered a knee injury that basically ended his career.
24. RAIDERS: DT Malik McDowell, Michigan State; John Clayton, ESPN.com _ They've only got about three defensive linemen on the roster and a practice squadder as a tentative starter. McDowell is a versatile sort that can play up and down the line. They don't take a running back. Yet.
25. TEXANS: QB Patrick Mahomes, Texas Tech; Aaron Wilson, The Houston Chronicle _ They stay home with this pick and by pass the tackle.
26. SEAHAWKS: CB Marlon Humphrey, Alabama; Mike Sando, ESPN.com _ The Seattle-based Sando has watched GM John Schneider build one of the NFL's best all-around clubs brick-by-brick. One of the foundations are those long, big corners and at 6-1, 196, Humphrey is the fit.
Takkarist McKinley: long arms and even longer motor.
27. CHIEFS: DE Takkarist McKinley, UCLA; Terez Paylor, The Kansas City Star _ A value pick here, not a QB. McKinley is a top 15 guy and with Justin Houston's knees aging and Tamba Hali playing another year before a possible salary cap move, KC needs to think about pass rushers of the future.
28. COWBOYS: CB Kevin King, Washington; Todd Archer, ESPN Dallas.com _ They lost Mo Claiborne and Brandon Carr in free agency and they need a playmaker. They can work on the defensive line later.
29. PACKERS DE Taco Charlton, Michigan; Bob McGinn, The Milwaukee Journal- Sentinel _ The thinking is that at 280 pounds, Charlton can potentially play both the five technique and stand up as a linebacker in their 3-4.
30. STEELERS: S Budda Baker, Washington; Gerry Dulac, Pittsburgh Post-Gazette _ They could go a bunch of ways here. QB? With someone around Big Ben musing retirement? But Baker fits them with a nice brew of physicality and athleticism, a guy they can plug in nickel that can cover one-on-one and run.
31. FALCONS: G Forrest Lamp, Western Kentucky; D. Orlando Ledbetter, The Atlanta Journal-Constitution _ Chris Chester retired after starting the last two seasons at right guard, so they've got the need .The  Falcons met with Lamp at the combine and think he's got the right kind of competitiveness to make the move from a four-year starter at left tackle.
32. SAINTS: CB Tre'Davious White, LSU; Holder _ A corner is involved here somewhere. Everyone keeps expecting them to trade this pick to New England for Malcolm Butler, but it hasn't happened yet, so they stay in state to fill the need.
Finally DeShaun Watson surfaces at the top of the second.
33. BROWNS: QB Deshaun Watson, Clemson; Grossi _ Who knows? All the trades for a QB look dead and it sounds like the Browns really want to come out of the first couple of days with yet another QB. It looks like if they want Trubisky they'll have to go up and get him. Or maybe they'll just sit at No. 12 and take Watson. It's doubtful they'd be able to get him here. 
34. 49ERS: CB Chidobe Awuzie, Colorado; Maiocco _ They took corners in the third, fourth, and seventh rounds last year but only fourth-rounder Rashard Robinson started and got significant time. He's the only corner with any experience after starter Tramaine Brock was released following an arrest in a domestic incident.
35. JAGUARS: DE Carl Lawson, Auburn; Stellino _ Tough one here. They aren't blessed with much depth behind quarterback Blake Bortles and the new regime has to make a call on Bortles soon. But if they can get the best player at another position at this point, that's probably more important. But this is a dicey part of the draft when it comes to edge rushers since they're more abundant later. And rusher is a need as they try to gauge if Dante Fowler is going to be back 100 percent in his second year off an ACL tear.
36. BEARS: LT Garett Bolles, Utah; Biggs _ Not a crying need here, but anytime you get a good value pick at tackle  … and they were in on Ravens right tackle Rick Wagner in free agency before he went to Detroit.  It worked out last year when they really didn't need a guard but Cody Whitehair proved to be a terrific pick. And don't they need to protect that QB they drafted?
37. RAMS: WR Zay Jones, East Carolina; Jim Thomas St. Louis Post-Dispatch _ Thomas still knows his way around the Rams even though the Rams gave St. Louis the Arch. And they've got a lot of needs after switching to a 3-4 defense, where they still have a shortage of linebackers. Since all they have for receivers are Tavon Austin, Robert Woods and just a bunch of guys, Jones is a nice fit. A nephew of former Bengals quarterback Jeff Blake, Jones can certainly catch the ball. His 158 catches this past season set the FBS single-season record and 344 is the career record.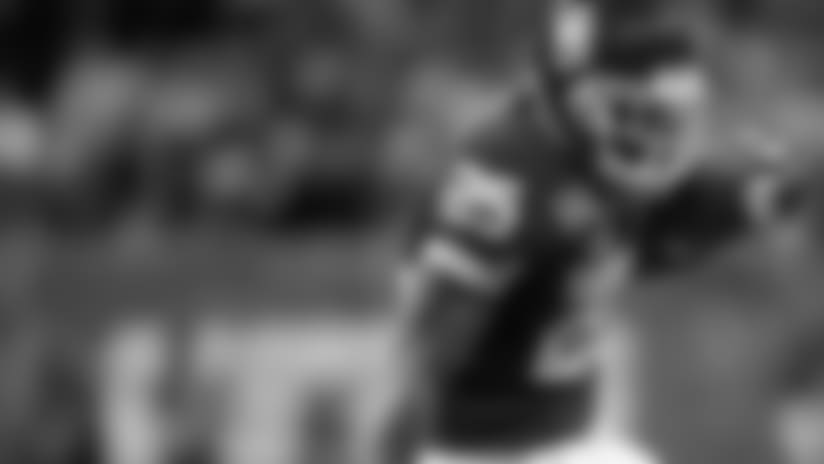 One thing the scouts know about Joe Mixon? He can play. The rest isn't as easy.
38. CHARGERS: RB Joe Mixon, Oklahoma; Woike _ Mixon is one of the biggest red flaggers ever, but has he paid for a mistake when he was18? New Chargers head coach Anthony Lynn, who got here as a running backs coach, seeks another back in a tandem with Melvin Gordon. He met with Mixon and seemed satisfied. And what better way to protect an aging Philip Rivers? 
39. JETS: TE Evan Engram, Mississippi; Cimini _ The Jets are desperate for a tight end. They haven't had one make an impact since 2009-2010, in the days Dustin Keller shook loose for a 45-yard TD pass against the Bengals in a Wild Card Game.   
40. PANTHERS: OT Cam Robinson, Alabama; Person _ With Michael Oher's status still unclear with concussion issues, Robinson is first-round insurance. As Person says, "Cam protecting Cam (Newton). An Alabama man protecting an Auburn man. Anarchy in Charlotte."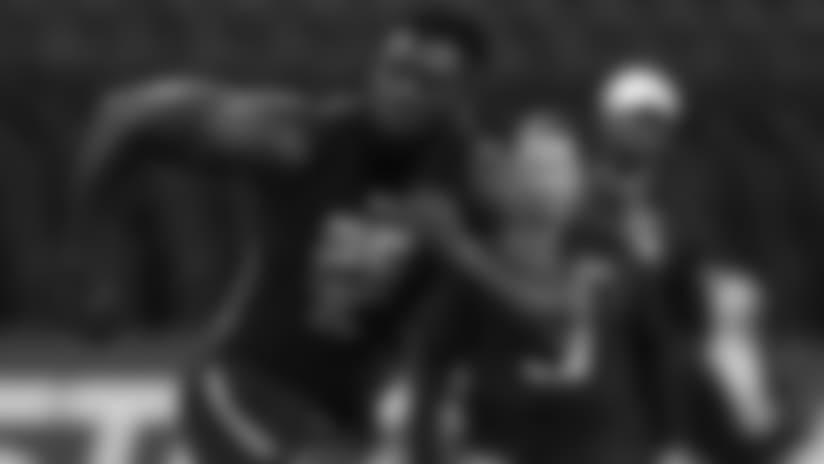 Tanoh Kpassagnon: he checks all the boxes. Physical freak at 6-7, a captain, and he left Philly with two degrees.
41. BENGALS: DE Tanoh Kpassagnon, Villanova; Hobson _ They have to go pass rusher here, right, if they don't go there at No. 9?
It would be a shocker, but let's take a deep breath. Is it really too high for one of the most raw talents in the draft? ESPN's Big Board ranks him the 99th player. Rang's board at CBS rates him the 100th. But he's worth a second look here.
A 6-7, 289 pounder who had them gasping at his Senior Bowl weigh-in, Kpassagnon has been called a freak with "track star acceleration," according to CBS Sports. His athleticism and length conjure up memories of Carlos Dunlap in the second round in 2010 and isn't that what this draft is all about? Give Dunlap and tackle Geno Atkins help rushing the passer?
At the NFL scouting combine a 4.83 40 combined with 23 reps of 225 pounds put him on the map. A fellow Philly product, NFL Network analyst Mike Mayock, said in Indy that Kpassagnon is a developmental defensive end who is a better fit in the third or fourth rounds but could go as high as the second because of his enormous potential.
He's certainly not as polished as Dunlap, who had been tested at top competition at Florida. He's perceived as a project when it comes to diagnosing screens and attacking double teams. And the one thing that would be non-Bengal of the pick is that Kpassagnon did his work in the low level Colonial Athletic Association while the Bengals love that big-school production.
But they also love the guys that dominate the small divisions and Kpassagnon did just that with 11 sacks, 21.5 tackles for loss, and a Dunlapian two forced fumbles and a blocked kick. It is also Bengalian that he was voted a team captain, has a bottomless motor, and is highly regarded off the field. According to The Philadelphia Daily News' Paul Domowitch, he already has graduated with degrees in accounting and finance. His mother is a chemical scientist and his father is an economist.
There are other rush ends rated higher on the big boards (T.J. Watt, Jordan Willis, Tim Williams), but there may be no player in the draft that has Kpassagnon's ceiling.
Throwback gallery of the Bengals 2006 and 2007 Draft Class.