Josh Rosen is a person of interest in this Mega Mock.


The Bengals.com Mega Media Mock Draft that careens to the 46th pick is complete, but we are far from full circle with fantasy football still raging until Thursday night's first round.
How many more trades are looming out there? How many more leaks of injuries? Or visits gone bad? How many more smokescreens so that "Mad Men," looks like a healthplex? How many more miffed veterans, paranoid coaches, snubbed agents? How many of how many? With more than six days left, the only answers are plenty and look out.
So here's our best guess with a heartfelt thank you to the 29 tortured scribes that took our harried phone calls. And that includes a special bow to ESPN Cleveland.com's Tony Grossi, The Boston Herald's Karen Guregian, and The Indianapolis Star's Stephen Holder, poor souls that had to take more than two calls. And the Red Badge of Courage Award goes to Sirius NFL Radio host Alex Marvez after he came off the bench twice in the sub package.

Thank you one and all.
1. BROWNS _ QB Sam Darnold, USC; Tony Grossi, ESPNCleveland.com

Despite the national drumbeat for Josh Allen, Grossi is standing by his man. Darnold is not only the youngest of the four top quarterbacks, but also the most mature and he's been pretty much flawless in the run up to the draft. It's just not here. Grossi has taken him No. 1 in seven straight of his own mocks.

2. GIANTS _ RB Saquon Barkley, Penn State; Mike Eisen, Giants.com
The Big Apple buzz is Barkley. New Giants general manager Dave Gettleman doesn't have a history of trading down. They were also impressed with North Carolina State defensive end Bradley Chubb in his visit.
3. JETS  _ QB Baker Mayfield, Oklahoma; Rich Cimini, ESPN.com
Not exactly Joe Willie but there's no perfect quarterback in this class. They look like they're tussling between Mayfield and UCLA's Josh Rosen. Mayfield's accuracy and movement skills look to be a good fit for a West Coast scheme and his winning pedigree may give him a slight edge.
4. BROWNS - DE Bradley Chubb, North Carolina State; Tony Grossi, ESPNCleveland.com
They took D-end Myles Garrett with the No. 1 overall pick last year and D-End Emmanuel Ogbah (who the Bengals have yet to block) in the second round the year before. But neither have played 16 games and there's nothing wrong with getting three good pass rushers on the field at the same time.
5. BRONCOS – QB Josh Allen, Wyoming; Mike Klis, 9News
Huge, physical talent that can sit for a year or so behind Case Keenum.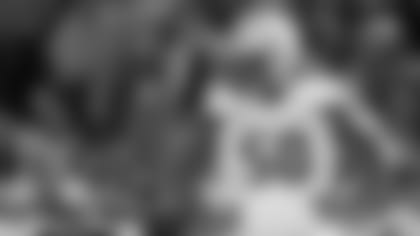 Vita Vea is staring at the top ten.
6. COLTS – G Quenton Nelson, Notre Dame; Stephen Holder, The Indianapolis Star
Their offensive line ran Andrew Luck into the training room. Why not begin picking up the pieces with the draft's best O-lineman?
 7. BUCCANEERS –  CB Denzel Ward, Ohio State; Ira Kaufman, JoeBucsFan.com
Cornerback Vernon Hargreaves III, the 11th pick in the draft two years ago, is in his prime. The other one, Brent Grimes, turns 35 before the season. Ward has the ball skills they crave.
 8. BEARS – ILB Roquan Smith, Georgia; Brad Biggs, Chicago Tribune
When it comes to this pick, the Bears don't look so much to be filling a need but to be making sure they get the most solid and reliable player on the board. In Smith they get an every down player who teams inside with Danny Trevathan to make the middle of their 3-4 formidable.
9. 49ERS – LB Tremaine Edmunds, Virginia Tech; Matt Maiocco, NBC Sports Bay Area.com
Josh Rosen, anyone? The Niners have got the For Sale sign out and if Rosen is still there you've to figure they're on the horn with Buffalo. If not, then before the draft. If they have to sit there, they'll take Edmunds to address their growing Reuben Foster problem.
10. RAIDERS _ DB Minkah Fitzpatrick, Alabama; Scott Bair, NBC Sports Bay Area.com
Old friend Paul Guenther gets a gift in Fitzpatrick's Kings Island slide. Guenther just signed 33-year-old Leon Hall as he tries to find corners, a position where the cupboard is bare. Look at the fit. Raiders new secondary coach Derrick Ansley coached Fitzpatrick at Alabama last season.
11. DOLPHINS _ DT Vita Vea, Washington; Armando Salguero, Miami Herald
Rosen is sitting there, but Salguero doesn't want to take him because he figures the Bills are going to get him when they trade up the board.  The problem is, the Dolphins don't have much at outside backer and Smith and Edmunds are gone. Still, Vea is a nice fit in an effort to replace N. Suh, now in L.A.
12. BILLS – QB Josh Rosen, UCLA; Mark Gaughan, the Buffalo News
If they get a QB, it won't be here. Everyone figures they're going to trade out of here at some point to move up because they have the juice in multiple picks in the first three rounds. The thinking is they have to get up into the window from picks two to five.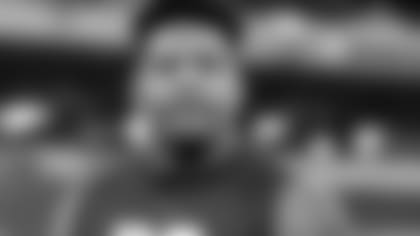 Marcus Davenport is a small-school guy with big-time grades.
13.  WASHINGTON – DE Marcus Davenport, Texas-San Antonio; Alex Marvez, Sirius NFL Radio and The Sporting News
They're paying Ryan Kerrigan oodles and Preston Smith is staring at free agency next year, so it sounds like pass rusher it must be. But keep an eye on running back. Jay Gruden and his people are supposedly in the market for a franchise back and may make a move if Barkley slips at all. If not, LSU's Derrius Guice has been moving up boards and could be a top 20 surprise.
14. PACKERS – CB Josh Jackson, Iowa; Bob McGinn, BobMgGinnfootball.com

You know it is serious when McGinn puts the phone down after hearing Davenport is gone.  And he's not looking at Green Bay's record 24-inch snowfall. After a look at his board, there's only one conclusion. It's not a deep group of corners but the Packers are up against it. Their No. 1, last year's second-rounder, Kevin King, is coming off shoulder surgery and on the other side Tramon Williams is 35 and Davon House turns 29 before training camp. 
15. CARDINALS – T Mike McGlinchey, Notre Dame; Darren Urban, azcardinals.com
They could go a bunch of ways here, but new head coach Steve Wilks keeps talking about offensive and defensive linemen. With Vea gone, McGlinchey makes sense. He's not a drop-dead high pick, but he's tough, relentless and fundamentally sound. The word is you can write him in at right tackle for the next 10 years. That would put old friend Andre Smith, penciled in as the starter, on the bench.
16. RAVENS – S Derwin James, Florida State; Jeff Zrebiec, The Baltimore Sun
The Ravens are looking for offense, but if one of the best athletes in the draft actually falls this far then James sends the Wizard of Oz (zie Newsome) out a winner in his last draft. Anyone who saw Bengals quarterback Andy Dalton knock them out of the playoffs with that two-minute death march capped off by his fourth-down 49-yard laser down the seam to wide receiver Tyler Boyd knows they need people that can cover. One first-round safety has busted, Matt Elam in 2013, and last year's four-year, $34 million deal for safety Tony Jefferson hasn't paid much. Eric Weddle is solid, but he's also 33 and probably in his last season with the club. So James is a nice surprise parting gift for the Wizard.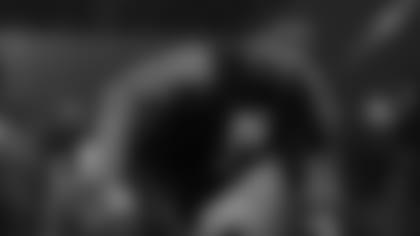 In last month's Media Mock Da'Ron Payne made it to the Bengals. Not in this one.
17. CHARGERS  _ DT Da'Ron Payne, Alabama; Dan Woike, The Los Angeles Times

They're looking at defense and there are four guys that just went in the last six picks they could grab. But in this scenario it is Payne, the 340-pound athletic tackle that is going to play right away. And after their first two picks from last year barely played because of injuries (wide receiver Mike Williams and guard Forrest Lamp), that would be nice. Tackle Corey Liuget and nose tackle Brandon Mebane have a combined 20 NFL seasons so time to young it up.
18. SEAHAWKS - RB Derrius Guice, LSU; Mike Sando, ESPN.com
Sando is sticking with the running back despite diving into a deep second look. It just looks to be too low for a pass rusher and too high for a safety to replace Earl Thomas.  A guard or tackle is a possibility, but they signed the massive D.J. Fluker in free agency to play guard and the injured George Fant is returning to play left tackle.
But they've got a Marshawn Lynch-sized hole at running back, where they had just one rushing TD last season. Chris Carson and Mike Davis got banged up and the backs that didn't, C.J. Prosise and J.D. McKissic, are role guys. Thomas Rawls is a Jet. Plus, with Brian Schottenheimer running the offense and Mike Solari his line coach, they'll be quite serious about running the ball, but they need a back to do it.
19. COWBOYS _ WR DJ Moore, Maryland; Todd Archer, ESPN Dallas.com

Lost in the swirl surrounding Dez Bryant's departure is that they need to replace him. Moore is a tough guy who makes contested catches and is also excellent after the catch. Is he a Garrett guy?
20. LIONS _ DT Maurice Hurst, Michigan; Tim Twentyman, Detroitlions.com

The Lions have to replace defensive coordinator Teryl Austin, now with the Bengals, and this pick acknowledges Austin got a lot out of that unit with having just one impact player in the front seven in edge man Ziggy Ansah. Hurst is a penetrator who gives them a nice complement with their two-gappers. No news is good news on his heart condition. He's reportedly been cleared by cardiologists and nothing has surfaced since.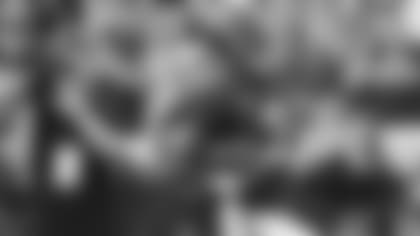 Calvin Ridley: The Slide21. BENGALS _ WR Calvin Ridley, Alabama; Geoff Hobson, Bengals.com
Don't get mad. Yes, they are stacked with young, unproven receivers. Take a deep breath. Right, they did take John Ross and all 17 of his snaps at No. 9 last year. But don't read Ridley's name in there.

Read, "The Slide." Ridley is symbolic of the dilemma they've probably been grappling with the last month. The Bengals are going to come face-to-face with their best-player-available philosophy and balancing it against need. So the discussion has to be had.
And it is doubtful Ridley is going to be here. Hard to see him getting past Dallas. And it's hard to see him getting that far as one of the few players in this draft that can make an impact for you right away.

But if it's not Ridley, it is quite possible there is going to a highly-graded player like him that falls. "The Slide." Especially if those fifth and sixth QBs happen to go.
How are those centers or guards or backers looking if a pass rusher like Davenport or a run stuffer like Vea is there?
That also means there is probably going to be some interest in teams trading up to 21 to get Ridley or "The Slide." The Bills would have grabbed Ridley with the next pick. The Bengals already have 11 picks, but that won't stop them from trading back.
How about the Patriots picking at 23 and 31? Bengals president Mike Brown and Patriots head coach Bill Belichick have made four trades and one of them was on the clock in the 2012 first round when the Pats traded up from 27 to, yes, 21. They may want to come up from 31, but it's probably not the best of matches this year. Both clubs are looking for tackles. Although Ridley did visit Foxboro this week.
But, if they're as hot for a QB as some people believe, 21 could be a spot for familiar trading partners. So, relax. It probably won't be Ridley. But they will have to have a discussion.

22. BILLS _ LB Leighton Vander Esch, Boise State; Mark Gaughan, The Buffalo News
The Bills don't figure to have this pick since everyone but them is saying they're going to go get a quarterback to put behind old friend AJ McCarron. But if they end up stuck there, linebacker looks to be the crying need. Middle linebacker Preston Brown, the NFL's leading tackler, is back him in Cincy and Lorenzo Alexander hits camp at age 35.

23. PATRIOTS _ LB Rashaan Evans, Alabama; Karen Guregian, The Boston Herald
Forget not putting cornerback Malcolm Butler out there in the Super Bowl. They covered 0.0 people in the middle of the field. Eagles tight end Zach Ertz had seven catches, one for a TD, so they can use an off-the-ball linebacker that can cover. You also may have heard Evans' head coach and the Pats' head coach know each other.

24. PANTHERS _ TE Hayden Hurst, South Carolina; Joe Person, The Charlotte Observer
Another big target for quarterback Cam Newton. Ed Dickson jetted off and reliable Greg Olsen just turned 33 and is now old and reliable.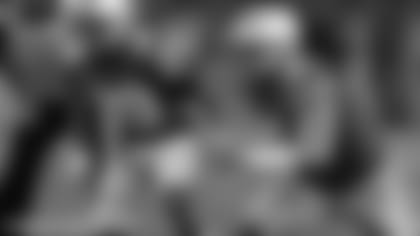 Sam Hubbard, a Cincinnati kid, heads south.


25. TITANS _ DE Sam Hubbard, Ohio State; Jason Wolf, The Tennessean
Wolf points out that Hubbard, the old Moeller High School lacrosse player that Ohio State head coach Urban Meyer found playing dodgeball, has the underdog traits Titans GM Jon Robinson seems to seek. Last year Robinson's first three picks had three college scholarships among them coming out of high school.
26. FALCONS _ G Isaiah Wynn, Georgia; D. Orlando Ledbetter, The Atlanta Journal-Constitution
Stay home and get a guy to protect the franchise in quarterback Matt Ryan.
27. SAINTS _ DE Harold Landry, Boston College; Larry Holder, The Times-Picayune
They need an edge guy to complement Cam Jordan. They did re-sign Alex Okafor, but he's coming off a ruptured Achilles'.
28. STEELERS _ S Justin Reid, Stanford; Gerry Dulac, The Pittsburgh Post-Gazette
The idea is to help the defense, particularly their linebacker corps without the ubiquitous Ryan Shazier this season. They signed Bears backer Jon Bostic but they're looking for some Shazier-like dynamism. This scenario doesn't help them with Vander Esch and Evans plucked. They signed Packers safety Morgan Burnett and 2016 second-rounder Sean Davis is a nice player. But they need defense and they won't reach. They play sub packages about 75 percent of the time, so Reid, with Stanford brains and AFC North physicality offers fresh legs for a secondary that no longer has vet safety Mike Mitchell.
29. JAGUARS _ C James Daniels, Iowa; Pete Prisco, CBS Sports.com
They gave Andrew Norwell the richest guard deal in the NFL on the left side, but that won't stop them from continuing to fortify the middle. They can interchange Daniels and right guard Brandon Linder. Daniels is extremely athletic for a man 6-3, 295 pounds. If he starts the opener, he'll be 20 years old since he doesn't turn 21 until Sept. 13.
30. VIKINGS _ DT Taven Bryan; Florida; Mark Craig, Star-Tribune
Old friend Mike Zimmer gladly takes a guy he probably didn't think was going to be there and puts him into a rotation that isn't particularly deep.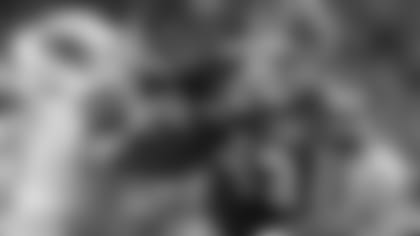 Vikings head coach Mike Zimmer gladly takes a top D-lineman in Taven Bryan at the bottom of the first.

31. PATRIOTS _ T Kolton Miller, UCLA; Karen Guregian, The Boston Herald
With left tackle Nate Solder defecting to the Giants, they've got to get a tackle at some point and it has to be here because, as the Bengals found out, there's not a lot this year.  They traded up to get Troy's Tony Garcia in the third round last year and he's like an extra pick because he missed all of his rookie year with a blood clot.
32. EAGLES _ TE Mike Gesicki, Penn State; Paul Domowitch, The Philadelphia Daily News

The estimable Brent Celek, who was their blocker, got released after 11 seasons out of Cincinnati. Trey Burton is a Bear, so they need a running mate for the Pro Bowler Ertz. And this guy is faster than Ertz (4.5) and can jump out of the building (41.5-inch vertical) and he can high-point it, but he's basically a wide receiver with no blocking background. 

*                                                          SECOND ROUND*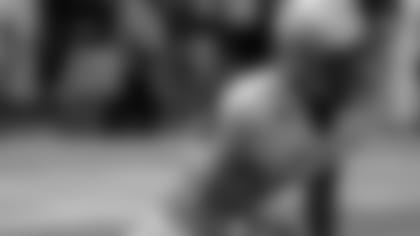 Mike Hughes goes  first in the second.

33. BROWNS _ CB Mike Hughes, Central Florida, Tony Grossi, ESPNCleveland.com
They're slowly re-building here in the post-Joe Haden era and are starting giving big money to T.J. Carrie and a one-year deal to the Bills' E.J. Gaines.
34. GIANTS _ G-T Connor Williams, Texas; Mike Eisen, Giants.com
There's some debate if Williams is a guard or tackle. No mind. With former No. 1 Ereck Flowers underachieving, this line needs help.
35.  BROWNS _ RB Kerryon Johnson, Auburn; Tony Grossi, ESPNCleveland.com
New GM John Dorsey isn't known for taking running backs high, but in Johnson he gets a good-sized guy (6-0, 212) that can run (4.45), is a proven receiver out of the backfield and is known for his toughness.
36. COLTS _ RB Sony Michel, Georgia; Stephen Holder, The Indianapolis Star
Marlon Mack is a home-run threat, but with Frank Gore gone and Robert Turbin and Christine Michael coming off banged-up years, they need a guy that is going to get the tough yardage.
37. COLTS _ LB Malik Jefferson, Texas; Stephen Holder, The Indianapolis Star
They have thumpers at backer, but they're changing to a 4-3 and they need guys that can run and cover. Jefferson moved from the middle to rover with the coaching change and flew around enough for 110 tackles and Big 12 Defensive Player of the Year.
38. BUCCANEERS _ RB Nick Chubb, Georgia; Roy Cummings, Florida Football Insiders.com
There is a crushing need for numbers with Doug Martin no longer the bell-cow and Peyton Barber with just 163 NFL carries.
39. BEARS _ C Frank Ragnow, Arkansas; Brad Biggs, The Chicago Tribune
They'd like to replicate the success they had in round two when they took Cody Whitehair in the second round out of Kansas State in 2016 and shore up the interior after they didn't pick up guard Josh Sitton's option.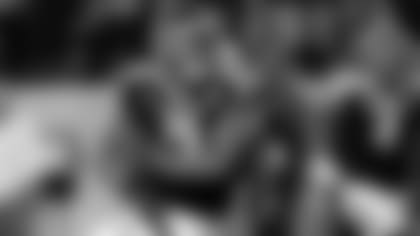 *                          Christian Kirk heads to Denver.*
40. BRONCOS _ WR Christian Kirk, Texas A&M; Mike Klis 9News
Suddenly, Demaryius Thomas is 30 and Emmanuel Sanders is 31. They're looking for a No. 3 receiver.

41. RAIDERS _ CB Jaire Alexander, Louisville; Scott Bair, NBC Sports Bay Area.com
Paulie G. would be loving this after finding a desert in the secondary. Bair speculates he can now put first-round pick Minkah Fitzpatrick at safety and team Alexander with last year's first-rounder Gareon Conley
42. DOLPHINS _ TE Dallas Goedert, South Dakota State; Armando Salguero, The Miami Herald
Three years of no tight end play. Anthony Fasano is a 34-year-old free agent and they cut Julius Thomas.

43. PATRIOTS _ QB Mason Rudolph, Oklahoma State; Karen Guregian, The Boston Herald
44. WASHINGTON _ RB Ronald Jones II, USC; Alex Marvez, Sirius NFL Radio and The Sporting News
Chris Thompson had 804 all-purpose yards in ten games before he broke his leg. The starter, Rob Kelley, underachieved on 3.1 yards per carry before he hurt his knee in the middle of the season and was one of their five backs ending up on injured reserve.
45. PACKERS _ CB Donte Jackson, LSU; Bob McGinn, BobMcGinnFootball.com
McGinn remembers when the Packers went 1-2-3 at corner in the 1999 draft: Antuan Edwards, Fred Vinson, Mike McKenzie. They're two-thirds of the way there. He figures they can put Jackson in the slot right away.
On guard for Bengals.

46. BENGALS _ G Will Hernandez, UTEP; Geoff Hobson, Bengals.com
Talk about a slide. This is a guy being talked about late in the first round and early in the second. It's simply not likely. What throws off this mock is there are five running backs and three tight ends gone before the Bengals pick here. That's hard to see in the real world.

But let's play it out and take a look at the universe of players available here. Or, as Marvin Lewis likes to call it, "The Bullpen."
OK, Hernandez isn't a center but he's a no-brainer here. They've got to get better running the ball. That has to be an emphasis and some have the 6-3, 340-pound Hernandez as the best run blocker in the draft. Perfect. He played defense in high school and reportedly plays the position with the same type of fiery mentality. That would fit in with what new offensive line coach Frank Pollack is all about. In this first week of off-season workouts the linemen have been talking about his intensity.
The glaring guy here is Ohio State center Billy Price, a guy they love but who also hurt himself at the combine. He supposedly is going to be ready for the start of training camp after surgery for a torn pectoral muscle. But do they go that way again after they drafted Cedric Ogbuehi and John Ross in the last three years even though they were coming off surgeries and haven't received many dividends yet?

Plus, just going off Duke Tobin-Marvin Lewis player personnel-coach history, the highest they've ever selected a center is in the fourth round. And the club hasn't taken one in the first or second rounds in 35 years when they went Dave Rimington in the first.

Other guys available on the board, according to the rankings of Scouts, Inc., that could help them are a pair of tackles in Oklahoma's Orlando Brown (his tape is better than his combine) and Oregon's Tyrell Crosby. There's also a pair of intriguing outside linebackers in Lorenzo Carter (they love Georgia guys) and USC's Uchenna Nwuso, but they'd have to figure out if they're cover guys or rush guys or both.
USC defensive end Rasheen Green doesn't seem to be their kind of guy (he's only 6-4) because he's raw and the folks at nfldraftscout.com aren't enamored of his game tape. But they say he's got potential to be a Cam Jordan type.  Alabama safety Ronnie Harrison isn't the pure center-field type they'd like to grab some interceptions. But he's got the instincts you want as a high school quarterback, has played both safety spots (always a plus for Lewis) and a guy that has no fear hitting you. He's being compared to the man he replaced at 'Bama, Landon Collins, and he's turning into a fine pro.

With two picks in the third round, there are still centers and tackles on both sides of the ball, and backers available.