BENGALS DEFENSE VS. CARDINALS QB KYLER MURRAY
It's been less than a year since the NFL's overall No. 1 pick came into Paul Brown Stadium and on Sunday (1 p.m.-Cincinnati's Channel 19) the Bengals are determined not to let Murray do what Cleveland's Baker Mayfield did to a defense that is playing better than that one.
Not what they want. But better. Not what they think they can be or need to be as the season progresses. But better. After four games, first-year defensive coordinator Lou Anarumo is looking at some key categories where the Bengals are middle of the pack instead of scraping bottom.
They're 14th in third-down efficiency. They have the 13th best touchdown percentage in the red zone. They've got as many or more turnovers than 14 teams. They are 17th in yards per rush.
"At the end of the day we've got to win. It's about winning," Anarumo says. "But to show progress to the players from where they're coming from to where they are, I think there (were) about six or seven critical statistics where we're right in the middle of the pack.
"(Third down) is huge. And yards per attempt in the rushing game," he says. "Not where you want to be. Our goal is to be in the top five, top 10 in everything as you work toward things. But there is some progress there and the guys need to feel it as they're doing it. We need to play better. That's obvious in certain areas. But there's some progress being made."
First things first with the first. The 5-10, 207-pound Murray has made a big impact on the Bengals.
Middle linebacker Preston Brown: "He's got a crazy arm. Falling down and he's throwing it 40 yards. He's a different kind of guy. You can't see him. He just pops out and then he's gone."
SAM linebacker Nick Vigil: "He throws it as well as anyone in the league. The guy played minor-league baseball. He's got a cannon."
Think Russell Wilson, Anarumo says. One of those dual threat baseball guys that drives you absolutely bonkers. In fact, if you want to get an idea how they're going to defend Murray, go back and look at how they dealt with Wilson in the opener.
They held him to 195 yards passing and eight yards rushing in holding Seattle to three touchdowns. They really just want one play back. The 25-yard wedge as he ran away from trouble.
"I don't think he scrambled by one play, (but) the floater over the middle," Anarumo says. "You've got to have great discipline in the rush lanes, similar to what we did up at Seattle. We had the same plan in that regard, keep him in the pocket the best we can. That's the plan. And certainly handle the zone read stuff that he does so well. 
"He's like Russell. Those guys give ground to gain ground, so he'll retreat and then kind of circle left or right to get back up the field. We're certainly going to have a plan for that and also he's had some balls batted down because again he doesn't have great height. We'll be ready for that hopefully and get some of those and we'll see."
For the last couple of years the Bengals have struggled defending the zone read and this year they've been trying to come to terms with mis-direction that has damaged them on the perimeter. Just Monday night the Steelers put it all together to kill them softly with a bunch of Wild Cat formations that featured fakes and motions.
They didn't bowl over the Bengals. Anarumo boiled down those flips that count as passes but are really runs for 56 yards on eight of them. But it did enough to keep the chains moving. As Brown says, "They kept coming out in it because we didn't do enough to stop them from coming out in it."
Cardinals first-year head coach Kliff Kingsbury, offensive guru, no doubt noticed. With Murray throwing the second most passes by anybody in their first four games (only Andrew Luck, another No. 1, beats him), the Cardinals are fourth worst in allowing sacks per pass so the Bengals wouldn't be surprised if they get a dose of what the Steelers gave them to keep their pass rush blanked against a quarterback making his second NFL start.
Now they get a guy making his fifth NFL start who has rushed for 96 yards and a TD in the last two games. Brown also has his eyes on Cardinals versatile running back David Johnson and quicksilver rookie wide receiver Andy Isabella as Murray lines up the zone read.
"(Murray) does a great seeing those spread formations," Brown says. "He's one of the best to do it. They've got one of the best running backs to honor it and when he pulls that ball he's got those little legs going and when he turns the corner, he's out of there.
"We'll get the Wild Cat, too, with David Johnson and the little fast guy from Massachusetts (Isabella) that runs 4.3. They'll do the same stuff we just saw."
Brown says it's all in the eyes. The offense tries to slow down your eyes before hitting you with speed. He compares it to his college days at Louisville playing the great Tavon Austin.
"You've got guys that read different positions. Running backs. Tight ends. Receivers. They've got these guards with false keys, especially against Arizona," Brown says. "
They're pulling them one way and go back the other way. Just to get your eyes going, or fake a flip and they'll do a shovel pass … It's option football … It's like playing West Virginia with Tavon Austin coming in motion with the little push pass and then doing the zone read off of it. They're getting after your eyes to slow you down, but they have the fast guys running already."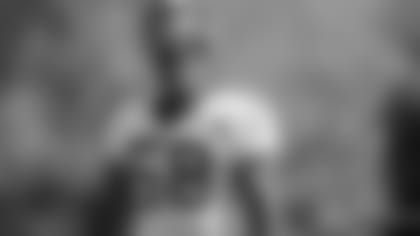 Vigil is talking about being sound. He called himself out after the game Monday night for missing some tackles, but they did hold the Steelers to 2.6 yards rushing.
"(Murray) has good pocket awareness and he can escape and he knows when to get down. We've got to keep him in there," Vigil says. "With a quarterback like that, you have to read keys and play fast. We may have some guys looking around, but once we get in a rhythm we'll be OK."
The elephant in the room is the big pass play they've given up in each game. A play where no one is near the receiver downfield in clear blown coverages. They've been killers. The Bengals have allowed four balls of at least 40 yards. Murray and his launcher have thrown four of 40.
"I think we've played overall good football," Vigil says. "But we can't keep giving up the big play. We have to eliminate it."
Anarumo says some of the miscommunication can be tied to playing a new scheme. But only a little bit.
"No excuses. It's the fifth game of the year and there can be no 'I thought, he thought,'" Anarumo said. "We have to get our guys and cover them and do our job.
"The best teams in the league will have (fewer than) five 40-yard passes in a season. And I've been a part of that. That's what you've got to do. We're giving up too many. … We've had a couple situations where we could have played things better in zone situations. And then we've had some trouble losing our guy for whatever reason. Can't happen."
That's been another theme Anarumo and the vets are pushing. Overall, the numbers show they're playing well enough to win. But they can't play well for just 50 of 55 snaps. The big play is killing them.
"To me the two biggest stats are points scored and turnovers," Brown says. "I don't care how many yards you get. Hold them to nine points instead of 21, that's what you have to do."
That's pretty much Sunday's challenge. Prevent the league's latest playmaker from making a big one.