Talk about a tough week at the office.
On Monday, on your biggest job of the week, security gets lax and you end up on your back eight times during the shift. Then a couple of days later they take away one of your top assistants. You've already been without your co-partner for months and now they're sending you out on another assignment with less than a week to prepare.
"It's how this game works," said Bengals quarterback Andy Dalton on Wednesday, standing where he always does and facing the music. "You just have to keep preparing the way you always do and you have to keep the same mindset that you are going to do everything you can to win the next one."
Give Dalton this in his ninth season as the franchise quarterback. You can't tell if he's 50-25-1, like he was for his career the day he broke his thumb bringing down Steelers defensive lineman Stephon Tuitt after an interception to end his 2015 season. Or if he's 18-28-1, which is what he's working on ever since after dropping to 0-4 for the first time in his career.
Oh, you can see the frustration. On Monday night he fired his helmet a few times. He shook his head angrily in some low moments. But on Wednesday he was back to impenetrable getting ready for the Cardinals Sunday (1 p.m.-Cincinnati's Channel 19) at Paul Brown Stadium. It was Wednesday. That meant he took the questions and didn't flee to the training room.
"I think that's what Andy brings to the table. The right mindset," said running back Giovani Bernard, his fellow captain. "He's a captain for a reason. He comes in here and works hard no matter what else is happening. He's ready to work."
And that means Dalton is taking some of the blame, too, as they try to re-capture what they had in that first half of the opener in Seattle, when they got the ball out of his hand faster than anyone in the league while racking up 17 points on 69-percent passing, 9.4 yards per throw and getting sacked once. In the 14 quarters since, they've got 40 points and he's completing 60 percent of his passes at 6.5 yards per while getting sacked 18 times.
"I think everybody has to do their job," Dalton said. "For me, I got to go through my progressions and get the ball out of my hands when it needs to be out and then (the offensive linemen) have to block their guy. That's all it comes down to."
Or as head coach Zac Taylor putting on his play-calling hat said, "I didn't do a good enough job with the calls that would give us the best opportunity. Once they got the lead, they had some good (pass) rush, and they put some pressure on us."
Translation: If there was ever a time to get the running game going, this is it. Their best player and wide receiver A.J. Green's return may not come for two more weeks at The Paul against Jacksonville. They just lost for the next six to eight games their fastest wide receiver, John Ross, author of two of their longest plays of the season.
It's a devastating injury for Ross, just beginning to realize his potential percolating since they took him with the ninth pick in the 2017 draft. That year was wiped out by injury and various ailments impeded him enough in 2018 to hold him to 21 catches for 210 yards.
But now his 328 yards (top ten in the league) and his game-changing speed are gone with a sternoclavicular joint injury.
That takes away Dalton's two fastest guys, although wide receivers coach Bob Bicknell knows his two best slot receivers, Tyler Boyd and Alex Erickson, have some danger. Boyd is a 1,000-yard guy with a 47-yard catch this season and Erickson has an AFC kick return title on his resume.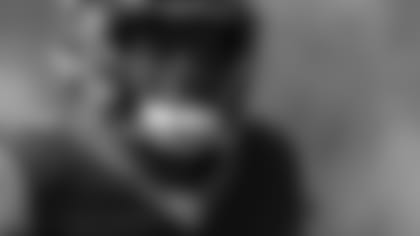 "Me," said Bicknell, the former Boston College tight end, with a laugh when asked to name his fastest guy. "Alex. And Tyler Boyd is plenty fast. And Auden Tate, from a 20-yard area, is probably as fast as anybody because he's explosive and he's got quickness. Alex is a fast kid, too. He was second in kick returns (yards) last year … I don't think of it as we're deficient there. It's just a little different than John is. But John is different than anybody in the league."
That leaves their current best player, running back Joe Mixon, at the head of a running game on pace to have the fewest carries since the merger and a wide receiving corps that has three players with 15 or fewer NFL catches. With the promotion of Stanley Morgan, Jr., he joins fellow undrafted rookie Damion Willis, Tate, Erickson and Boyd as Dalton's five guys on Sunday.
That's a total of 243 NFL catches and 11 TDs, 179 and 10, respectively by Boyd. But Dalton has been there before. He won his first NFL start with a crew that went into the game with 191 catches and 12 TDs.
With Green out in 2016, Dalton went into the season's final five games with three rookie receivers (Boyd, Erickson and Cody Core) and a second-year receiver with 14 catches (James Wright) teamed with veteran Brandon LaFell and they went 3-2.
They're banking on Taylor's interchangeable offense to help get them through since all receivers are taught every position. Bicknell loves Erickson because of that versatility. He is now the receiver with the second most career catches to Boyd (44) and Bicknell points to a game this season he played 12 snaps in all three spots with four catches. How they use him is one of the questions of the week since he's not only their top kick and punt returner, but basically their only one with Darius Phillips out.
"I think with the guys that we have here they understand all the different positions," Dalton said. "You have to in this offense. You can't just be able to play one spot. You have to understand the full concept of what we're doing."
The massive 6-5, 228-pound Tate, a second-year seventh-rounder, has 11 catches this season, 15 in his career and Dalton is showing plenty of confidence in him because he looks for him in the red zone. It's just that everyone's development now has to come at warp speed.
"I looked at him as a really good player that's a rookie that is probably our fifth receiver at the time, maybe fourth or fifth receiver," Bicknell said. "You would love to spend a year to try to get them better. This year Tate's progression (is) even more. He's obviously doing a lot more things. And then next year you think, wow, what a group we could have if everybody progresses. The unfortunate part is when you lose A.J. -- anybody in this league, once you lose a guy like that everybody's got to step up and their time's got to go a lot quicker than you were hoping."
Taylor, Nebraska's single-season touchdown passing leader, has been a big fan of Morgan, Nebraska's single-season receiving leader, ever since the 6-0, 205-pound Morgan arrived in camp and he's got fans all over the place for his hard-nosed play.
"Physicality, toughness," Tate said of what Morgan brings. "He doesn't back down from anybody. He's not the biggest type of person, but he plays huge. He plays big. He plays with fire. I was surprised when I first saw him. A lot of fire."
Bicknell loves these guys. On Wednesday he again tipped his hat to scouts Steven Radicevic and Mike Potts for finding Willis, Morgan and Ventell Bryant, picked up by Dallas after the Bengals released him.
But nobody thought they'd be asked to produce so soon. It got Bicknell thinking back to his days coaching the Eagles wide receivers in 2013 with DeSean Jackson and Jeremy Maclin and how eye-popping it was. But suddenly Maclin was done for the year in the preseason and Riley Cooper, who had 23 catches the year before, doubled that.
It's like Willis. He's gone from Opening Day starter with 67 snaps to no snaps two weeks later and then 24 on Monday night with one catch since the opener. A rookie's process.
"It was a little bit of different style of who we're playing and what we're doing," Bicknell said of the moves. "So then Auden went in at Z, which is a different position and did some things and moved John around. We kind of do that. It's the way the games go. There's games where we can have - I look at this all the time, how many plays guys got, and I feel badly they didn't play enough.
"Well we didn't get enough plays in a row in that last game to move him out. In the Buffalo game, it was the same in the first half. Second half all those guys started getting in. Hopefully as we move the ball more, we can get them in there a little more."