Every Cincinnati school kid knows the last time wide receiver Larry Fitzgerald and his Cardinals came to Paul Brown Stadium, little-known Bengals wide receiver Jerome Simpson upstaged the Hall-of-Famer at the end of a 19-yard touchdown catch that put the Bengals in the playoffs and quarterback Andy Dalton in the rookie record book on Christmas Eve of 2011.
"I was young as hell. I remember that," said running back Joe Mixon before Thursday's practice. "So you're saying I have to flip?"
No, but they could use a big game from Mixon against Arizona's No. 31 defense that has surrendered three 100-yard rushers already. He doesn't need to flip the Cards. The 6-1 Simpson took care of that with an all-timer.
After taking a short pass from Dalton on a shallow route over the middle, Simpson had clear sailing down the left sideline until the Cards one-yard-line. There stood 6-2 linebacker Daryl Washington. Simpson promptly leaped and somersaulted over Washington and then took the air out of the place when he ended up standing in the end zone, killing the landing to give the Bengals a 17-0 lead over Arizona when Mike Nugent added the PAT with 2:46 left in the first half.
"The Russian judge gave it a 10.0. He nailed the landing," exclaimed Bengals radio analyst Dave Lapham while play-by-man Dan Hoard marveled at the "Superman style" of the vault.
Current Bengals wide receiver Alex Erickson, home on Christmas break during his freshman year at the University of Wisconsin, thinks he saw the replay that night. He also thinks nine years later it's a teachable moment for the band of young wide receivers he and Tyler Boyd lead against the Cards. Three of them have a combined 19 NFL catches, and two of them, undrafted rookies Damion Willis and Stanley Morgan, Jr., are pressed into service because of injuries to starters A.J. Green and John Ross.
"I'm sure he was in a similar situation we're in," Erickson said before Thursday's practice. Probably some guys got hurt. Talking to the young guys, we're all on roster for a reason. We all have ability. We all have talent that the coaching staff believes in. Obviously they wouldn't put us out there if they didn't believe in us."
Erickson, an undrafted rookie in 2016 who played when Green got hurt and has emerged as one of their most reliable receivers, had some advice for these kids.
"No one knows as a group who we are," Erickson said. "No one can replace A.J. Green. But they don't have to do anything supernatural. Don't do anything out of character for your ability. Just be yourself. Just go out there and execute. As a player, all you want is an opportunity. It sucks it happened because of injury, but that's the nature of the business."
Erickson still keeps seeing, " The Flip," on various clips and when he got to the Bengals the starting wide receiver opposite Simpson that Christmas Eve, the rookie Green, filled in Erickson on how athletic he was.
"That was a really cool play. That play will stand in the highlight reels forever, I think. A.J. told us all about him," Erickson said. "That might have been supernatural. But he wouldn't have had a chance to show his athleticism without the opportunities and he made the most of them."
Erickson nailed it, although Simpson wasn't undrafted. He was at the other end of the spectrum, known as an underachieving second-rounder from the 2008 draft. But he also never really got a shot until late in his third season. When Chad Johnson and Terrell Owens bowed out late in 2010 with injuries, Simpson took off with 20 catches for three TDs after getting just one catch in his first two years. That outburst convinced them that they could pair him with Green the next season, when he caught 50 balls for a play-off team.
Including "The Flip." That turned out to be Dalton's 20th touchdown pass as the Bengals moved to 9-6, making him the first rookie quarterback in history to throw 20 touchdown passes for a play-off team
"Who won?" wondered Mixon, who asked the right question.
INJURY UPDATE: Just when the Bengals get all their defensive linemen back on Wednesday, left end Carlos Dunlap (knee) surfaced on Thursday's injury report and didn't practice. Same with defensive lineman Kerry Wynn (concussion), who has missed the last two games. He was marked full go Wednesday but was back on the rehab field Thursday. Safety Shawn Williams (knee) was marked as limited.
The rehab field teemed with positive signs. Green (ankle) made a vintage one-handed pluck of the ball as he ran through ropes. Rookie left tackle Jonah Williams (shoulder) went through agility drills. And cornerback Darqueze Dennard (knee) is wearing shoulder pads with his No. 21 and is looking good jogging 100 yards several times.
Williams and Dennard are on the physically unable to perform list (PUP) and are eligible to start practicing Monday, Oct. 14, after Week Six. Dennard is ahead of Williams, a guy they hope is ready for the final month. There are three injured reserve players eligible to return after the eighth week: Ross, cornerback Darius Phillips (knee) and rookie offensive lineman O'Shea Dugas (knee). Only Dugas was on the rehab field.
Not on the field was left tackle Cordy Glenn, in his second month of concussion protocol. Glenn returned to practice last week, but hasn't been out there this week because he's been getting checked by an independent neurologist. Head coach Zac Taylor said after Thursday's practice that there has been no regression and that he still expects Glenn to play some time soon.
TYLER's TAKE: Without Green and Ross, wide receiver Tyler Boyd is going to get doubled and tripled. When Green went down for the last seven games of 2016, Boyd was that second-round rookie who took advantage with 54 catches. The only guys who had more catches as a Bengals rookie in the last 38 years are Green and Cris Collinsworth.
 "Once you start going out and playing more and more as a younger guy, you start to get a feel," Boyd said. "You start to play more relaxed. You start not to overthink it a little. You may forget the play or who you're blocking, but the more you play and get the reps the more it's going to come to you."
Here's Boyd's scouting reports on the rookies Willis and Morgan: "I like Morgan. He's just a dog. Hard-nosed football player. Dame is a smart guy. Really polished. He always knows what he's doing at all times even though he's a young guy. He's a guy that's not going to do too much. He's going to do what he's told."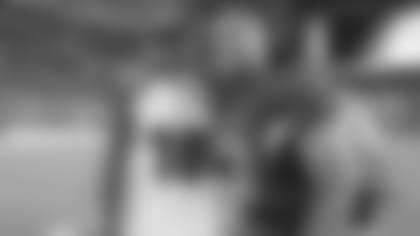 BOYD AND LARRY: Boyd is the University of Pittsburgh's all-time leading receiver, but he's the guy that's going to be asking for Fitzgerald's jersey on Sunday. Boyd played three seasons at Pitt and Fitzgerald two before the Cards took him with the third pick in the 2004 draft. He's still rolling with 1,326 catches, more than anyone but Jerry Rice. But that's not why Boyd would like Larry's No. 11. Boyd, a Pittsburgh native, doesn't know him well, but he talked to him a few times when Fitzgerald visited Pitt during Boyd's college career and recalled that he gave out good advice.
"I watched him growing up. He's one of the greatest receivers I've ever seen," Boyd said. "When Pitt was recruiting me, that's one of the reasons I was intrigued. Because he played there."