Ohio State running back Ezekiel Elliott is available in our Mock. Do the Bengals take him?
If Marty Brennaman and the Reds have wafted into your eardrums in the last week, that can mean only one thing. The first edition of the 2016 Bengals.com Media Mock Draft.
Our panelists, culled from national and local newspapers and web sites, mock us down to the 24th pick and give us an idea of the universe that is going to be left for the Bengals to explore.
Keep in mind, many of these picks, and that may very well include the Bengals at No. 24, are going to change with the ebb and flow of free agency that begins next week.
1.TITANS: Jim Wyatt, Titans.com; CB-S Jalen Ramsey, Florida State.
They've already got their quarterback so they'd probably love to move back with a trade. A slew of national analysts have the Titans taking Ole Miss tackle Laremy Tunsil, but Wyatt isn't so sure because he believes they like Taylor Lewan where he is and that defensive coordinator Dick LeBeau wants a Troy Polamalu type to lead his defense from the secondary. Stay tuned.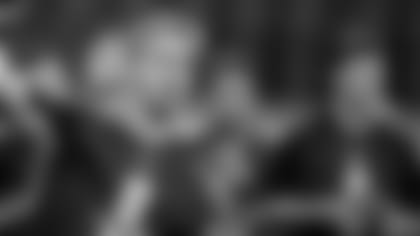 Is Jared Goff Hue Jackson's Carson Palmer?
2.BROWNS: Tony Grossi, ESPNCleveland.com: QB Jared Goff, California.
The Hue Jackson era in Cleveland, like the Marvin Lewis Era in Cincinnati, stakes its future on the first draft pick of the new regime.
There is a sense that the coaches like Goff because of his size (yes, Donald, his hands are big enough), and his college competition. Pep Hamilton, Jackson's top offensive assistant, recruited him at Stanford, so, at the moment, the coaches know more about him and seem to have the edge over the analytics people at this point.
3.CHARGERS: Michael Gehlken, The San Diego Union-Tribune; OT Laremy Tunsil, Ole Miss.
They'll listen to trade offers, they could take a look at North Dakota State quarterback Carson Wentz, and free agency is going to finalize it for them. But they have so many needs the best call is taking the best player available and Tunsil helps an offensive line that for the last two years rushed it for a 3.5-yard average in 2014 and 3.4 in 2015.
4.COWBOYS: Todd Archer, ESPNDallas.com; DE Joey Bosa, Ohio State.
They'll think about Wentz, but they need somebody that rushes the passer right now. The fallout from the one-year Greg Hardy experiment blanketed massive JerryWorld and Hardy looks on the way out. Plus, Randy Gregory is suspended for four games and DeMarcus Lawrence is coming off back surgery.
5.JAGUARS: Vito Stellino, The Florida Times-Union; DE DeForest Buckner, Oregon.
They want Bosa or Ramsey, so this is an arrow. But they really need pass rushers.
With foes posting a 97.2 passer rating against them while the Jags had just 36 sacks that were tied for ninth fewest in the league, upgrading pressure on the passer is a priority.
Ronnie Stanley is a fit to protect the rehabbing Joe Flacco.
6.RAVENS: Jeff Zrebiec, The Baltimore Sun; OT Ronnie Stanley, Notre Dame.
With quarterback Joe Flacco coming off ACL surgery, they must protect him better than they have. And with guard-tackle Kelechi Osemele looking like he's moving on, they need linemen to protect their franchise. 7.49ERS: Matt Maiocco, CSNBayArea.com: LB Myles Jack, UCLA.
While Chip Kelly's offense is ripping off so many plays per game, they view this as a nice chess piece on defense because of his versatility. They can team him up inside in the 3-4 with the now healthy NaVorro Bowman as they try to get back to the suffocating sideline-to-sideline presence Bowman had with Patrick Willis.
8.DOLPHINS: Chris Perkins, The Fort Lauderdale Sun-Sentinel; CB Vernon Hargreaves III, Florida.
If former Bengals secondary coach Vance Joseph, now the Dolphins defensive coordinator, doesn't pluck Adam Jones in free agency, they're going to need a guy opposite Brent Grimes on the other corner. Plus, they still need a nickel after coming up empty on their last four drafted corners and Hargreaves gives them one of the two.
Jamar Taylor, a second-round pick in 2013, and Will Davis, a third-round pick in 2013, didn't pan out, and the jury is still out on a pair of fifth-rounders from last year, Tony Lippett and Bobby McCain.
9.BUCCANEERS: Roy Cummings, The Tampa Tribune; DE/OLB Noah Spence, Eastern Kentucky.
They think he could be the next Von Miller despite the baggage of failed drug tests and an arrest. When Bucs General Manager Jason Licht worked in Arizona, the Cards took a third-round risk on a guy with whom you may be familiar. Safety Tyrann Mathieu has worked out spectacularly. But, of course, the ninth pick in the draft is a lot different than the 69th pick.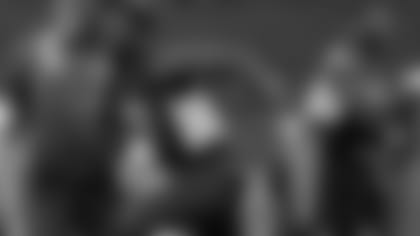 The Football Shaq rounds out our top ten.
10.GIANTS: Mike Eisen, Giants.com; DE Shaq Lawson, Clemson.
Giants GM Jerry Reese loves pass rushers and he's running out of them even if Jason Pierre-Paul gets back to where he was.
And JPP was pretty effective last year when he came back from the accident that injured his hand so badly. He underwent surgery so he'll be able to wear a glove instead of a club, but he's a free agent.
11.BEARS: Brad Biggs, The Chicago Tribune; DT A'Shawn Robinson, Alabama.
The Bears could pick anyone on defense and upgrade any level of the unit. They're looking at six new starters on that side of the ball and possibly eight.
They could look at a quarterback, but it looks like there may not be one there with a high enough grade to warrant the pick. And the lack of defensive playmakers is glaring. They had the third fewest interceptions in the league last year along with the eighth fewest sacks.
12.SAINTS: Katherine Terrell, The Times-Picayune; DT Sheldon Rankins, Louisville.
Talk about no push up front. New Orleans was tied for the sixth fewest sacks in the NFL while opposing QBs lit them up for a league-high 116.2 passer rating.
13.EAGLES: Les Bowen, The Philadelphia Daily News; QB Carson Wentz, North Dakota State.
This is purely a house-keeping move. No one expects Wentz to be here, but the Eagles would grab him if he was. The guy they really want is Stanley. They'd probably prefer to trade back since they don't have a second-round pick.
14.RAIDERS: John Clayton, ESPN.com; DE Emmanuel Ogbah, Oklahoma State.
The Raiders looked to be coming on with their pressure as Khalil Mack outfoxed the sophomore jinx with 15 sacks. But Justin Tuck retired and Mario Edwards Jr., ended his fine rookie season with a neck injury that has the club concerned.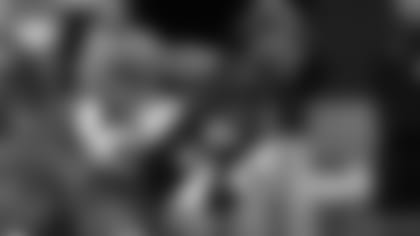 The first WR doesn't come off the board until No. 15.
15.RAMS: Jim Thomas, The St. Louis Post-Dispatch; Laquon Treadwell, Ole Miss.
The Rams have moved to Los Angeles, but Thomas remains blanketed on the moving van.
They could go defense here with a bunch of guys headed to free agency, like cornerback Janoris Jenkins, linebacker Mark Barron, and defensive lineman William Hayes. But it's a little high for a corner here and this is where the value meets the need. They just haven't had an outside threat. In head coach Jeff Fisher's first three seasons they drafted four wide receivers and only Tavon Austin has panned out.
16.LIONS: Mike O'Hara, Lions.com; DT Jarran Reed, Alabama.
This pick is wide open. They need an offensive tackle and with Ohio State running back Ezekiel Elliott still looming, now is a good time to remember the Lions have five backs on their club with a combined 793 NFL yards.
But they also need ballast in the middle, where Haloti Ngata and Tyrunn Walker are free agents and where they gave up the league's second most rushing touchdowns with 18.
17.FALCONS: D. Orlando Ledbetter, The Atlanta Journal-Constitution; LB Darron Lee, Ohio State.
Atlanta needs backers that can run after a bunch of moves haven't worked out, starting with 2010 first-rounder Sean Weatherspoon and recent free agents like Joplo Bartu and Justin Durant.
Back-to-back Buckeyes with tackle Taylor Decker (above) going right behind linebacker Darron Lee.
18.COLTS: Mike Chappell, FOX59.com; OT Taylor Decker, Ohio State.
The numbers are pretty easy on this one. Quarterback Andrew Luck has been sacked 115 times in 55 games and the Colts line has allowed 450 QB hits since 2012, most in the NFL.
19.BILLS: Vic Carucci, The Buffalo News; DT Robert Nkemdiche, Ole Miss.
They'd love to get Lawson here since head coach Rex Ryan loves players from Clemson, where his son has played. Or Rankins as Ryan tries to find ends for what sounds like a more conventional 3-4 with veteran Kyle Williams coming back from a serious knee injury at age 33.
But even though Nkemdiche has all sorts of problems off the field, the Bills proved in last year's draft they could work with players that have troubled pasts in cornerback Ronald Darby and running back Carlos Williams.
20.JETS: Rich Cimini, ESPN New York; LB Reggie Ragland, Alabama.
At this point everyone is getting their heads turned with Elliott still on the board. But Todd Bowles needs an inside backer and outside backer with insider David Harris the only proven backer under contract.
They can team Ragland in the inside with Harris and mentor him to take over Harris' role as defensive signal caller.
21.WASHINGTON: Mike Jones, The Washington Post; CB Mackensie Alexander, Clemson.
Jay Gruden needs help on the defensive line, but a deep draft there should get him someone in the second round. They really need help at corner, where Chris Culliver is coming off his second ACL tear. That would team Alexander opposite fellow Clemson corner Bashaud Breeland.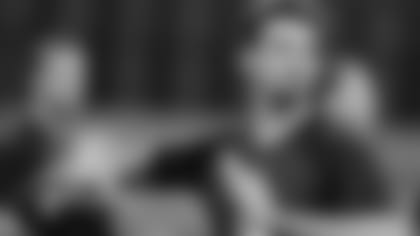 Paxton Lynch is the third QB off the board.
22.TEXANS: John McClain, The Houston Chronicle; QB Paxton Lynch, Memphis.
Everyone is hooking up Houston coach Bill O'Brien with his old QB at Penn State, Christian Hackenberg, but Lynch is rated higher on most boards and the Texans can't wait around. 23.VIKINGS: Chris Tomasson, St. Paul Pioneer Press; OT Jack Conklin, Michigan State.
Mike Zimmer has said he'll do whatever it takes to re-build his offensive line, which is Minnesota's biggest weakness. Zimmer has never been one to wait simmer on a solution, so moving on from both tackles, Matt Kalil on the left and Phil Loadholt on the right, appears to be on the table.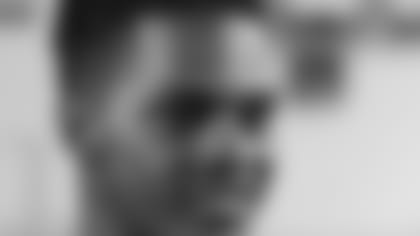 Buckeyes safety Vonn Bell. The look of a future Bengal?
24.BENGALS: S Vonn Bell, Ohio State.
Call this the Buckeye Slot, a tempting spot for a franchise that has had 27 Ohio State players on its roster down through the years. Florida, with just 18 is, a distant second on the alumni list.
They'll have to think about Elliott simply because, at this point, he's the best player on the board, a real difference-maker. But, in the end, they probably won't do it because they've got more pressing needs and while running back Jeremy Hill is coming off a disappointing season, he and Giovani Bernard are still one of the more formidable tandems in the league.
Like we said, this pick is going to depend on who leaves and who stays in free agency, so Ohio State wide receiver Michael Thomas and Buckeyes cornerback Eli Apple could be in the mix, too.
The 6-3, 210-pound Thomas isn't a burner, but he's big, has good hands, and the gurus says he's a reliable route guy who led the national champs in receiving. The 6-1, 200-pound Apple looks to have the physical specs of the press guys the Bengals love, but one of his knocks from the gurus is he's too physical and is going to get flagged at this level for playing too hands-on.
So now we come to the 5-11, 205-pound Bell. OSU coach Urban Meyer says he's a good as any safety he's ever had and draws high grades in coverage. He's not a big hitter, but he rarely got burned playing in single-high looks, according to the gurus, and they compare him to Cleveland's opportunistic Tashaun Gipson.
Gipson is hitting the free-agent market with 14 interceptions and 23 passes defensed in his first four seasons. Pretty solid production. The Bengals are hoping to re-sign both their starting safeties in Reggie Nelson and George Iloka. So this will have to play out.