Bengals left tackle Andrew Whitworth has a few questions this week.
Can you talk about our depth at linebacker and the primary positions each play - Sam/Mike/Will. Pundits have us grabbing a LB in the first two rounds so I'm curious to see who would make the team if we did draft early for LB. Eric Kendrick's and Shaq Thompson would look nice in stripes if we traded down in the 1st. Beau Christopher, Los Angeles, CA
BEAU: No. 21 is a pretty tricky spot to trade down. In most drafts there are about 20 or so legit first-round players and if you're not careful you'll trade yourself out of a top guy. The Bengals traded down from No. 21 in 2012 to No. 27 for right guard Kevin Zeitler, but that was when they had two first-round picks and had already taken Alabama cornerback Dre Kirkpatrick at No. 17.
Head coach Marvin Lewis is fond of saying a linebacker is a linebacker, which means they have to play all three spots, particularly the backups. At the moment the starters are middle linebacker Rey Maualuga, SAM Emmanuel Lamur and WILL Vontaze Burfict.
The first guy off the bench is A.J. Hawk, a guy that can play both SAM and WILL and is the insurance if Burfict struggles coming back from micro-fracture knee surgery. Vincent Rey is Maualuga's primary backup, but can also play WILL and did for Burfict last season in ending up 12th in the NFL in tackles. So those five guys look to be locks at a positon where they usually keep six.
Marquis Flowers, last year's sixth-round pick, seems more comfortable at WILL than SAM and Jayson DiManche, the 2013 college free agent who missed the last four games with an arm injury, has played both SAM and WILL.
So, yeah, you're right. They can use another big linebacker that could line up at SAM and at MIKE, especially since Lamur seems at his best on passing downs.
Hey Geoff with a G! 2 Questions- 1. Is it true you keep cardboard cutouts of the players in your basement? 2. Do you think we should use Whitworth more as eligible receiver in the Redzone? He's 100% 1 for 1 on target to touchdowns. Andrew Whitworth, Choudrant, LA
WHIT:  Great to hear from The Dean during the offseason. (That's you now that Rob Geathers is no longer here and you arrived the day before Domata Peko in the 2006 NFL Draft.)
No. The cardboard cutout thing is a vicious rumor started by the great Willie Anderson, who could raise it to an art form when he got rolling on one of his Las Vegas standup routines. Absolutely false, but a hilarious gag pulled off expertly by Big Will. The only thing in my basement is a garage sale waiting to happen.
And, yes, I think they should go to the big man more in the tight quarters of the red zone. I'm going to lobby Hue Jackson to draw up a play-action fake to Peko at fullback, flip it to you, and call it "Oh-Six Draft Pass."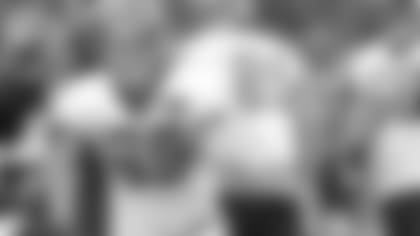 Some at PBS think Ryan Hewitt is fast becoming the best fullback in the NFL.
Why shouldn't we draft a FB. Like Fowler from Alabama. He can block run the ball and catch. And you know how we have injuries. Fowler to me would be a Steel in this draft offensively. Jerome Bettis kind of back. Billy Bragg, Sarahann, WVA
BILLY: Here's the first reason why they shouldn't draft Fowler. Ryan Hewitt. There are people in the building who think he's already the NFL's best fullback after his rookie season. Here are two more reasons in alphabetical order: Giovani Bernard and Jeremy Hill. I appreciate the Bettis reference. But these two guys give you an idea what it would have been like if James Brooks and Ickey Woods were able to hang around together for more than a season.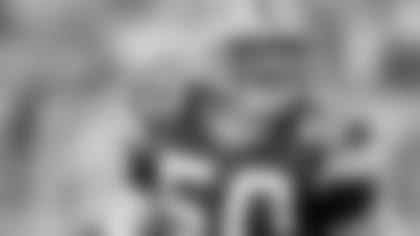 A.J. Hawk is staying with No. 50 in the 'Natti despite NFL rule change. 
Hey Geoff, thanks for the great work this off season. I have a non-draft/free agency question for you & Mike Brown. The NFL just changed the rule allowing linebackers to wear numbers in the 40's. AJ Hawk a major Buckeye fan favorite is coming home and hadn't been assigned a number until just recently and I was hoping it was to give him his college number 47. I just saw they gave him 50 and 47 is still available. AJ will be a popular jersey in the pro shop this year being not just a Buckeye buy one of the great ones. Changing his number to 47 to match his college jersey is a no brainer. What are the chances the Bengals take advantage of this opportunity to rake in the Pro Shop dollars? I know I'd buy one. Daniel Mason, Hilliard, OH
DANIEL: Thanks for the kind words and I'm sure you're not alone in the great land of Buckeye Nation. But the Bengals prefer their linebackers wear 50 numbers. When Hawk arrived the No. 50 he wore in Green Bay was taken. But L.J. Fort got to the practice squad in late November and a 10-year NFL vet wins that one all the time. So equipment czars Jeff Brickner and Adam Knollman have assigned Hawk No. 50.   
Hi Geoff, Bengals fan for 24 years and a regular reader of your columns. Keep up the great work. My question is about deals and contracts - the usual gripe that is aired by fans about the Bengals is that we don't spend as much money as other teams on players (I know we spend a lot on signing our own).
But given that everyone is bound by the same salary cap etc., how are some teams able to keep/sign so many more marquee players (either their own or FA)? Are they taking more risks with the money that we save for rollover? Are they keeping less for injuries etc.? I know that our FO makes cautious yet sensible decisions here but can you compare and contrast different styles that teams take and the repercussions of them (with examples perhaps?) Guha Srivatsa, Leesburg, VA
GUHA: Thank you for reading and the question.
The fact the Bengals don't have a lot of dead money or spend lavishly on other team's free agents feeds the myth they don't spend as much as other teams. But they're always at the cap, or have had to eat into the rollover.
The rollover doesn't seem to impact a team's basic philosophy. The Broncos, who spent liberally last season, came into this free agency season with about a $6 million rollover while the Bengals were at $8 million. The Patriots, who are one of the 10 teams that have not spent to the 89 percent of the salary cap in the past two seasons, came in with about a $6.5 million rollover.
The Patriots started March as one of 10 teams under 89 percent, joining the Raiders, Panthers, Jets, Jaguars, Cowboys, Saints, Washington, Giants, and Steelers.
The reigning Super Bowl champion Pats are a good place to start. They spent less cash than most teams the past two years, including the Bengals, a team that has spent above the 89 percent floor required from 2013-2016. But the Pats ride the brilliant 1-2 tandem of their coach and quarterback. According to spotrac.com, New England has five players currently on its roster averaging $5 million per year while the Bengals have 10.
It has been said the Patriots map out each season how they want to allocate each position and they don't stray from the budget. The repercussions? They didn't re-sign their starting cornerbacks, Darrelle Revis and Brandon,  Browner last month, but decided to extend safety Devin McCourty to a five-year, $47 million deal in keeping the glue of their secondary.
And we've seen it before. When the Pats don't think the money matches the age, that player is gone no matter how revered in club history. In the Bill Belichick Era they've traded a Hall-of-Famer in Richard Seymour and a Pro Bowler in Logan Mankins and just last month released Pro Bowler Vince Wilfork.
That strategy has led to a current dead cap hit of about $10 million, spotrac.com's calculation of money counting for players no longer with the team. That's 10th most in the league in a category the Bengals lead with the fewest dead-money bucks at about $700,000.
The Bengals' strategy is for yearly salary cap hits to be pretty much the same so they don't have to cut a guy because his cap number is so big in future years. For instance, a lot of teams would be looking to reduce the $9.5 million cap hit of cornerback Leon Hall in the last year of his deal, but the Bengals can absorb it because for them to pay players not playing for them is a sure sign of bad deal for the club and they'll do what they can to avoid it.
Dead money doesn't bother some teams. After dropping about $60 million in guaranteed money in free agency last month on three players (tight end Julius Thomas, defensive tackle Jared Odrick, and tackle Jeremy Parnell), the Jaguars are reportedly trying to unload the $8 million cap hit of tight end Marcedes Lewis. Good luck. If they cut him, it will cost the Jags about $1.4 million, half the Bengals' total dead money count.
You're right. Each team has a different approach. The Bengals would never do what the Ravens did with quarterback Joe Flacco when Baltimore dumped so much money into the last three years of his deal. After this season, Flacco counts, $28 million, $31 million, and $24 million, basically forcing them to re-do the deal or cut him after this season.
It also crimped them last month, when they lost their best wide receiver, Torrey Smith, and their best healthy tight end, Owen Daniels, in free agency. Without signing their draft picks, the Ravens are down to about $7 million under the cap, according to overthecap.com, so their replacements are going to have to be bargain deals. But the Ravens find a way, like the Bengals, because they draft so well.
 That's really the key. No matter your philosophy toward the cap, if you don't draft well, you don't win. Look at the Jags. They dropped all that money to surround Blake Bortles, the quarterback they drafted last year in the first round.
The Howitzer - Why not set up QB 2/3 of the way back to where punter stands? It gives the guy a chance to scramble away from the bad blocking of his offensive line, QBs often scamper back there anyhow, with the big arms of a guy like Dalton, it really doesn't matter if a QB gives up 10 yards and, finally, it would give a scrambling QB a chance to run for his life, particularly if he has a terrible offensive line. John Eckberg, Bloomington, IN
JOHN: Outstanding to hear from one of the great writers in the annals of The Cincinnati Enquirer. But you better stick to dollars and cents. "The Howitzer," would only blow up your season. Especially in the AFC North, where giving up 10 yards would have been like Washington giving up Yorktown. But keep those ideas coming, Eck.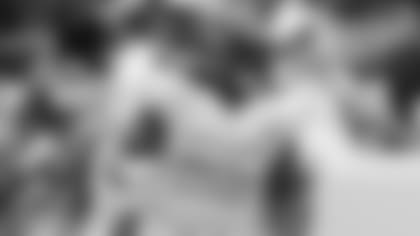 Vontaze Burfict ignored the draft pundits and went to the Pro Bowl.
Mr. Hobson, I truly appreciate the fact that you are willing to take the time out of your busy schedule for the fans. Things have to be getting hectic with the Bengals being so active the past few days. I have 6 questions, Mr. Hobson.
1.) After the Josh Johnson signing, is that all she wrote on a Jason Campbell re-signing and is the draft still an option for a mid-late round QB? 2.) Is Gresham or Alex Smith a legit option, James Casey still an option, Rob Housler an actual option, &/or the Draft the more likely option at TE? I keep reading that Gresham could still be possibility but is viewed as a very long shot. I haven't heard anything in regards to TE Alex Smith in while. Some rumors suggest another 1st round TE (Maxx Williams) should one be available. I don't think I'd go TE in the 1st round unless he's the unquestioned #1 prospect on the top of my board when I'm on the clock.
3.) Any chance the Bengals might be willing to consider a reunion with FS/SS Jeromy Miles or is the draft more likely for safety depth? Safety depth could be an issue after the loss of hybrid athlete Mays. Keo certainly needs some competition for the 4th Safety spot. Some recent rumors suggest Alabama S Landon Collins is high on the Bengals's radar should he fall that far. 4.) Is Denarius Moore a legit possibility? 5.) When will Emmanuel Lamur sign his RFA tender? 6.) You're hired as the 2nd GM of the Cincinnati Bengals which actual players, by name, would you target throughout the 7 rounds of the NFL Draft as well as the following Undrafted Free Agency?
I can see the obvious in the 1st round with a hard look at OT's. No Guards or Centers jump out at me as 1st rounders even though Cameron Erving appears to be climbing up draft boards. I have a gut feeling WR will get a pretty solid look in the 1st round, depending on who's still available at that point, that is. I do agree that the combine numbers mean very little especially when shopping the undrafted free agent market. It's more about what they can do on the game field and less about what they can do on a stop watch. Certain aspects of the combine do and should play an important role but not all of it. Burfict would have never had a chance had his combine results took complete precedence. No one would have taken a flyer on him. I'm glad we did. I look forward to your answers. Again, thank you for your time. I truly appreciate it. Keep up the amazing work and as always... WHO-DEY!
WES: Thank you for the kind words and the interest in the off-season happenings.
My guess is that the Jason Campbell ship has sailed and I don't see them drafting another quarterback after taking A.J. McCarron in the fifth round last year. Three QBs are enough because there are only so many snaps to go around and if McCarron wins the No. 2 job they'll probably only keep two QBs.
Gresham and Housler are options and Alex Smith (33 next month) is not. I also expect the Bengals to try and draft one. Gresham would solve the absence of a blocker at that spot. Housler would not, but he'd be receiving insurance for Tyler Eifert as he comes back off of IR. No way will they take a tight end in the first round. There doesn't seem to be any one close to No. 21 on the big boards. The Scout's Inc. top 32 on ESPN.com has no tight ends.
I don't see the Bengals going after Miles. Not after he took them by surprise and bolted to the Ravens early in the 2013 season.  Collins is certainly a real possibility at No. 21, given how they like Alabama guys.
As I wrote Monday, Moore is going to have a roster fight on his hands for that sixth and last receiver spot. And that will be an uphill battle for him if they don't find a returner in the draft because that's life for Brandon Tate. But Moore is an interesting guy who showed playmaking under Bengals offensive coordinator Hue Jackson in Oakland and will get a look.
I would imagine Lamur signs his RFA tender when he arrives April 20 for the start of off-season workouts if he hasn't already.
How about my targets for the four picks in the first three rounds? Round 1: Alabama safety Landon Collins; Round 2: Ohio State wide receiver Devin Smith (Phillip Dorsett will be gone); Round 3: a little local flavor with Ohio State tight end Jeff Heuerman and Texas linebacker Jordan Hicks from out Lakota way in suburban Cincinnati.
When it comes to the first round in the last several drafts the Bengals have concentrated on getting the best players even if it doesn't match needs and they may be picking too far down to get a top tackle or receiver. And you can always get a receiver in the second round of virtually any draft.
The Bengals agree with you on balancing the right intangibles with the obvious physical skills. That's why the coaches are in the draft room with the scouts as everyone seeks the best solution for the current team.
Thanks for keeping Bengal fans updated. With the Bengals picking up Sims. Do you think they have room for Michael Bennett of OSU? He would be great to pair with Atkins on passing down or to give him a break. Brian Hetzel, Huber Heights, OH
BRIAN: He sounds like a team leader, but he also sounds like a role player on passing downs at the moment looking to develop into an every down player. That would be a luxury and they need to get some needs met first and by then he could be gone.
Why is a speed receiver a concern for Bengals offense when AJ Green has to come back or slow down and make it a jump just about every time down field or are those plays designed that way? Your top QBs seem to hit their receiver in stride.  Joshua  Lindahl, Pekin, IL
JOSHUA: They need speed receivers because they had none left in the playoffs last year and they don't want to get caught short again. No matter where the ball is thrown.
Want to start off by saying thanks for the great articles. Living on the west coast it can be harder to hear news about the Bengals, but your articles always provide great insight. Now the Bengals are looking for a tight end, what are the odds of even the fit that they will look into Tyler Kroft? He seems to be a good blocking tight end. Zach Lane, Redmond, OR
ZACH: Thank you to the land of the great Steve Prefontaine. Kroft, out of Rutgers, sounds like he's more of a receiver type and he may not be what they're looking for on the physical end of it.
I'll keep it short and sweet. Do you see any scenario that could involve us trading up in the draft? I personally feel free agent signings like Michael Johnson and Pat Sims could possibly make this more viable. As far as who we could target in doing so, I'll leave the speculation to the experts such as yourself! Jared Littleton, Mount Airy, NC
JARED:  You're too kind to call me an expert and I'm honored to get a note from the birthplace of the great Andy Griffith.
I just don't see a trade up in the first round. Maybe never again. The only time they've ever traded up in the first is 1995, when they went all the way to No. 1 to get Penn State running back Ki-Jana Carter. Maybe if they really like a guy in the fourth round, like last year with North Carolina center Russell Bodine.  But these guys don't like giving away draft picks.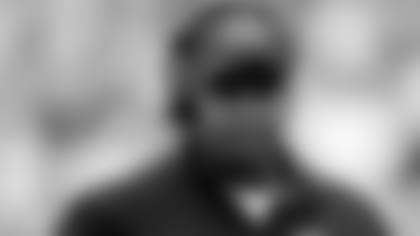 Marvin Lewis says Jermaine Gresham is still an option.
Why do you keep dissing Gresham when just a couple years ago you were praising him? I believe the team will miss Gresham and not addressing his departure is a huge mistake. Eifert has been injured both of his first two years and definitely isn't going to be able to block defensive ends one on one like Gresham could. I have a feeling all this stems from Dave Laphams big mouth, and what does it say about an organization that allows its color guy throw a player under the bus on the radio and then put it on the player. I'm usually a big supporter of the team but this whole situation makes them look like the Mickey Mouse organization they're known as. Adam Hurst, Dry Ridge, KY
ADAM: With all due respect, you've got the wrong beat guy. If you check out everything I've written about Gresham this offseason, I've said they've got to replace his blocking against the tall, angular defensive ends and that they need to complement Eifert with a big body blocker. (By the way, Eifert missed only one game as a rookie in 2013 before missing all but last year's first quarter with a dislocated elbow.)
I've reported the Bengals don't appear keen on re-signing Gresham to a mega deal because of his inconsistent play that stems from fumbles, dropped passes, and penalties. That's not dissing a guy. That's reality. And I like Gresham, both as a person and a player trying to max his great potential, and while I disagree with his view of the media, I enjoy talking to him. And, you can look it up. I've written he's one of these guys you'll miss if he's gone because of his blocking.
Dave Lapham is one of the most respected analysts in the game. He breaks down film, does his homework, and knows this team and this locker room as well as anybody. When Gresham didn't play in Cleveland because of an injury back on Dec. 14 after he came out for early warmups, Lapham was responding to what he saw.
He didn't make up the situation. He relayed the situation. He saw the surprised reaction of the coaches when Gresham said he couldn't play and gave his honest, personal assessment through the eyes of a former player. You may call that throwing a player under the bus. Others would call it criticism and that's what a good color man does, whether he works for the team or not. It's not always a Disney movie whether you agree with him or not. You want Mickey Mouse? Those are the rah-rah guys.
All that said, Marvin Lewis has said the Bengals are keeping the door open to bringing Gresham back and I've also reported that while detailing his strengths and weaknesses. If he can work out his role with the coaches, it's all good.