The Bengals like to find receivers late in the draft, like Mario Alford in last year's seventh round.
Geoff, Hope all is well with you and the family. Concerning the upcoming draft. I'm worried the Bengals lack of depth at WR, will force them to pick a lesser valued WR at 24. Instead of going highest rated player? Maan Aboulhosn, Titusville, FL
MAAN: All good and hope everything is fine with you and yours.
I don't think so. If anything the mantra of "best-player-available," is really rolling now that they re-signed Vincent Rey and starting cornerback Adam Jones along with starting safety George Iloka. The key in the Bengals drafts since 2009 is they haven't forced it and reached for need.
That philosophy is pretty ingrained now and plus, if there is one position in the history of their franchise where they haven't strained in the first round, it is wide receiver. Just look at their all-time list.  The leader, Chad Johnson, is a second-rounder. The guy he passed, Carl Pickens, is a second-rounder. The guy who holds the record for most catches in a season, T.J. Houshmandzadeh, is a seventh-rounder.
And, if you remember, they were facing a pretty similar set of circumstances in 2012, when they lost wide receivers Jerome Simpson and Andre Caldwell to free agency. They had combined for 87 catches and more than 1,000 yards in 2011, but the Bengals waited until the third round to take Mohamed Sanu and the fifth round to take Marvin Jones. Count on something similar. Unless, of course, their No. 1 player left at No. 24 is a wide receiver.
Have the Cincinnati Bengals signed Taylor Mays, or at least agreed on terms? Too many reports saying they have and nothing from either Mays or Bengal camps. Matthew Wilson, Butler, PA
MATTHEW: All indications are a deal is done and verbally agreed upon with the only thing lacking a signature, not always an easy item to obtain in the offseason. The Bengals won't announce it until it is signed.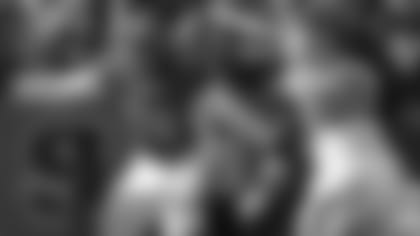 The coaches know what they have in Brandon Thompson (98) and they like him.
Why are the Bengals signing people like Brandon Thompson who, at best, can play maybe half a year and then leave anyway, and Taylor Mays, who never could beat out anyone when he was here and will miss the 1st 4 games? Rather than sign people who can help them (Karlos Dansby, James Laurinitis, Danny Amendola, when dropped), they sign never-wades whose only positive was that they played here? Harold Moskowitz, Chicago, IL
HAROLD:  When it comes to coaches and niche players at the back of the roster, you can't discard it with "whose only positive was that they played here." That matters to NFL coaches, who are much more comfortable with guys they know in specialized situations. (Take Mike Zimmer signing Bengals SAM backer Emmanuel Lamur in Minnesota.)
Laurinaitis simply wasn't a fit as a stack linebacker on a team that already has Rey Maualuga, Vontaze Burfict and Vincent Rey. He won't play in nickel and profootballfocus.com rated him as the next-to-last inside backer in the league last season. He went to a new club that nearly paid him $3 million for this year. He wouldn't play the number of snaps here to justify that since he'd probably only get work in the base defense.
Hold your water on Dansby. It sounds like they've got a shot to sign him. Although he can play in nickel and is a bigger guy than Laurinaitis, Dansby won't be playing a majority of snaps, either, but he'd be a nice niche player as a pro's pro.
There was buzz the Pats were going to release Amendola, but didn't. They may, but re-did his deal last year to keep him after signing the original five-year, $31 million contract in March of 2013. If they do cut him, it's still probably too rich for a team with a receiver counting $15M vs. the cap.
Talk to Bengals defensive coordinator Paul Guenther and special teams coordinator Darrin Simmons about Mays. He didn't beat anybody out at safety, but Guenther liked what he did as a cover backer in the nickel package and Simmons also likes his 6-3, 230 pounds athleticism on teams. Like Mays, the coaches have a higher opinion of Thompson than you do and if he, indeed, starts the season on the physically unable to perform list (PUP), it means they have a veteran that's been around stepping into mid-season.
That's another way of looking at it. With Burfict (missing the first three games) and Mays (the first four) suspended and Thompson potentially on PUP and missing the first six games, the Bengals basically start the season with a 56-man roster instead of 53 with vets of the defense stepping right in in October and November. And the niche signings of backups Mays and Thompson cover them with veteran experience as they head into the draft.
Hey Hobson, quick question. How close are the Bengals to signing Brandon Lafell? I've heard rumors that they are but nothing hasn't really come up yet about his signing. Also do you see the Bengals picking up Karlo Dansby? Drew Zimmerer, Middletown, OH
ZIM: They're talking with LaFell and it looks to be a good fit, but at this point in free agency the market price has changed and there is probably some re-calibration going on. Same thing, I imagine, with Dansby. Those two deals look like they could get done in a bit.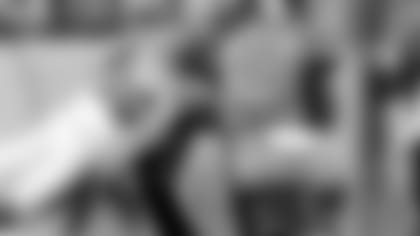 Plays like this by Shawn Williams (The Pick vs. Big Ben in Pittsburgh last season) have him in the mix as a potential starter at safety.
Hello again Mr. Hobson, my questions this week did you hear anything on the Dansby visit is there any possibility of getting that done? And also like to know is there any chance of signing Reggie Nelson back? I here they offered a short term deal and that's fine but Mr. Brown does need to realize he was a great player for us and even though he is 32 there is nothing out there in free agency and I don't think we would draft one early because of other glaring needs WR LB DT BRING BACK REGGIE! Thank you for all your insight Mr. Hobson you do a great job for us BENGAL FANS WHO DEY!!! George Bailey, Las Vegas, NV
GEORGE: Thanks for the note. I think the Bengals are very mindful of what Reggie has done for them and they hold him in high regard for what he means in the locker room to these guys. But they're in a tough salary cap balancing act.
They've got two young safeties in Iloka and Shawn Williams who have played well and some young players that need to be extended, like cornerback Dre Kirkpatrick, right guard Kevin Zeitler, running back Giovani Bernard, and fullback Ryan Hewitt. And you'd have to put Williams in that conversation after he played well in big games with Iloka injured. Really, a tough call because from the top on down everyone loves Reggie around here.
Are we going to get Reggie Nelson back we need his leadership do you think it's has anything to do with the ankle injury Roger Cook, New Richmond, OH
ROGER: His ankle has nothing to do with it. He looked like he had done well in rehab. No question Reggie is a great leader and you hate to lose those guys. (I wonder if he'd been on the field for that last play against Pittsburgh instead of injured what might have happened.) But it's not like there's a dearth of leadership on defense. I think there's some support to bring him back. But for how much and who plays?
Hey Geoff now that the draft is right around the corner I hear a lot of people talking about need for a WR. Don't get me wrong I agree but not with using a first or even second round draft pick on one. Need I remind people we already have one of those by the name of AJ Green? We need a fast WR in the 3rd or 4th that being said what do you think the odds are that they take a fast LB like Darron Lee in the first to help blow up the edge on outside runs. Colt Palmer, Brookings, SD
COLT: You said it at wide receiver. But as far as linebacker, that's not a position they usually take in the first round. It hasn't happened since '08 (Keith Rivers). They're more likely to go the P.J. Dawson route like they did last year when they plucked him out of TCU in the third round. But, hey, an Ohio State guy? That always gets them thinking. They like their Buckeyes.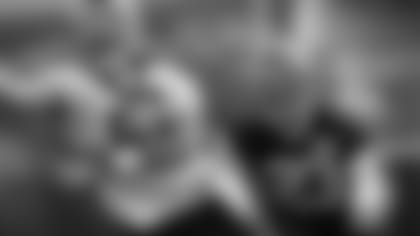 Jake Kumerow is one of the returning young wide receivers the Bengals want to gauge.
First off thank you for answering questions from the fans. Much appreciated. What is the status of a possible deal with Branson Lafell? Also what about possibly signing another WR, such as a vet like Boldin, White or Johnson to help with the younger receivers or maybe bring back Caldwell. Also any news on the Dansby visit? Joe Pollack, Jenkins Township, PA
JOE: Thank you for the note. They're working on the LaFell deal but I would think they're only going to bring in one veteran. They'll draft at least one and maybe two after drafting one last year in seventh-rounder Mario Alford. They'd like to take a long look at last year's practice squadder, Jake Kumerow, a guy that intrigues them.
They're crossing their fingers on James Wright, the 2014 seventh-rounder who looked so good before missing all of the 2015 season with micro fracture knee surgery, the procedure that Burfict overcame to have such a strong finish. But it's a lot tougher operation for a receiver because he runs so much more. Still, if Wright comes back close to what he was, that's a huge lift. Anyway, they'll have enough young guys around to learn from a veteran like LaFell, but they don't need two.
Dansby and the Bengals seem to like each other. Waiting to see if they like each other enough.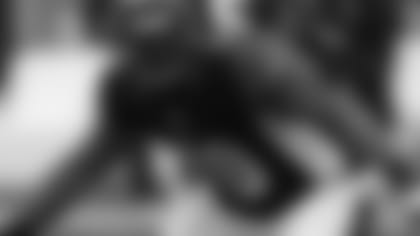 The Bengals drafted rehabbing Cedric Ogbuehi No. 1 last year.
Doesn't it make sense for the Bengals to grab Jaylon Smith in the first round due to him being injured they could get a top player late in the round. Fits the bpa strategy of the Bengals and they did it last year Aaron Knopsnyder, Johnstown, PA
AARON: It's an interesting question and the guy can play all three downs. But, like I say, linebackers don't usually get first-round picks on this board and I would think one that suffered an ACL and LCL tear like Notre Dame's Smith would probably not be on their first-round list like Texas A&M tackle Cedric Ogbuehi was last year. Like most boards, the Bengals value offensive tackles over backers.
Mr. Hobson thank you for your articles I rarely miss one and enjoy your writings. I have followed the Bengals roster very closely for many years now and perhaps more now than ever. In 1988-89 I was aboard the USS Proteus when my beloved Bengals went to the Super Bowl. As those of us old enough to remember we didn't have the media we do today so news of the game came via newspapers and radio. I couldn't wait to get out of the Navy and experience my Bengals in person. Unfortunately I have waited for 27 years now to experience that post season excitement my friends talked about. Maybe this year will be the year. Haha heard that before.
Anyhow on to my statement/question. This year even with the loss of wide receivers I see that the roster is going to be very hard to make. I predict that the 6 and 7 round draft picks potentially will make only the practice squad. It's a great problem to have. Do you see a point that the Bengals reach (having drafted so well) where draft picks become of less importance to us verses that relevance the rest of the league puts on them. And as it already has reached that to a degree do you see a draft in the near future where maybe only two or three picks actually make the club or does the sacrifice become cutting solid players just to make room for picks? Thank you. Brian Hanson, Fairfield, OH
BRIAN: Thank you for your service, your interest, and for keeping the faith. You've got something on your friends. How many have had a team in the postseason six of the last seven years? But I hear you. Everyone yearns for post-season fruit.
You raise an interesting topic, but I think as long as there is free agency and a salary cap, draft picks are going to rule the day. It's the only way you can build a team and pay your stars. You can't sign everybody. You have to keep recycling through the draft and you have to put the draft picks on the practice squad or else most of them are going to get poached by other clubs.
For instance, take the second half of last year's draft. On paper, anyway, seventh-rounder Mario Alford is stepping into the vacancy left by Mohamed Sanu. Sixth-rounder Derron Smith moves up in the safety pecking order, and fourth-rounder Marcus Hardison, a defensive end/tackle type, has been groomed to replace the versatile Wallace Gilberry if Gilberry doesn't return. And fifth-rounder C.J. Uzomah, a tight end, is going to get more of a shot without Sanu and Jones.
They played very little, for sure, as rookies. Hardison was never active and Alford played in one while Uzomah played in five games. Smith played them all as a special teamer. Yet it's a pretty good bet all of those guys would have been picked off waivers if the Bengals tried to get them to the practice squad in the final cut before Opening Day. Next month the Bengals have seven draft picks and the guess is at least five make it, probably six, and maybe all seven. And if seven picks don't make it, it's probably because an undrafted rookie or two does.
It is simple math matched with Biology 101. It is a young man's game and youth isn't as expensive under the cap. Which makes draft picks hugely valuable.