Does Clemson wide receiver Mike Williams catch the Bengals' eye?
Hey Geoff, Love your work. I've been playing around with online draft simulators and have a few prospect comparisons in the early rounds that I'd like your opinion on.
I know the Bengals will take the best player available and stick to their board, but DE seems the most likely BPA in round 1. Do you think they go production with Derek Barnett or their ideal size in Taco Charlton?
Round 2, I see the opportunity for a game changing running back. If Alvin Kamara and Joe Mixon are there, which way do you see it going?
Given the Bengals tendency to draft a year early on expiring contracts, C is going to be high on the list. In the 3rd, what do you think about Elflein vs. Pocic? The only other position I see early is a special talent at TE for leverage in eifert negotiations.
Here's my mock (as a Purdue grad, I had to throw Replogle in on the list pick) Appreciate your insights. 1:9 - EDGE Derek Barnett, Tennessee 2:9 - RB Joe Mixon, Oklahoma 3:9 - C Pat Elflein, Ohio St. 4:9 - G Taylor Moton, Western Michigan 4:31 - LB Alex Anzalone, Florida 5:9 - S John Johnson, Boston College 5:32 - WR ArDarius Stewart, Alabama 6:9 - EDGE Deatrich Wise, Arkansas 6:33 - CB Marquez White, Florida St. 7:9 - K Zane Gonzalez, Arizona St. 7:33 - DT Jake Replogle, Purdue Brian Engel, Denver, CO
BRIAN: I love these things and the work that you do. Thank you for laying it out for us.
Certainly the positions fit, but you just never know who is going to be there and that's the tough thing trying to project all 11 picks. It's hard enough doing No. 9 when only eight guys are off the board.
For instance, I don't think Mixon and Gonzalez are going to be there and it would be surprising if Anzalone lasted that long into the fourth, but who knows?  
I hear you on the pass rusher, but it's such a deep class of them that it seems like you can get a guy like Derek Barnett in the second round.
Taco Charlton, too. He seems to be the reach here since I don't see him on any big boards above 18 and he doesn't seem to fit the Bengals' first-round mold as a guy with a lot of experience and production. Barnett is the safer pick. Indeed, besides Alabama tight end O.J. Howard, Barnett may be the safest pick there. Is he the impact player you're looking for at No. 9? That's what they have to figure out.
But, you know what? If you can't trade back and you don't want the tight end, Barnett would seem to be a very good get at that spot.
Mixon-Kamara is an interesting discussion. My sense is if a highly-rated back isn't there they'll be content to get a running back later. Even if Mixon is there. If they don't an edge rusher at No. 9, they've got to get him at No. 41, right? But, OK, if they get the edge guy first and Mixon is there I think it's an interesting discussion. It all depends on their vetting process because they've looked at him enough that they must think he can play.
I'd have to take Ohio State's Elflein. I wish he were bigger, but his versatility and toughness is very intriguing and the comparisons to Nick Mangold don't hurt. But I'm not sure they go that high for a center if you look at the needs everyone has assigned them: edge rusher, a wide receiver that can run, and a running back.
If I quibble at all with your list it's that the sixth round may be low for a receiver and I think somewhere they've got to draft a tackle. But, again, thank you for the wonderful exercise.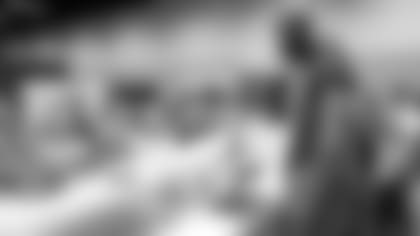 LSU running back Leonard Fournette is a top ten pick. But where?
Geoff, always look forward to Hobson's Choice. Been a Bengal fan since my dad took me to see the team vs. Houston at Nippert in about 1968 (I think) when Isaac Curtis ran past 3 DB's for a bomb down the right sideline. Anyway, with eleven picks don't you think the Bengals can afford to use a late pick on that kicker from AZ? I have no faith in Randy whatshisname who proved to me he has no clutch bone at Houston last year. I've grown weary of kickers who hit 85% when there's little on the line then get an esophageal occlusion when it matters most. John Belanger, Fairfield, OH
JOHN: Happy 50th season. Thank you for the kind words. I'm glad they didn't stick in your throat. I think they can afford to use a pick on Gonzalez, but it can't be too late. They may have to expend a fifth on him, which they did on punter Kevin Huber in 2009.
Greetings Mr. Hobson from the great white north, in the GTA (Greater Toronto Area in Canada) Long time Bengals fan and always look forward to your insight. My question pertains to much of the talk of Bengals drafting a running back early (1st or 2nd round) I guess my question is why spend such a high pick on a player that Bengals themselves really won't value to high anyway.
My logic is based on a couple of factors. 1 being firstly they already have two second rounders at the position drafted not too long ago (I get it sunk costs) but they have already stated to stand behind them and let a proven commodity (proven to Bengals organization, based on practice time) walk in free agency, so if you draft a guy, one of them won't be playing, be it the new addition, GIO, or Hill.
Secondly, the running back is devaluated and you can find one in the 4th round or later who can be very productive and as well contribute more on special teams. So why invest in a RB so early and to eventually 4 or 5 years later say see you later and only get at best a 3rd rounder in return (maybe dream scenario for RB's these days) Just like they did with the guard position, if you don't value it why invest so highly in it in the draft?
Thirdly I feel Bengals have more pressing needs to address. The D line early (twice) and why not get a big time target at WR when you already have two running backs who the Bengals believe are quality backs. As we have seen previously Green isn't the most durable and when there is no Green the Bengals don't move offensively at all.
Also please don't mention Tight End as an option because when Bengals once had a similar choice (Gresham Vs Demarious Thomas) and a few other tight ends in 3rd and 4th rounds, we seem to not be able to develop them at all besides of course Eifert. Luckas Ksiazek, Hamilton, ONT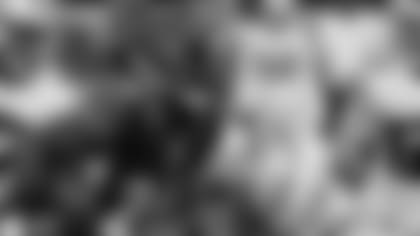 Where do the Bengals value their heavy-duty running backs? Giovani Bernard is a high second-rounder (No. 37) from 2013.
Luckas: Thanks for the support from the province of Robert Gordon Orr, hockey's GOAT.
The running back is devalued only until you get a good one. All depends how you use him and how often. In 2014 Hill was worth every cent of the 55th pick.
But I see your point. You take the back in the second round and what do you do with Hill?  The thing is, Hill is in his contract year and they extended Giovani Bernard last year. Since we're talking about value, would they sign two to second contracts? I think that's a debate no matter where they get one. But, you're right, you can get a good one virtually at any point so why grab one in the second round?
I guess the answer lies in Hill and Bernard themselves. The Bengals needed them. And they took them in the second. So that would seem to set the value. Remember, Rex Burkhead was drafted in the same year as Bernard in the sixth round.
I agree with you. I think they go for D-line help before they grab a back.  And I think they have to think about a receiver fairly early and not because of A.J. Green's durability.
Last year was the only season Green missed a big chunk of time and he's still played seven more games than Julio Jones, his 2011 draft mate. But they need some speed opposite him, although I wouldn't rule out 2016 sixth-rounder Cody Core emerging as that guy this year.
At the time, the 2010 draft, they needed tight end Jermaine Gresham more than wide receiver Demaryius Thomas. To be fair, that was before they knew wide receiver Antonio Bryant's knee was done and Carson Palmer had never had a tight end as a target. And they seem to think this current crop of tight ends behind Tyler Eifert in Tyler Kroft and C.J. Uzomah seems to be developing nicely. So if they don't go for Howard at No. 9, it's doubtful they'll draft one.
Hello Hobs, enjoy your work and your insights... I really like your analysis of the draft and your pick for the Bengals at #9.
Their draft is always a grab-bag where their early picks are concerned, as you never know which way they will go. I for one, like the surprise element and am excited to see how it all unfolds. Though TE is not the way I imagined them going, his value could and perhaps should dictate.
If they take O.J. Howard at the 9 spot based on B.P.A. logic, where in their pick order do you see them addressing potentially their greatest perceived need in the area of pass-rusher? - This, straight from the camp who believe in the Cedric Ogbuehi and Jake Fisher project... I think Howard would be a good pick for them for all the reasons you cited, and then some. It would be huge for Eifert as it takes some pressure off of him in terms of demand/wear-and-tear, but also adds some incentive to perform at the same time. Not a bad thing, right? Thanks for your support, and Who-Dey!! Barry Wiles, Brookville, IN
BARRY: Thank you for reading so closely and taking the time to write in. Yeah, the reason I went for Howard in the latest Bengals.com Media Mock Draft (by the way, the next one is this weekend) is because I'm trying to think like them. Immediate impact, college production, and it gives them another vertical threat down the seam. But, I also can't blame them if they go defense at No. 9. I think we all agree they've got to come out of the first 41 picks with a pass rusher.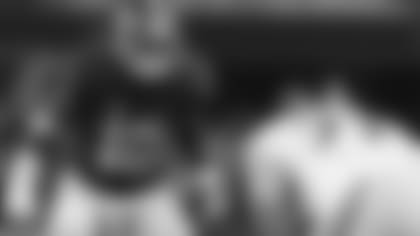 Alabama linebacker Reuben Foster has appeared in many a Bengals mock.
Hello Mr. Hobson, Die hard Bengals fan here, and honestly trying to make a GM move through you, Mr. Hobson, lol. I wanted your thoughts on a "dream scenario" I have coming from this year's draft. I love the consensus of most mock drafts having us taking LB Rueben Foster at #9.
But if the Bengals could also find a way to trade back (2018 first round pick??)into the first round and take S Jabrill Peppers. Opposing offenses would have nightmares or worse (Le'veon Bell). Just wanted to reincarnate Ray Lewis and Ed Reed for the next 10 year. Nate Ray, Miami, FL
NATE: Thanks for the support. I'm with you all the way. If there was ever a draft to trade back and pick up an extra third or fourth, this is it. Sadly, this is why I also think it is a dream scenario.
No one is going to be looking at trading up, unless some team wants to get ahead of Cleveland at No. 12 to take a QB and it doesn't sound like these QBs are all that coveted.
I hear you on Peppers.  I don't know if he's Reed or Lewis, but it sounds like he's a perfect match-up player for this era. Big but able to cover.
Maybe I'm nuts. But since it's looking more and more like there's not going to be a slam-dunk pass rusher there at nine, what about a slam-dunk guy when it comes to versatility?
But then again, maybe not. Drafting Peppers would break the Bengals' cardinal rule of drafting a projection in the first round and if he can't rush the passer, where is the No. 9 value? Still, he's a hell of a player and is certainly first-round value.   
Hey Hobson; long time reader, first time writing. My question is this: we're pegged to draft a WR, LB, or DE in the first round, but with the losses of Whitworth and Zeitler (and assuming the worst that Ogbuehi doesn't fill the hole left behind by Big Whit), is there any OTs that might be worth a look at early in the draft or in the mid-later rounds? Thanks, and Who Dey! Wilson Perkins, Dayton, OH
WILSON: Thanks for ending the drought and feel free to write in again. Certainly looking at the media big boards it doesn't look that way early.
This is where the Bengals used to get into trouble. Got a hole to fill? OK, reach for a lower rated player just to take care of a need. The highest tackle on ESPN's big board is Utah's Garett Boles at No. 15 and on the big board at NFLDraftScout.com at CBS Sports.com it is Wisconsin's Ryan Ramczyk at No. 16. So that looks to be a significant reach.
Let's face it. They've got a No. 1 pick in Cedric Ogbuehi to play left tackle and that's the way they have to go until they know he can or can't do it. 
First time questioner but a long time reader. I am not too displeased with the way the off season has turned out. Losing Whit was the only drawback but ultimately he's replaceable. The others are good but the team won 6 games with them last year.
I may be surprised but I don't think the team will select a WR early. Who, in your opinion, could the team target in the later rounds? They need someone to be able to take the top off the defense but drafting speed too late you end up with Mario Alford. Do you see any sleepers? John Dahlgren, Clinton, MI
JOHN: Thank you for delivering and I hope it's not the last time. I don't see any deep threat wide receivers like Marvin Jones out there that might sneak through to the fifth round like Jones did in 2012. Speed and size go in the first two rounds. Now, obviously Jones showed you can get a really good one later. But I guess if we knew who they were now, they wouldn't be sleepers.
I'm afraid the guys I like, East Carolina's Zay Jones (former Bengals backup quarterback Jeff Blake's nephew) and Michigan's Amara Darboh have to be nabbed in the third round or before.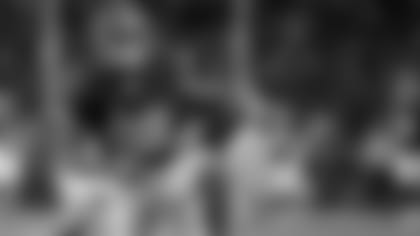 Alabama tight end O.J. Howard gets a lot of love in Bengaldom.
Longtime fan here from Greenville SC and I have been watching this offseason and I think the Bengals have done a good job. With the signing of minter we have a good group of backers so why not sign Howard at 9 to team up with Eifert and get another LB and DL later in the draft? Schemauri Henry, Greenville, S.C.
SCHEMAURI: In honor of Johnathan Joseph (Rock Hill, S.C.) thank you for appearing. You're preaching to the choir on that one but like I say, I can see why they would go defense here if they think the guy is going to help them right away.
My Question is with the 8th pick  (assuming Cleveland takes Myles Garrett) I don,t See A DE Available High enough to Take at 8, I Know There is some Discussion About Tennessee DE Barnett but to me you can get something similar to him in the Second Rd. I think there Philosophy should be Best Player Available which would be O.J. Howard I Think he Also Solves Your Needing Another Wide Out Because you can flex Him out and he would be a Match up Nightmare for DBs & LBs plus He's insurance with The Fragile Tyler Eifert.
I Want To Talk about the Potential Drafting Of Oklahoma RB Joe Mixon,,, My Thought Is What he did was Horrible and he Brought Shame on himself That will Follow him The Rest Of His Career if not His Life But I also know That No One Should Be Condemned for Something they did when they Were 18 years old, Can you Imagine How The World would be if we were not Given an opportunity to redeem ourselves after doing Something immature and Stupid at 18? With that being said if he's available in like the 3rd Round Do you think the Bengals should Draft Him?
Also Why Haven't The Bengals Traded AJ McCaron Yet? The Longer they Hold on to him the Less Leverage they hold, Wat are your thoughts ? Thanks for taking my questions! Philly B Hamilton, OH
PHILLY: Thank you for asking. You know where I stand on Howard. I made my argument in that second Mock.
As for Mixon, these are issues the entire NFL is dealing with, just not the Bengals. They've certainly done enough due diligence to show they're interested but I don't think they'll ever get to tell us if they would or wouldn't. He'll be long gone by No. 41 in the second round.
The Bengals haven't traded Andy Dalton yet because they haven't received an offer they like. Frankly, all indications are they don't care about how long they may have him, and that has yet to be decided.
But it doesn't matter. They love him right now. It seems like in lieu of a blockbuster where they would absolutely hold up a team, they'd rather keep him. As Bengals president Mike Brown said last week at the league meetings, they love the fact they have the best QB situation in the NFL. As McCarron showed, he can come off the bench and win big games if needed and the Bengals have apparently put a very big value on that.
You better bring some draft picks if you're sitting across the table from Mike Brown.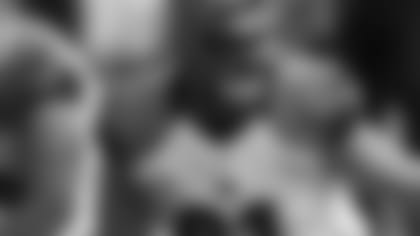 Center Russell Bodine: a fourth-rounder and according to Bengals' records one of three players for whom they traded up to draft.
Hey Hobson, what are you thinking of the chances that the Bengals take Reuben Foster with #9 overall? Also, what do you think about the Bengals taking a center in round 2? Oh, and Who Dey from Australia! George Kaltzidis, Melbourne, Australia
GEORGE: Thank you for coming over the top from down under. I think Foster is in play at No. 9. How could he not be with all that SEC production and the favorable comparisons to fellow 'Bama bangers C.J. Mosley and Reggie Ragland?
But with apologies to my good friend Pete Prisco of CBS Sports.com, I'm not sure he's a top ten fit for this club. Yes, he's an impact player but his shoulder is banged up, he's smaller than the typical Bengals backer (228 pounds), and he doesn't do the top ten things of rush or cover as his primary functions. And I don't think they're looking to put any of their guys on the bench.
Now watch them make him their first top pick at LB since Keith Rivers nine years ago.
Their history would say the second round is too high for a center. Of the last three, Russell Bodine was a fourth, Kyle Cook was undrafted, and Eric Ghiaciuc was a fourth. And that second-round pick figures to hold more value on the other side of the ball in this draft.
Thank you for all the great writing. Do you believe that they could go after O.J. Howard at 9? He seems like a very solid pick. Especially with our lack of quality depth and that Eifert will command a big payday next year. I believe that we could go many different ways early but this seems like the best option for the future. Everyone forgets that we had a bunch of dline on it last year plus it seems like there is plenty of depth for the dline. Thanks again Christopher Southern, Glenolden, PA
CHRISTOPHER:  Thank you for the kind words. Like a lot of guys (Foster, Barnett, Leonard Fournette), I would think Howard is in play at Nine. Certainly everyone's big board would suggest it. But while they've got a lot of young, unproven guys on the defensive line, all indications are they're trying to find another edge rusher that can help left end Carlos Dunlap and defensive tackle Geno Atkins right away. 
Hello Mr. Hobson, love all the insight you bring us all. Would like to ask about the draft I think our most pressing need is an edge rusher with that being said and how we operate is the idea to draft OJ Howard out of the question or wide receiver Williams out of Clemson or even Davis I think it would boost our offense and get an edge rusher in the second round it my opinion OJ is a must can't miss tight end for years! Thank you George Bailey. Las Vegas NV
GEORGE: Thank for the kind words from Raiderville. I think you've encapsulated the dilemma pretty well. If you take the best player in, say, Howard, how does he help you right now? If you use the pick on the biggest need, edge rusher, and it doesn't match the grade, how does that help at all? And, who knows what their grades are? But we'll find out how they've graded those other rushers pretty quickly in the first 90 minutes or so of the draft.  
I'm confused. How is it people are constantly saying the Bengals are "cheap" when there is a minimum and maximum in the new CBA. Seems to me the Bengals pay the same for players as the other teams...just not overpay for free agents. Am I wrong here? Rich Casto, Las Vegas, NV
RICH: That's about right. According to NFL Players Association numbers, the Bengals were in the top ten in spending last year. But the only big money they drop in free agency is on their own players. So, yes, they're spending it as quickly as anybody but in a less newsy fashion.
The right word is "careful," not "cheap." They're a draft-and-develop team in the mold of Pittsburgh and Green Bay trying to balance having a roster with just enough veterans. So, for the most part, they stay away from age and risks while coveting draft picks. Not sexy, but it has produced their most successful decade when it comes to wins and losses. And the pundits have been big fans of their accumulated talent.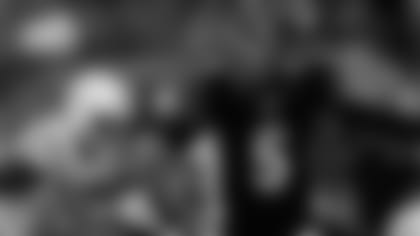 AJ McCarron: Mike Brown is one of his biggest fans.
Two part question here. 1. Why do the Bengals keep trading away all of our best players from the previous years? We had a solid team that could have done big things a couple years ago and we traded away basically our entire defense. And 2. McCarran had that playoff game won, so why not give him a chance to start? If Andy isn't doing well, pull him and give the backup some playing time. James Harrison, West Chester, OH
JAMES:  I just don't get the Dalton-McCarron thing. And that's a non-starter at Paul Brown Stadium. In the last two years, when has Dalton gone out there and rolled out an absolute stinker that left you screaming for somebody else? I mean, that stuff should be reserved for Buffalo, Jacksonville, Houston, the Jets, and 49ers, among others.
At PBS, Andy Dalton is their quarterback and that's it. And, look, McCarron is a fine backup and is going to be an excellent QB in this league who plays a long time. But right now, at this point in time, with Dalton playing like this and getting paid like that, he's not getting pulled. That landscape may change, but not now.
They've taken some shots in free agency, but when talking to them they'll tell you they still feel like they have the core of their team with Green, Dalton, and Eifert on offense. And on defense, too, where four of their five most recent Pro Bowl defenders, Geno Atkins, Carlos Dunlap, Adam Jones, and Vontaze Burfict are intact.
Hey Hobson, this is my first time writing in. Being from the Canton/Massillon area it was made relevant this past week that Bri'onte Dunn held a workout in Massillon. He looks like he has not missed a beat and it makes you wonder if he could be a fit for the Bengals as a late rounder? Andrew Crousser, Massillon, Ohio
ANDREW: Thanks for checking in and hope you do again. It's always nice to hear from where the Bengals and Browns really started.
Dunn, the Ohio State running back who was dismissed from the team before the season after being accused of hitting his girlfriend, is a blank slate. If anything he strikes me as a free agent and only after he survived some serious vetting. The Bengals have a nice handle on Buckeyes prospects since former head coach John Cooper is a consultant.
This gallery features some of the top Cornerbacks in this year's draft class.