No custom-tailored suit. No agent tailored for the custom of the mega contract. No announcement tweeted to the global village. No hug from the commissioner.
Hell, not even a hug from the wife. Just one big question.
When he gets back to his apartment in student housing at the University of Tennessee from a class for his industrial engineering degree, Jane Johnson, his wife of six weeks in a voice coated with her native Gulf Shores and an innate irreverence for the game, asks, "What's a Bengal?"
Before tweets and mocks and combines, this is how Robert Douglas Johnson finds out he is a franchise's first player ever drafted, the second overall player selected out of 462, and that Harvard Business School has lost his services to a start-up something called, "The Cincinnati Bengals."
Except this fledgling company's CEO happens to be Paul Brown, the Hall-of-Fame coach exiled from the team that still bears his name in Cleveland.
"I knew it was an expansion team. I knew it was in Cincinnati. I knew Coach Brown was head of it. That's about all I knew," says Bob Johnson, one long snap away from 70 years young when the Bengals are in training camp this August.
"I grew up in Cleveland, Tennessee, and the closest teams were Washington and Cleveland, so the Browns were on TV quite a bit and I knew who Coach Brown was. So did the people in Cincinnati. You walked in with a built-in respect and the fans had it. We had a terrific original fan base."
Brown has been out of football for five years when he starts the Bengals with son Mike Brown in 1967 as an expansion team in the American Football League. But the rise of the AFL mirroring the explosion of televised sports had caused such a seismic shift in the game during his absence that by the time Paul Brown sits down to draft his first team he is doing it in a new universe known as the NFL-AFL common draft and he is bunkered in his own draft room in the club's temporary offices 18 floors above Cincinnati in the Carew Tower.
"When he was in Cleveland, the NFL had just 12 teams and they held the draft in a hotel ballroom with each team at a table," says Mike Brown, now the Bengals president who is a Dartmouth senior late in 1956 when he urges his father to take Purdue quarterback Len Dawson with the sixth pick at the Warwick Hotel in Philadelphia. "It was just him, but sometimes he brought someone with him from the team."
But the Steelers (it is the dreaded Steelers even then), grab Dawson with the fifth pick. Bloodied but unbowed, Paul Brown turns to his portable draft board, a handy cardboard contraption that folds three times and is filled with names, plus flips shut when someone approaches the table trying to poach a name.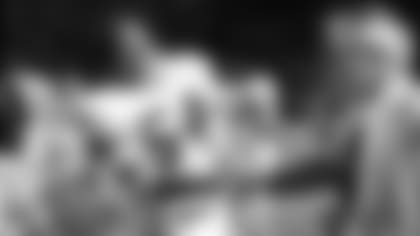 After a win Johnson congratulates Tiger Johnson, his offensive line coach and head coach in Cincy.
Brown folds out the name of Jim Brown at No. 6 and the Syracuse running back goes from cardboard to Canton in nine brief seasons.
By the time Paul Brown's new team has the second pick in their inaugural draft of 1968, there are 27 teams in two different leagues grabbing players in the run-up to the 1970 merger. So Brown goes modern and stays home to supervise an eclectic staff diverse with scouts and assistant coaches.
On the morning of The First Draft, Brown, in a classic manning-the-phones photo op in that afternoon's Cincinnati Post and Times-Star, is joined in the Bengals draft room by a few of his assistant coaches. Bill Johnson. Jack Donaldson. Tom Bass. On the board no longer a cardboard foldout is director of player personnel Al LoCasale with assistant Pete Brown looking over his shoulder. Assistant general manager Mike Brown doesn't make the picture, but he's adding his own scouting reports.
On that day of the First Draft as the reporters wait for the Bengals to announce each pick, they look into an early morning fog on the Ohio River. If the scribes look down between the new Provident Tower and the Central Trust Building, they see flashes of construction grinding into shape the Bengals' permanent home at Riverfront Stadium.
The fog seems to symbolize not only the uncertainty of a new football franchise, but the state of the nation. It is Jan. 30, 1968 and in just a few scant hours the Tet Offensive springs out of the mist of history by the Viet Cong in South Vietnam to send the United States into political and social chaos.
As Paul Brown waits for the Vikings to make the first pick, President Lyndon Johnson eyes the start of his re-election bid in the New Hampshire primary, Sen. Robert F. Kennedy (D-N.Y.) resists pleas for a run to reclaim the White House for Camelot, and Dr., Martin Luther King Jr., calls for another March on Washington to protest the Vietnam War.
Before the Baby Bengals put on pads that summer, Johnson withdraws from the race and Kennedy is assassinated after deciding to run in the wake of Tet, just two months after King is gunned down. But who knows all that as the Vikings select USC tackle Ron Yary No. 1, the choice they received for trading quarterback Fran Tarkenton to the Giants? One of January's top 40 hits, the Beatles' Hello Goodbye, seems strangely appropriate.
Bob Johnson doesn't even know how long the first round will take. He thinks it is like choosing sides in the backyard and it will be over in 45 minutes. He isn't even sure which teams like him. 
 Before every 21st century prospect has 15-minute interviews with any team that wants him at the something called a scouting combine and before teams are allowed to bring in a maximum of 30 prospects for pre-draft-wine-and-dine visits, college players have  virtually no interaction with the pros. Johnson has a conversation with two teams before the draft.
"One scared the pants off of me," Johnson says. "The Bears told me they were going to take me at (No. 16) and switch me to defensive end. I hadn't played defense since high school. And the Cowboys talked me."
Mike Brown figures the Bengals spent about $200,000, at the most on that draft. As they mull the 2016 crop, he puts the number roughly at $5 million.
"There just weren't the resources put into it," Brown says. "Air travel is better, there's more tape, computers make everything so much easier. Back then, (scouts) were only aware of the guys they saw. It was done on the fly and you argued and debated before making picks. We've gotten away from that part of it."
But there is no argument about Johnson, Tennessee's All-American center, a guy the Cincinnati newspapers  soon call "a massive 245 pounds," when 45 years later the Bengals pick a 250-pound tight end in the first round.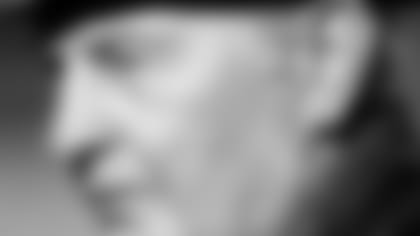 With that first pick in 1968, Paul Brown wanted a foundation guy and got him.
There is no debate here because Paul Brown is resolute that the pick has to not only be a good player, but a good person.
"My father felt since it was the first pick it had to be someone with character," Mike Brown says. "Bob was a very solid player. During his time here he was always one of the leaders of the team. If you want a comparison, it would be (Andrew) Whitworth. The other players listened to him because they respected his intelligence, the way he lived his life, the way he practiced and comported himself around the team."
Of course, the Johnsons don't know all that. They are just coming off their own whirlwind draft. They are high school sweethearts as well as UT students and they want to marry before they graduate. The only time his coach allows a wedding during the season is before the Orange Bowl.
So Dec. 16, 1967 it is and then there is a plane ride to Miami and then a plane ride right away to the Senior Bowl for the annual all-star game in Mobile, Ala., in those days played just a week in between.
"I spent the first week of my honeymoon with 40 guys I did know and the second week of my honeymoon with 40 guys I didn't know," Jane Johnson says. "But it was nice because I'm from the Mobile area and family was there."
Long before drafts started with a prime-time red carpet, they start with a black coffee at 9 a.m. Bob and Jane Johnson look at the phone and when it doesn't ring in the first half hour or so, he figures he didn't get picked in the first round and he has a class to get to, anyway. When the call comes, Johnson figures he was in an operations research class.
"We only had one car, so my classes were later. I certainly didn't sound very smart," Jane Johnson says of her conversation with who ever told her Bob had been picked by the Bengals. "I don't think it was PB."
But it is PB's pick all the way. He comes out of the draft room himself to announce it and since the media is hovering right there, he takes care to shut the door first. There is no press room or war room yet. He is triumphant, declaring he knows the 49ers were ready to take Johnson at No. 15, where they will end up taking Auburn center Forrest Blue. Maybe he knows because his offensive line coach, Tiger Johnson, had been a two-time Pro Bowl center for the Niners.
"My father had a list of contacts that was very expansive," says Mike Brown. "Certainly in college football."
Paul Brown soon talks to Bob Johnson on the horn and it turns out Jane has plenty of time to show PB she is as sharp as her husband. They promptly settle in Glendale, the Cincinnati suburb where Paul and Mike Brown live and the families got to know each other well.
The Johnsons are still there in the close-knit community and although Mike Brown has moved, he tells a hellacious story from those days when he says, "Bob saved my life."
Brown and his Golden Retriever are attacked one night on a walk by a Doberman Pincher. "My dog is barely alive and I'm pretty ripped up. I'm so tired, I'm on the ground I can't move," he says. Johnson hears the racket at a nearby party and when he investigates he tells Brown to hold his dog while he lifts up the hind legs of the Doberman.
At The First Draft, every dog has his day.
"This is the fellow we planned to take all the way," Paul Brown tells the press. "Johnson seals up our snap problem. To me a center is like a catcher in baseball. It's the heart of your ball club. Pitching and catching. We now have both."
The first round drags four hours, time enough for the Post and Times star to lead its final edition with Johnson and the Bengals' pick at the top of the second round, Utah State defensive end Bill Staley: "Bengals draft two linemen," shares the top of the paper with breaking news on the political front: "Court turns down CTU appeal."
Before Monday Morning Quarterback on your iPad and Sunday Night Breakdown on your satellite radio and Thursday Afternoon Podcast on your phone and before afternoon papers died in your hands, that's how people find out who gets drafted. It's why Dave Lapham, the long-time Bengals radio voice who would join Johnson on the offensive line six years later, calls the Boston papers to find out if he knew where he'd gone in the 1974 draft.
"'You can see the pattern,' "the elated Brown said after the Bengals' first two choices were announced," writes Dick Forbes the next day in The Cincinnati Enquirer. "Without the men up front you have nothing behind. Johnson has tremendous speed and quickness. He's a class person. The kind you build with . . . He can get the ball back there on punts."
Johnson doesn't have an agent, but he has a father who asks him to think about what the Harvard Business School offer might mean 20 years down the road.
"Where are you going to be compared to playing pro football?" he asks. Johnson has the answer.
"Everybody wants to play pro football," Johnson says. "And the way it worked out, even though it was nowhere near where the money is today, it was still four or five times what a graduate engineer would make."
Johnson played 154 games for the Bengals, sixth among offensive linemen.
The way Johnson figures it, the big jobs at General Electric or Procter and Gamble are going for 10 grand a year to kids right out of school. With his $45,000 signing bonus and a four-year contract calling for annual salaries of $22,000, $24,000, $26,000, and $30,000, it comes out to about $45,000 per year.
Market, Johnson figures. But Paul Brown peers over his half glasses at the signing and says, "Bob, $30,000 is a lot of football player."
And when Johnson thinks about it, he has traded a Harvard MBA for a Master's in the PB School of Think a Little Management, one of the favorite sayings of one the game's greatest organizers. Johnson's esteemed NFL career is surpassed only by what he does off of it as a wildly successful entrepreneur.
His Pro Bowl selection after his rookie year in 1968 is still the only one by a Bengals center. His 154 career games are the sixth most by a Bengals offensive lineman before Whitworth is poised to pass him in the third week of the 2016 season against Denver. Johnson and Kyle Cook are the only Bengals to center three different post-season teams.
"His intangibles are as high as anybody I've ever been around," says Lapham, still as close to Johnson today as he was when he was the guard to his right when they went 11-3 in '75. "Supremely intelligent. Leadership skills off the charts. I tried to get under his wing. I respected Bob's football acumen and IQ. I liked to hang with him. Smart guy."   
While still playing Johnson works for a small adhesive division of the Cincinnati giant U.S. Shoe. He and his colleagues are able to buy it with a down payment on the leveraged buyout. He runs it until 2000, when it sells to venture capitalists, who in turn sell it to a big company. When a plant is about to be closed, Johnson and company step in.   
"We ended up buying a neat little segment of the adhesive business," Johnson says of Choice Brands Adhesive, a Cincy company all the way. "It's worked out so well and easy, I don't see myself retiring. I'm enjoying still running it.
"One of the things we've done is we've licensed the Formica name," Johnson says. "So if you ever see an adhesive that says 'Formica,' on it, it's ours."
Johnson will end up with his own center. Anna, his oldest child, goes on to become basically the company's chief financial officer. His other child, Josh, will move in as CEO of a Chicago company. Maybe it's because they will take notes from their father like he takes notes from Paul Brown in between the football stuff.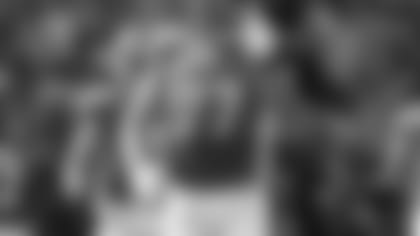 A current Bengals counterpart for Johnson? Mike Brown says try Andrew Whitworth.
"He was a terrific administrator. It was a great way to show somebody how to manage people," Bob Johnson says. "Fairness is incredibly important. Trying to evaluate people objectively and in a nice way tell them the truth. So many managers don't do that. Try to put people in a situation they can be successful. Don't ask them to do something outside their capabilities. You see these sports figures writing how-to business books. He would never write one, but he certainly could have."
Maybe Johnson's first lesson in the PB School of Think a Little Management stays with him the longest. It comes even before Johnson practices with the team. After playing in the College All-Star Game, he gets to Cincinnati in time to see the club's first pre-season game, a 38-14 shellacking by a Chiefs team that will win the Super Bowl the next year.
Knowing Brown is hard-boiled and suffers no fools; Johnson is in his first post-game-hear-a-pin-drop-pro locker-room bracing himself for some kind of eruption. None comes.
"We got the snot beat out of us. It was awful," Johnson says. "But his first thing was 'It wasn't too bad. I saw some good things.' I think he said here's a bunch of people that feel like they have been beaten down and my (criticism) is going to serve no purpose. In fact, build them up to have some confidence.
"He would not allow selfish behavior of a player," Johnson says. "How many companies or organizations get tainted by some person being allowed to be selfish? It hurts companies. It hurts everything . .. For simple practicality of this is how an organization should be managed, you might have had more academics at a place like Harvard. But the fundamentals of how you treat people in a management role, you could have never learned it in a better spot. From a better person."
The draft drones on and it is a special one. It turns out Johnson is selected between two future Hall-of-Famers, Yary and Tennessee State defensive end Claude Humphrey at No. 3. Another future Hall of Famer and another Syracuse running back, Larry Csonka, goes No. 8 to Miami.
As the Bengals expect, it is a down year for quarterbacks. A good one, Greg Landry of Massachusetts, goes to Detroit at No. 11. But the Bengals will get a better one in the next draft, the University of Cincinnati's Greg Cook, and three years later when future all-time passing leader Ken Anderson arrives in the third round.
No. Paul Brown gets exactly what he wants. As he builds the most successful expansion team in any sport in history, at one point he has four first-round picks on the offensive line and Johnson is the adhesive.
When Johnson is inducted into the College Football Hall of Fame long after his career in Cincinnati, Paul Brown is at the same banquet getting an award and says, "One of the better things I've done in my career is draft Bob Johnson No. 1. We were thrilled the way it all turned out. I just wanted to say, 'Congrats, Bob.'"
Johnson pens Brown a note later that says, "What you said about me meant more to me than getting into the College Football Hall of Fame."
When Johnson goes on to have four grandchildren, Jane says they think he is their play partner. "A little kid,' she says. "Being married to Bob is not boring. He has never been boring."
He still follows the Bengals drafts, but not everyone else's (who can nowadays?) and focuses on their position needs. Naturally he's looking forward to see how last year's two top picks, tackles Cedric Ogbuehi and Jake Fisher, fit and develop on the offensive line.
But he admits his selection is still a bit of a mystery 48 years later. Johnson says no one from the Bengals ever talked to him. But he has been told the late LoCasale, who goes on to become a top gun for Al Davis in Oakland, scouted him at the Senior Bowl. And, yes, there is a record of that with LoCasale's report written in pencil dated Jan. 3, 1968, the week of the Senior Bowl practices, and there are all the adjectives associated with a top pick.
Still, how did they get the character without talking to Johnson himself? Johnson theorizes in Paul Brown's bottomless vat of contacts is an old Ohio State fullback who played in the late '30s, just before Brown arrives in Columbus as head coach. Jim McDonald is briefly Johnson's head coach early on at Tennessee and he stays at the school after his tenure ends. But if that is the connection, Mike Brown isn't aware of the conversations.
"It's still the same process," Mike Brown says in this 140-character age. "Everyone in the business has opinions. It still comes down to judgment."
On a character pick right out of the gate, Paul Brown nails it. And he doesn't even have to take him to dinner or read his timeline.