The final Bengals.com Media Mock Draft of 2023. Maybe not as accurate as a Joe Burrow touchdown pass, but just as enthusiastic. A Pro Bowl thank you to all participating scribes.
1.PANTHERS _ QB Bryce Young, Alabama; Joe Person, The Athletic
Last time it was Ohio State's C.J. Stroud. The long and the short of it is now it is Young. New Panthers head coach Frank Reich has never worked with a quarterback shorter than 6-2, but they think Price can make a big impact.
2.TEXANS _ DE Will Anderson, Alabama; Aaron Wilson, Houston's KPRC-2
The shift is on. Last time it was a quarterback. Now the best edge rusher in the draft comes to a team with rookie defensive head coach DeMeco Ryans.
3.CARDINALS _ DE Tyree Wilson, Texas Tech; Darren Urban, azcardinals.com
If there's just one quarterback gone off the board it's hard to see the Cards not doing everything they can to trade back. And if they don't, there is some buzz they could take an offensive lineman. But if they have to stay here, Wilson looks to be a safe pick as a top player at a premium position.
4.COLTS _ QB C.J. Stroud, Ohio State; Stephen Holder, ESPN.com
New Colts head coach Shane Steichen has been tagged as a dual-threat guy as Jalen Hurts' offensive coordinator. Stroud isn't, but Steichen also worked with pocket passers Philip Rivers and Justin Herbert in L.A.
5.SEAHAWKS _ QB Anthony Richardson, Florida; John Boyle, Seahawks.com
Per Boyle: "The Seahawks love what they have in Geno Smith, but they have also made no secret of the fact that they're seriously considering a quarterback, because, as John Schneider put it at the (NFL scouting) combine, good quarterbacks "don't grow on trees." With a rare pick near the top of the draft thanks to last year's Russell Wilson trade, the Seahawks take a big swing on Richardson, a quarterback with the rarest of physical traits."
6.LIONS _ CB Christian Gonzalez, Oregon; Mike O'Hara, detroitlions.com
The sage O'Hara, who covered the last of Lem Barney's 56 Hall-of-Fame interceptions, all with the Lions, takes the first cornerback of this draft nice and early to remind everyone you can't have enough of them.
7.RAIDERS _ CB Devon Witherspoon, Illinois; Vinny Bonsignore, Las Vegas Review-Journal.
Same pick as the first Bengals.com Media Mock on April 5, so we repeat: Last in turnovers. Next to last in interceptions. The second fewest passes defensed. Fourth most passing yards allowed. Seventh most points allowed. With Jimmy Garoppolo here, they need to defend the passer instead of draft the passer.
8.FALCONS _ RB Bijan Robinson, Texas; D.Orlando Ledbetter, The Atlanta Journal-Constitution
It looks like they're also mulling the edge Van Ness and the guard/tackle Skoronski. D.Led senses the Falcons have turned to the most dangerous back since Saquon Barkley looking to put juice in a fairly pedestrian offense.
9.BEARS _ DT Jalen Carter, Georgia; Brad Biggs, The Chicago Tribune
The Tampa 2 that spawned head coach Lovie Smith's rugged Bears defenses at the turn of the century is back in vogue in Chi. Whether it's Tommie Harris then or Carter now, a disruptive three technique is a must in the scheme.
10.EAGLES _ DE Nolan Smith, Georgia; Zach Berman, The Athletic
Same position, different guy. Per Berman, the Eagles always prioritize both lines. Smith is undersized but has enough of a polished technique that Pro Football Focus graded him with the second best win rate among SEC rushers.
11.TITANS _ WR Jaxon Smith-Njigba, Ohio State; Paul Kuharsky, paulkuharsky.com.
They're desperate for wide receivers and offensive linemen and they get the first shot at both positions. Smith-Njigba may be the most different guy at either spot.
12.TEXANS _ QB Will Levis, Kentucky; Aaron Wilson, Houston's KPRC-2
Wilson doubts this is the scenario, so he takes Levis here because the anticipated run on offensive linemen hasn't happened.
13.PACKERS _ DE Lukas Van Ness, Iowa; Pete Dougherty, The Green Bay Press-Gazette
The Packers jump up two spots in the first move in the post-Aaron Rodgers era, but it's the same pick because they still have Rashad Gary coming off ACL surgery and Preston Smith is still turning 31 during the season.
14.PATRIOTS _ LT Paris Johnson Jr., Ohio State; Karen Guregian, The Boston Herald
Yes, they need an impact cornerback. But this time Gonzalez is long gone. With Trent Brown playing three full seasons out of eight and old friend Riley Reiff turning 35 late in the season, they're looking for an impact tackle, too. Guregian sees head coach Bill Belichick leaning to a Willie Anderson disciple expected to be a great tackle for years to come.
15.JETS _ LT Broderick Jones, Georgia; Rich Cimini, ESPN.com
The move back from No. 13 to cement the A-Rod trade costs them Paris Johnson, Cimini's pick last time. But the theme is the same. Protect No. 8 with one of the top tackles.
16.COMMANDERS _ T Darnell Wright, Tennessee; John Keim, ESPN.com
It looks like they're starting over in a lot of ways in Washington these days. Why not add a building block tackle into the mix?
17.STEELERS _ CB Joey Porter Jr., Penn State; Gerry Dulac, The Pittsburgh Post-Gazette
A tackle or an edge rusher wouldn't be a surprise, but with the top three tackles and Van Ness gone, not here. Plus, the Steelers are so adamant about coming out of this thing with a cornerback, Dulac wonders if they'll trade up to get one of the top two.
18.LIONS _ DT Calijah Kancey, Pittsburgh; Mike O'Hara, detriotlions.com
The Lions are looking for impact on defense. After drafting the first cornerback they take what they hope is an Aaron Donald clone. Same college. At 6-1, 281, a pound lighter than Donald and with a 4.67-second 40-yard dash, slightly faster.
19.BUCCANEERS _ QB Hendon Hooker, Tennessee; Alex Marvez, Sirius NFL Radio
Marvez, the sonorous soundtrack of "Late Hits," says Baker Mayfield and Kyle Trask don't look to be the long-term answers in Tampa Bay. In what looks to be a re-set year for the Bucs, they can develop a guy with a ton of upside who has been prepared well by a former quarterback in Tennessee head coach Josh Heupel. Coming soon on "LATEHITSSS."
20.SEAHAWKS _ DT Bryan Bresee, Clemson; John Boyle, Seahawks.com
After looking to the future and taking Anthony Richardson with their first pick, the Seahawks address their most immediate need with their second first-rounder and take the best interior defensive lineman available. Bresee should immediately plug into the D-line rotation.
21.CHARGERS _ TE Michael Mayer, Notre Dame Jeff Miller, The Los Angeles Times
The best tight end in the draft, Covington Catholic's Mayer, doesn't come across the bridge. He goes across the country to a team that has a new offensive coordinator (Kellen Moore) who threw the ball a bunch to tight end Dalton Schultz in Dallas. The growing sense in L.A. is the Chargers are moving to two tight ends and Mayer's ability to exploit seams is a great match with the elite Justin Herbert.
22.RAVENS _ CB Deonte Banks, Maryland; Jeff Zrebiec, The Athletic
Per Z: "The Ravens will likely sign a veteran cornerback in the coming weeks, but they need more help at the position with Marcus Peters still unsigned. Banks is a Baltimore native and he's the kind of big and physical player the Ravens covet at that position."
23.VIKINGS _ WR Zay Flowers, Boston College; Mark Craig; Minneapolis Star-Tribune
With so many cornerbacks off the board, the Vikings go with their biggest need to replace losing Adam Thielen and helping Justin Jefferson and Kirk Cousins.
24.JAGUARS _ S Brian Branch, Alabama; Michael DiRocco, ESPN.com
Per DiRocco: With 28 teams playing five or more defensive backs for more than half of last year's snaps, Branch is a big upgrade in the slot for the Jags in the quarterback-rich AFC.
25.GIANTS _ WR Jordan Addison, USC; Mike Eisen, Giants.com
They adhere to their offseason mantra. Keep stockpiling for quarterback Daniel Jones.
26.COWBOYS _ TE Dalton Kincaid, Utah; Todd Archer, ESPN.com
Seasoned scribe Archer, a Cincinnati Post dynamo from the '90s, isn't moving off this pick. Dak Prescott needs big-play help down the seam and a guy some scouts say has the NFL comp of Zach Ertz is a nice option at this point.
27.BILLS _ WR Josh Downs, North Carolina; Mark Gaughan, The Buffalo News
After losing so decisively to the Bengals in last year's AFC Divisional, there's a sense in Orchard Park the Bills need to close the gap with Cincinnati's wide receiver trio. Downs, one of 2020's top recruits in the nation, was ridiculously productive in Chapel Hill with 195 catches the past two seasons.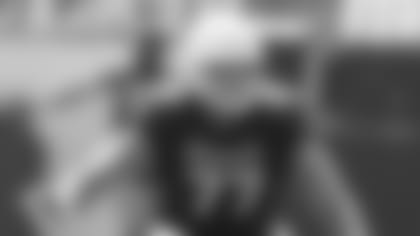 28.BENGALS _ OL Peter Skoronski, Northwestern; Geoff Hobson, Bengals.com
The classic "We Can't Believe This Guy Was Here," to use a dusty cliché. And guess what?
He's not going to be there. No way. He has a better shot at being mayor of Chicago than coming here. Remember, even the name of this thing (Mock Draft) says it's a flawed endeavor. But it does allow us to do the exercise. If a player is clearly the best player on the board with no debate, you can never go wrong picking him and worrying about position later.
This would be safety Dax Hill two years in a row. A player with legit first-round grades (and there were only about 15 of them last year) making it to the back end of the round. What are the odds of that happening again for the Bengals? Especially with supposedly even fewer first-round graded prospects this year?
Skoronski looks for all the world to be one of those legit guys. So if not him (or any other first-rounder), the hope is that someone who is in their top 28 on their board is going to be there. And then, they hope the player matches up with a premium position to match the value of the pick.
That's a lot of things that have to go right that are beyond their control. The Bengals haven't traded out of the first round in 34 years, but now wouldn't be a bad time. The meat of this draft is supposedly in the middle and it matches up with 1989, when they slid out of No. 27.
They picked up UCLA running back and current Bengals director of player relations Eric Ball at No. 35, giving them two second-rounders and an extra fourth-rounder. Maybe they can go lower and make it an extra third-rounder, but you get the idea.
Like the last draft, the Bengals have no immediate Opening Day need. But there are plenty of roster needs, such as depth at wide receiver, tight end, and running back. The age-old dilemma, though, is those aren't positions exactly viewed as premium and if you wait too late to get, say, a tight end, is he good enough to help you?
So the position the guy plays has a lot to do with it, but you can't get too wrapped up in it. Skoronski is a great example because there are a lot of similarities to the Bengals' 2006 draft and the case of LSU's Andrew Whitworth.
Whitworth played a record number of games for LSU at left tackle, but he was there in the second round because many scouts didn't think he was athletic enough to do that in the NFL (never mind he was a stud in the most athletic college league in the country) and had him projected as potentially an elite guard who could kick out to right tackle.
It's scary how similar. One NFC exec told NFL com about Skoronski, "He's a Pro Bowler at guard but just an average tackle if a team keeps him there." Skoronski even wore Whitworth's No. 77 at Northwestern.
Clearly, Whitworth was the best player on their board at No. 55, although there was a lively debate about him and University of Miami returner Devin Hester that Whitworth ultimately won because Hester was seen as not having a position to play.
It didn't seem to be such an inspiring pick at so high in the draft. Left tackle Levi Jones was expected to sign a contract extension by training camp and it was assumed Pro Bowl tackle Willie Anderson would get one, too, at some point. By the preseason finale, both did. And their guards, Bobbie Williams and Eric Steinbach, were top-of-the-line vets.
But when the season began, all hell broke loose. Center Rich Braham suffered a career-ending injury in the opener, Steinbach moved to center and Whitworth replaced Steinbach at left guard in his second NFL game. Whitworth started 12 games as a rookie and 16 the next year at both spots when Jones suffered a knee injury. By 2009 Whitworth was the left tackle on the way to four Pro Bowls and maybe the Hall of Fame.
Which is why if you take the clear top player on the board no matter the position, it usually works out for you. They never take a safety in the first round. Hill, it will be recalled, was the first one the Bengals took that high since taking Daryl Williams 30 years before at No. 28.
Now, if there's not a clear top player, that's where the fun begins.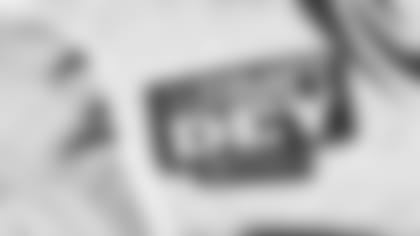 2023 Draft Dey Center
The official sources of news, photos, interviews and more of Draft Dey 2023, presented by Integrity Express Logistics.