After meeting with him at Paul Brown Stadium and on the campus of the University of Oklahoma, the Bengals expressed enough confidence in running back Joe Mixon to take him with the 48st pick in the second round of Friday night's NFL Draft following a trade with the Vikings.
The Bengals now have three fourth-round picks when they picked up No. 128 from old friend Mike Zimmer.
Compared by some to Steelers running back Le'Veon Bell right down to the counter play, the 6-0, 228-pound Mixon figures to become a prominent piece rather quickly.
If not for an ugly off-field incident in which he was suspended for the 2014 season, Mixon may very well have been drafted in the top ten. In the past two seasons he racked up more than 2,000 yards and 26 touchdowns with 17 on the ground and nine more through the air.
"Mixon can be called one of the top backs in this class," says Ourlads Scouting Services. "He has rare movement ability for a back his size and there is some natural vision and reaction ability here that you won't see very often. He is an every-down back who has some questions to answer, but as a player he can be big time."
The Bengals are satisfied after meeting with Mixon, talking to Oklahoma staffers that raved about him as a teammate and person, and performing other due diligence that the misdemeanor assault charge is history. After he broke the jaw of Amelia Molitor when he punched her after an exchange of words in a disturbing video, Mixon received a one-year deferred sentence and was ordered to undergo counseling along with 100 hours of community service. The woman sued Mixon, but there was a settlement reached and Mixon issued an apology to her.
Molitor also released a statement last week.
"Joe and I were able to meet privately, without any attorneys, and talk about our experiences since that night. I am encouraged that we will both be able to move forward from here with our lives," Molitor said. "From our private discussions I am satisfied that we are going to put this behind us and work towards helping others who may have found themselves in similar circumstances. I greatly appreciate his apology and I think the feelings he expressed were sincere. We both could have handled things differently. I believe if we had a chance to go back to that moment in time, the situation would not have ended the way it did."
An emotional Mixon broke down and fought through tears through the entire seven-minute conference call with the Cincinnati media from his hometown of Oakley, Calif.  He watched the pick upstairs with his mother during a family gathering.
He recalled last month's job interview at PBS.
"Honestly, just go there and tell the truth, look them in the eye and be very sincere about it," Mixon said. "Going in there and having a good talk
with Coach Lewis and the GM and owner, I felt the reason why they selected me was they felt very comfortable and they'd seen the type of person I was. I was very genuine to them and I was very straight up. I can't do (anything) but thank the owners, the organization
and Coach Lewis for the opportunity."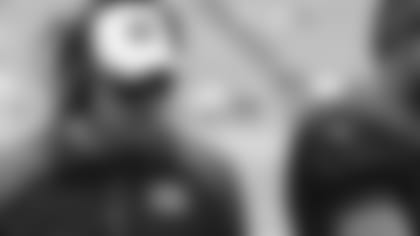 Running backs coach Kyle Caskey spent parts of four days with Joe Mixon last month.
Mixon pledged to do what he did in Oklahoma and become involved in the community.
"Very involved, mostly with the younger kids around the community, whether it's a AAU team, football team, children's hospitals," Mixon said. "I like doing a lot of things like that. I have a big family and really care for them. Most people don't get that talking to or that person to be around them for advice, or anything like that. And that's what I try to do — just to change somebody's life. You never know who."
The Bengals have a good relationship with Mixon agent Peter Schaffer, also the rep for cornerback Adam Jones, and the club realizes Mixon is going to be tested every day of his pro career because of the incident and plans to work with Schaffer to create a broad support system.
Bengals running backs coach Kyle Caskey was part of the research team on the ground. He spent parts of four days with Mixon the week after the combine. Caskey had dinner with him the night before his workout at Oklahoma and spent the morning before with him. Then they came east to Cincinnati and Caskey met with him again for parts of two days. When he wasn't meeting with him talking about football, Mixon met Bengals president Mike Brown and head coach Marvin Lewis and various staffers.
"He's a very intelligent guy. He's the kind of guy who's going to come in here and put his head down and work for us," Caskey said. "(The people at Oklahoma) said it was an unfortunate situation and it's not what he is.  He's a great teammate. Everybody there loves him. He's the kind of guy that is going to mesh well with the guys in our room and bring some competition in our room. I think he'll step into any role we have for him and he'll do really well." Bengals head coach Marvin Lewis emphasized the homework has been done.
"Obviously this is a pick that opens everybody's eyes. We've done such a lot of work regarding Joe Mixon throughout the entire process this year," Lewis said. "Based on all the time, all the research, we felt that we can continue to move forward. Joe's situation kind of came to a settlement in all ways this week, which also led us to feel better about the opportunity here and to move forward. We've done all of our due diligence we can do, time spent interviewing people, everybody around him, everybody around his background, people that have coached at Oklahoma for insight regarding him and how he has carried himself since that day."
Lewis knows the move is a sensitive one with the fan base.
"Some of our fans are pausing for a second," Lewis said. "I understand that ... For three years he's lived on the head of a pin .... We feel really comfortable about how to handle it.
"I don't know who isn't disgusted with what they saw, but it's one day in a young man's life. He's had to live that since then, and he will to continue to have to live that. He gets an opportunity to move forward and write his script from there on. It's come to a
conclusion with the young lady — they've come to their statements ... about how they both would have liked to have, and probably should have, handled the day better. But, again, that doesn't change it, and we've got to (move on). He's committed to doing that. He
has gone down that path as he's gone forward in his life since that day — what he was asked to do there on campus at Oklahoma from that point on, that entire year, from the President of the university on down. He's been able to cross those bridges all the way through
and continue on."
From a football standpoint, Caskey said, "He brings an explosiveness to our offense that's good to have with a guy like that. He's a very, very high talented guy. Getting him in the building
and getting him in our offense is exciting for us, because there's a lot of things we can do."