Duke Tobin would love another '06 draft
The Bengals glance back a dozen years ago to the 2006 NFL Draft and can only hope they match it. Of the players drafted that year still in the NFL last season, the Bengals selected nearly a quarter of them in one of those quaint, pre-prime time events  that quietly took place Saturday and Sunday on the last two days of April.
That draft, bannered by first-round cornerback Johnathan Joseph and second-round left tackle Andrew Whitworth with a total of six Pro Bowls, offers a glimpse of the philosophy that has pretty much run their draft room since during the franchise's winningest stretch:
-Covet corners and tackles as the 21st century game continues to migrate to the edge.
-Don't get boxed out by pre-requisites of experience and workouts. Game tape trumps it all.
-Don't get too cute trading away picks. There are players all through the draft.
-And, of course: "Best available player," says director of player personnel Duke Tobin this week, "is a pretty good way to go."
Of the 23 draft picks from '06 who played at least one game in the NFL last season (according to Elias), the Bengals picked five of them. Only three other teams drafted multiple non-kickers still around.
But nobody did what the Bengals did.
The players they chose in the first four rounds, South Carolina's Joseph, LSU's Whitworth, USC defensive end Frostee Rucker, and Michigan State nose tackle Domata Peko, all started at least 14 games last year in their 12th seasons. Only five other '06 picks did that in 2017.
Bills defensive tackle Kyle Williams, Jaguars tight end Marcedes Lewis, and Washington tight end Vernon Davis started every game while Dolphins quarterback Jay Cutler and Packers guard Jahri Evans each started 14.
Not only that, the Bengals made the only selection in the supplemental draft three months later when they took Virginia linebacker Ahmad Brooks, a 2013 Pro Bowler that played 12 games with five starts in his first year in Green Bay last season.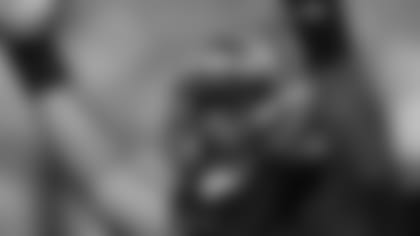 ZDomata Peko: don't get too cute trading those fourth-round picks
None of them are still with the Bengals, which is par for the course around the league. But they left their marks on a perennial play-off team.
Joseph was a co-MVP in a play-off year. Whitworth and Peko were de facto offensive and defensive captains in 11 seasons the Bengals went to the postseason six times. Only Hall-of-Famer Anthony Munoz went to more Pro Bowls than Whitworth at left tackle for the Bengals and only cult hero Tim Krumrie played more games on the Bengals defensive line than Peko.  Before leaving after the 2011 season, the versatile Rucker helped the D-line become the engine of Mike Zimmer's top 10 defenses. 
"That's what you envision for the players that you draft," Tobin says. "It's nice when it comes together like that. It's hard work from the players' perspective. Its good development from the coaches' and club's perspective. And it was good work from the scouting perspective."
Making things smooth in the draft room these days despite the biggest coaching overhaul since head coach Marvin Lewis arrived is that those decision-makers are intact from that weekend a dozen years ago.
Bengals president Mike Brown still chairs the pre-draft meetings and the draft itself with heavy input from Lewis, now in his 16th draft. They both rely on Tobin, in his third decade with the club, and his staff to organize everything from the board to the pro day assignments to identifying the 30 prospects that are allowed to visit in the weeks leading up to the draft, as well as guide the room on the clock.
Denver, which is working on its sixth head coach since that draft, came the closest to matching the Bengals with three '06 picks that played last season.
After taking Cutler in the first round, the Broncos struck gold in the fourth with two future Pro Bowlers, Central Florida wide receiver Brandon Marshall and Louisville defensive end Elvis Dumervil.
In 2006, New Orleans was in the first year of the draft room of GM Mickey Loomis and head coach Sean Payton that is intact today and they  plucked two guards with longevity in Bloomsburg fourth-rounder Jahri Evans and suburban Cincinnati product and seventh-rounder from Northwestern Zach Strief. Out in San Francisco the 49ers' front office roulette wheel took two tight ends, Maryland's Vernon Davis with the sixth pick and Central Missouri's Delanie Walker in the sixth round.
The Ravens also have two '06ers still around, led by first-round nose tackle Haloti Ngata. But sixth-rounder Sam Koch is a punter.
Yet nobody did what the Bengals did. In addition to selecting seven Pro Bowls, they took Rucker and Peko, a duo that has combined to play 327 NFL games, 11 of them in the postseason.
Joseph's selection began the run of the Bengals taking five first-round corners since the '06 draft. They made up for lost time. When they took him, it marked the first time in the history of the franchise they drafted a college cornerback in the first round and played him as a cornerback. The next year they took Michigan corner Leon Hall in the first round and two years later they were co-MVPs of the 2009 AFC North champs.
  2006 Draft Picks Who played in 2017 *            (Elias Sports Bureau)
*Cincinnati (5): South Carolina CB Johnathan Joseph (first round); LSU OL Andrew Whitworth (second round); USC DE Frostee Rucker (third round); Virginia LB Ahmad Brooks (third round supplemental); Michigan State NT Domata Peko (fourth round)
Denver (3): Vanderbilt QB Jay Cutler (first round); Central Florida WR Brandon Marshall (fourth round); Louisville DE Elvis Dumervil (fourth round)
Baltimore (2): Washington NT Haloti Ngata (first round); Nebraska P Sam Koch (sixth round)
New Orleans (2): Bloomsburg G Jahri Evans (fourth round); Northwestern G Zach Strief (seventh round)
San Francisco (2): Maryland TE Vernon Davis (first round); Central Missouri TE Delanie Walker (sixth round)
Buffalo (1): LSU DT Kyle Williams (fifth round)
Dallas (1): Notre Dame TE Anthony Fasano (second round)
Houston (1): Miami RT Eric Winston (third round)
Indianapolis (1): Howard S Antoine Bethea (sixth round)
Jacksonville (1): UCLA TE Marcedes Lewis (first round)
Jets (1): Oregon QB Kellen Clemens (second round)
Kansas City (1): Penn State DE Tamba Hali (first round)
New England (1): Memphis K Stephen Gostkowski (fourth round)
Seattle (1): Virginia Tech DE Darryl Tapp (second round)


Joseph, who signed with the Texans as a free agent after five seasons in Cincy, also showed why you can't box in prospects. All five guys had different traits and backgrounds, expect for solid game tape. Joseph and Peko were junior college players. Rucker was a transfer. Brooks was dismissed from his team at Virginia. Whitworth was one game shy of setting an NCAA record with 52 starts in the Triple A league of the SEC.
After transferring from Coffeyville Community College in Kansas, Joseph broke his foot and played only two games in 2004 before starting 10 games in just his second and last season at South Carolina in 2005.
But even though he had only 12 Division I games, the Bengals felt if Joseph had more experience he would have been drafted much higher. He not only ran the second fastest 40-yard dash at the scouting combine (4.31 seconds), but secondary coach Kevin Coyle compared his athleticism to Bengals cornerback Deltha O'Neal, coming off a Pro Bowl season
Whitworth is the prime example of why they go best player and stay true to grades. Hackles were raised with the pick because they already had an in-the-prime left tackle in Levi Jones expected to sign a contract extension before the season. But with electric return man Devin Hester not having a true position, they felt Whitworth was the best player on the board at No. 55 given his production and character.
The Bengals felt he could eventually play right tackle, or move inside to guard, as well as play left tackle. Offensive coordinator Bob Bratkowski said that night they wouldn't have drafted him if he played only left tackle. Offensive line coach Paul Alexander indicated on draft day that Whitworth was graded much higher than any player on the board, including Georgia's Leonard Pope at a tight end position where the Bengals had a huge need.
"When Dallas had (Bernie) Kosar, they drafted Troy Aikman because it was the right move at the time," Alexander said after the pick. "It shows you when you've got a guy who is that much better than the next guy (on the board) ... now, if you've got similar guys, you take for position. I think every team does that."
When Jones struggled with knee injuries, Whitworth turned out to be a franchise left tackle for six post-season teams in a stretch he went to three Pro Bowls. Even that first of day the draft after they had selected Joseph, Whitworth, and Rucker, Lewis sensed they were winning the battle of the boards.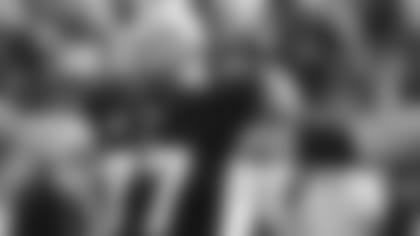 Andrew Whitworth: The best player available.
"I guess we had them graded right, and that's the good thing," Lewis said after the third round. "The thing I was really pleased about is that we didn't have a lot of guys go behind where we had them picked. When we got to 45, two guys were drafted higher than we had them. I think that says our people did a good job getting guys in the right spots."
The Bengals did due diligence on Rucker since he transferred from Colorado State with character baggage and when he arrived in Cincinnati he became one of the leading Bengals in the community.
Brooks had his own baggage that the Bengals checked. He was dismissed from Virginia after failing a drug test and that's why he was in the supplemental draft. Brooks was gone after what the coaches saw as two immature years he didn't play up to what they believed was his enormous potential. The Bengals saw an athletically gifted backer who could also rush the passer, which he did as a Super Bowl starter for San Francisco in 2012.
None of them are still with the Bengals, but that's par for the course. Only four non-kickers of the 23 (kicker Stephen Gostkowski and Koch are still with the Patriots and Ravens, respectively) have stayed with their original teams for the past 12 seasons: the Bills' Kyle Williams, Jaguars tight end Marcedes Lewis, the Saints' Zach Strief and Chiefs defensive  end Tamba Hali.
If you wonder what the Bengals are seeking at the end of this April, Lewis' comments on that last Saturday night of April in 2006 are a good place to start.
"First of all, we were able to get guys who performed at a high level in the collegiate ranks. I'm happy about that," Lewis said of the first three picks and he could have said it about Peko.  "I don't think the NFL will be too big for these guys. I think these three players come in here with the physical bodies to play football in the NFL. I think that's important. We don't have to worry about the development phase. We have guys who can come in and continue to do the things they were doing on their college campuses and be successful right away."
Nobody did what the Bengals did that weekend.
"All those things came together for those guys and ultimately that's what you envision when you draft a guy," Tobin says. "Long, productive careers."