When the Bengals stayed put in the second round in 2010, Carlos Dunlap emerged as one of the rewards.
The Bengals don't trade up very often in the draft. Try three times since Paul Brown sat at No. 2 in 1968 and made Tennessee center Bob Johnson the first Bengal. But last year they vaulted 12 spots in the fourth round to take North Carolina center Russell Bodine.
Bodine responded by turning in one of the best seasons ever by a Bengals rookie when he took virtually every snap for a play-off team. Learning on the job isn't always pretty, but he adjusted from his "one call," college offense to the myriad of pre-snap pro reads well enough for the Bengals to hit sixth in NFL rushing in a defensive-minded division.
When he led quarterback Andy Dalton into the end zone on a fourth-and-one sneak with 57 seconds left against Baltimore, their April belief they were getting an AFC North enforcer had October validation. Here's how he got here:
There are times the Bengals do try to trade up. It takes two to tango. They go into this one picking No. 24 with no intention of trading up even though they're looking for cornerbacks. Leon Hall is coming back from his second torn Achilles, Terence Newman and Adam Jones eye September birthdays of 36 and 31, respectively, and Dre Kirkpatrick looks to get off the bench.
 But as one of their players they had ranked
in the top ten, Michigan State cornerback Darqueze Dennard, keeps dropping past the Steelers at No. 15 and edges ever closer to them, they begin making phone calls to see if they can move up. They don't see how Dennard gets past the corner-starved Eagles at No. 22 and there's a fear the No. 25 Chargers jump ahead of them.  
But the price is too high in trade for the draft room chaired by Bengals president Mike Brown. This is a good draft for third- and fourth-rounders and the Bengals need plenty after that first pick, like a starting center and an edge rusher to replace Michael Johnson. And a big, young running back to team with Giovani Bernard would be nice.
They only have to go back to 2010 to know how costly a move up can be. That's the year they explored moving up in the second round to get USC safety Taylor Mays, one of these 21st century hybrids, a 230-pound linebacker with DB measurables.
But even though they had two third-rounders and two fourth-rounders and were coming off an AFC North title, the Bengals were still re-building their front seven and needed the picks. Plus, there were some good players still lingering for them at their spot. Particularly a gifted pass rusher from Florida, Carlos Dunlap.
And that's one of the first laws of trading up for the Bengals. If you can still get a guy you want without moving, stay put. It's only when the universe of players shrinks do you have to make a move.
"It's easier when you have a target and go up and get it than it is trying to slide back," says Duke Tobin, the Bengals director of player personnel. "It's more going to be dictated  by who is available to you when your pick comes up, so you don't see trades get done until the team is on the clock."
The wait was worth it. Dunlap and a fourth-round pick they would have had to give up to go get Mays, Georgia tackle Geno Atkins, become key figures for a top five defense. And they do end up trading for Mays, but they used a much lower pick in the next preseason. The measurable don't quite translate to football, but for four seasons Mays becomes a nice niche player in the nickel package as well as an active special teamer.
So the Bengals don't move on Dennard and are rewarded again. The Eagles trade down with the Browns so Cleveland can take Texas A&M quarterback Johnny Manziel. It won't be the first time this year Manziel helps the Bengals. And the Chargers decide to stay put and take Texas Christian corner Jason Verrett.
They get their man and keep their picks.
SECOND AND THIRD ROUND, May 9
In the run-up to the draft, the Bengals targeted Bodine as their top center in their quest to replace Kyle Cook. Cook had been a nice find, a player released by the Vikings they had developed when 2005 fourth-rounder Eric Ghiaciuc didn't. But Cook wasn't the biggest guy among the AFC North behemoths and when injuries sapped him of his strength they released him the month before. So nine years later they hope the fourth-round would be kinder.
Greg Seamon, the Bengals' East Coast scout, has high grades on Bodine and loves the nasty streak and leadership abilities he flashed at Chapel Hill. Long-time Bengals offensive line coach Paul Alexander thinks he can play right away. Tobin, coordinating the draft from the back of the room with his laptop, his land line, and a cell phone, also has a good grade on him.
But there is an early warning bell that it won't be easy. The Giants provide a shocker when they grab Colorado State center Weston Richburg in the second round with the 43rd pick. Already there is a buzz they might have to do something to get Bodine if the centers keep going like this.
"Outside of the first round, you can't plan trades in advance," Tobin says. "You can't because you have no idea who is going to be there."
A center doesn't get picked again until the third round when the 49ers take USC's Marcus Martin at No. 70. But when the Lions take Arkansas' Travis Swanson six picks later, the universe is shrinking. Even though the third round ends with no other centers taken, the Bengals leave Paul Brown Stadium that night with a pretty good idea if they want Bodine in the fourth round that begins Saturday morning, they're going to have to move from that 123rd pick at the bottom of the round. Mike Brown gives Tobin the word to seek a deal.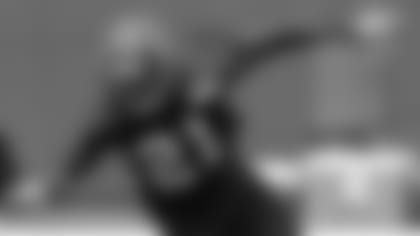 As Michigan State cornerback Darqueze Dennard got closer to them last year, they made a few calls on a possible move up.
As Tobin arrives early Saturday morning, he knows he's got a long day ahead of him even before the Bengals make their five picks in rounds five through seven.
But if he gets the trade, it will only be four picks because he's offering one of their two sixth-rounders (the 199th pick) to move up in the fourth. They've got another sixth-rounder later through compensation, which they can't trade.
Tobin knows he has to make about 50 calls in his attempt to get high enough for Bodine. The day begins with 22 picks ahead of them, so Tobin is coaxing his cell phone early and often. He tells clubs what the Bengals are willing to do. The price is that sixth-rounder. While he's making some voice contact, he's sending mainly text messages. When Bengals Midwest scout Bill Tobin ran the drafts for the Bears and Colts in the '80s and '90s, Duke's father was using smoke signals in comparison.
"Texts are just quicker and easier," Duke Tobin says. "You like to get on the phone initially and give them the parameters, but then it's pretty much just a yes or no or a maybe."
There are always a lot of maybes.
"There's no formula. Every situation is different," Tobin says. "There's a lot of fishing that goes on. You weed through them to find out who is really serious about it. Normally the response is going to be, 'It depends on who's there.' If a team doesn't call you back that means normally they're not serious. If your guy is still there, you keep going down the list."
The Bengals have a bank of land-line phones for the scouts, usually Tobin, Seamon, and Robert Livingston. Tobin prefers his cell phone and head coach Marvin Lewis keeps in touch with his vast league sources on his cell phone.
Even before he begins tapping Saturday morning, Tobin has a pretty good idea what his best chance is. Seattle has two picks in the fourth round, 108 and 111. Plus, Tobin and Seahawks general manager John Schneider go way back.
They are a year apart in age with Tobin, 44, the oldest and they're both Midwest guys. Tobin is Chicago and Schneider is Wisconsin. They've grown up, raised families and reached the top of the profession crisscrossing the country together. Schneider began hitting the NFL scouting trail for the Packers in 1993 and Tobin joined up with the Colts two year later.  Schneider got to the Super Bowl first when the team he built with the Marshawn Lynch trade bludgeoned its way to the title back in February.
This deal won't be as far-reaching, but the Bengals need it for their Super Bowl run. Schneider tells Tobin he's interested in moving back from his second fourth-round pick at 111. That would be 12 decisive rungs up the ladder.
"I know John so I knew when he told me that he was truly interested," Tobin says. "And that helps you because you know there are guys that are going to string you along."
Those are the maybes. The fishing trips. It's tough to deals with the clubs at the top of the round because they've had a night and morning to target guys. And another center goes off the board early in the fourth at 105 when the Patriots take Florida State's Bryan Stork. It's hard to see Bodine staying up there much longer. That takes four centers off the board and there's a big gap to the next one. Later, the Bengals will see how right they were when the next center taken after Bodine is Ohio State's Corey Linsley 50 picks later in the fifth round.
After New England, there is Oakland and San Francisco before Seattle takes UCLA defensive end Cassius Marsh at 108. Then there is Buffalo and St. Louis before Seattle again at 111. Tobin laughs. Yes, they would do a deal with an AFC North team if they had to, but they usually don't and so it's a break none of them pick until the Steelers at 118. And with Alex Mack in limbo in Cleveland, all three of them are capable of taking centers.
But it doesn't get to that. The Bills and Rams go for secondary help and Tobin gets a text back from Schneider. It goes something like "We're in, Make the call."  The NFL has a trade hotline set up where teams call so they can verify trades. Tobin punches in the number after getting the text while Schneider is doing the same. Then the people they talk to exchange the information they've been told to confirm it.
"You're on the clock," Tobin is told.
POSTSCRIPT: Richburg started 15 games for the Giants at left guard. Martin started eight games at center for the 49ers. Swanson played all 16 games for the Lions at center, guard and tight end with five starts. Stork started 11 games at center for the Patriots, including the win over Seattle in the Super Bowl.  He came to New England via a trade, when Jacksonville traded up to No. 93 and the Pats got a fourth (Stork) and a sixth.