The Bengals hosting the University of Cincinnati pro day on Thursday serves as a tidy metaphor for where they are now as their offseason pivots to the NFL Draft.
When they close up the last position drill at the IEL Indoor Facility, it's going to be five weeks until they're on the clock at No. 28. After a week of free agency that brought them one of the highest-paid tackles ever in Orlando Brown Jr. and another starter in Rams Super Bowl safety Nick Scott, it appears the Bengals are momentarily stepping back from the market.
Three weeks ago at the NFL scouting combine, director of player personnel Duke Tobin stressed they weren't playing games for about six months and that the roster would evolve incrementally.
As they look to replace backup running back Samaje Perine's versatility and starting tight end Hayden Hurst's receiving abilities, those are two positions they can find at any point in a draft that is always heavy with running backs and this year is uniquely filled with tight ends.
(Just look at the Bearcats, who are expected to have two tight ends work Thursday in Leonard Taylor and Josh Whyle.)
It's believed they'd like to also sign a veteran to pair with a rookie at tight end, but they're looking for numbers to fit under a tightening salary cap. According to spotrac.com, they have a projected rookie pool of $7.6 million to go with just $9.8 million in cap space.
The free-agent signings, which also include right tackle Cody Ford, seem to have done what last year's early free-agent work did on the offensive line and opened up the draft for pretty much any position. And the Bengals scouts have been in the swirl since the combine, as evidenced by the itinerary of area scout Christian Sarkisian.
Sarkisian, who scouts pretty much the swath from the Great Plains through the Southwest, finished last week at Tulane (home of key swing defensive lineman Cam Sample) before coming home to help a bit with free agency and then jetted out to Iowa's pro day that took place on Monday.
He drove from Iowa City to Ames for Iowa State on Tuesday and spent Tuesday afternoon driving 3.5 hours to Lincoln, Neb., for Wednesday's University of Nebraska pro day at the alma mater of starting cornerback Cam Taylor-Britt and special teams regular Stanley Morgan Jr.
Then Sarkisian flies back to coordinate the UC pro day, which is at Paycor Stadium because the Bearcats are renovating their facilities. He has been the point man for the UC workout for the last several years, but only the site is going to be different on Thursday.
The NFL assigns each team anywhere between six and a dozen schools to oversee the pro days and it's usually in their region.
"You're just kind of the bridge between the school and the scouts," Sarkisian says. "Organizing necessary paperwork as well as making sure it's efficient without being rushed and making sure everybody is seeing what they to want to see and the players feel like they're able to showcase their skills."
Sarkisian runs a tight ship. The weigh-ins, measurements of hands, arms and wing spans, as well as the jumps and the bench press are set for the Kettering Health Performance Center. Then they'll go to the indoor facility for the runs, shuttles and position drills as the draft takes center stage for the next 35 days.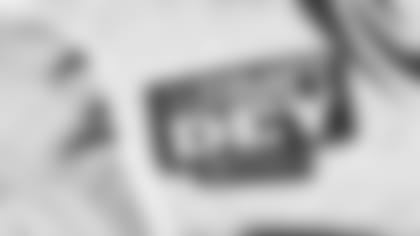 2023 Draft Dey Center
The official sources of news, photos, interviews and more of Draft Dey 2023, presented by Integrity Express Logistics.