This one may go down as The Andrew Billings Draft.
Duke Tobin loves doubles.
Oh sure. The homers are great, like those back-to-back jobs with A.J. Green and Andy Dalton in 2011 that set up a franchise for a decade. Or skimming the second round and fourth round in 2010 to cement a defense's identity with a pair of pass rush Pro Bowlers in Carlos Dunlap and Geno Atkins.
But Tobin, the Bengals director of player personnel, knows this five-year run in which the Bengals have the fifth best record in the NFL has been built by solid, sober, and simple decisions in a draft room chaired by Bengals president Mike Brown and powered by grades.
Like the 2012 draft when they got 10 picks out of five trades and plucked six regulars and starters for two AFC North titles.
Like when Pro Bowl tight end Tyler Eifert fell to them in the first round in 2013.
Or when running backs Giovani Bernard (2013) and Jeremy Hill (2014) were where they should have been in the second round. Or when right tackle Jake Fisher fell in the second round in 2015.
Don't move around at the slightest frustration swinging for the fences. Pick the best player. Don't look at your depth chart. Don't look at the workout numbers. Pick the highest graded player on your board.
Hit a nice, safe double. And that's what they did because there's the potential that all seven picks could be on the active 46-man roster at some point this season.
Doubles. It's believed they were able to secure four players in their top 60 rankings and that was hard to do picking No. 24 this weekend. "Stressful," one scout said.
But when the dust cleared Saturday night Tobin had to be happy. From the first pick in Houston cornerback William Jackson to the fourth round pick in Baylor defensive tackle Andrew Billings to the sixth-round pick in Ole Miss receiver Cody Core, this was a doubles draft.
By the book. By the board. And, again, the national pundits raved about a Bengals draft. From the entire class to individual picks. In this decade, solid drafts and soggy golf have come to define Cincinnati sports springs.
CBS Sports.com said the Bengals had one of the league's five best classes. ESPN's Todd McShay called it a good three days for Bengals' fans. NFL.com draft guru Gil Brandt exulted after the fifth round pick of Arizona State guard Chris Westerman, "is great value. Plug and play." After the Billings pick, NFL Network declared that the Bengals should be recognized as having one of the top personnel departments in the league.
They fought the temptation to trade up and get a wide receiver in the first and second rounds and actually made unsuccessful calls. But they wanted to keep that fourth-round pick and they ended up getting the best player on their board in rounds one and two, and were rewarded with what has been called in some circles the steal of the draft in the fourth round in Baylor defensive tackle Andrew Billings.
"You can't give in to that. We have to take the best players," said head coach Marvin Lewis of the trade temptation as he wrapped it up Saturday. "I think today we did a particularly good job of that. We filled some needs. We filled some needs with really good guys — good players that we had good grades on collectively."
 Take a look at two picks that defined this draft. Two doubles.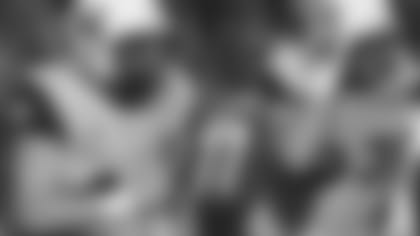 No way Nick Vigil was getting past long-time NFL backer gurus Marvin Lewis and Jim Haslett.
There is the choice of Utah State linebacker Nick Vigil in the third round, when Billings was also on the board after being a second-round possibility, and the pick of Westerman in the fifth, when they were mulling trading up to get Core or another receiver from a batch.
But they stayed put. Along with a grade, there also has to be the sense he can make your team better by actually suiting up sooner rather than later. That's what probably broke the virtual tie between Vigil and Billings. They need more depth at linebacker than the defensive line.
Long-time NFL linebacker aficionados Lewis and Jim Haslett are enamored of Vigil. They have seen too many backers with his speed and brains be outstanding players for a long time. The sense is not only can Vigil be a full-time player eventually, but he'd be such an upgrade on special teams that he'd be on the active roster each Sunday. If a guy has a great shot at being on your 46-man roster on game day right now, that's a double.
"He'll have a big role on special teams. He's got great speed. We'll try to fit him in and we've got some pretty good linebackers, but when you watch the tape, he jumps out on the tape," Haslett said. "He can run the field. He's really good in coverage and they play the same type of defense we play, so I think it'll be an easy transition once he learns the language, and I think he's a three down player that can play multiple positions. He can play the Mike, the SAM or the WILL positions because of his versatility."
 Then, of course, Billings was there anyway. Which made the pick of Westerman even more intriguing. Billings has been wrecking weight rooms for years and was the strongest man in the draft with a dead lift of 700 pounds. Westerman, undefeated as a boxer, had ripped of 41 reps of 225 pounds before the season and then yanked up 34 at the NFL scouting combine. Billings eased to 31 with his bench press.
Not only is Westerman strong, but offensive line coach Paul Alexander believes he can play and they can teach him to play center so he can back up starting center Russell Bodine as well as backing up the guards. Which means he'd also be part of the active 46 on Sundays.
The fact Westerman was already rated their top player at that point with a particularly high grade made the pick that much easier. What's even more remarkable is that the Bengals have put together these blue ribbon drafts without picking higher than 21 the last four years.
A pick for each of the seven rounds was their fewest in nine years. They couldn't move around like division rivals Cleveland and Baltimore with high and multiple picks.
"Every time I looked up, Cleveland or Baltimore was picking," a draft insider said.
But they didn't school the Bengals, according to the estimable Rob Rang of CBS Sports.com. He gave the Bengals a B, the Browns a C-minus and the Ravens a B-plus. They even had the burden of picking right behind a guy that knows them intimately, still a close friend and long-time defensive coordinator Mike Zimmer. But it didn't appear that he stole anyone out from under them. He did get Core's Ole Miss teammate in the first round at No. 23, Laquon Treadwell, but it didn't look like the Bengals were headed that way.
"We wish we had had more (picks), and more flexibility in that," said Lewis, who'll get them next year because of compensatory picks. "We just felt like it was important to get six or seven players; young players to infuse into the roster for the future."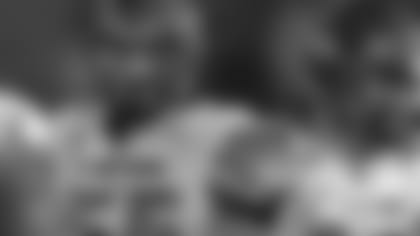 Arizona State guard Chris Westerman's ring exploits fit right into the AFC North heavyweight title bout.
Like the 6-3, 205-pound Core. If there is ever the laundry list specs for a Bengals wide receiver, Core has it. A big, fast leaper with a 4.47-second 40 who loves to jump up and get the ball. Now, the scouts don't like his sloppy routes and average hands. But one report also said, "Pushes hard up field to sell the deep ball and put defender in defensive posture. Good leaper who uses his size and spring to go up and get the ball. Strong enough to grind out yards after the catch with his size. Effective special teams cover man during his time at Ole Miss with 18 tackles. Able-bodied blocker."
Special teams coordinator Darrin Simmons loves wide receivers than can cover. This kid could have a real shot at being one of the five receivers on game day later in the season. The comparison? A healthy James Wright when they drafted him in the seventh round in 2014.
But ten years from now, this draft could very well be remembered as The Billings Draft. He just turned 21 in March, but he's already seen as a guy that can help them right now in the run game and Bengals defensive line coach Jacob Burney says he can also push the pocket. What if they just drafted an elite run-stuffer and are going to team him with a possible Hall-of-Fame pass rusher in Atkins?
It just so happens that Billings' agent, Bill Johnson, is in the agency that represents Atkins and Atkins was very much on their minds when Billings didn't get drafted in the first three rounds.
No one can explain the slide. The knock on Billings is that he's short at barely 6-1, but that was why Atkins was there in the fourth all those years ago. With 33-inch arms, Burney says Billings doesn't play short.
"I like lifters personally. I like guys that can do it in the weight room,' Burney said. "But I wanted to see . . . if he couldn't translate it to the field. But this guy is a football player.  A very good player. And he's got solid, solid character. And he can move. .. He doesn't play in a phone booth."
And so the AFC North hook-up continues. Lewis, the man that has to translate the draft board into wins, feels like it was a good day in the 21st century's version of the Black and Blue Division. Billings and Westerman made them stronger in the strongest of trenches. Vigil and first-round cornerback William Jackson made them faster and deeper on defense in a division that lives on defense. Core and second-rounder Tyler Boyd give them the same start they had in the '12 draft with Mohamed Sanu and Marvin Jones at wide receiver.
"You've got to improve, and as you improve it's about staying young — the evolution of young players and bringing on young players all the time," Lewis said. "That's the evolution that we have to go through all the time. In doing that, we've been able to bring in players, with the linebacker, the cornerback, the defensive tackles. Those are some guys that particularly will help moving forward in the future.
 "The two wide receivers have great opportunity on offense. And then the offensive guard, Westerman, just has tremendous upside as an interior player and development guy for our future. And (safety Clayton) Fejedelem, the last pick, is just a productive football player. And those kind of guys play big in the National Football League. You need those kinds of players in your core and to earn their way to the 46 on Sundays."