The volatility of this year's NFL Draft is reflected in the second and final edition of the Bengals.com Media Mock Draft. But, what if they held a draft and no one was selected?
That's one of the myriad of options facing the Bengals in Thursday's 8 p.m. first round (Cincinnati's Channel 9, NFL Network, ESPN) beamed from Las Vegas.
The Bengals contingent is huddled in the Paul Brown Stadium draft room holding the No. 31 pick of the AFC champions, the next-to-last choice of a round that figures to last about four hours. Given their low position in a draft that has been characterized as "mysterious," "murky," and without a dominant player or quarterback, a trade out of the round and back into Friday's 7 p.m. second round is always possible.
It's also a historical trend. Last week Bengals director of player personnel Duke Tobin compared No. 31 to second-round picks and in four of the last five drafts he's traded those and emerged with starters or regulars when he traded No. 41 for Joe Mixon, No. 46 for Jessie Bates III, No. 42 for Drew Sample and No. 38 for Jackson Carman.
Back on April 9, the Bengals.com Media Mock Draft panel of local and national media members who cover the teams gave it a shot. Of the 31 picks made in the first one, only seven are in the same spot.
There's also a change at No. 31.  
With a heartfelt thank you to those who made the 30 picks before, here we go. Maybe we'll see you at midnight.
1.JAGUARS _ DE Aidan Hutchinson, Michigan; Michael DiRocco, ESPN.com
Not all that mysterious. In a draft without a lockdown No. 1. Two edgers and two tackles have been in the mix. They finally go for the college production.
2.LIONS _ DE Kayvon Thibodeaux, Oregon; Mike O'Hara, detroitlions.com
Another productive college edger.
3.TEXANS _ OT Ikem Ekwonu, North Carolina State; Aaron Wilson, Pro Football Network
Word is Houston quarterback Davis Mills, last year's 67th pick, would have been in the top five this year. Better protect him.
4. JETS _ DE Travon Walker, Georgia; Rich Cimini, ESPN.com
They seem to think Walker's lack of college numbers is tied to scheme and he fulfills a need as everyone in Bengaldom pulls for Carl Lawson to be NFL Comeback Player of the Year if it is not Joesph Ossai or any other Bengal.
5. GIANTS _ OT Evan Neal, Alabama; Mike Eisen, Giants.com
As left tackle Andrew Thomas comes back from injury, they realize the cupboard is bare at right tackle.
6. PANTHERS _ OT Charles Cross, Mississippi State; Joe Person, The Athletic
First big move of the night here. In this Mock, anyway, no QB run yet
7. GIANTS _ CB Ahmad "Sauce," Gardner, Cincinnati; Mike Eisen, Giants.com
The back pages of the New York sporting press should have fun with the draft's best nickname.
8. FALCONS _ DE Jermaine Johnson II, Florida State; D. Orlando Ledbetter, The Atlanta-Journal Constitution
They'll be thinking that Penn State safety Kyle Hamilton would be a great running mate with Xavier McKinney, but in the end they go for the ACC Defensive Player of the Year and his dozen sacks.
9. SEAHAWKS _ CB Derek Stingley, Jr., LSU; Mike Sando, The Athletic
At this point, cornerback is less picked over than the edge. And whenever it happens Thursday night, this is a great moment for the Stingley family 49 years after the Patriots took his grandfather with the 19th pick in 1973. (Yes, four picks after Isaac Curtis.)
10. JETS _ WR Garrett Wilson, Ohio State; Rich Cimini, ESPN.com
The Jets have been shopping for a wide receiver all offseason and here they get the first one of the night without leaving Jersey.
11. COMMANDERS _ WR Drake London, USC; John Keim, ESPN.com
They'll take a weapon into the Carson Wentz Experiment.
12. VIKINGS _ _ DT Jordan Davis, Georgia; Mark Craig, Minneapolis Star-Tribune
The post-Zim Vikes are moving to a 3-4 and they get up front about it.
13. TEXANS _ WR Jameson Williams, Alabama; Aaron Wilson, The Pro Football Network
A playmaker for the Davis Mills Era.
14. RAVENS _ CB Trent McDuffie, Washington; Jeff Zrebiec, The Athletic
They're concerned about the depth behind Pro Bowlers Marlon Humphrey and Marcus Peters. Without either of them it will be recalled Joe Burrow hit them for 525 yards.
15. EAGLES _ S Kyle Hamilton, Notre Dame; Zach Berman, The Athletic
A slide that matches a need.
16. SAINTS _ OT Trevor Penning, Northern Iowa; Katherine Terrell, The Athletic
"KAT" Terrell, the former Bengals beat reporter, went with Penning in our first Media Mock and keeps him here after the loss of Terron Armstead in free agency.
17. CHARGERS _ WR Chris Olave, Ohio State; Jeff Miller, The Los Angeles Times
When did the highly estimable Keenan Allen turn 30? (Wednesday, actually.)
18. EAGLES _ WR Treylon Burks, Arkansas; Zach Berman, The Athletic
For the second straight Media Mock, Eagles hang at receiver here.
19. SAINTS _ QB Kenny Pickett, Pittsburgh; Katherine Terrell, The Athletic
Sean Payton goes to the studio with a topic to analyze.
20. STEELERS _ QB Malik Willis, Liberty; Gerry Dulac, The Pittsburgh Post-Gazette
The depth chart cries for need on a defensive line they haven't addressed in the draft in years. But word is Steelers head coach Mike Tomlin
has his eyes on the biggest arm in this draft
21. PATRIOTS _ ILB Devin Lloyd, Utah; Karen Guregian, The Boston Herald
A solid Belichickian move here. He gives them the speed and height they like at a spot Dont'a Hightower and Jamie Collins are unsigned.
22. PACKERS _ DE George Karlaftis, Purdue; Pete Dougherty, Green Bay Press-Gazette
Could be a tight spot for them with the highest-rated receivers and edgers long gone.
23. CARDINALS _ G Zion Johnson, Boston College; Darren Urban, azcardinals.com
Four out of five O-line starters are in their contract years.
24. COWBOYS _ G Kenyon Green, Texas A&M; Todd Archer, ESPN.com
Archer, another in the stately line of former Cincinnati Post Bengals beat reporters, is sticking with Green here. Played multiple spots at a big school, checking the Cowboys' boxes for a day one starter.
25. BILLS _ CB Andrew Booth, Jr., Clemson; Mark Gaughan, The Buffalo News
The Bills don't need much but cornerbacks. They're in a great spot in this draft.
26. TITANS _ S Daxton Hill, Michigan; Paul Kuharsky, Paul Kuharsky.com
It looks like the receivers and the tackles and guards have run out for what Tennessee seeks. One option is a safety that can run and cover tight ends after Dane Cruickshank left in free agency.
27. BUCCANEERS _ DT Devonte Wyatt, Georgia; Rick Stroud, The Tampa Bay Times
Stroud has been hanging with this guy lately. Suh isn't signed. Will Gholston turns 31 in camp. They'd love
to team Wyatt with monstrous Vita Vea.
28. PACKERS _ WR George Pickens, Georgia; Pete Dougherty, Green Bay Press-Gazette
For the first time in 20 years (or 286 starts from Brett Favre and Aaron Rodgers), they take a wide receiver in the first round. Not that
they were going to do it, but it also prevents the Bengals from taking him 30 years after they took Carl Pickens No. 31.
29. CHIEFS _ CB Kyler Gordon, Washington; Alex Marvez, NFL Sirius Radio
We know they have to replace Ja'Marr Chase's good friend Charvarius Ward. Marvez goes with Gordon's massive athleticism and versatility after alternating sides with McDuffie that counters his lack of experience.
30. CHIEFS _ DE Arnold Ebiketie, Penn State; Alex Marvez, NFL Sirius Radio
Marvez takes the guy we took for the Bengals with the next pick in the last Media Mock. Great minds think alike.
He also knows the Chiefs finished 29th in sacks last year. But he has also heard the great Colts' sacker Dwight Freeney say he thinks Ebiketie is going to be one of the NFL great edgers.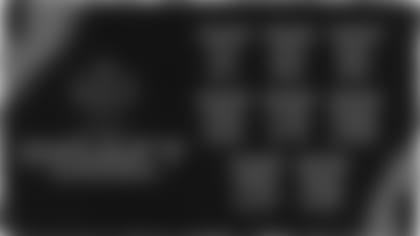 31. BENGALS _ S-CB Jalen Pitre, Baylor; Geoff Hobson, Bengals.com
It was an honor the other day to be asked to Growl on The Athletic's podcast with Paul Dehner, Jr., and Jay Morrison and their blue-ribbon panel of Mo Egger, James Rapien and Jake Liscow. All smart guys that make you feel like you don't know enough, but after the self-flogging we realized that the Pitre pick makes even more sense in the harsh reality of Draft Day morning.
Yes, Florida cornerback Kaiir Elam, Iowa center Tyler Linderbaum and the almost mythical Houston defensive lineman Logan Hall are available here. But the Bengals need depth at cornerback and safety and here you get two for the price of one with the added bonus Pitre is a Zac Taylor Culture guy with impeccable locker room credentials already.
And he's also a Lou Anarumo do-it-all guy in a hybrid defense after marauding all over the Baylor defense in the versatile "Star," position. He can back up Mike Hilton in the slot on day one and he can learn the game from two of the best safeties in the league in Jessie Bates III and Vonn Bell.
There's some question about his size (5-11, 198 pounds) and ability to hold up and it doesn't appear like he'd give them depth on the outside. But at this point in the draft, he checks so many important boxes. Particularly the one labelled "Intangibles."
It's also a reminder here that if the Chiefs don't trade out, they have somewhat similar needs to the Bengals on defense.