With the No. 4 pick in 2011, A.J. Green is the current Bengals' highest drafted player.
The final Bengals.com Media Mock Draft is in from our national panelists on newspapers and web sites and it leaves you feeling a little bit like you just watched the umpteenth slate of Super Tuesday primary returns.
Not bad. But you'd just as soon have the real thing and November is here Thursday (8 p.m.-NFL Network, ESPN) when the first round of the draft takes the stage in Chicago. The second and third rounds follow Friday (7 p.m.-NFL Network) before Saturday's final four rounds (Noon-NFL Network) end the exhausting cross-country campaign that has winners and losers and everything else in between.
As they load up for a sixth straight play-off run, the Bengals are picking No. 24 with everyone expecting them to take a wide receiver. Right away their history of drafting first-round wide receivers would suggest they'll look elsewhere and their penchant of the last decade of taking the highest graded player adds to the unknown of what they'll do.
But on Tuesday Bengals director of player personnel Duke Tobin made it clear what they won't do. They're not going to give draft picks away. Not with just seven selections and 66 players under contract. And they're also not going to trade themselves out of a good player just to get more picks.
Indeed, it seems like they feel like there is nothing wrong with taking the guy staring at them.
"I think there are a lot of people that spend more time worried about making deals than they do picking the right player. I don't necessarily view deals as a smart way to do it," Tobin said. "Sometimes it's necessary. But I think there are a lot of people that view making deals as clever or ahead of the curve when a lot of times it's just noise. If you have extra picks and you feel the need to move up it certainly gives you a better chance to do it. Should they do that, good for them."
The Bengals have traded up just three times in their history and don't look for it this week. Not from a draft room that has selected Pro Bowl players like second-rounder Carlos Dunlap, fourth-rounder Geno Atkins and fifth-rounder Kevin Huber, as well as starters such as third-rounder Michael Johnson, fourth-rounder Domata Peko, and fifth-rounder George Iloka.
Tobin wouldn't rule it out, but those are the kinds of players you lose in a trade up. A trade down seems more likely, but there also has to be a fit, too. They can't trade down too far and gamble losing a player on their board in the exchange. With a bottom of the first-round quarterback like Penn State's Christian Hackenberg being a possible target for teams looking to get up to No. 24, Tobin says the draft room has already discussed the possibilities in theory, but not with a real team.
"Those deals are made during the first round. It all depends on who is still on the board. A lot times a quarterback being on the board can spur somebody to call a lot faster than some corner or left tackle," Tobin said. "If you get down to what most teams consider the last of the top level guys at any position, you're likely to get a call from a team that believes that they need it. It all depends on who is available to us and what the options would be. If we drop down eight spots, we know what the positions would be at that level. Do we want to drop down to that level of player?"
But they like what they see.
"We're not going to get to 24 and not have a guy we don't like. We know that," Tobin said. "We've got more than that. But we won't be the only team in that position. There'll be other teams receiving those calls, too.
"If we deem it equivalent to the guy we're going to take, it becomes a lot more attractive than if it's a whole level down. We'll see. We don't hang up the phone on people. If they call and want to discuss something we'll discuss it."
Until then, let's get on the phone to see what may happen in front of the Bengals Thursday.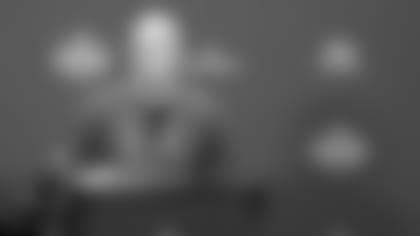 Duke Tobin and the Bengals are thinking players instead of trades.
1. LOS ANGELES: Jim Thomas, The St. Louis Post-Dispatch; QB Jared Goff, California
Goff would appear to be head coach Jeff Fisher's kind of a guy. A fellow Pac 12 product with a ton of big-school snaps and an in-state boost for the new old Rams.
2.PHILADELPHIA: Paul Domowitch, The Philadelphia Daily News; QB Carson Wentz, North Dakota State
There's no definitive word yet on what the Rams are doing, but the Eagles apparently like Wentz. They think he's extremely bright, they think he can make adjustments at the line, and they like what he brings to them off the field. And the fact they've unloaded all their draft picks but two to get up here should help them since they're behind the field after blowing up their personnel department this offseason.
3. SAN DIEGO: Michael Gehlken, The San Diego Union-Tribune; DB Jalen Ramsey, Florida State
They go best player on their board here, whoever that it. Ramsey seems to be the fit with athleticism that makes him attractive as a corner or safety and they are coping with the free-agent loss of Pro Bowl safety Eric Weddle.
4. DALLAS: Todd Archer, ESPNDallas.com; RB Ezekiel Elliott, Ohio State
If Ramsey's not there, watch them go for Elliott. He may not be there much lower than this and the Cowboys may be trying to recapture the magic of 2014 with DeMarco Murray and that dominant offensive line.
5. JACKSONVILLE: John Oehser, Jaguars.com; LB Myles Jack, UCLA.
They'd have to be delighted if edge rushers Joey Bosa of Ohio State and DeForest Buckner of Oregon are still there, but if they think Jack's knee is OK they're looking at the draft's top linebacker. And with Paul Posluszny turning 36 this season and old friend Dan Skuta celebrating his 34th birthday this week, their linebacker corps needs some younging.
6. BALTIMORE: Jeff Zrebiec, The Baltimore Sun; DE Joey Bosa, Ohio State
Boy, it's hard to think that one of the few times he's picking up here, the Wizard of Oz, Ravens General Manager Ozzie Newsome, would turn down not one, but two cornerstone left tackle types.
But if it's one thing he needs, and even his owner has been talking it up, it is defensive playmakers. Their two feared pass rushers are long in the tooth. The great Terrell Suggs is coming off a couple of blown tires and turns 34 in October. Elvis Dumervil is 32. Not that they're done, but they need some help after the Ravens finished an uncharacteristic 24th in scoring defense.
Still, the one wrinkle are the two left tackles sitting there . . .  
The Titans took Adam Jones No. 6 in 2005.
7. SAN FRANCISCO: Matt Maiocco, CSNBayArea.com; OT Laremy Tunsil, Ole Miss
Because if the Oz doesn't take Tunsil, the 49ers very well may. They'll also be looking at Buckner and Notre Dame tackle Ronnie Stanley. But the call here is Tunsil.  He starts from Day One at right tackle and eventually replaces Joe Staley on the left side.
8. CLEVELAND:  Tony Grossi, ESPNCleveland.com; DE DeForest Buckner, Oregon
The pick here would seem to be Stanley with the defection of right tackle Mitchell Schwartz and the trade rumors continuing to hover over left tackle Joe Thomas. But Grossi says they've traded themselves out of a difference maker at quarterback and now have to find another difference maker or else they'll be saddled with 15 non-marquee picks. Plus, he says they can replace Schwartz internally and Thomas has three years left on a workable deal.
Bucker is the one defensive player that fits what they're doing, a nice 3-4 end on a defensive line that doesn't have a dominant player.
9. TAMPA BAY: Roy Cummings, The Tampa Tribune; CB Vernon Hargreaves III, Florida
Three mock drafts, three times Cummings opts for this guy. They see him as a long-term answer, a decade-long guy on a depth chart that only has the newly inked Brent Grimes as a certainty.
10. GIANTS: Mike Eisen, Giants.com; OT Ronnie Stanley, Notre Dame
They're not expecting Stanley to be there, but in this scenario he's clearly the best player and they take him even though they took incumbent left tackle Ereck Flowers in the first round last year. Stanley would walk in and replace former Bengals right tackle Marshall Newhouse, rated 68 of the 76 tackles by profootballfocus.com while ranking Flowers last. But Flowers was touted as a right tackle and he could switch with Stanley.
11. CHICAGO: Brad Biggs, The Chicago Tribune; DT A'Shawn Robinson, Alabama
Biggs has been consistent all the way through with this guy in a year he says the Bears can take any defensive player and it's an upgrade. They attacked linebackers in free agency with Denver's Danny Trevathan and Indy's Jerrell Freeman. He sees Robinson as a pure 5 technique, an end in a 3-4 that is evolving into its second year.
12. NEW ORLEANS: Katherine Terrell, The Times-Picayune; DE Shaq Lawson, Clemson
A flip of the coin here should help their pass rush problems with Lawson or Louisville defensive tackle Sheldon Rankins. But Terrell could also see a trade up to get a higher ranked rusher in Buckner, or even a cornerback like Hargreaves.
13. MIAMI: Chris Perkins, The Fort Lauderdale Sun-Sentinel; CB Eli Apple, Ohio State
For the second straight Mock Perk is sold on Apple. He's right on about new Dolphins defensive coordinator Vance Joseph, the former Bengals secondary coach. He likes his corners big and physical and Apple is in the Big Ten tradition of Leon Hall and Darqueze Dennard. And Byron Maxwell may be only a one-year rental.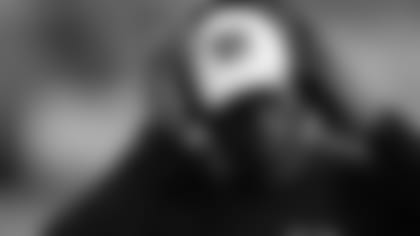 Former Bengals secondary coach Vance Joseph, now the Dolphins defensive coordinator, may control the 13th pick.
14. OAKLAND: John Clayton, ESPN.com; ILB Reggie Ragland, Alabama
They signed Bruce Irvin as a defensive end, not a linebacker and about all they have back at backer is Malcolm Smith. They're a bit thin. That can't sit well with head coach Jack Del Rio, himself a long-time NFL backer.
15. TENNESSEE: John Glennon, The Tennessean; OT Jack Conklin, Michigan
Now that they're out of the top spot, the Titans can focus on some real needs. As in they gave up a NFL-high 54 sacks while rookie quarterback Marcus Mariota was knocked out of four games and they finished 25th running the ball. They can leave Taylor Lewan at left tackle and put Conklin at right.
16. DETROIT: Mike O'Hara, Lions.com; OT Taylor Decker, Ohio State
Their heart breaks with Lawson off the board. But leave it to O'Hara to come up with this nugget. The NFC North is the only division last year that had three teams log at least 40 sacks and allow at least 40 sacks. With the Lions giving up 44 sacks and countless hits while finishing dead last in rushing, they go for help on the perimeter. But they'd also love to find depth for ends Ziggy Ansah and Devin Taylor.
17. ATLANTA: D. Orlando Ledbetter, The Atlanta Journal-Constitution; OLB Leonard Floyd, Georgia
Once the Falcons got a watch on Floyd at his pro day, they fell in love. And they didn't have to go far. They need speed at linebacker and had targeted Ohio State's Darron Lee. But in Floyd they get a guy who is a little longer and bigger and has a huge upside as a pass rusher.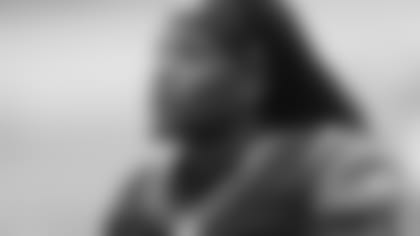 The Bengals took cornerback Dre Kirkpatrick with the 17th pick in 2012.
18. INDIANAPOLIS: Mike Chappell, FOX59.com; C Ryan Kelly, Alabama
The Colts would love to have Conklin or Decker, but in their continuing quest not to get Andrew Luck obliterated before he's 28, they'll take the best lineman at this point. And Kelly, the solid, steady Cincinnati product, may be the safest pick in this draft.
19. BUFFALO: Vic Carucci, The Buffalo News; DT Jarran Reed, Alabama
This pick is reserved for Rex Ryan's defensive line looking to replace end Mario Williams and in Reed they get a versatile, strong guy that can play anywhere up front. Rankins is also a fit, but Reed is a tad taller and bigger.
20. JETS: Rich Cimini, ESPN New York; QB Paxton Lynch, Memphis
Look, at some point they have to solve this quarterback quagmire and Ryan Fitzpatrick isn't even signed. Plus, it'd be nice if the Bengals got a rookie QB in the opener.
21. WASHINGTON: Mike Jones, The Washington Post; S Karl Joseph, West Virginia
The Josh Norman signing seems to have taken cornerback off the need board here. While this looks a little high for a guy that went down with a torn ACL in October, Joseph was tied for the FBS lead in picks and he had already been a starter for three seasons. And he fits a need in Washington. But ideally, they'd probably like to trade back.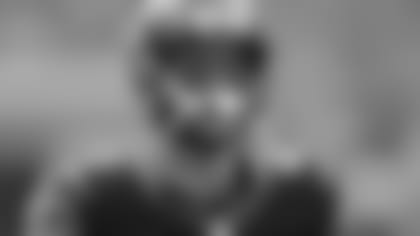 Pro Bowl tight end Tyler Eifert arrived with the 21st pick in 2013.
22. HOUSTON: John McClain, The Houston Chronicle; WR Corey Coleman, Baylor
If anyone knows who is picking who Thursday night, it is the Hall-of-Famer McClain on the Texans. In the last Mock he took Notre Dame wide receiver Will Fuller, but the Texans have got one long look at Coleman and love him. They're looking for a speed receiver opposite DeAndre Hopkins and Coleman wooed them with 4.3 40-yard dashes. Plus, he is a high-octane returner, averaging 28.4 yards per 17 kick-off returns.
23. MINNESOTA: Chris Tomasson, St. Paul Pioneer Press; WR Josh Doctson, TCU
If you can name the 1,000-yard wide receiver they've had in the 11 seasons since Randy Moss left, step to the head of the class. But the 6-2, 195-pound Doctson's big-time catch radius should be around longer than Sidney Rice.
24. CINCINNATI: ??????????????????????????????????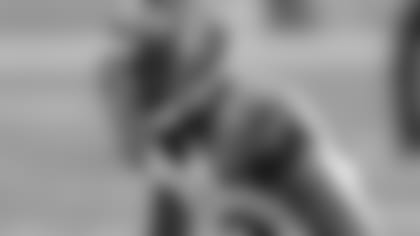 The last time the Bengals picked No. 24, it was cornerback Darqueze Dennard.
Look, the Bengals could do anything here.
Well, check that. They won't take a quarterback. After rookie Tyler Kroft worked out so well last year, they won't take a tight end. Offensive tackle and the rest of the line seem out of the question after taking two in the first two rounds last year. Running back would appear quite doubtful with Giovani Bernard and Jeremy Hill in fine fettle, although they'll have a staring contest with Elliott before they make the call if he's still there.
But after that, it could be anybody.
You can say they need a wide receiver badly after losing their No. 2 and No. 3 in free agency. And in this scenario there are guys like Fuller, Laquon Treadwell of Ole Miss and Pittsburgh's Tyler Boyd from ESPN's Big Board available.
What they feel about Fuller's slight frame of 185 pounds, Treadwell's glacial 40-yard times, and Boyd's limited route running remain to be seen.
But what we do know is the last time they were in this spot in 2012, they waited until the third rounds and fifth rounds to take Mohamed Sanu and Marvin Jones, respectively. They have to decide if this year's mid-rounds are as fruitful for wide outs.
Now fast forward up from that draft to 2013 and 2014 when they got gifts, two players they had rated in the top ten who slid to them at No. 21 in '13 (Tyler Eifert) and at No. 24 in '14 (Dennard).
Lee, the high character speedy linebacker from Ohio State who fits nicely in a 4-3, is a top 15 ESPN guy that slid in this Mock. The Steelers flaunt one Buckeye in Ryan Shazier, the Bengals raise them one in Lee. And in the wake of cutting 32-year-old A.J. Hawk Tuesday and replacing him with 34-year-old Karlos Dansby, the Bengals would seem to be in the market for youth at backer in this draft.
But Lee has played just two seasons as a backer and if he's going to come in and play, maybe, a third of the snaps and could be just a cover player, do they use a first-round pick on a niche guy? But, the ESPN big board says he's the 13th best player.
Following that Eifert-Dennard-best-player-no-matter-position model, a pair of highly-ranked defensive tackles are still on the board. We don't know where they rate  Louisville's Sheldon Rankins, or Ole Miss's Robert Nkemdiche, but the ESPN big board has Rankins rated as the draft's 12th best player. And while Nkemdiche has some character marks and is rated 35th on the big board, he's gone before No. 24 in a lot of Mocks.  But in a deep draft swimming with D-Tackles where teams can supposedly get good ones in the fourth round, would the Bengals turn that card that early?
What about safety? The Bengals have never drafted one in the first round in the 13 drafts with Marvin Lewis, but this year they lost a starter in Reggie Nelson, and this is about where they start to go. Two things that catch your eye on Ohio State safety Vonn Bell is the draftnicks say he showed he could play man-to-man defense as a nickel safety and OSU head coach Urban Meyer called him as good as any safety he's ever had.
 And in the last decade they've never been shy taking a cornerback. They're working on four. And the last two times they had the 24th pick, they took a cornerback, Dennard in 2014 and Johnathan Joseph in 2006.
There are a couple on this board that could entice them, such as ESPN's big board of Miami's Artie Burns, Houston's William Jackson III, and Virginia Tech's Kendall Fuller.
You can make an argument that the proud stable that once had five first-round corners is down to three with Dennard, Adam Jones, and Dre Kirkpatrick. But Dennard and last year's fourth-rounder, Josh Shaw, haven't even got on the field yet. Wouldn't that be stacking?
?????????????????????????
Throwback gallery of the Bengals' Draft Class of 2011